Background
One of the comments in the thread of my "Beware! 3 Indicators You Mustn't Ignore" article says the following (partial extract):
As far as the obsessive worry over trade wars, the main nations involved, Mexico, the EU, and China, need us 10-times more than we need them. They'll eventually collapse like an old suit tossed away.
My reply (partial extract) was as follows:
I fully agree that Mexico, the EU, and China, need the US more than the US needs them. However, it's also safe to say that ALL parties are better off (collectively and individually) if they trade and collaborate (at least economically) with each other.For the sake of the world, the whole should and MUST be greater than its parts.

Everybody is paying attention to the most recent news, i.e. trade wars. That's only natural. As far as I concern, this is overblown and the world leaders know exactly what we know (see the above clause). They won't shoot (too deep) in their own legs (or at least so I hope/believe...)OTOH, the crippled body called the Eurozone, the soaring global debt (even in the US we're over 100% for quite some time, not to mention Italy or Japan) and the fragile EM (What we see now may only be the beginning) are the things that (are not new, yet) I'm most worried of.

A recession in Europe seems imminent (not sure if 2019 or 2020).Japan can follow through quite easily-quickly (it always can) and EM are, well, not the most stable platform to count on right now...

So while trade wars are making the headlines, debt, rates/yields and spreads - all are very much being impacted by what the Fed (and ECB) is (are) doing - are the things to look at.

In 2006-2007 the numbers of corporate America also looked good/attractive. It didn't take long for the house of cards to collapse.
This has caused me to think about the US vs. Europe so I'm taking this opportunity to think out loud... so take that:
Rule The World
In-spite of the famous - and beautiful! - song being performed by Take That, a British (still European, as of now...) group, there's no doubt that the US economy, markets and stocks are ruling the world.
One economy, the US, is on strong footing with the Dow Jones (DIA) about to celebrate next week a two year anniversary of trading above its 200-day moving average. That's the seventh longest suck streak in history.
On the anniversary date (6/28/2018) the current streak will already capture the sixth place among the longest such streaks.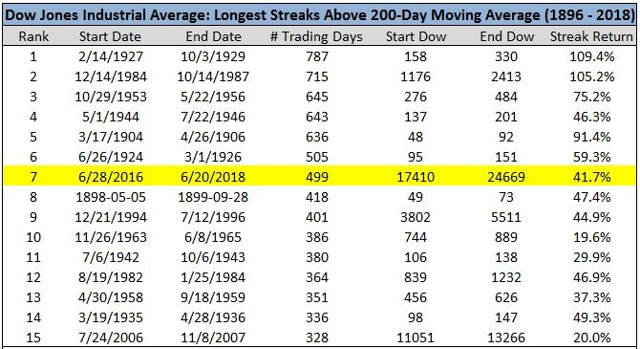 The other economy, Europe, is struggling and there's no better way to show this but through a couple of charts, most of those require no explanation whatsoever...
The (Negative) Yield Matrix
The best chart, perhaps, that illustrates the difference between the two economies is the one that show yields in the US versus those of many European countries.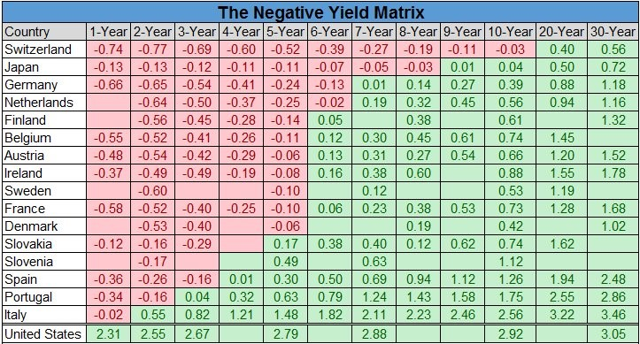 To sum it up, there's only one row which is all green - and it's not representing a country belonging to Europe...
The European countries that are the closest to become the "all green club" are Italy, Spain and Portugal. These countries were part of the famous PIIGS countries, the ones that were (are?) the weakest links in the Eurozone.
Putting it differently, while the green line representing the US is a sign of strength, the green lines representing Europe are actually a sign of weakness.
Total Returns, past 10 years
JPMorgan (JPM): +258%Banco Santander (SAN): -41%Barclays (BCS): -43%ING (ING): -48%Credit Suisse (CS): -57%Deutsche Bank (DB): -84%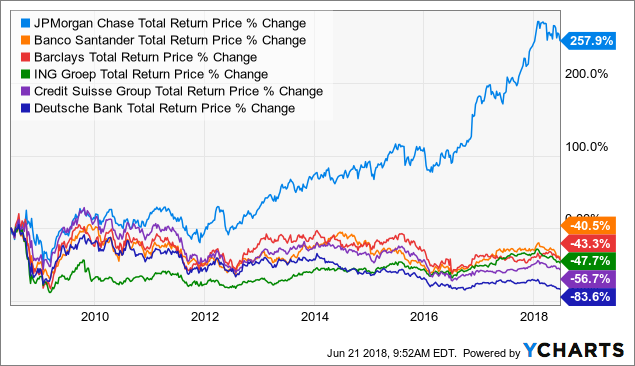 Equity returns, past 10 years
US: SPDR® S&P 500 ETF (SPY) +157%Germany: iShares MSCI Germany ETF (EWG) +28%France: iShares MSCI France ETF (EWQ) +25%UK: iShares MSCI United Kingdom ETF (EWU) +22%Spain: iShares MSCI Spain Capped ETF (EWP) -11%Italy: iShares MSCI Italy Capped ETF (EWI) -29%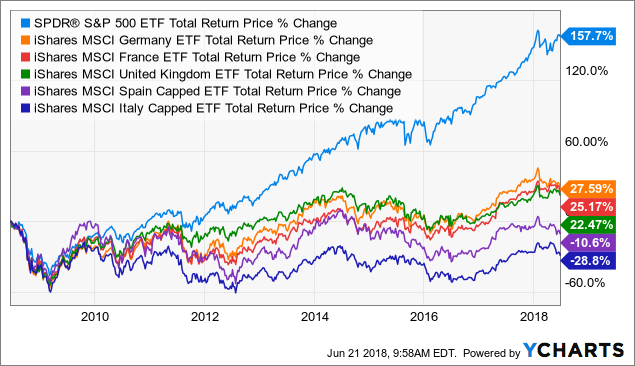 Market-cap Growth
In the "Beware article" we warned about the inflated market-caps of the FAAMG+BAT group of eight: Facebook (FB), Amazon (AMZN), Apple (AAPL), Microsoft (MSFT), Google-Alphabet (GOOG, GOOGL), Baidu (BIDU), Alibaba (BABA), and Tencent (OTCPK:TCEHY).
Let's leave the Chinese BAT aside and focus on the American FAAMG. Take that (few facts):
Since 1/1/2014 the market cap of the gang has more than tripled itself!Yes, we are talking ~208% total return, on average, for the largest stocks on the planet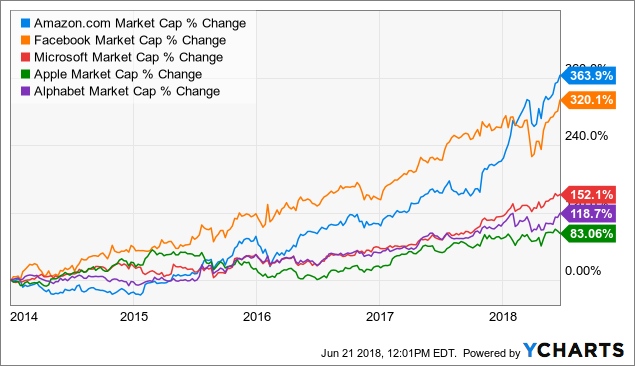 Since 1/1/2013 the market cap of the gang has more than sixfold itself!Yes, we are talking ~515% total return, on average, for the largest stocks on the planet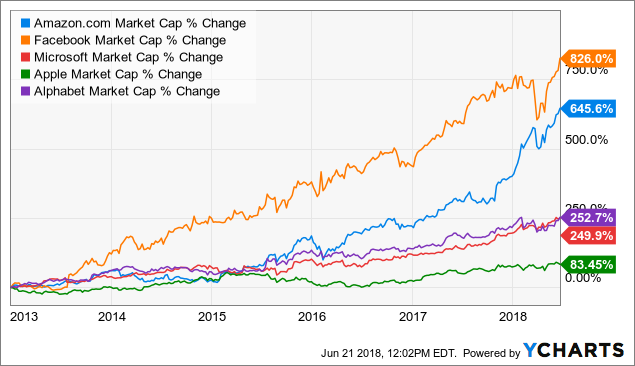 Market-cap, past 10 years
Facebook only went public in 2012 so we dropped it from the below chart. This is a 10-year view of the market-cap growth of the remaining quartet. And yes, this is taking into consideration the subprime crisis. Take that: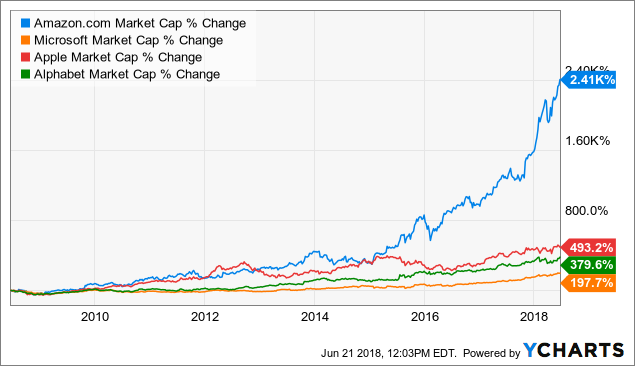 Here is how the market cap of each stock has grown over the past 10 years.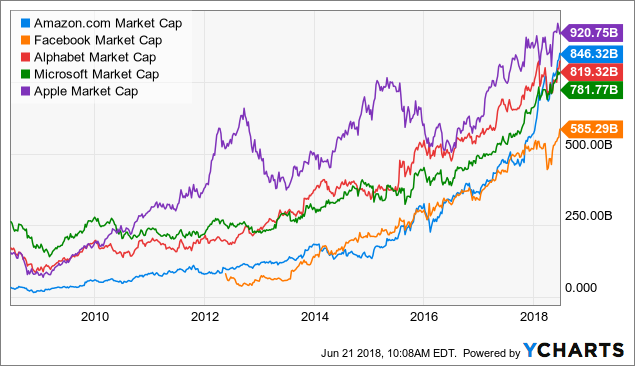 Ten years ago these companies were worth less than $1T combined. Today, they are worth circa $4T. Back to Europe...
Credit Spreads
In the US - where rates are rising for over two years - High Yield (HYG, JNK) spreads are more or less at the same level they were a year ago. Meanwhile, in Europe HY spreads have widen almost 100 bps since the January lows.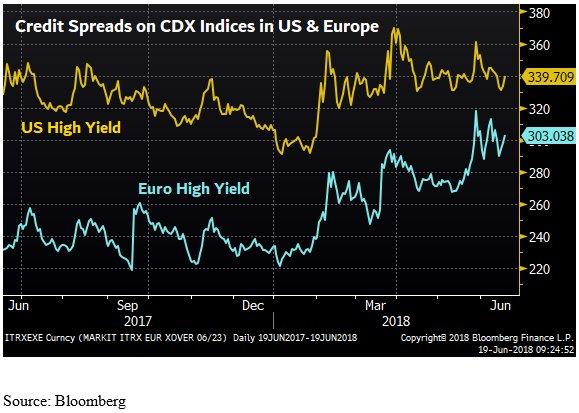 Bottom Line
In 2017, the average country ETF was up 28%. This year: -6% (end of trading date 6/20/2018)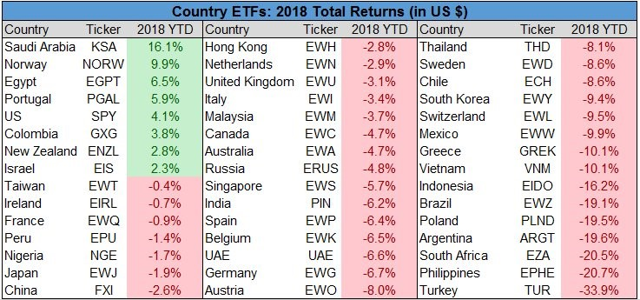 The US (SPY) is up 4.1% while the leading economies in Europe, Germany (EWG) and France (EWQ) are down 6.7% and 0.9% respectively.
It may not be too much of a consolation for Europe but perhaps the brightest spot is that they haven't allowed Turkey* (TUR) to join in.
(* Side note: With the elections taking place in Turkey this coming Sunday it would be interesting to see if the -34% total return thus far this year is going to inflate further.)
One chart perhaps says it all...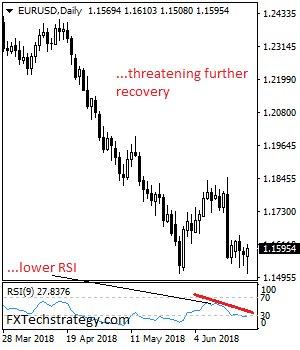 It's all great in Europe, thanks for asking...
Author's note: If you like this article please scroll up and follow us. In order to make the most out of following us, please make sure that you're not only following us, but also doing so at real time:

That's the only way to get notifications regarding both articles and blog posts that we publish at real time.

The Wheel of FORTUNE monthly review for April is now available. Make sure you check it out while our free trial is still on!
The Wheel of FORTUNE is one of SA Marketplace most comprehensive services. Our universe (of coverage) is unlimited and we touched upon all types of securities: common stocks, preferred shares, public bonds, baby bonds, options, currencies, commodities and even multiple startegies.
Since 3/1/18 Trapping Value is part of The Wheel of FORTUNE, so you now get two for the price of one.
Take advantage of a two-week, free of charge, first-hand experience before you commit to the service on a longer-term basis.
Make sure you read the reviews (133/135 possible stars) subscribers wrote about the service to gain a better understanding of what you may expect out of it.
Disclosure: I/we have no positions in any stocks mentioned, and no plans to initiate any positions within the next 72 hours.
I wrote this article myself, and it expresses my own opinions. I am not receiving compensation for it (other than from Seeking Alpha). I have no business relationship with any company whose stock is mentioned in this article.
Editor's Note: This article discusses one or more securities that do not trade on a major U.S. exchange. Please be aware of the risks associated with these stocks.