This article was first published on Trend Investing on May22; therefore all data is as of that date.
Core Exploration [ASX:CXO] [GR:7CX] - Price = AUD 0.054
Core Exploration 100% own their flagship Finniss Lithium Project in Northern Territory. For now the defined resource is only small, but there is potential to grow this by many multiples, combined with early cash flow from Direct Shipping ore [DSO] to their Chinese binding off-take equity partner Yahua. Added to this are several other early stage exploration projects in Northern Territory and South Australia.
The company state on their website:
Core Exploration Ltd aims to grow shareholder value through the exploration for and discovery of commercially robust base metal and uranium deposits in South Australia and the Northern Territory.
Core Exploration 5 year price graph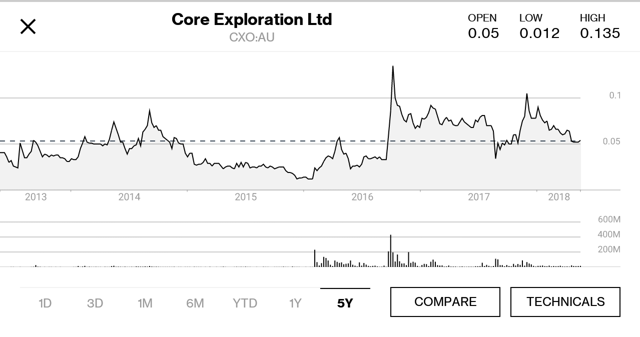 Source: Bloomberg
Summary of Core Exploration projects
Core Exploration projects are all in Northern Territory and South Australia, Australia, and include:
Lithium projects (2)
Finniss Lithium Project (flagship project) (200 sq km of tenements) - Includes the Mount Finniss Tin Tantalum Mine – the largest historically producing tin and tantalum pegmatite mine in the NT, and a further 25 historic tin tantalum pegmatite mines in the lithium rich Bynoe pegmatite field.
Anningie and Barrow Creek Pegmatite Fields (lithium) - Core has further expanded its dominant position in the NT tin tantalum pegmatite fields through applications for 2,500 sq km of additional lithium prospective tenements in the lithium-rich Anningie and Barrow Creek pegmatite fields near Mt Peake.
Copper and Base Metals projects (6)
Jervois Domain, Albarta, Inkheart/Bluey's Prospect, Yerelina, Roxby Downs (30km southwest of the world class Olympic Dam Cu–Au-U mine), and Yorke Peninsula.
Uranium projects (2)
Fitton Project and Entia Project.
You can read more details on each of the above projects here. Clearly as the company has additional cash they will be able to fully explore the potential of their above 10 projects.
Core Exploration project location map - NT and SA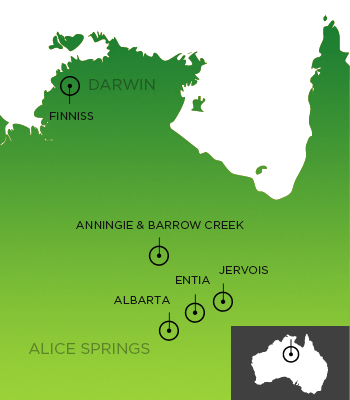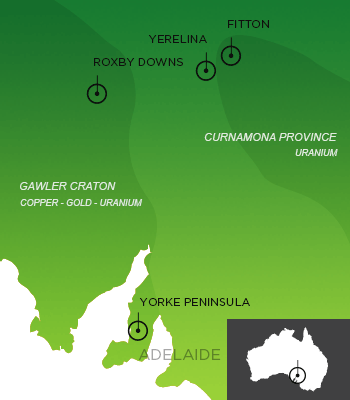 Note: Hereafter I will focus on the company's flagship Finniss Lithium Project.
The Finniss Lithium project (Grant's deposit) resource
Within the Finniss Lithium Project the Grant's deposit total resource is only small at this stage with good grades. It currently stands at 2.03m tonnes @1.5% Li20, for 30,000 tonnes contained Li20. Over half of the Grants Lithium resource is now contained in the Indicated category.

The company states - "Core's Finniss Lithium Project encompasses a large landholding in the Bynoe Tin Tantalum-Pegmatite Field. The Bynoe field is one of the most prospective areas for lithium in the NT and has many similarities to Greenbushes in WA, one of the world's largest spodumene deposits. As with Greenbushes, before economic lithium was recognised, Bynoe also has a 100 year history of tin and tantalum production. Core's project area covers over 200km2 and 25 historic pegmatite mines including the Bynoe pegmatite field and the Mount Finniss Tin Tantalum Mine – the largest historically producing tin and tantalum pegmatite mine in NT. The strong endowment of tin and tantalum in pegmatites at the Mount Finniss Mine and surrounding area suggest excellent potential for lithium mineralisation."
The Finniss project showing numerous pegmatite prospects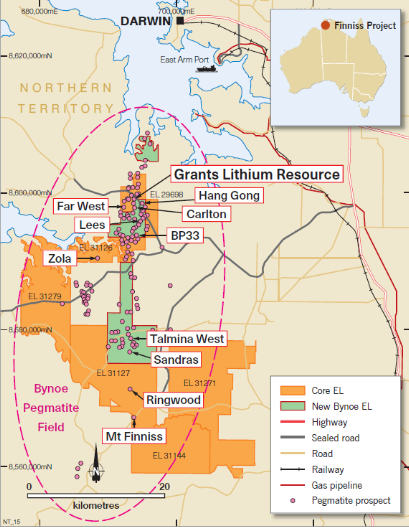 Clearly as the charts above and below show there is large lithium exploration upside.
Details of some of the pegmatite targets at the Finniss Lithium project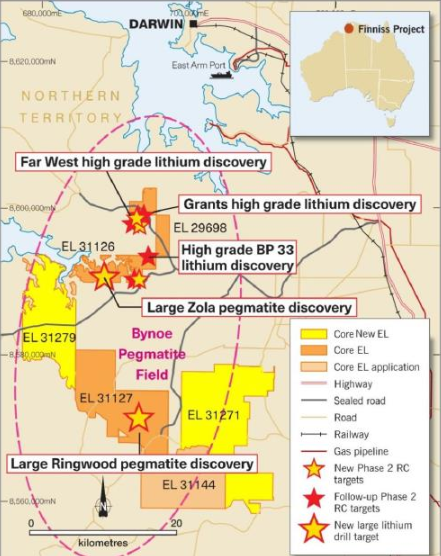 Note that the Ringwood and Zola targets have large potential - or as Hartley's state - "The prospects have the potential to be Company makers, although they need to be tested with drilling, obviously. We look forward to first drill results, likely in July." The mapped Ringwood pegmatite swarm presents as a series of highly-weathered pegmatite and quartz outcrop and float zones that combined extend at least 4 km long and 2 km wide. The Zola prospect sits beneath a historical tin mine. It has been mapped to potentially be a 1.5km strike.
The May 2018 Hartley's broker report suggests that Grant's deposit may have a high strip ratio at 10x, which is a slight negative. They also suggest: "At current prices, it is possible that DSO from Grants could generate >A$50m of free cash flow."
Infrastructure and access
The Finniss Lithium Project and Bynoe region have substantial infrastructure advantages being close to sealed road, grid power, gas and rail infrastructure and within easy trucking distance to Darwin Port - Australia's nearest port to Asia.
Development stage
Core Exploration is an early stage explorer/developer with a lithium binding off-take deal.
At their flagship Finnisss Lithium Project only a small size resource has already been defined; however this should grow in 2018.
The Company is currently working on their Preliminary Feasibility Study [PFS] and considering a low CapEx production of spodumene concentrate, for export from Darwin Port. They are also looking at a Direct Shipping Ore [DSO] option to bring in early cash flow.
Binding off-take agreement
Core Exploration has binding offtake and pre-payment agreements signed with Yahua ($2.4b market cap). Sichuan Yahua Industrial Group's [SHE:002497] subsidiary Yahua Lithium Technology is one of China's largest lithium producers. Offtake agreement provides for the supply of 1 million tonnes of lithium DSO (or concentrate equivalent) from the Finniss Lithium Project, and a US$20 million conditional prepayment facility, to be repaid through the supply of future DSO or Li2O concentrate. Core is targeting first deliveries from 2019.
Note: The concentrate equivalent would be ~250,000 tonnes of spodumene concentrate.
Yahua is also an equity partner
On May 7, 2018 Core announced: "Placement to Yahua International to advance Finniss Lithium Project. Yahua has committed to subscribe for $1.4 million at 5.3 cents per share. This placement is in additional to the previous investment of $2.0 million made by Yahua in 2017."
Management
Stephen Biggins BA, BSc (Hons) Geol, MAusIMM - Managing Director
Mr Biggins has accumulated broad experience as a geologist and geophysicist for over 20 years. Mr Biggins has specialised in mineral exploration and has been involved in building prospective portfolios of gold, uranium and base metal projects in Australia and Internationally. Mr Biggins founded and served as director on the board of various ASX listed companies including Core Exploration Limited [ASX:CXO], Southern Gold Limited [ASX:SAU], and Investigator Resources Limited [ASX:IVR], formerly [ASX:SNU].
Greg English B.E. (Hons) Mining, LLB - Non-executive Chairman
Greg is a qualified Mining Engineer and Lawyer with over 20 years' experience in multi-commodity projects throughout Australasia. Greg is currently a Non-Executive Chairman of ASX listed Archer Exploration [ASX:AXE] and was a Director of Gawler Resources [ASX:GRL] prior to its merger with Elixir Petroleum [ASX:EXR]. As a Mining Engineer, Greg worked on numerous underground and open pit mines in Australia and gained a First Class Mine Manager's Ticket in Northern Territory and Western Australia. During this time, Greg worked for a number of large mining companies (MIM, Shell Coal and Normandy Mining) in various mine production, mine planning, mine management, project management and various commercial and business development roles. Greg is currently a partner at Piper Alderman Lawyers, Energy & Resources Corporate & Commercial division.
Heath Hellewell BSc (Hons) MAIG - Non-Executive Director
Heath is an exploration geologist with over 20 years of experience in gold, base metals and diamond exploration predominantly in Australia and West Africa. Heath has previously held senior exploration positions with a number of successful mining and exploration groups including DeBeers Australia and Resolute Mining. Heath joined Independence Group in 2000 prior to the Company's IPO and was part of the team that identified and acquired the Tropicana project area, eventually leading to the discovery of the Tropicana and Havana gold deposits. Most recently Heath was the co-founding Executive Director of Doray Minerals, where he was responsible for the Company's exploration and new business activities. Following the discovery of the Andy Well gold deposits, Doray Minerals was named "Gold Explorer of the Year" in 2011 by The Gold Mining Journal and in 2014 Heath was the co-winner of the prestigious "Prospector of the Year" award, presented by the Association of Mining and Exploration Companies.
Largest Shareholders
I was not yet able to find out the details of the management's ownership, except to note that SimplyWallSt reports insider ownership at 6.96%, and Yahoo reports public ownership at 77.18%, and private company ownership at 5.89%. Off-take partner Yahua has also become a significant shareholder since May as I discussed earlier.
Valuation
Core Exploration has no debt and AUD 7.1m of cash as of 31 March 2018. Current market cap is AUD 34m, with 633m shares issued (and ~127m options and performance rights).
Analysts have a 12 month price target of AUD 0.10, representing 85% upside. Investors can also read a May 2018 Hartley's broker report here, with a price target of AUD 0.12.
Catalysts
2018 - Drilling results. Results for Zola and Ringwood (within Finniss) are expected around July (larger targets with larger resource potential).
Mid 2018 - PFS results (Grant's project within Finniss).
2018 - Further resource upgrades likely at Finniss. Increased or new offtake agreements possible.
2019 - Possible DSO producer.
Core's company milestones and timelines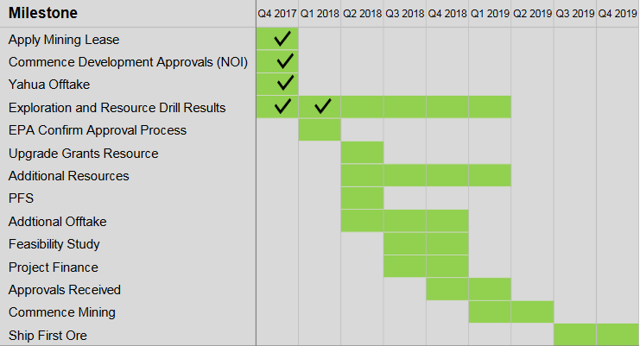 Competitors
Risks
Lithium prices falling.
The usual mining risks - Exploration risks, funding risks, production risks
The company may not be able to increase their current resources.
Management and currency risks.
Sovereign risk - Minimal as the project is in Australia.
Stock market risks - Dilution, lack of liquidity (best to buy on local exchange), market sentiment.
Investors can view the latest company presentation here. It focuses on the Finniss Lithium Project.
Conclusion
The positives for Core Exploration include their very large prospective tenements (including many hundred square kilometers and covering 100s of pegmatites), good grades at Grant's lithium deposit, safe jurisdiction, close proximity to a Port and China, their $2.4b market cap large lithium producer off-take and equity partner Yahua, solid capital funding base, near term catalysts (PFS, drill results and possible resource upgrades) and their potential for early cash flow from DSO to China in 2019.
The negatives are that they have a higher than average strip ratio at Grant's target (within the Finniss Lithium Project), and at this time their defined lithium resource is only quite small.
It is not every day that a AUD 34m market cap lithium junior has a binding off-take deal with a $2.4b market cap Chinese company and a $20m pre-payment, fully two years in advance of any production and before a decent size resource has been defined. This suggests Yahua are confident in Core Exploration's potential to deliver, as does Yahua taking a significant equity stake in the Company.
Weighing up the positives versus the negatives at the current market cap the stock appears attractive on a risk reward basis as the upside can be a multi-bagger return within 5 years if all progresses well.
DSO cash flow possible by 2019 to help fund further drilling and company expansion is a strong plus, as is their Chinese connection.
I rate Core Exploration a solid speculative play for smaller dollars and investors with a 5 year time frame.
As usual all comments are welcome.
Trend Investing
Thanks for reading the article. If you want to go to the next level, sign up for Trend Investing, my Marketplace service. I share my best investing ideas and latest articles on the latest trends. You will also get access to exclusive CEO interviews and chat room access to me, and to other sophisticated investors. You can benefit from the hundreds of hours of work I've done to analyze the best opportunities in emerging industries, especially the electric vehicle and EV metals sector. You can learn more by reading "The Trend Investing Difference", "Recent Subscriber Feedback On Trend Investing", or sign up here.
My latest Trend Investing articles are:
Disclosure: I am/we are long Core Exploration [ASX:CXO]. I wrote this article myself, and it expresses my own opinions. I am not receiving compensation for it (other than from Seeking Alpha). I have no business relationship with any company whose stock is mentioned in this article.
Additional disclosure: The information in this article is general in nature and should not be relied upon as personal financial advice.