Since my previous report, McDonald's stock has been gaining traction, rising from $158.99 on April 23rd to $166.58 on June 13th. This represents a roughly 5% price increase, compared to the roughly 4% gain in the S&P over the same period. Over the past eight weeks, McDonald's has reported first quarter earnings, announced staff reductions, and introduced menu and restaurant innovations. Overall, the news has been mainly positive, and Wall Street has rewarded McDonald's with a higher price target of $190. Apart from these positive developments, McDonald's has steadily been reinvesting profits to drive customer traffic. As the company continues to transition to a more heavily franchised business model, comps growth becomes increasingly important to justify further stock gains. Therefore, initiatives such as digital engagement and delivery require further expansion and introduction into new markets.
Strong 1Q 2018 earnings results
McDonald's reported first quarter results this past April 30th, beating consensus estimates of $1.67 and exceeding comps growth expectations of 3%. Same store sales rose 5.5% globally, primarily led by McDonald's international lead segment. Countries including Australia, Canada, France, Germany, and the UK collectively witnessed comps growth of 7.8%. In the US, comparable sales increased 2.9%, or 270bps above its QSR peers, including Restaurant Brands International, Domino's Pizza, and Wendy's. This is significant news given the company's adoption of technology since 2015. Perhaps this is an early manifestation of McDonald's EOTF success and an indication of continued comps growth moving forward.

Comparable store sales refer to the revenue a retailer generates in an accounting period relative to the previous year. In simpler terms, it looks at sales from this quarter and that from last year to determine growth or reduction. Comps is an extensively important measure of revenue growth for retail companies as it isolates the effect of store productivity. Restaurants, for example, could grow revenue through several different ways. They can open new restaurants, like Subway, for example, and continue growing revenue simply by adding more stores to their restaurant portfolio. This method, however, is unsustainable, and sales will inevitably stagnate once restaurant openings slow.

As McDonald's reduces its exposure to revenue volatility via refranchising restaurants, comps growth becomes increasingly important to its valuation. If McDonald's could sustain 5.5% global growth moving forward, you will continue to see its stock price rise. Skeptics question whether McDonald's can maintain this level of growth moving forward, and if they do, earnings will follow suit.
Corporate job cuts to eliminate layers
As part of its long-term plan to refranchise restaurants and grow comps, McDonald's recently announced staff reductions to further reduce costs and support franchisees. Shares rallied on the news last week as investors anticipated $500MM a year in annual savings by 2019. In addition to cost reductions, less staff carries the added benefit of heightened franchisee support. McDonald's USA President Chris Kempczinski quelled employee and franchisees, reassuring them that remaining field consultants will help improve their business.
Reorganization charges related to employee severance costs and other costs associated with the closing of field offices is expected to create a onetime charge of $80MM to $90MM in Q2 2018. Previously, McDonald's had eight layers of management between field consultants and CEO Steve Easterbrook. The current plan is to reduce that to six layers and create a more dynamic, nimble, and competitive company. The changes come as a response to declining customer visits in the US in Q1 2018. In an effort to bolster these numbers moving forward, remaining field consultants will shift focus from grading restaurants on such things as cleanliness and service to helping franchisees drive customer traffic.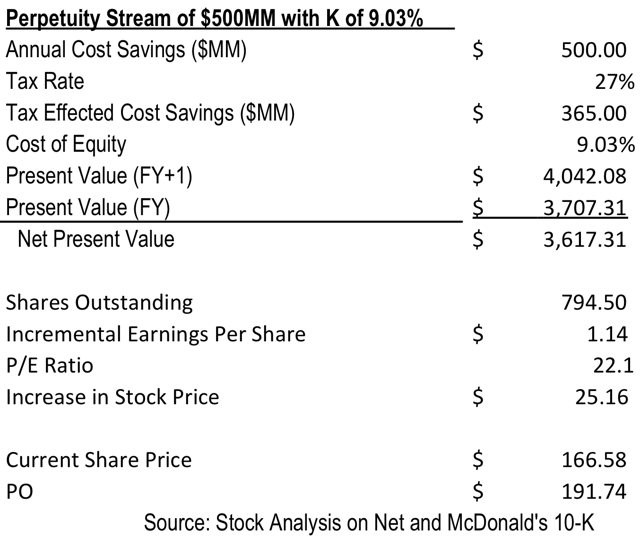 As noted in the analysis above, quarterly EPS is expected to increase $1.14, if the savings are capitalized and allocated evenly in subsequent quarters. Following the table from the top down, after-tax cost savings are expected to be $365MM per annum, sourcing McDonald's effective tax rate from their 10-K. This represents a perpetual cash stream beginning in 2019. By dividing $365MM by McDonald's cost of equity, 9.03%, the perpetuity's present value equals $4.04B. What this essentially means is that $500MM in cost savings from 2019 to infinity is identical in value to $4.04B in 2019's dollar terms. Next, to convert this into 2018's dollar equivalent, $4.04B must be discounted by 1.093. Subtracting away onetime reorganization charges of $90MM, the perpetuity's net present value equals $3.6B. On a per share basis, value is set to increase $4.56 this year, or $1.14 each quarter.
Applying a modestly conservative P/E multiple of 22.1, an incremental stock price increase of $25.16 is expected. Added to McDonald's current stock price of $166.58, a price target of $191.74 is thoroughly justified. Assuming the PO is hit next year in Q2 2019 and quarterly dividends of $1.01 are maintained, a total return of approximately 18% is expected.
Menu and restaurant innovation
McDonald's has been strategically investing some of its cost savings and earnings in technology, such as digital ordering, that it believes will lead to growth. McDonald's announced bullish plans to add 1,000 self-service kiosks a quarter to US stores. Perhaps the most exciting part about this news is the expected boost in check size kiosks produce. According to a 2015 article published by Harvard Business School, check size was a dollar higher when customers ordered using kiosks. At the time, this represented a 30% check size increase.
In addition to rolling out self-service kiosks, mobile ordering and delivery will continue to be added to restaurants domestically. Digital ordering remains a critical part of McDonald's strategy moving forward. Consumers face multiple online ordering options vis-à-vis delivery. For example, one could order food through UberEats, Grubhub, and Postmates. The issue McDonald's now faces is to gain more control over the online customer engagement experience. By getting customers to order through McDonald's, the company could gather data about consumer eating habits and contact information. The latter would allow McDonald's to effectively target customers and send promotional items. Lastly, by taking customers off third party delivery aggregators, McDonald's eliminates the risk of losing customers to competitors.

Last month, McDonald's announced the new fresh beef Quarter Pounder burger across all US locations. This introduction is a direct attack on Wendy's, as the company has touted 100% fresh beef since its inception in 1969. Strategically, the combination of restaurant and menu innovation could be seen as an effort by McDonald's to move upscale. Quick casual restaurants, including Chipotle, are valued at a premium relative to quick service restaurants, like McDonald's. In 2017, for example, quick service restaurants traded at an average P/E of 27.6 relative to quick casual's 41.3. Therefore, if McDonald's could continue their revamp and alter investor perception, perhaps their P/E will expand and converge towards 41.3, stoking further stock price gains.
Conclusion
McDonald's recent 5% gain is commendable, but surely is a precursor of further gains to come this next year. Positive first quarter results and company announcements make it difficult to bet against the stock, and recent cost cutting measures create an even stronger argument for increased profitability moving forward. Corporate staff reductions of $500MM in annual savings have a net present value of over $3.6B, or an incremental addition of $1.14 to quarterly earnings. Taken alongside digital engagement improvements and menu innovation, a price target of $190 seems plausible.
Disclosure: I/we have no positions in any stocks mentioned, and no plans to initiate any positions within the next 72 hours. I wrote this article myself, and it expresses my own opinions. I am not receiving compensation for it (other than from Seeking Alpha). I have no business relationship with any company whose stock is mentioned in this article.