On June 19, 2018, the Canadian Senate officially passed Bill C-45 after accepting 27 of the proposed amendments and rejecting 13 others. The final vote came in at 52-29 in favor of the bill. Senate approval is one of the final steps in the legalization process for recreational Cannabis in Canada. On June 21, 2018, Bill C-45 received approval from the Royal Assent and was officially passed through Parliament to become federal Canadian law. Sale of recreational cannabis is expected to begin in Canada on October 17, 2018.
The market reaction to the passing of Bill C-45 was in line with what investors may have expected upon legalization. Price action for the Big 5 on the next trading day, June 20, 2018, was closed heavily in the green. Canopy Growth (CGC) closed up 6.40%, Cronos (CRON) closed up 5.25%, Aphria (OTCQB:APHQF) (CSE: APH) closed up 4.19%, Aurora (OTCQX:ACBFF) (TSE: ACB) closed up 4.31%, and MedReleaf (OTCPK:MEDFF) (TSE: LEAF) closed up 3.63%.
Canadian Senators in favor of the Bill have been giving high praise to the results. Tony Dean, Senator (I) was quoted after the vote saying, "We have witnessed today a very historic vote that ends 90 years of prohibition, that's historic. It ends 90 years of needless criminalization, it ends a prohibition model that inhibited and discouraged public health, and community health approaches in favour of 'just say no.' Approaches that simply failed our young people miserably".
The open public approval is a promising sign for investors to see alongside the expected negative rhetoric towards cannabis legalization, "This bill does not do what the overarching goal says it does, which is to reduce the marijuana use among young people" said Senator Leo Housakos after the voting.
This doubt on the bill's effectiveness to reduce youth consumption does, however, come contradictory to the results of legalization in US states. Colorado has the longest timeline since legalization and has seen a drastic decline in youth consumption relative to overall US levels.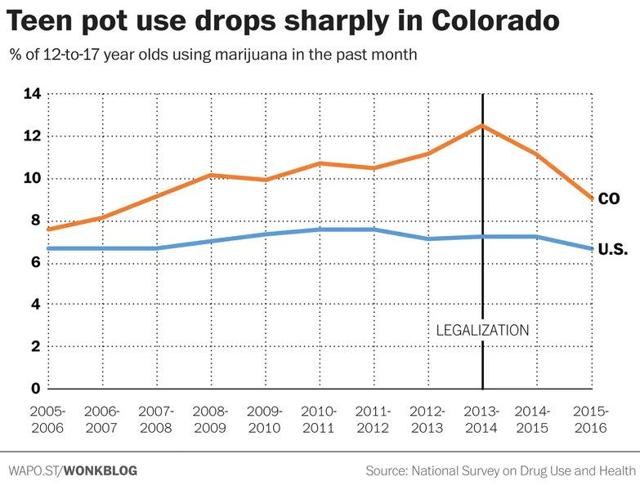 Source: Washington Post & National Survey on Drug Use and Health
Though there are slight variations in the specifics of legalization in Canada compared to Colorado (the biggest being 18 in Canada compared to 21 in Colorado), the usage rates for those under the age limit should (in our eyes) decline at similar rates to Colorado and should undoubtedly not begin increasing.
Amendments to Bill C-45
There were 40 proposed amendments to Bill C-45 and Brazeau Seller Law was kind enough to release a rundown of every amendment and the HOC's position on it. And Trina Fraser was kind enough to post it on Dropbox.
We have combed through the proposed amendments and selected the 5 we believe to be the most relevant to investors and will have the largest impact on the overall Cannabis industry in Canada. *Author's Note: We highly encourage all investors to fully read through all the amendments before making investment decisions.*
Amendment Walkthrough
Amendment 1 - Accepted - Restricts the definition of "cannabis accessory" to consumption accessories only.
This will mean that only accessories directly used for the consumption of cannabis will be affected by "cannabis accessory" regulations. Containers, displays, and tools will not fall under this regulation. For those invested in shipping and packaging companies, they will not be subject to the same regulations the Licensed Producers must follow to move their product.
Amendment 3 - Rejected - "Bless The Ban" Amendment
This will not allow the home-growing of cannabis to be an issue decided by individual Provinces. While Provinces will still have the ability to set certain restrictions on home-growing, they are not able to ban it outright. While there is some concern within the industry about home-growing stealing market share from Licensed Producers, we personally cannot see enough people taking the time to set up home-grow operations to make a material difference in overall recreational revenues.
Amendment 8 - Rejected - Promotional Item Ban
This rejects the Senate's proposed amendment to ban the use of company logos and weed-related imagery on various promotional and non-cannabis items. The rejection of this amendment will allow Licensed Producers to alleviate large issues where established companies would not be allowed to continue the use of their logo on various ancillary products and SWAG.
Amendment 9 - Rejected - THC Potency Cap
This amendment was rejected on the basis that the Government had already THC limits in place. The amendment would have placed hard potency limits, while the Government plan was to allow some flexibility in THC potency caps based on product type, consumer demand, and additional evidence supporting one side of the cap or the other.
Amendment 26 - Rejected - Extra Regulatory Processes In The Case Of New Product Types
This amendment prevents the Senate from being able to introduce new regulatory policies and processes that would hinder and slow the growth and expansion of the cannabis industry. This means that as new cannabis products are developed and introduced, they will not be subject to any additional scrutiny as the Government had felt their measures were enough to adequately cover additional products entering the market.
Conclusion/Final Thoughts
After years of fighting and waiting, Canada is the first major developed nation to federally legalize the recreational sale and use of cannabis for its citizens. This is an incredible milestone for Canada and therefore the world. The coming months leading up to the expected first sale in October will be crucial for Licensed Producers who have spent the last 2 years preparing their facilities for this exact moment. The next year will be the true telling point on which of these Licensed Producers are able to follow through on their business goals, secure market share, and develop established brands in the minds of their customers. It will also be a year where investors will finally be able to see tangible results from the hundreds of millions of their favorite Licensed Producer spent on expansion and development projects. It has been largely a guessing game to this point on discerning the true quality Licensed Producers from the investor money traps, but the results of legal sale will be the final puzzle piece investors will need to fully understand the value of their investment. Congratulations to Canada and congratulations to the cannabis activists that fought for legalization for so many years.
Disclosure: I am/we are long APHQF, CRON, CGC.
I wrote this article myself, and it expresses my own opinions. I am not receiving compensation for it (other than from Seeking Alpha). I have no business relationship with any company whose stock is mentioned in this article.
Editor's Note: This article discusses one or more securities that do not trade on a major U.S. exchange. Please be aware of the risks associated with these stocks.