What Does Breakthrough Therapy Designation Really Mean For My Company?
Summary
Breakthrough Therapy designation is one of the sexier pre-approval stamps that the FDA can place on a drug.
Many shareholders are confused about what this designation means, and what it does for a drug.
In this article, I will consider the implications for Breakthrough Therapy designation, as well as how it can affect your planning in investing.
This article was provided early to members of the Total Pharma Tracker.
Author's note: This article was presented early to subscribers of the Total Pharma Tracker, and they also got further insight into how best to use these tools in making investment decisions.
The world of biotech investing revolves first and foremost around the regulatory agencies like the Food and Drug Administration (FDA) and European Medicines Agency (EMA). In particular, the FDA is arguably the single most important arbiter for what gets to pass, particularly in the world of cancer.
Oftentimes, they set the tone for what is acceptable practice in cancer medicine by being the first to allow drugs to market ... or the first to deny them. Obviously, there are exceptions. Let's get those out of the way immediately:
The EMA has had plenty of situations where they let a drug come to market first, perhaps most notably AstraZeneca's PARP inhibitor olaparib.
The EMA has been a much more open partner with businesses in the development of biosimilars, and as such the European market has, to date, been generally more friendly for these agents.
The FDA does not in any way dictate what happens in other jurisdictions. Case in point being the EMA's early rejection of Puma Biotechnology's (PBYI) neratinib.
Other jurisdictions like China operate on completely different timelines and rulesets.
But as a general rule, we can count on a few truisms. First, the FDA is generally going to be the first regulatory body to put the stamp of approval on a new drug in cancer research. Second, rejection by the FDA is probably going to mean delays in other agencies, as well. Third, and the main focus of today's article, the FDA telegraphs how it feels about drugs before they reach the new drug application (NDA) stage.
In particular, I'm talking about the various designations that the FDA has at its disposal, including Rare Disease designation, Orphan Drug Designation, and Breakthrough Therapy designation. I'm going to focus on Breakthrough Therapy designation, due to its relatively young age and interesting impact on the drug review process.
What Is Breakthrough Therapy Designation?
In cancer medicine, Breakthrough Therapy designation is the newest of the possible FDA stamps, having been created as part of the Food and Drug Administration Safety and Innovation Act of 2012. This designation was designed to address concerns that promising investigational medicines were taking too long to get through the clinical trials process, in spite of the possibility of accelerated approval and compassionate use granted by the FDA. Recall in my last article on cancer stock screening that the timeline for an average drug to go from phase 1 to approval remains in excess of 10 years.
Breakthrough Therapy designation offers a number of benefits for the drug developer. First, they get the benefits of Fast Track designation, including more frequent interactions with the FDA and the opportunity to undergo a rolling submission of an NDA, where the application can be submitted in pieces to expedite review.
In addition, the FDA will provide advice to make sure the design of clinical trials will be efficient yet informative for the purposes of approval. The new drug application will also qualify for priority review and possible accelerated approval.
The most important part of these benefits would seem to be the intensified interaction and leeway from the FDA in terms of design, implementation, and review of clinical trials. Obviously, it's quite difficult to quantify the benefit of this kind of interaction, but it stands to reason that increased visibility with the FDA can prevent major delays in the future. The fact that the FDA involves its senior officials in the review of these applications is another fringe benefit of Breakthrough Therapy designation.
The real question
It's often a pretty big deal when a company gets its drug Breakthrough Therapy designation. Just the name of the designation alone suggests that the FDA has all but stamped the drug with a guarantee of approval. In fact, the agency has come under some fire for this, since it makes the FDA seem less impartial a judge of the merits of the drug.
Part of this criticism is that when the government hails something as a "breakthrough," then the press is more likely to label it some kind of miracle cure. Most drugs are going to fall well short of deserving that title, although we do see some miraculous results in cancer medicine from the breakthrough medications. But "Breakthrough" is a technical designation, for which the company simply needs to meet a certain set of criteria. They don't actually need to cure the disease in question.
But investors looking to factor Breakthrough Therapy designation into their calculus may find themselves wondering, "Does this actually shorten times to review?"
In short, yes ... sometimes by quite a bit. We can pretty easily find whole lists of all Breakthrough Therapy designations. What I wanted to do for this article was consider just the designations fitting these parameters:
The Breakthrough Therapy designation preceded the drug's first approval. This mirrors the situation a lot of shareholders are hoping for in their developmental biotechs.
The Breakthrough Therapy designation was not rescinded
The drug has indeed been approved
Now why do this? If you recall from my last article, we have the ability to screen stocks based, in part, on where they are in development compared with how much money the company has.
I took a bit of flak for that! "It's too simplistic a tool," some said. And I agree. Designations like Breakthrough Therapy can have a big impact on timelines. Have a look at this table:
| | | | | | | | |
| --- | --- | --- | --- | --- | --- | --- | --- |
| Tecentriq (atezolizumab) | Genentech Inc. (OTCQX:RHHBF) | 4/7/2014 | 2 | 5/30/2014 | 5/18/2016 | 1.970 | 2.115 |
| Tagrisso (osimertinib) | AstraZeneca Pharmaceuticals LP (AZN) | 3/15/2013 | 2 | 04/24/2014 | 11/13/2015 | 1.556 | 2.666 |
| Calquence (acalabrutinib) | AstraZeneca UK Ltd. (AZN) | 12/12/2014 | NDA | 08/1/2017 | 10/31/2017 | 0.249 | 2.888 |
| Zykadia (ceritinib) | Novartis Pharmaceuticals Corp. (NVS) | 6/7/2011 | 2 | 03/15/2013 | 4/29/2014 | 1.123 | 2.896 |
| Keytruda (pembrolizumab) | Merck Sharp & Dohme Corp. (MRK) | 4/1/2011 | 2 | 4/17/2013 | 9/4/2014 | 1.384 | 3.430 |
| Bavencio (avelumab) | EMD Serono Inc. and Pfizer (PFE) | 9/16/2013 | 2 | 11/18/2015 | 3/23/2017 | 1.345 | 3.518 |
| Verzenio (abemaciclib) | Eli Lilly and Co. (LLY) | 2/5/2014 | 3 | 10/8/2015 | 9/28/2017 | 1.975 | 3.647 |
| Kisqali (ribociclib) | Novartis Pharmaceuticals Corp. (NVS) | 6/6/2013 | 3 | 08/3/2016 | 3/13/2017 | 0.608 | 3.770 |
| Gazyva (obinutuzumab) | Genentech Inc. (OTCQX:RHHBF) | 12/16/2009 | NDA | 05/15/2013 | 11/1/2013 | 0.466 | 3.879 |
| Tafinlar (dabrafenib) | Novartis Pharmaceuticals Corp. (NVS) | 3/29/2013 | 2 | 07/24/2015 | 6/22/2017 | 1.915 | 4.236 |
| Kymriah (tisagenlecleucel) | Novartis Pharmaceuticals Corp. (NVS) | 3/25/2013 | 2 | 07/7/2014 | 8/30/2017 | 3.151 | 4.436 |
| Imfinzi (durvalumab) | AstraZeneca UK Ltd. (AZN) | 9/25/2012 | 3 | 2/17/2016 | 5/1/2017 | 1.203 | 4.600 |
| Imbruvica (ibrutinib) | Pharmacyclics LLC (ABBV) | 2/20/2009 | 3 | 02/12/2013 | 11/13/2013 | 0.751 | 4.732 |
| Venclexta (venetoclax) | AbbVie Inc. (ABBV) | 6/29/2011 | 3 | 05/6/2015 | 4/11/2016 | 0.934 | 4.789 |
| Alecensa (alectinib) | Hoffman-La Roche Inc. (OTCQX:RHHBF) | 9/1/2010 | 2 | 06/15/2013 | 12/11/2015 | 2.490 | 5.279 |
| Alunbrig (brigatinib) | Ariad Pharmaceuticals Inc. (TKPYY) | 9/21/2011 | 2 | 10/2/2014 | 4/28/2017 | 2.573 | 5.605 |
| Lenvima (lenvatinib mesylatel) | Eisai Inc. (OTCPK:ESALY) | 10/4/2010 | 2 | 07/29/2015 | 5/13/2016 | 0.792 | 5.611 |
| Lartruvo (olaratumab) | Eli Lilly and Co. (LLY) | 12/4/2010 | 2 | 06/8/2015 | 10/19/2016 | 1.367 | 5.879 |
| Darzalex (daratumumab) | Janssen Biotech Inc. (JNJ) | 12/7/2009 | 2 | 05/1/2013 | 11/16/2015 | 2.545 | 5.945 |
| Ibrance (palbociclib) | Pfizer Inc. (PFE) | 10/8/2008 | 3 | 04/10/2013 | 2/3/2015 | 1.819 | 6.326 |
| Zydelig (idelalisib) | Gilead Sciences Inc. (GILD) | 3/11/2008 | 3 | 11/18/2013 | 7/23/2014 | 0.677 | 6.370 |
| Cabotetyx (cabozantinib) | Exelixis Inc. (EXEL) | 8/27/2009 | 3 | 08/24/2015 | 4/25/2016 | 0.671 | 6.666 |
| Dupixent (dupilumab) | Regeneron Pharmaceuticals Inc. (REGN) | 4/29/2010 | 3 | 11/20/2014 | 3/28/2017 | 2.353 | 6.918 |
| Blincyto (blinatumomab) | Amgen Inc. (AMGN) | 10/18/2007 | 3 | 07/1/2014 | 12/3/2014 | 0.425 | 7.132 |
| Opdivo (nivolumab) | Bristol-Myers Squibb Company (BMY) | 2/27/2007 | NDA | 02/15/2013 | 9/4/2014 | 1.551 | 7.523 |
| Yescarta (axicabtagene ciloleucel) | Kite Pharma Inc. (GILD) | 6/17/2009 | 2 | 12/7/2015 | 10/18/2017 | 1.866 | 8.342 |
| Rubraca (rucaparib) | Clovis Oncology Inc. (CLVS) | 4/23/2008 | 3 | 04/6/2016 | 12/19/2016 | 0.704 | 8.663 |
| Empliciti (elotuzumab) | Bristol-Myers Squibb Company (BMY) | 2/21/2007 | 3 | 05/19/2014 | 11/30/2015 | 1.534 | 8.778 |
| VYXEOS (cytarabine and daunorubicin) | Celator Pharmaceuticals Inc. (JAZZ) | 10/17/2006 | 3 | 05/20/2016 | 8/3/2017 | 1.205 | 10.803 |
| Rydapt (midostaurin) | Novartis Pharmaceuticals Corp. (NVS) | 10/6/2004 | 3 | 2/19/2016 | 4/28/2017 | 1.189 | 12.567 |
Note a few things. First, this refers to oncology only, as that's my biggest area of interest. However, I have pulled the same information for the other Breakthrough Therapy Designations for your perusal. Just like before, I have made this file available on my website so you can play around with it as you like.
Second, this does not include non-approved drugs. We'll get to that.
Some key data from this analysis
The first thing I notice from this analysis is that the times for these drugs from beginning of their clinical trials to the end is seriously curtailed compared with what I would expect. In fact, on average, drugs that eventually get Breakthrough Therapy designation and then approval take on average 5.667 years from the earliest documented clinical studies to time of approval. As you'll see below, there is a lot of variation here, with a standard deviation of 2.442.
This implies that drugs qualifying for Breakthrough Therapy designation take around 3.2 to 8 years to get approved, compared with the 10+ years I would personally assume for any given drug based on average length of trials I described in my cancer stock screener article.
Here is a figure showing you the normalized time to approval from the earliest announcement of clinical trials. The red line marks the time the drug was in study before receiving Breakthrough Therapy designation, at which time the line turns blue.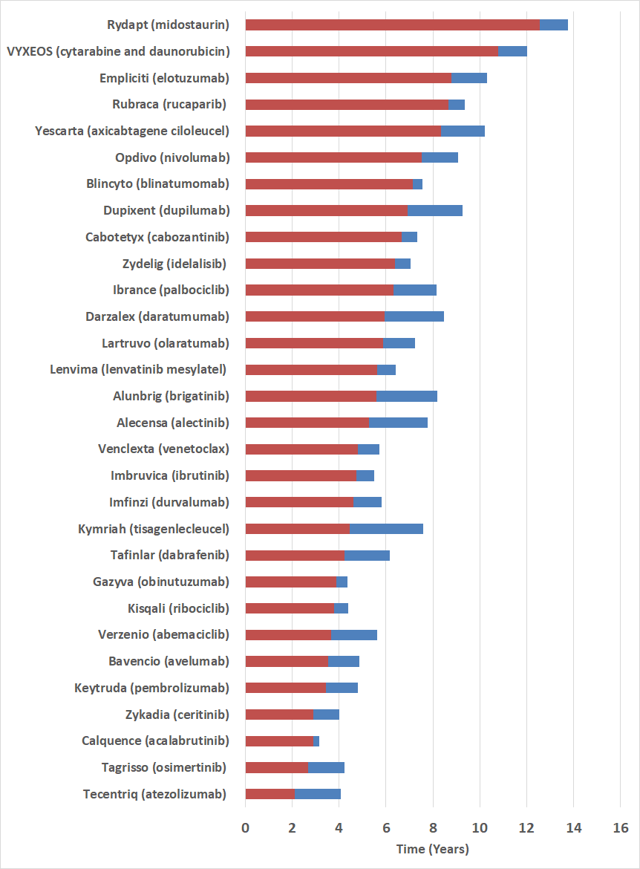 As you can see, some of these first approvals came ridiculously quickly, showing you the possibilities that come with Breakthrough Therapy designation. Interestingly, the shortest bars are some of the newest drugs that kind of came out of nowhere and drove forward the standard of care in their respective areas.
However, the long story made short is that a drug that gets good enough data to see Breakthrough Therapy designation is also highly likely to have an abbreviated timeline.
One important caveat you should consider, though, is the role of selection bias here. These are all fantastic, groundbreaking drugs in their own right. They got approved quickly because they were, by and large, game changers in their respective fields, and they showed it early enough for Breakthrough Therapy designation to make a difference.
It wasn't necessarily the Breakthrough Therapy Designation that caused these drugs to get approved, but receipt of this stamp from the FDA coincides with a shorter-than-expected time to approval.
Nice facts. Can I use it?
There are some important lessons we can draw as investors from this information. First, it is obvious that in many cases, large companies are the ones most likely to get the data needed to qualify for Breakthrough Therapy designation, so this may not help so much with speculative stocks.
However, there are a few exceptions to that ... consider this list of cancer medications that currently have Breakthrough Therapy designation but have not yet been approved:
| | | |
| --- | --- | --- |
| Erdafitinib | Janssen Pharmaceutical (JNJ) | 03/15/2018 |
| Enfortumab Vedotin | Astellas Pharma Inc. and Seattle Genetics Inc. (OTCPK:ALPMY)(SGEN) | 03/26/2018 |
| bb2121 | Celgene Corporation (CELG) | 11/4/2017 |
| MOR208 + Lenalidomide | MorpoSys (MOR) | 10/23/2017 |
| Cemiplimab (REGN2810) | Regeneron/Sanofi (REGN) | 09/8/2017 |
| Acalabrutinib | AstraZeneca (AZN) | 08/1/2017 |
| Mogamulizumab | Kyowa Hakko Kirin Co, Ltd (OTCPK:KYKOF) | 08/25/2017 |
| Trastuzumab Deruxtecan (DS-8201) | Daiichi Sankyo (OTCPK:DSKYF) | 08/29/2017 |
| Burtomab | Y-mAbs Therapeutics, Inc. | 06/7/2017 |
| Avapritinib | Blueprint Medicines Corp. (BPMC) | 06/1/2017 |
| GMI-1271 | GlycoMimetics (GLYC) | 05/17/2017 |
| Lorlatinib | Pfizer (PFE) | 04/27/2017 |
| Toca 511 & Toca FC | Tocagen (TOCA) | 02/23/2017 |
| JCAR017 | Juno Therapeutics/Celgene (CELG) | 12/20/2016 |
| Elbit Imaging | Gamida Cell | 10/10/2016 |
| Pracinostat | MEI Pharma (MEIP) | 08/1/2016 |
| Larotrectinib | Loxo Oncology, Inc. (LOXO) | 07/13/2016 |
| Affinity enhanced T-cell therapy | Adaptimmune (ADAP) | 02/9/2016 |
| Sacituzumab govitecan (IMMU-132) | Immunomedics (IMMU) | 02/8/2016 |
| Olmutinib | Boehringer Ingelheim | 12/18/2015 |
| Pexidartinib (formerly PLX3397) | Daiichi Sankyo (OTCPK:DSKYF) | 10/30/2015 |
| Azedra (iobenguane I 131) | Progenics Pharmaceuticals Inc. (PGNX) | 07/28/2015 |
| Rucaparib | Clovis (CLVS) | 04/6/2015 |
| EBV-CTL | Atara and MSKCC (ATRA) | 03/2/2015 |
| Rindopepimut (Rintega) | Celldex (CLDX) | 02/23/2015 |
| Volasertib | Boehringer Ingelheim | 09/17/2013 |
| Entinostat | Syndax (SNDX) | 09/11/2013 |
Now, this list obviously has some issues. First and foremost, to me, is the inclusion of rindopepimut, which failed spectacularly for CLDX.
But I've kept it here to illustrate something important: Breakthrough Therapy designation does not guarantee approval, and you should be careful in considering it a strong indicator as such.
Of course, we see a number of the usual big pharma players here. I think these should go into any of your own calculus when trying to build a portfolio of cancer stocks, but that's beyond the scope of this article. I present that information to you for context.
What I'm most interested in is seeing how this information might be combined with the screening tool I recommended you use. Can it alter the risk level?
In short, yes. I'll request a mea culpa for the original run of the screening tool. There were some notable omissions in there, most notably of all Immunomedics (IMMU), who are developing sacituzumab govitecan.
There are 6 companies that were on the original screening chart and have a Breakthrough Drug: BPMC, GLYC, MEIP, PGNX, SNDX, and TOCA. How does the calculation change for them?
BPMC - I had them needing between 7 and 17 quarters of cash before approval. However, upward of $354 million needed, but if they get there quickly, they have $211 million in excess they need. However, they received Breakthrough Therapy designation in June 2017, which means they were on average upwards of 2.1 years away at that time. This means that, based on its designation, that BPMC is well within bounds to have enough money to complete the drug approval process.
GLYC - I had them as one of the top ten best cash positions even before factoring in the Breakthrough Therapy designation. This suggests even more strongly that their cash position is strong.
MEIP - I originally had them as needing another $110 million to $318 million before they make it to the finish line. However, the breakthrough therapy designation in August 2016 suggests that they should have an application for approval pretty soon. I would consider a cash need of 7 quarters as the absolute maximum at this point, meaning their needs can be revised down considerably, bringing MEIP into a much less risky range.
PGNX - With Breakthrough Therapy granted in July 2015, we're looking at almost 3 years exactly from the time of designation to an approval decision, although it's worth remembering that this decision was delayed by 3 months earlier this year. Needless to say, PGNX can be removed from this, as their decision is imminent, for good or ill.
SNDX - I had SNDX as being short some $21 million on the lower bound. Of course, their drug entinostat has been a Breakthrough Therapy for a long time (since 2013), so obviously a massive shortening of the timeline was not in the cards for SNDX. Their SEC filings do not indicate that an approval is imminent, so I will leave my estimate alone as it is for this one, since Breakthrough Therapy seems not to have made a huge difference.
TOCA - TOCA is another company with a make-or-break sort of cash position at this time, needing an estimated $16 million to $145 million to get through the development of their glioma drug. This one's designation was granted February 2017, so there is still time for it to make a big difference, if their phase 3 data are good. Based on this information, I would consider revising down their quarters of cash needed to as low as 4, but it will depend heavily on what they see.
Conclusions
So overall, as I imagined with my "caveats" listed above, it seems we cannot draw a firm conclusion about the timeline to approval for a drug that has not yet been approved. However, it does give us an even better tool to focus on those companies that have the strongest cash position. Importantly, we can see the companies that have a shaky cash position but a potentially very strong catalyst in the near future.
This may help us to further refine the list of cancer stocks that remain speculative but promising. Moreover, it can help you prognosticate on the potential consequences of the FDA's most momentous designation prior to a drug's approval. Overall, I hope you find this information interesting, just like I do. I have always been under the impression that Breakthrough Therapy designation would be a huge catalyst for any of my speculative holdings.
This may not be true, after all, although it can be an important tool for telling which drugs are destined to be approved and make a big difference in the standard of care.
Thank you very much for reading yet another lengthy article! This, just like screening a stock, is one piece of analysis you need to take into account when trying to find promising investments. Actually acting on it is a whole different beast, and for that I recommend some kind of strategy. I am biased for my "No BS Plan," which can help you develop the discipline you need to minimize your losses while accruing your gains.
Disclosure: I/we have no positions in any stocks mentioned, and no plans to initiate any positions within the next 72 hours. I wrote this article myself, and it expresses my own opinions. I am not receiving compensation for it (other than from Seeking Alpha). I have no business relationship with any company whose stock is mentioned in this article.
Editor's Note: This article covers one or more microcap stocks. Please be aware of the risks associated with these stocks.