Real Estate Weekly Review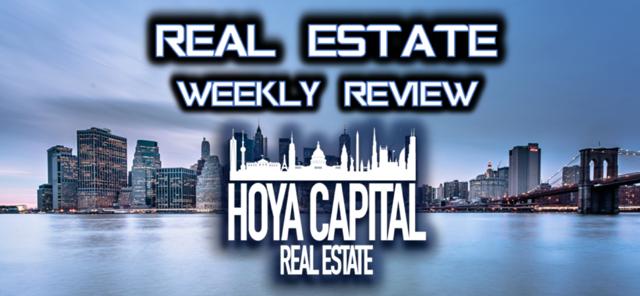 On another busy week of economic data, geopolitics, and court rulings, the REIT ETFs (VNQ, IYR, ICF) finished higher by 1.5%, continuing a recent trend of outperformance after a dismal start to the year. Retail REITs surged more than 4% this week after the US Supreme Court ruled to close a loophole that had allowed online retailers to avoid sales tax, negating a cost advantage enjoyed by e-commerce retailers.
Homebuilders (XHB, ITB) meanwhile have continued to slide, dipping another 4% this week. Homebuilder confidence took a step back as rising construction costs continue to pressure already tight margins. The Hoya Capital Housing Index, which tracks an average of residential REITs, homebuilders, homebuilding products, and home improvement retailers, declined 0.5%.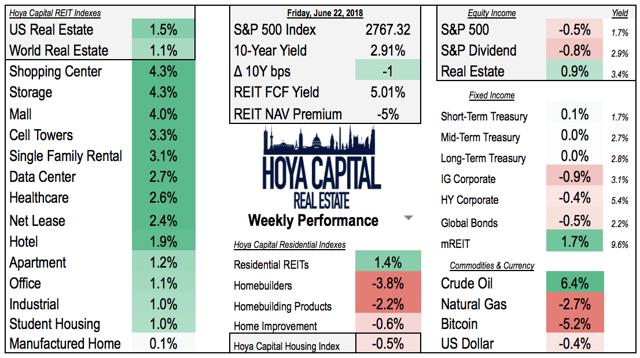 (Hoya Capital Real Estate, Performance as of 3pm Friday)
Crude oil (USO) jumped more than 6% as OPEC reached a deal to raise output by 600,000 barrels a day, an output boost that was slightly below expectations. Despite the jump in oil prices, the US 10-Year yield remained flat. In other areas of the real estate sector, mortgage REITs (REM) and international real estate (VNQI) each finished the week higher by more than 1%.
Real Estate in the News
Retail REITs were the focus this week after the Supreme Court's ruling, which reversed a 1994 rule that had allowed retailers to avoid paying sales tax if the company did not have a physical presence in the state. In our reports on the Mall and Shopping Center sectors, we had discussed the implications of a potential change to this long-standing competitive disadvantage faced by traditional brick and mortar retailers. Tanger (SKT), CBL (CBL), Taubman (TCO), Brixmor (BRX), DDR (DDR), Pennsylvania REIT (PEI), and Kimco (KIM) each jumped more than 5% on the week.
Healthcare REITs also delivered strong performance, led by Healthcare Realty (HR) and Omega (O). This week, we published a report on the healthcare sector: Healthcare REITs: Back From the Dead?. Amid fears of rising rates and deteriorating fundamentals, healthcare REITs were left for dead. Since early March, however, the sector has sprung back to life, jumping nearly 15%.

Homebuilders were among the weakest performers on the week, dragged down by continued fears of rising construction costs and signs of waning demand growth. According to the NAHB, the average price to build a new single family home has risen more than $9,000 since January 2017. D.R. Horton (DHI), Toll Brothers (TOL), NVR (NVR) and MDC Holdings (MDC) were each off by more than 4% on the week.

2018 Performance
REITs are now lower by just 1.5% YTD on a price-basis, continuing a steady recovery after a brutal start to 2018 that saw the sector down nearly 10% on the year in mid-February. Despite the recent strong performance, REITs are still underperforming the S&P 500 on the year, which is higher by roughly 3%. Homebuilders are off by nearly 17% after rising more than 50% last year. The 10-Year yield has climbed 51 basis points since the start of the year, aided by the 15% climb in the price of crude oil.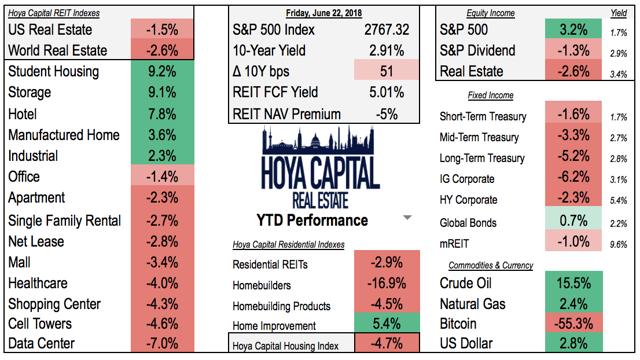 Student housing, hotel, manufactured housing, storage, and industrial REITs have led the way so far in 2018 while retail REITs have continued to lag. Below is the total return performance by real estate sector, as categorized by NAREIT.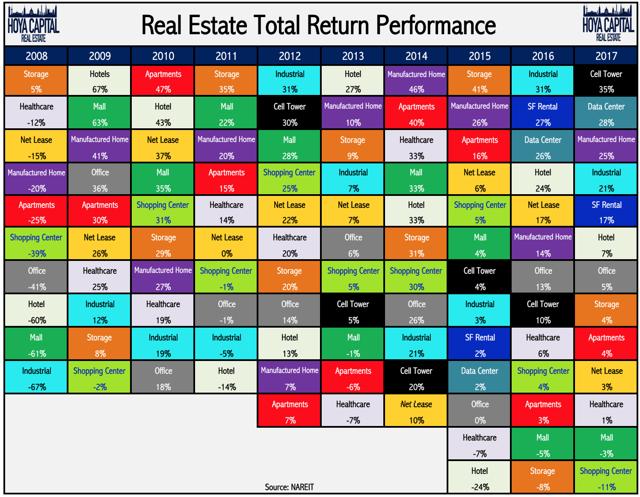 REITs ended 2017 with a total return of roughly 5%, lower than the 20-year average annual return of 12%. Going forward, absent continued cap-rate compression, it is reasonable to expect REITs to return an average of 6-8% per year with an annual standard deviation averaging 5-15%. This risk/return profile is roughly in line with large-cap US equities.

Real Estate Economic Data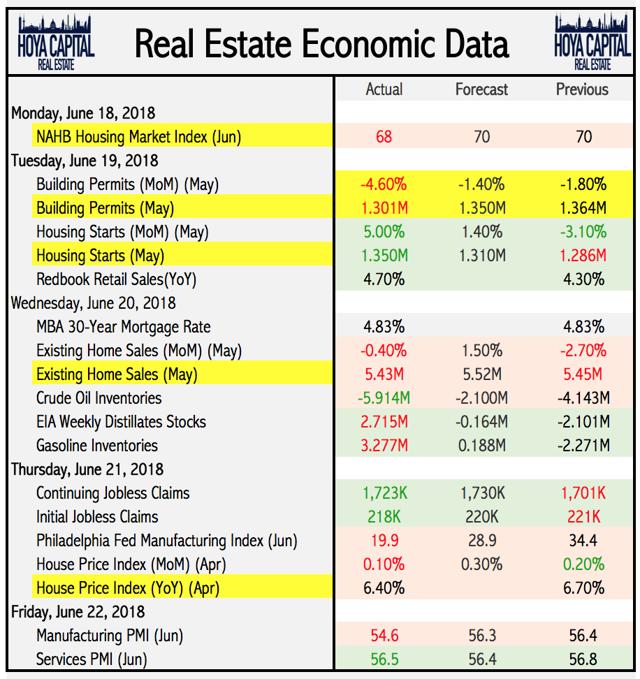 (Hoya Capital Real Estate, HousingWire)
Housing Data Shows Signs of Life
Just when it appeared likely that growth in housing starts was bound to turn negative on a TTM basis, housing data has inflected higher since the end of 2017, perhaps corresponding to the enactment of tax cuts and continued broad-based deregulation. The impact of the recent acceleration in construction costs related to the proposed tariffs on steel and aluminum, along with the already enacted tariff on Canadian lumber, has yet to have a discernable impact on the data. For now, builders have been able to pass much of these rising costs onto the consumer through higher new home prices and rising rents, a function of tight - generally undersupplied - housing markets across the country.
May was the strongest single month for total housing starts since 2007. Total starts rose to 124,900 units on a non-adjusted basis and 1,350,000 on a SAAR basis. This follows a solid and upwardly revised March and April, which has pushed the TTM rate for total housing starts to 5.3%, the best since early 2017, while single family starts rose a strong 9.7% on a TTM basis. Multifamily has stabilized in recent months, but growth in that category remains lower by 4.0% on a TTM basis.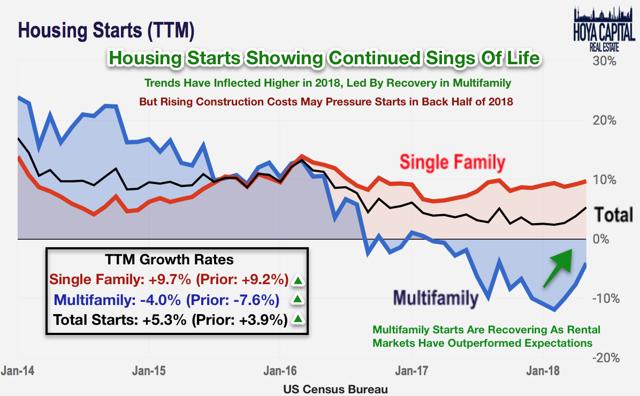 After a surge of apartment starts from 2014 to 2016, multifamily starts cooled in 2017 but have bounced back in recent months, particularly in the regions most affected by tax reform. Apartment developers appear to be responding to the removal of key homeownership incentives that is expected to spur increased rental demand in high-cost housing markets.
Completions have finally "caught-up" with starts, as seen below. 365,400 units were delivered over the past twelve months, the highest rate since 1989. More than 600k units are still under construction with peak deliveries expected to be in the first half of 2018. We expect completions to remain in the 350-400k/year range through 2018, which would continue to put downward pressure on rent growth, all else equal.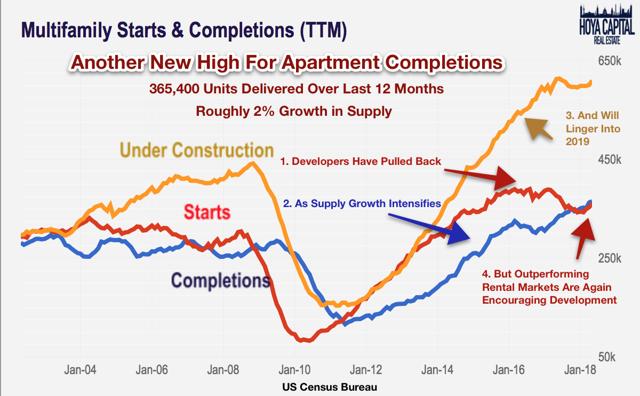 As a percent of existing stock, apartment supply growth is approaching 2%. Total supply growth, however, remains modest at less than 1%. Population growth continues to average 1% per year according to US Census data. This post-recession supply/demand imbalance has contributed to the tight housing market that has resulted in 5-7% annual home price appreciation and 2-5% annual rent growth since 2012. This imbalance is slowly equalizing, but absent a recession, housing markets will remain tight for at least several more years.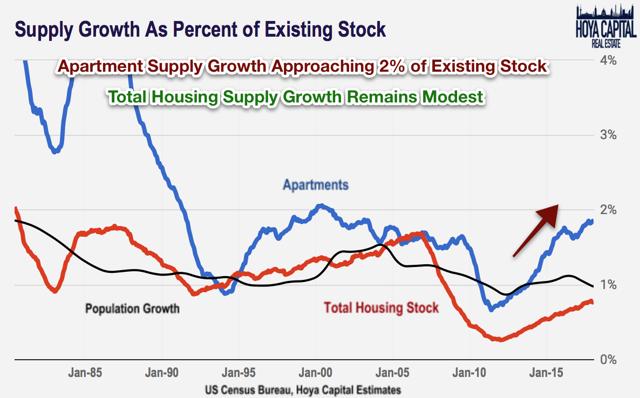 Despite peaking supply growth in multifamily markets, national rent indexes continue to show surprisingly strong rental market fundamentals. According to the Zillow ZRI Rent index, rent growth bottomed in mid-2017 and has recovered in recent months. Supply pressure will be a continuing theme throughout 2018. With supply growth a certainty, the wild card for apartment rent growth will be demand. We continue to believe that rental demand will surprise to the upside due to homeownership unaffordability, strong labor markets, and changes to the tax code which further incentivize renting.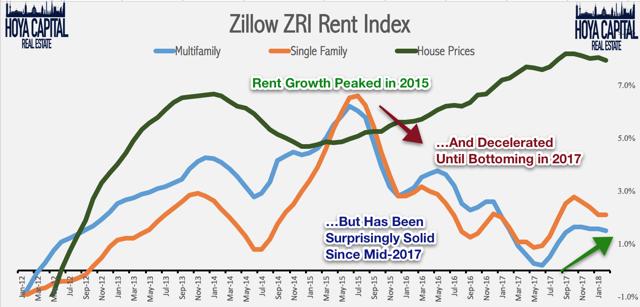 Existing Home Sales Below Expectations in May
This week, existing home sales data was released. Both new and existing home sales were strong in early 2017 but faded into year-end, likely due to rising mortgage rates, unaffordability issues, and continued tight supply levels. Existing sales came in short of expectations, turning negative on a YoY basis for the first time since early 2015. New home sales data will be released next Monday.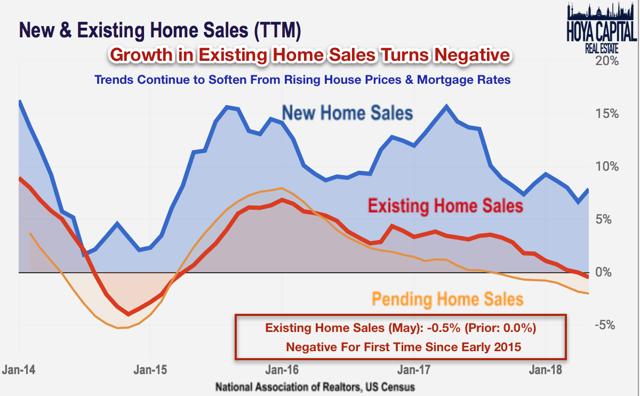 By historical standards, new home sales remain at mid-1990s levels and even lower after adjusting for population growth. That said, the significant overbuilding of single family homes that occurred between 1995 and 2005, perhaps the most significant cause of the financial crisis, has contributed to the slow post-recession recovery in new home construction. The growth in existing home sales has slowed since 2015, but this rate remains healthy by historical standards. Too many existing home sales (as we saw from 2003 to 2006) indicate that either mortgage standards have gotten overly loose or short-term housing flipping activity has increased. At around 7% per year, the turnover rate of existing homes is roughly in line with pre-2000 levels.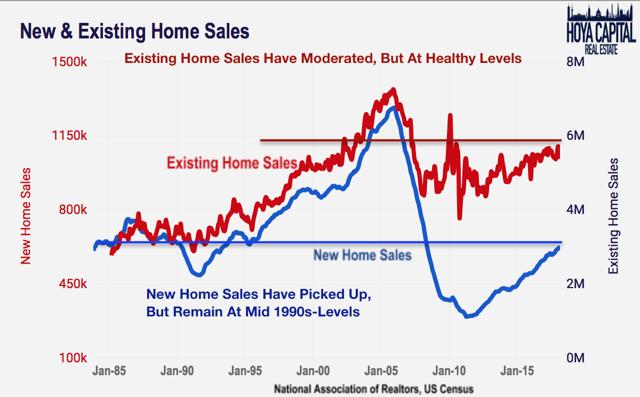 Existing home inventory remains near historically low levels, primarily a result of the tepid pace of new home construction in the aftermath of the recession. Other effects are at play, too, including the increased institutional presence in the single family rental markets and the rising rate of homeownership among the older demographics. The rate of first-time homebuyers remains stubbornly below the pre-bubble level of 40-45% and the bubble-peak of 52%. We have yet to see the younger demographics enter the homeownership markets in any significant numbers.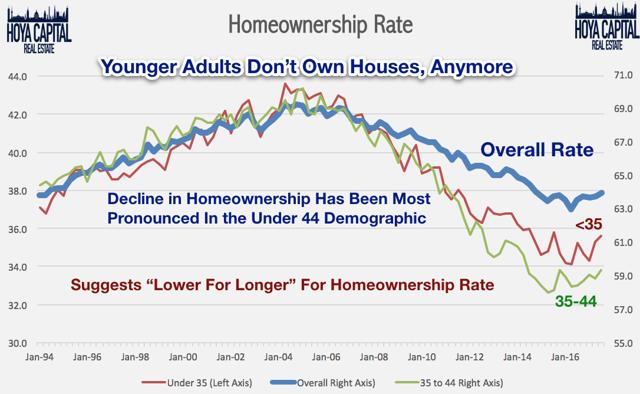 Bottom Line
Retail REITs rallied this week after the Supreme Court closed a loophole that had allowed online retailers to avoid sales tax, negating a cost advantage enjoyed by e-commerce retailers. After a dismal start to 2018, the REIT sector has outperformed in recent months as interest rates have stabilized and fundamentals have improved. REITs are down by just 1% YTD.
Homebuilders, meanwhile, have continued to slide, dipping another 4% this week. Homebuilder confidence took a step back as rising construction costs continue to pressure already tight margins. Despite cost concerns, housing starts have inflected higher in 2018, spurred by a recovery in multifamily starts. Apartment developers expect tax reform to boost rental demand in high-cost markets. Existing home sales continue to moderate as low inventory, affordability issues, and rising mortgage rates have kept potential millennial first-time buyers in the rental markets for longer than prior generations.
Be sure to check out all of our reports to see how each real estate sector stacks up: Net Lease, Malls, Industrial, Data Center, Apartments, Shopping Center, Hotel, Office, Healthcare, Industrial, Single Family Rental, Cell Tower, Manufactured Housing, Storage, Homebuilders, and Student Housing.
Please add your comments if you have additional insight or opinions. We encourage readers to follow our Seeking Alpha page (click "Follow" at the top) to continue to stay up to date on our REIT rankings, weekly recaps, and analysis on the real estate and income sectors.
Disclosure: I am/we are long VNQ, SPY, MAA, CPT, OHI, PLD, GGP, STOR, SHO, SUI, ELS, ACC, EDR, DLR, COR, REG, CUBE, PSA, EXR, BXP, EQR, INVH, SPG, HST, TCO, AMT, SBRA. I wrote this article myself, and it expresses my own opinions. I am not receiving compensation for it (other than from Seeking Alpha). I have no business relationship with any company whose stock is mentioned in this article.
Additional disclosure: All of our research is for educational purposes only, always provided free of charge exclusively on Seeking Alpha. Recommendations and commentary are purely theoretical and not intended as investment advice. Information presented is believed to be factual and up-to-date, but we do not guarantee its accuracy and it should not be regarded as a complete analysis of the subjects discussed. For investment advice, consult your financial advisor.