The purpose of Turning Points is to break down the leading and coincidental data along with other economic information to determine if the economy is at a "turning point" - a recession.
Leading Indexes
Let's start by looking at the financial market leading indexes, beginning with commercial paper rates: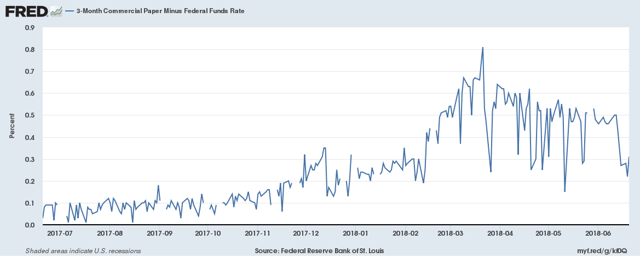 Commercial paper started to rise at the end of last year but really spiked in March. The new tax law caused a flood of issuance; higher supply = higher rates. But rates have been gradually declining. While they're still somewhat elevated, they have been in a clear downward trend since late March.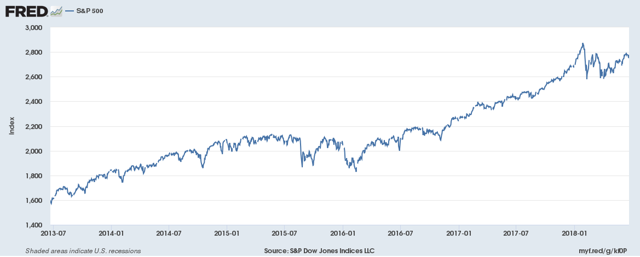 After the sharp drop in the spring, the S&P 500 has moved higher. Although it is still below an all-time high, it also hasn't continued to move lower.
Next, let's turn to this week's building permits report. 1-unit permits were down 2.2% M/M, but up 7.7% Y/Y. Let's look at the data from several perspectives:
While the national figure is down in three of the last six months, the overall trend is still higher. The latest move lower could be a natural cooling off period from the strong 2017 data.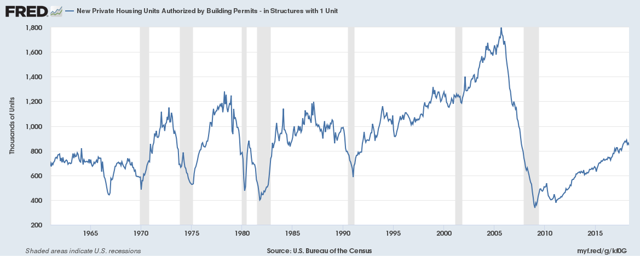 Looking at the data going back to the early 1960s shows that the current pace is not only in a clear uptrend but is also still below levels seen in other expansions.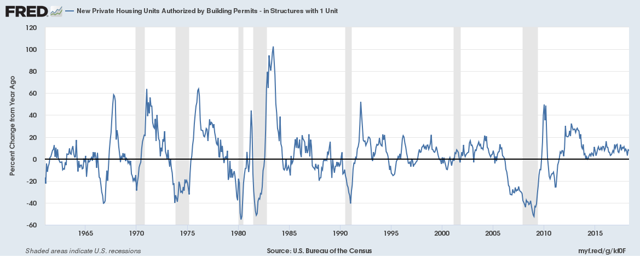 Although the Y/Y pace is in a modest downtrend, it is still positive.
Looking deeper into the report, three regions saw M/M declines: the West (-4.6%; 24% of 1-unit starts), the South (-13.9%; 54% of 1-unit starts), and the Midwest (-1.6%; 14% of 1-unit starts). Only the Northeast saw a rise (+11.8%; 8% of starts).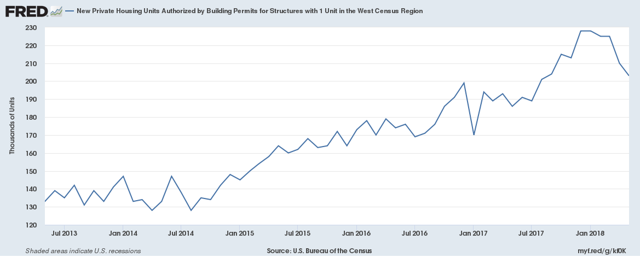 The West is down five of the last six months. But that drop could be seen as a natural cooling-off period from the strong performance in 2017.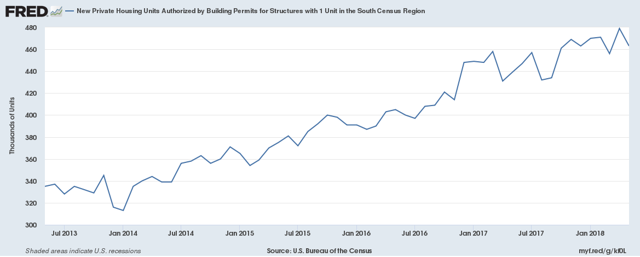 The total number of starts in the South has more or less been moving sideways since January 2017.
Conclusion: The leading indicators all point towards continued growth
Coincidental Indicators
This week, let's take a look at a few lesser-analyzed coincidental numbers, starting with a few wage measures:

Personal income less transfer payments is derived from the BEA's GDP report - it's the flip-side of the more widely reported expenditure numbers. This number lost some upward momentum in 2016 but has been moving higher since (left chart). The pace of Y/Y increases is moving slightly higher (right chart).

The rate of Y/Y percentage change in the average hourly earnings of production workers just hit a five-year high (right chart).
Finally, real manufacturing and trade sales continue to move higher (left chart). The current pace of Y/Y change is slightly above the five-year average (right chart).
Conclusion for the coincidental numbers: All three numbers point towards continued expansion.
Disclosure: I/we have no positions in any stocks mentioned, and no plans to initiate any positions within the next 72 hours. I wrote this article myself, and it expresses my own opinions. I am not receiving compensation for it (other than from Seeking Alpha). I have no business relationship with any company whose stock is mentioned in this article.