Breakout Forecast Selections for Week 26:
Market conditions continue with medium volatility. The positive momentum gauge continues with another full week in yellow (medium) unchanged from a value of 44 at the end of the prior week. The all-time low for the positive momentum selection gauge is 8 during week 14 and all-time high is 120 during August 2017. Last published report: Week 25 Breakout Forecast
Total Return Chart: +79.82%
The Total Return Chart reflects total return of all stocks in the weekly portfolio.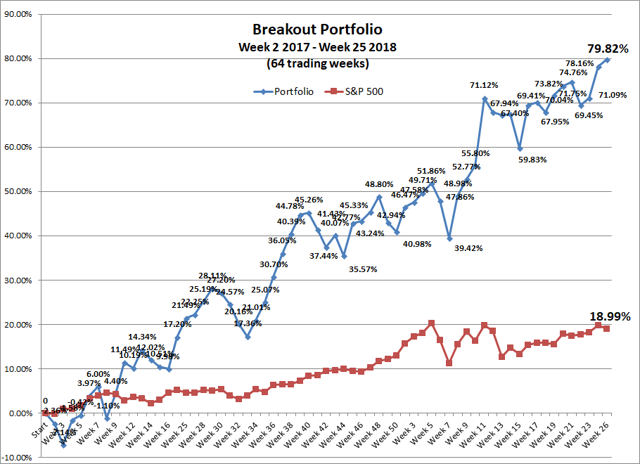 My momentum gauge is based on the count of the momentum stocks screened as either positive accelerating and negative accelerating stocks based on my research algorithm. The combination of the two different types of momentum categories screened by my algorithm may help validate the quality of the overall market momentum strength. The negative momentum gauge is down slightly from 23 last week to 22 this week indicating low conditions of negative breakdowns.

Market fund flow update June 15 from ETF.com:
ETF flows were salvaged this week as the Russell reconstitution trade offset trade war concerns. On net, $7.5 billion flowed into U.S.-listed ETFs during the week ending Thursday, June 21, according to FactSet.

Heading into Thursday, ETFs were on track for net outflows of nearly $10 billion as traders eased up on their equity positions amid rising trade tensions between the U.S. and China. But then Thursday rolled around, and a whopping $16.5 billion flooded into ETFs—mostly funds tracking Russell indices.

~ ETF.com

* Related to the extremely large influx of funds to Russell indices, I will be releasing the annual Russell 3000 anomaly selections based on the reconstitution that takes effect on Monday, 25 June, 2018.
This week I have selected 8 breakout stocks from the following sectors: 2 basic materials, 3 technology, 1 services, and 2 healthcare.
The new selections of positive momentum stocks for this week include:
ImmunoGen (IMGN) - Healthcare/Biotechnology
Zion Oil & Gas (ZN) - Basic Materials/Independent Oil & Gas
These stocks are not necessarily recommended for long-term buy/hold unless you are comfortable with very large price swings. As I continue to observe, strong momentum events usually last from one to three weeks and may encounter some substantial decline before returning again to positive gains.
These are the most volatile selections I offer from among all the different Value & Momentum portfolios. Proposed entry points for each of the selected stocks are as close to the highlighted prices in yellow on the charts at market open. All stocks are selected for high short-term breakout results over one to three weeks.
Breakout Stock Selections for Week 26
Note: All breakout stocks are selected based on my algorithm to increase the frequency of 10% gains within a short period of time. Price targets are estimated through an unrelated technical charting process for those who are looking for estimated exit points; however, it is possible the momentum in these selections may move well beyond the initial target.
Pick #1: ImmunoGen - Healthcare/Biotechnology

Price Target: 14.00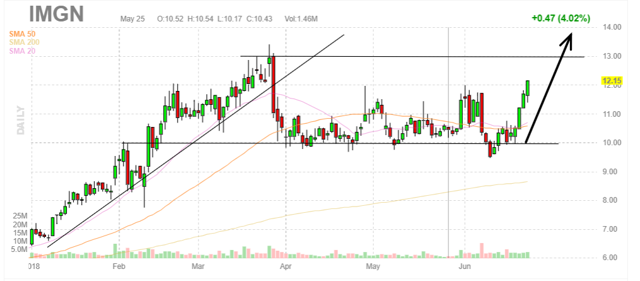 ImmunoGen, Inc., a clinical-stage biotechnology company, focuses on developing antibody-drug conjugate (ADC) therapies to treat cancer. Its product candidates include mirvetuximab soravtansine, an ADC targeting folate-receptor alpha, which is in Phase III clinical trial for the treatment of platinum-resistant ovarian cancer; IMGN779 that is in Phase I clinical trial for the treatment of acute myeloid leukemia (AML); and IMGN632, a CD123-targeting ADC that is in Phase I clinical trial for treating AML and blastic plasmacytoid dendritic cell neoplasm, as well as coltuximab ravtansine, a CD19-targeting ADC, which is in Phase II trial for DLBCL.
Most recent corporate presentation, June:
Pick #2: Zion Oil & Gas - Basic Materials/Independent Oil & Gas

Price Target: 5.00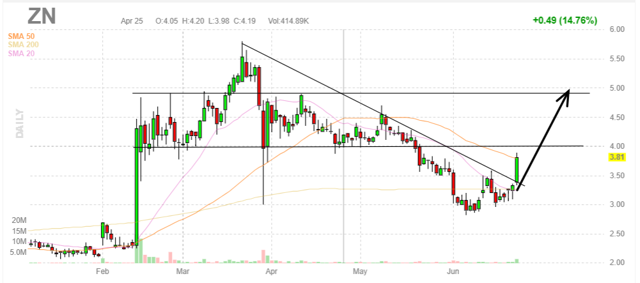 Zion Oil & Gas, Inc. operates as an oil and gas exploration company in Israel. It holds a petroleum exploration license onshore Israel, the Megiddo-Jezreel License that covers an area of approximately 99,000 acres. The company was founded in 2000 and is based in Dallas, Texas.
No recent corporate presentation.
2018 Chart: +38.63% YTD
Cumulative return with 1-week holding period.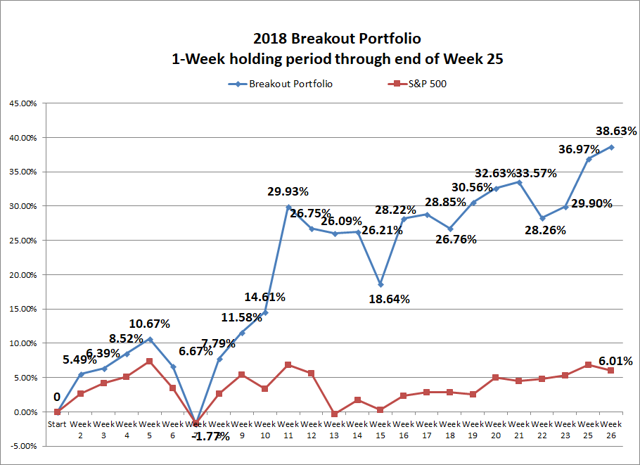 Breakout Forecast Performance Results
Total Breakout portfolio returns from 3 weeks ago are listed below to illustrate the rolling returns of prior top performers and total portfolio returns:
| | |
| --- | --- |
| Breakout Forecast | Portfolio gains past 5 weeks / Top 3 Performing Stocks |
| Week 23 | -0.42% / (MEIP) +25.14% (CVEO) +11.48% (PGNX) +5.60% |
| Week 22 | -0.13% / (TXMD) +10.06% (VSTO) +8.56% (BSTI) +2.91% |
| Week 21 | +2.69% / (GALT) +68.20% (CRVS) +3.91% (RUBI) +19.44% |
| Week 20 | +1.26% / (NVTA) +18.48% (ARTX) +12.39% (JT) +11.99% |
| Week 19 | +23.00% /(MRNS) +36.84% (QTNT) +86.50% (GEOS) 19.59% |
*The most current weekly portfolio results (including all the value and forensic portfolios) are available to subscribers HERE.
2-Week Holding Period Returns
The next charts shows the cumulative return for a longer fixed 2-week holding period instead of the 1-week holding period charted above. Because 2-week holding periods overlap with weekly selections, I have separated it into two charts, Odd and Even weeks:
Using 2-week holding periods, the ODD Weekly Breakout portfolios have returned +33.40% compared to 4.99% for the S&P 500 YTD over the same holding periods.
The EVEN Weekly Breakout portfolios have returned +22.43% compared to 4.11% of the S&P 500 in the equivalent 2-week holding period.
1. Odd 2-Week Holding Chart 2. Even 2-Week Holding Chart

A detailed holding period analysis for Q1 2018 sampled Breakout Stocks is available here for review: Value & Momentum Breakout Stock Returns For Q1 2018
Long-Term Portfolio Returns
As a reminder of the other longer term portfolios being tracked and updated regularly, here are the returns through Week 25. The Premium Portfolio is an actively managed trading portfolio exclusively for members.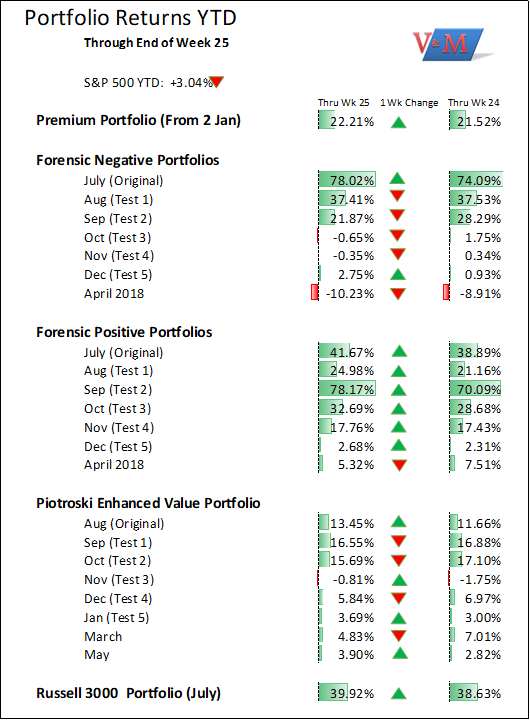 Please click the "Follow" button at the top of the page to enjoy free updates on the progress of each of the different portfolios I offer that are outperforming the S&P 500 in each of their respective time periods.
To Subscribe to Value & Momentum Breakouts, click on the link HERE.
I think these breakout stocks will serve you well in Week 26 and beyond. I hope you all do well with these stocks and always diversify to minimize some of the market risks. All the very best, and have a great week of trading!
JD Henning, PhD, MBA, CFE, CAMS
Disclosure: I am/we are long AEZS, AKTS, CFRX, JT, KEM, LOPE, MU, NGVC, SENS, STAA, TXMD, UPL, LABU, UBIO.
I wrote this article myself, and it expresses my own opinions. I am not receiving compensation for it (other than from Seeking Alpha). I have no business relationship with any company whose stock is mentioned in this article.