Welcome to the June 2018 cobalt miner news. For some background on the cobalt miners, please check out my earlier articles:
The past month saw cobalt spot prices fall in response to some new supply starting to come on from the Democratic Republic of Congo (DRC). Despite this, all the experts are still saying we will need a lot more cobalt going forward.
From my Trend Investing service here are two quotes:
Myself on May 4, 2018:
"My conclusion is that the cobalt market will be back in balance in 2018-2020, and cobalt prices will level of probably in the USD 30-40/lb range."
Chris Berry on Oct. 30, 2018:
"There is looming supply coming on stream from Katanga and RTR (Eurasian Resources Group) which may alleviate the market tightness, but not by much if at all. Long-term prices will likely moderate, but I see strength in cobalt pricing over the next 18 to 24 months as EV supply chains continue to get built out."
Note: Both Chris and myself were early to pick the cobalt boom over 2 years ago.
Cobalt price news
As of June 21, the cobalt spot price was US$36.06, reduced from US$41.50 last month. The LME cobalt price is US$79,000/tonne. The London Metals Exchange (LME) inventory remains low but has risen slightly the past month (see graph below).
Cobalt spot prices - 1-year chart - USD36.06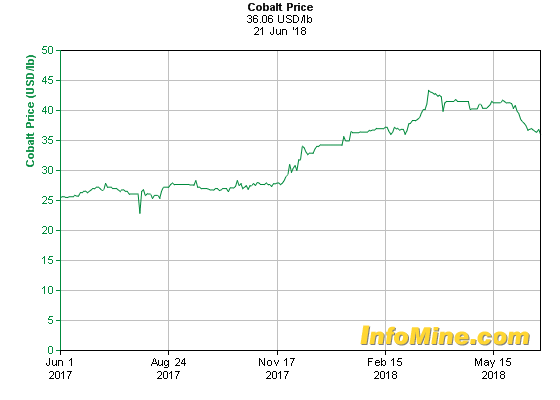 Source: InfoMine.com
LME cobalt 1-year inventory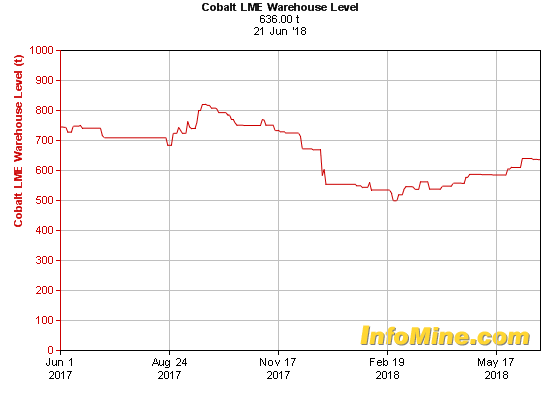 Source: InfoMine.com
Cobalt demand and supply
On May 30 Argus Media reported:
"Global EV uptake to accelerate: IEA. The number of electric cars on the world's roads could reach 125mn units by 2030, according to projections from the International Energy Agency. But supply-side concerns could have an effect on the sector. Constraints on the supply of cobalt, a crucial component in rechargeable electric vehicle batteries, could significantly increase costs. Around 60pc of global cobalt supply is sourced from the Democratic Republic of Congo, with China controlling 90pc of refining capacity. Even considering changes in battery technology aimed at reducing cobalt content, demand for the metal is expected to increase by between 500pc and 1,250pc by 2030, the IEA projects."
Note: The IEA is the International Energy Agency.
On June 1 Benchmark Minerals wrote:
"Nickel v Cobalt: The secret EV battle for the lithium ion battery. One of the biggest talking points in the electric vehicle [EV] and lithium ion battery space right now is the emergence of an 811 NCM (Nickel Cobalt Manganese) cathode chemistry that many believe will result in the hammer blow for cobalt and the anointing of nickel. Understandably, EV manufacturers want to do all they can to reduce their price risk exposure to cobalt which is continuing to rise. Therefore, the push towards 523 and 622 is more than welcomed, especially as it brings with it increased energy density thanks to the nickel…Therefore, it is unsurprising that in the same conversations, cathode manufacturers are pressured by the auto companies to speed up the evolution to 811 and even 7 1.5 1.5 chemistry…To reduce cobalt to such a minor role - the major element involved in stabilising the battery - brings with it huge risk, especially in the first wave of pure EV models to hit the road when safety scrutiny is at its highest…The third factor to consider is that despite the expensive cobalt being dramatically reduced in these higher nickel cathodes, it does not necessarily mean it will be available to the market at a significantly lower cost…Even if despite all these challenges, the NCM 811 adoption is quicker than Benchmark Mineral Intelligence expects, the cobalt industry will still face a supply problem…Under our most bullish scenario where 811 is equal to a huge 40% of the NCM cathode market in 2026, the lithium ion battery industry will still require 180,000 tpa of battery grade cobalt…That is over a tripling of battery grade cobalt production last year and just under a doubling of the industry's total annual production…And considering it will be near impossible to commercially engineer cobalt out of a lithium ion battery within the next decade, it is fair to say that the cobalt conundrum is just beginning and the industry's challenges will shift from supply to demand."
On June 1 Engineering News reported:
"Electric vehicle sales to reach 1.6m this year, battery prices tumbling. Despite the move to low cobalt chemistries, based on current announcements there will be shortages of cobalt by the early 2020s…'We view cobalt supply as one of the largest potential risks to EV sales over the next five to seven years,' states the BNEF report."
On June 5 Mining.com reported:
"Cobalt thrifting in EV batteries won't dent price any time soon. Even best-case, early roll-out of new cobalt-light batteries won't solve supply issues. In a trenchant new note Benchmark Mineral Intelligence, a provider of price information and research on battery supply chains, warns that the impact of 811 'is going to be minimal in the short term'. The London-HQ firm forecasts 811 will not exceed 5% of total NCM cathode production until after 2020 and reducing the cobalt would not necessarily lower cost: 'Current technology dictates that 811 cathodes need to be produced in an inert environment as to prevent any reaction with the atmosphere. Therefore, any new cathode plant producing this material will need to build a new, dedicated, inert atmosphere, production line specific to 811."
On June 18 Investing news reported:
"Roskill: Growth in cobalt demand from battery sector set to continue. Demand for cobalt in batteries is expected to grow at a rate of 14.5 percent per year to 2027, by which point demand from this end-use sector alone could exceed 240,000 tonnes - double the size of the total market in 2017. Roskill says with demand for cobalt also set to increase across other key end uses, such as nickel alloys used in aerospace, the total market could surpass 310,000 tonnes by 2027. But despite announcements from companies like Tesla (NASDAQ:TSLA), which plans to reduce cobalt to 'almost nothing' in its batteries, analysts continue to predict that growth in cobalt demand will increase significantly in the coming years."
On June 20 Mining.com reported:
"Cobalt stocks in China set for new surge as EV boom rolls on. A slump in cobalt prices and the shares of Chinese refiners may provide an ideal bargain-hunting opportunity for investors seeking a piece of the action as Asia's top economy leads a global boom in electric vehicles. Cobalt sulfate, a chemical used in batteries, has dropped more than 20 percent since April, while the form of the metal used in high-tech alloys is down 15 percent after prices hit the highest level since 2008. Supply concerns are easing for now, but the longer-term picture remains positive as China scrambles to roll out electric vehicles to reduce roadside pollution. China already makes about 60 percent of the world's refined cobalt production, including metal and chemicals, and accounts for more than half of electric vehicle sales. The country is also home to Zhejiang Huayou Cobalt Co., the biggest global refiner, which is growing to meet rapidly expanding demand from new energy vehicles. A cobalt shortage is the top risk for the auto industry's growth plans into next decade, says Bloomberg New Energy Finance."
Investors can read my article on Trend Investing - "My Cobalt Demand Versus Supply Model - May 2018".
Cobalt market news
On May 22 Renew Economy reported:
"Australia on cusp of new mining boom, driven by electric vehicles. A new report from Bloomberg New Energy Finance has forecast that demand for copper, high-purity nickel, cobalt and lithium used in the manufacture of EV battery packs is forecast to rise 31 times, 42 times, 19 times and 29 times respectively to 2030, as sales of EVs soar to 30 million by 2030. At current commodity prices, BNEF says, the supply of these materials for batteries would be worth $US75 billion in the year 2030. "Global demand for EVs is expected to grow exponentially in the mid-to-late 2020s, when we expect electric vehicles will become cheaper than traditional cars powered by internal combustion engines," said BNEF's lead EV analyst for Australia, Ali Asghar. "This raises the prospect of a mining boom in the high value metals used to make these cars. "Australia sits on top of vast reserves of almost all these metals, so there is a huge opportunity for our resources sector."
On May 24 Reuters reported:
"Jet engines help power cobalt to 10-year highs. The spotlight in the cobalt market has been fixed on electric vehicles but shrinking supply and robust demand from traditional sectors such as jet engine makers are helping fuel a price rally that shows no signs of fading."
On May 31 Business Insider reported:
"Electric cars will drive a 'rapid ramp-up' in cobalt and lithium demand for a decade - report. Lithium-ion batteries are likely to remain the technology of choice for electric cars in the next decade, according to a landmark report released overnight by the world's peak energy research body. The International Energy Agency expects a 'rapid ramp-up in the demand of cobalt and lithium' amid a revised expectation that electric vehicles on the road will number 125 million by 2030. If 'policy ambitions continue to rise to meet climate goals', the number of battery-powered electric vehicles could be as high as 220 million in 2030 - including 130 million electric and 90 million plug-in hybrids. Growing demand from battery makers - as well as speculative stockpiling and strategic sourcing - has already led to big jumps in the price of cobalt and lithium. In the two years to January, cobalt spot prices have lifted 250 per cent while lithium prices are up 400 per cent. Despite recent bearish comments on cobalt from Tesla boss Elon Musk, the supply of cobalt was 'especially critical' due to the concentration of mining and refining in a handful of countries, the report found. The energy agency acknowledged ongoing development in reducing the cobalt content of batteries - aimed at higher energy and power density at the expense of lower thermal stability. But even accounting for these efforts, cobalt demand in electric vehicles was expected to be ten to 25 times higher than current levels by 2030."
On June 7 4-traders reported:
"Congo mining regulations to be signed into law on Friday - mines minister. Democratic Republic of Congo's prime minister will sign into law on Friday regulations to immediately implement a new mining code without any concessions to industry demands that key provisions be amended, the mines minister said on Thursday."
On June 15 Reuters reported:
"After cobalt-free pledge, Panasonic to triple consumption for auto batteries: sources. Panasonic Corp expects to more than triple its cobalt consumption in five years' time, industry sources said, even as the company aims to develop cobalt-free automotive batteries in the near future. Panasonic is the exclusive battery cell supplier for all new Tesla vehicles, including the mass-market Model 3 electric car. Sources say cobalt-free batteries are many years away."
On June 18 Mining.com reported:
"China marks cobalt, copper ascendancy in Congo with new group. More than 30 Chinese companies active in the Democratic Republic of Congo formed a business association backed by both countries' governments, further cementing China's ascendancy in copper and cobalt production in the central African nation. The 35-member Union of Mining Companies with Chinese Capital will facilitate 'communication and exchange between the Chinese mining companies and the government of our country,' Cheng Yonghong, the group's president, said at an inauguration event in Lubumbashi in southeast Congo on June 16. The group, known by the French acronym USMCC, was founded at the initiative of China's embassy and on the advice of Congo's mines minister, he said."
On June 22 Mining news reported:
"Indian State-owned firms mandated to acquire overseas lithium and cobalt assets. The Indian government has mandated all State-owned mineral-based companies to pool their resources to acquire lithium and cobalt assets overseas. A rough deadline of March 2019 has been set for these companies to complete all formalities, such as leveraging their balance sheets jointly, form joint ventures (JVs), consortiums or any such suitable corporate structures so that process of scouting and acquiring lithium and cobalt assets could get under way next financial year."
Cobalt company news
China Molybdenum [HKSE:3993] [SHE:603993] (OTC:CMCLF)
No significant news for the month.
Glencore [HK:805] (OTCPK:GLCNF)
On June 15 Glencore announced:
"Settlement of dispute with Ventora and Africa horizons. Glencore and Katanga Mining have determined that in the circumstances the only viable option to avoid the material risk of seizure of its assets under DRC court orders is for Mutanda and KCC to pay the relevant royalties as and when they become due to Ventora in non-US dollars, without involving US persons, in order to discharge their obligations under the terms of the pre-existing contracts. Mutanda, KCC, Ventora and AHIL have on this basis agreed to withdraw all pending and threatened litigation between them pursuant to a settlement agreement signed by the parties."
Katanga Mining [TSX:KAT] (OTCPK:KATFF)
On June 12 Katanga Mining announced:
"Katanga Mining announces settlement of DRC legal dispute with Gécamines and agreement for the resolution of KCC Capital Deficiency. Kamoto Copper Company ('KCC'), it has entered into an agreement (the 'Settlement Agreement') with (amongst others) the Company's joint venture partner, DRC state-owned company La Générale des Carrières et des Mines ('Gécamines') to terminate the legal proceedings brought by Gécamines in the DRC courts and resolve KCC's previously disclosed capital deficiency."
On June 15 Katanga Mining announced:
"Katanga announces settlement of Ventora and Africa horizons dispute."
Discussed above under Glencore.
You can also read my original article from Jan. 1, 2017, "Katanga Mining is a potential turnaround story." Followers of mine who bought back then with me at CAD 0.13 and sold when I recommended Trend Investing subscribers to reduce at CAD 2.89 have made a nice 2,123% gain in just over a year.
Sherritt International [TSX:S] (OTCPK:SHERF)
On May 30 Sherritt announced: "Sherritt holds investor day today and provides update on recent progress."
Highlights include:
"Reduced its debt by purchasing for cancellation an additional $10 million of outstanding debentures in the open market in May.
Implemented a new initiative to improve mining fleet availability at the Moa JV. The initiative, which will involve the procurement of new trucks and equipment with availability guaranteed by the supplier, is expected to result in lower maintenance and capital costs over time.
Completed the replacement of an economizer on acid plant 1 located at Ambatovy consistent with expected timelines. The replacement is part of Sherritt's ongoing efforts to improve Ambatovy's production stability and asset reliability. With the completion of the economizer replacement, Sherritt anticipates improved finished nickel and cobalt production at Ambatovy for the second half of 2018 consistent with previous guidance."
Umicore SA [Brussels:UMI] (OTCPK:UMICY)
On June 19 Umicore announced details of its share acquisitions totaling 967,000 so far in 2018.
Sumitomo Metal Mining Co. (TYO:5713) (OTCPK:SMMYY)
No significant news for the month but you can view the "progress of business strategy" presentation here.
MMC Norilsk Nickel [LSX:MNOD] [GR:NNIC] (OTCPK:NILSY)
On May 24 MMC Norilsk Nickel announced:
"Norilsk Nickel and Murmansk Region agree on government support for Kola MMC upgrade. The contract defines the forms and terms of granting state support for investment activities to be implemented as part of the project to upgrade Kola MMC. The project is expected to run for five years from 2018 to 2023, affecting all of Norilsk Nickel's production sites in the Murmansk Region, including Polar Division, Nickel and Monchegorsk sites. It will help almost double the Kola MMC's capacities, while also securing significant cuts in emissions of harmful pollutants (primarily at Nickel site) and greater economic efficiency due to a decrease in operating costs (by 17%) and a reduction in metal losses."
On May 24 MMC Norilsk Nickel announced:
"Norilsk Nickel Board of Directors recommends final dividend for FY 2017. The Board of Directors has recommended for the AGM approval the final dividend for the financial year 2017 in the amount of RUB 607.98 per ordinary share (approximately USD 9.87 at the RUB/USD exchange rate the Russian Central Bank as of May 24, 2018). The Board of Directors has proposed to set the dividend record date (the list of shareholders entitled to the dividend) on July 17, 2018."
Investors can also read my article, "Time To Buy Norilsk Nickel Before The Nickel Boom Perhaps Starts In 2018."
Freeport-McMoRan, Inc. (NYSE:FCX)
No significant news for the month.
Highlands Pacific [ASX:HIG] (OTC:HLPCF)
No significant news for the month, after the Cobalt27 streaming deal last month.
Of interest, 4-traders shows an analyst price target of AUD 0.33, representing 144% upside.
Possible mid-term producers (by ~2020)
eCobalt Solutions [TSX:ECS] (OTCQX:ECSIF)
No news for the month.
Investors can read the latest company presentation here.
Upcoming catalysts include:
2018 - Project financing and off-take agreements
Fortune Minerals [TSX:FT] (OTCQX:FTMDF)
On June 14, Fortune Minerals reported:
"Fortune Minerals provides NICO technical report update. Fortune was recently approached by several global mining and refining companies interested in purchasing metal concentrates directly from the mine. If this is pursued, it would enable the Company to defer the Saskatchewan refinery, reducing up-front capital by about 50% and mitigating risks in commissioning and downstream processing. Fortune is making the requisite adjustments to the NICO Project engineering designs to allow flexibility to accommodate all of its downstream process options. the Technical Report for the mine and concentrator portions of the report is nearing completion."
Investors can read the latest company presentation here.
Upcoming catalysts include:
Mid 2018 - Updated Feasibility Study capital and operating costs
2018 - Possible off-take or equity partners; project financing
RNC Minerals [TSX:RNX] (OTCQX:RNKLF) (formerly Royal Nickel Corporation)
On June 18 RNC Minerals announced:
"RNC announces withdrawal of US$12 million from Dumont Joint Venture. Mark Selby, President and CEO of RNC, commented, 'This cash withdrawal avoids significant equity dilution at current price levels and allows a significant reduction in RNC's debt with the elimination of the majority of its debt payments in 2018. With the improved visibility from the Beta Hunt sale process, we believe that the value of the debt extension announced on May 31, 2018 has been reduced. RNC continues to focus its strategic efforts on the advancement of the Dumont Nickel-Cobalt Project, which contains the world's largest undeveloped reserves of both cobalt and nickel."
Investors can view the company presentations here, or my CEO Mark Selby interview on Trend Investing here.
Clean TeQ [ASX:CLQ] [TSX:CLQ] (OTCQX:CTEQF)
On June 5 Clean TeQ announced:
"Clean TeQ Sunrise Project-Modification 6 approval. Clean TeQ submitted Modification 6 in January 2018 seeking changes to the accommodation facility at the Project which were deemed necessary to both optimise the mine plan and improve the amenity of the on-site workforce. The changes included the relocation of the accommodation facility from the main mine site to an adjacent property south of the mine on a property owned by Clean TeQ called 'Sunrise'. Approval of Modification 6 will also allow Clean TeQ to use the camp for up to approximately 300 personnel during site-based campaigns such as shutdowns and maintenance. In addition, the Modification permits an increase in the camp's capacity from approximately 1,000 to 1,300 personnel during the construction phase."
Clean TeQ has 132kt contained cobalt at its Sunrise project.
Investors can also read my article, "Top 6 Cobalt Junior Developer Miners To Boom By 2021/2022", and the latest company presentation here.
Upcoming catalysts include:
Australian Mines [ASX:AUZ] (OTCQB:AMSLF)
On June 22 Australian Mines announced:
"Preliminary findings of Feasibility Study indicate additional cobalt-nickel mineralisation potential at Sconi Project. Australian Mines Limited advises that a review of the sterilisation drilling completed across the proposed processing infrastructure sites at Sconi, as part of the Company's Bankable Feasibility Study [BFS], has indicated that high grade cobalt and nickel mineralisation extends across the sites proposed for the processing plant and haul roads."
Investors can read my recent article here, my CEO interview here, or view the latest company presentation here.
Upcoming catalysts include:
Ardea Resources [ASX:ARL] (OTC:ARRRF)
In a recent Battery Metals conference presentation, Ardea stated:
"Scoping Studies exploring the potential of an upside 2.25 Mtpa throughput scenario are nearing completion-Over 8,000 tpa cobalt sulphate, over 70,000 tpa nickel sulphate."
Note the PFS was on a base-case scenario of 1.0Mtpa over a 25-year mine life, using just 5% of the total reserves base. The point being a larger scale operation should boost overall economics.
On June 8, Ardea announced:
"High-grade cobalt and nickel results underpin DFS advancement at Goongarrie. The high-grade Patricia Anne orebody is earmarked as the start-up deposit at Goongarrie, providing rapid payback opportunities."
Some excellent cobalt grades - "4 m at 0.25% Co, 1.01 % Ni and 46 g/t Sc from 10 m2."
On June 14 Ardea announced:
"KPMG appointed as Corporate Advisor for Ardea strategic partner process."
On June 21 Ardea announced:
"Goongarrie Nickel-Cobalt Project pilot plant trials to commence."
Highlights include:
"Pilot plant program to derive process design and engineering data for flowsheet to produce nickel sulphate and cobalt sulphate.
Production of commercial samples for testing by potential customers."
In total, Ardea has 405kt of contained cobalt and 5.46mt of contained nickel at its KNP project near Kalgoorlie in Western Australia.
Investors can view the latest company presentation here, and my interview with former Managing Director Dr. Matt Painter on Trend Investing here.
Upcoming catalysts include:
July 2018 - Scoping Study on a 2.25Mtpa throughput scenario.
August 2018 - Goongarrie Resource & Reserve Upgrade.
Mid 2019 - DFS results - KNP cobalt project.
2021 - Possible production start.
A comparison of Ardea Resources to peers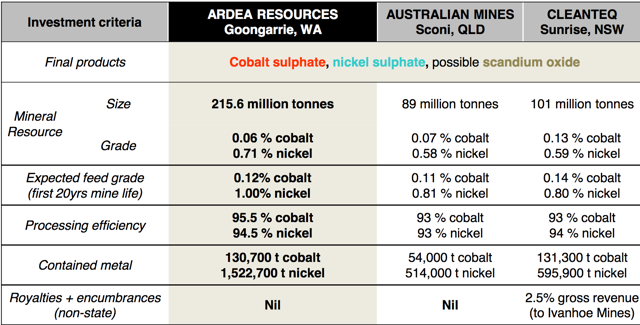 Cobalt Blue Holdings [ASX:COB] (OTCPK:CBBHF)
No significant news for the month, as we wait for its PFS due out very soon.
In total Cobalt Blue currently has 61kt of contained cobalt at its Thackaringa Cobalt Project in NSW, Australia.
Trend Investing subscribers would have been able to buy Cobalt Blue when I wrote about it back in November 2017 at AUD 0.23, making a nice 4.5 fold gain in 7 months. My interview with CEO Joe Kaderavek is on Trend Investing here, with an updated interview discussing the LG deal here.
Upcoming catalysts include:
June 2018 - PFS to be released.
June 2019 - DFS to be released.
Aeon Metals [ASX:AML] (OTC:AEOMF)
Aeon Metals 100% own its Walford Creek copper-cobalt project in Queensland Australia. The 2012 JORC stated Indicated and Inferred Resources of 73Mt at 1.43% Cu equivalent containing 296,000t of copper, 60,000t of cobalt, 623,000t of zinc, 626,000t of lead, and 55moz of silver. Recent previous announcements have confirmed mineralization strikes at 4.6km and 7.4km along strike from the defined existing resource.
On June 22 Aeon Metals announced: "Continuation of high grade resource assays." Results included: "21m @1.38% Cu, 0.23% Co, 2.02% Pb and 33gt Ag from 171m. These results show the excellent continuity of the high-grade copper-cobalt core. They also continue to define the flanking or peripheral lead and zinc mineralisation."
For more information you can read my article "Aeon Metals May Have A World Class Copper And Cobalt Sulphide Resource In Northern Australia."
Investors can view a Bell Potter broker report here, with a price target of AUD 0.48 (~100% upside), or 4-traders analyst consensus PT of AUD 0.54, and the latest company presentation here.
Upcoming catalysts include:
2018 - Further drilling and drill results, further upgrades to the resource.
GME Resources [ASX:GME][GR:GM9] (OTC:GMRSF)
GME Resources owns the NiWest Nickel-Cobalt Project located adjacent to Glencore's Murrin Nickel operations in the North Eastern Goldfields of Western Australia. The NiWest Project which has a total resource (0.8% Ni cut-off): 81Mt at 1.03% Ni and 0.06% Co (~75% in M&I categories) for an estimated 830,000 tonnes of nickel metal and 52,000 tonnes of cobalt.
On June 8 GME announced:
"Entitlement issue shortfall placement. GME Resources Limited advises that, it has now completed the placement of the balance of its shortfall in respect of its $2 million renounceable entitlement issue to shareholders, allotment has been effected today for a further 1,363,639 ordinary fully paid shares (Shares). The Shares were downloaded into the Company's register today, Friday 15 June 2018."
Investors can read the latest activities report here, or an excellent investor presentation here.
Havilah Resources [ASX:HAV] [GR:FWL]
Havilah 100% owns the Mutooroo copper-cobalt project about 60km west of Broken Hill in South Australia, with an average cobalt grade of 0.13% and 17,100 tonnes of contained cobalt in sulphide ore. It also has the nearby Kalkaroo copper-cobalt project. Havilah also has a 15% royalty on the Portia gold mine which assists its cash flow, and its soon-to-be-developed North Portia gold project. It also has a massive iron ore project called Grants iron (within the Mutooroo area), and several other very promising exploration projects including the massive Jupiter Iron Oxide Copper Gold Target.
On May 30 Havilah Resources announced:
"Mutooroo deeper cobalt potential confirmed. Resampling of 5 historic deep core holes returned high grade cobalt up to 3,180 ppm (0.32%), and up to 3.8% copper and 1.7 g/t gold. Confirms that the current JORC Inferred copper sulphide resource at Mutooroo also contains appreciable cobalt and gold. Expected to positively impact total JORC cobalt resources in future resource estimates for the Mutooroo deposit."
On June 4 Havilah Resources announced:
"North Portia divestment for $14.7 million and 2% NSR royalty. Current Portia 15% gold revenue stream remains until 30 November 2018. Will allow greater focus on higher value, lower risk Mutooroo copper-cobalt-gold project. Minimal impact on Havilah's substantial JORC copper-cobalt-gold resource inventory."
On June 18 Havilah Resources announced:
"Kalkaroo maiden ore reserve confirms large copper project. Maiden ore reserve of 474,000 tonnes of contained copper and 1.41 million ounces of gold independently determined by RPMGlobal. Total 100.1 million tonne Ore Reserve, consisting of: - 90.2 million tonnes Proved, and - 9.9 million tonnes Probable, in accordance with the JORC 2012 code for reporting of ore reserves. Largest undeveloped open pit copper deposit in Australia on a copper equivalent ore reserve basis, with a 0.74% copper-equivalent grade. Further PFS work is in progress to address several potentially significant value adding options, including the addition of cobalt and the optimisation of metal recoveries."
On June 21 The Adelaide Advertiser reported:
"Havilah Resources, an Adelaide company listed on the Australian Securities Ex-change, said Mr Gupta's company SIMEC Mining - an affiliate of the owner of the steel works, GFG Alliance - will "carry out due diligence on the Maldorky and Grants iron ore projects in northeastern South Australia,'' Havilah said in a statement."
Havilah has the largest Australian copper-cobalt resource base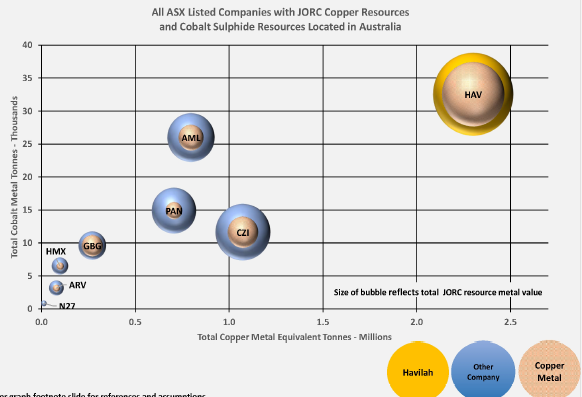 Note: Investors can learn more by reading my recent articles - "The Broken Hill District May Grow To Become Australia's Premiere Cobalt Mining Center", and "Havilah Resources Has Huge Potential."
Investors can view my CEO interview here, and the company presentations here.
The very promising Broken Hill cobalt district (Havilah Resources' Mutooroo is not shown but would be at the bottom left if shown)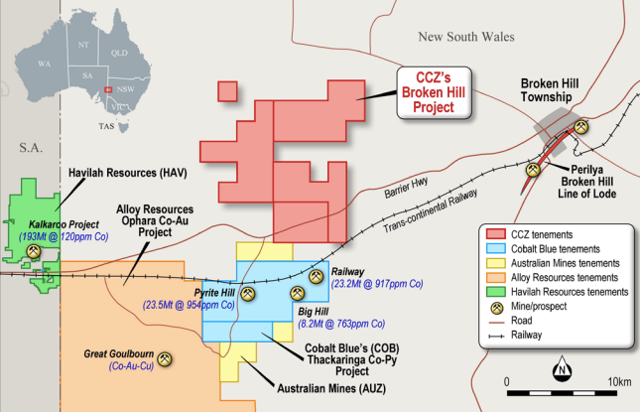 Note: Other neighbors to Cobalt Blue include Alloy Resources [ASX:AYR], Castillo Copper [ASX:CCZ], Broken Hill Prospecting [ASX:BPL] (OTC:BPLNF), and Archer Exploration [ASX:AXE].
Castillo Copper [ASX:CCZ]
In an article titled "Castillo identifies six Himalaya-style cobalt targets" by Finfeed, they stated:
"CCZ's project is situated 17 kilometres west of the historic Broken Hill mining centre, within a prolific region of NSW steadily emerging as a hub for battery metals. Broken Hill in particular is thought to contain one of the largest undeveloped cobalt reserves in the world; however previous exploration in the area has predominantly focused on zinc, lead and gold."
No news for the month.
Investors can view my CEO interview here.
Castillo Copper's Himalaya formations likely to contain cobalt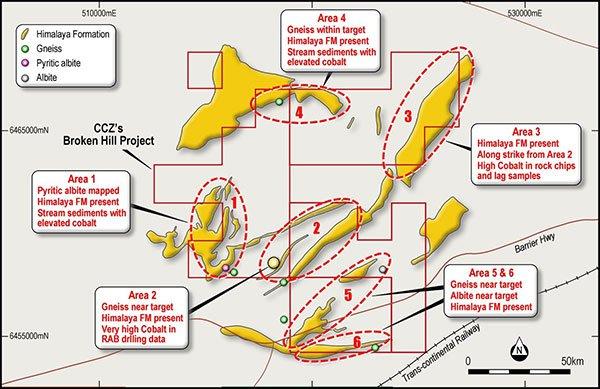 Alloy Resources [ASX:AYR]
On June 12 Alloy Resources announced:
"Strong cobalt targets at Ophara Project. Extensive new Cobalt mineralisation trends confirmed by infill soil sampling at the Ophara Project. Potential 20 strike kilometres of extensions to Great Goulburn prospect host unit underlying the anomalies. Rock chip samples of 0.44ppm Au, and 0.41ppm Au and 1100ppm Cobalt. First pass air-core drilling being planned for early July. Results for extension soil sampling and rock chips expected shortly."
Cassini Resources [ASX:CZI] [GR:ICR] (OTC:CSSQF)
Cassini's flagship is the West Musgrave Project hosting over 1.0 million tonnes of contained nickel and 2.0 million tonnes of contained copper in resource. The company has a buy in JV with OZ Minerals [ASX:OZL] (OTCPK:OZMLF) for West Musgrave. The company also has several other promising projects.
On June 5 Cassini Resources announced:
"West Musgrave exploration update. The program is funded as part of the Earn-in/JV Agreement ('JV' or 'the Agreement') with OZ Minerals Limited (ASX:OZL) ('OZ Minerals'). Under the Agreement, $4m is allocated for regional exploration during the current stage, with a further $4m available during the next stage of the JV should OZ Minerals progress. The Project is currently progressing rapidly through the Pre-Feasibility Stage, within excess of 30+people onsite, and with 4 active drill rigs. The drilling rigs are for collecting metallurgical samples, resource infill at Nebo-Babel, water bores and regional exploration."
Highlights include:
"Significant regional exploration drilling program has commenced.
Targeting new EM conductors generated from recent surface and down-hole geophysical surveys.
All conductors adjacent to, or extensions of, known Ni and/or Cu sulphide mineralisation.
Initial drilling commenced at Yappsu, with One Tree Hill to follow.
One Tree Hill drill program targeting a 700m long conductor.
Work program funded by OZL Earn-in/JV."
On June 21 Cassini Resources announced:
"Early success with Babel extension drilling."
Investors can read the latest company presentation here.
Nzuri Copper [ASX:NZC] (OTCPK:NZRIF)
Nzuri 85% owns the Kalongwe copper-cobalt project in the Kolwezi region of the Democratic Republic of Congo (DRC). The Kalongwe resource is a near surface oxide resource of 302,000t contained copper at an average grade of 2.72% copper, that also includes 42,000t contained Cobalt (at an average 0.62% grade). In late 2017, China's Huayou Cobalt invested US$10m in Nzuri Copper buying a 14.8% stake.
On June 20 Nzuri announced:
"High-grade cobalt results confirm potential satellite resource immediately along strike from Kalongwe. Recent trenching and drilling at the newly-identified, near-surface high-grade cobalt prospect at Kalongwe SW, located~800m from the Kalongwe deposit, has returned numerous high-grade assay results. The program was designed to target high-grade cobalt mineralisation following encouraging recent trenching results in several Mine Series rocks identified during recent geological mapping. The results clearly indicate the potential to delineate a JORC compliant Mineral Resource at Kalongwe SW in the near-term, and planning has already commenced to undertake a step-out drilling programme to underpin a JORC compliant Mineral Resource Estimation."
Investors can read the latest company presentation here.
Celsius Resources [ASX:CLA] [GR:FX8]
Celsius owns 100% of Opuwo Cobalt Pty Ltd, which in turn holds the right to earn up to 76% of the Opuwo Cobalt (sulphide) Project in Namibia. Mineralisation has already been intersected over a 15 km zone in the initial Celsius drilling program. Celsius has ~126,000 tonnes of contained cobalt at an average grade of 0.11%.
On June 7 Celsius announced:
"Opuwo Cobalt Project exploration update. Significant intersections from the latest batches of assays include, 5.33 m @ 0.14% Co and 0.49% Cu, from 184.00m [DOFD0162]."
On June 21 Celsius announced:
"Further testwork to enhance Opuwo scoping study."
Investors can view the company presentations here.
Cruz Cobalt [CUZ] (OTCPK:BKTPF)
On June 4 Cruz Cobalt announced: "Cruz Cobalt signs non-binding LOI for Cobalt-Nickel-Copper projects in Norway."
James Nelson, President of Cruz stated:
"We are pleased to have the opportunity to acquire these projects. The properties are located in one of the top mining jurisdictions in the world with significant mining history and excellent exploration upside. They're located within 200 km of Oslo, and have excellent infrastructure and year-round access via paved roads and highways. Cruz is also starting operations on our cobalt prospects in North America and we expect the second half of 2018 to be a very active period."
First Cobalt [TSXV:FCC] (OTCQB:FTSSF)
On June 11 First Cobalt announced:
"First Cobalt announces $9million program for Iron Creek project."
On June 19 First Cobalt announced:
"First Cobalt extends mineralization at Iron Creek and initiates metallurgical study. High grade intercepts occur within longer intervals of mineralization including 0.52% Co and 1.10% Cu over 4.6 metres within 37.8 metres grading 0.12% Co and 0.41% Cu in the Waite Zone."
Investors can view the company presentations here.
Bankers Cobalt [TSXV:BANC] [GR:BC2] (NDENF)
No news for the month.
Investors can view the company presentations here, or my CEO Stephen Barley interview on Trend Investing here.
Cobalt 27 Capital Corp. [TSXV:KBLT] [GR:27O][LN:OUPZ] (OTC:CBLLF)
Cobalt 27 is a listed investment company that offers unique exposure to a portfolio of cobalt assets - cobalt metal, cobalt royalties and direct cobalt properties. Cobalt27 owns 2,982.9 tonnes of cobalt.
On June 11, Cobalt 27 announced:
"Cobalt 27 acquires US$300 million cobalt stream on Vale's Voisey's Bay mine expansion and announces C$300 million bought deal offering of common shares to fund stream acquisition." Cobalt 27 "has agreed to acquire from Vale, an amount of finished cobalt equal to 42.4% of the cobalt production from Voisey's Bay, commencing January 1, 2021....Commencing January 1, 2021, Cobalt 27 will receive an amount of finished cobalt equal to 32.6% of the cobalt production from Voisey's Bay until an aggregate of approximately 10.8kt (23.8mmlb) has been delivered and 16.3% of cobalt production thereafter. The Cobalt Stream is expected to significantly increase Cobalt 27's cash flows starting in 2021."
Investors can read my article "Cobalt 27 Has A Rapidly Growing Portfolio Of 11 (Now 12) Cobalt And Nickel Streaming And Royalty Deals."
Other juniors and miners with cobalt
I am happy to hear any news updates from commentators. Tickers of cobalt juniors I will be following include:
African Battery Metals [AIM:ABM], Artemis Resources Ltd [ASX:ARV] (OTCPK:ARTTF), Auroch [ASX:AOU] [GR:T59], Azure Minerals [ASX:AZS], Barra Resources Ltd. (OTC:BRCSF) [ASX:BAR], Blackstone Minerals [ASX:BSX], BHP (NYSE:BHP), Berkut Minerals [ASX:BMT], Bluebird Battery Metals Inc. [TSXV:BATT] (OTCPK:BBBMF), Brixton Metals Corporation [TSXV:BBB](OTC:BXTMD), Canadian International Minerals [TSXV:CIN], Canada Cobalt Works Inc [TSXV:CCW] , Centaurus Metals [ASX:CTM], Cobalt Power Group [TSX:CPO], Cohiba Minerals [ASX:CHK], Conico Ltd [ASX:CNJ], Corazon Mining Ltd [ASX:CZN], Cudeco Ltd [ASX:CDU] [GR:AMR], Dragon Energy [ASX:DLE], European Cobalt Ltd. [ASX:EUC], First Quantum Minerals (OTCPK:FQVLF), Global Energy Metals [TSXV:GEMC] (OTC:GBLEF), GME Resources [ASX:GME] (OTC:GMRSF), Global Energy Metals [TSXV:GEMC] [GR:5GE1] (GBLEF), Hinterland Metals Inc. (OTC:HNLMF), Independence Group [ASX:IGO] (OTC:IIDDY), King's Bay Res (OTC:KBGCF) [TSXV:KBG], Latin American Resources, LiCo Energy Metals [TSXV:LIC] (OTCQB:WCTXF), M2 Cobalt Corp. (TSXV: MC) (OTCQB: MCCBF), MetalsTech [ASE:MTC], Metals X (ASX:MLX) (OTCPK:MLXEF), Meteoric Resources [ASX:MEI], Mincor Resources (OTCPK:MCRZF) [ASX:MCR], Northern Cobalt [ASX:N27], Pacific Rim Cobalt [BOLT:CSE], PolyMet Mining [TSXV:POM] (NYSEMKT:PLM), OreCorp [ASX:ORR], Power Americas Minerals [TSXV:PAM], Panoramic Resources (OTCPK:PANRF) [ASX:PAN], Pioneer Resources Limited [ASX:PIO], Platina Resources (OTCPK:PTNUF) [ASX:PGM], Quantum Cobalt Corp [CSE:QBOT] GR:23BA] (OTCPK:BRVVF), Regal Resources (OTC:RGARF), Riva Resources [ASX:RIR], Sienna Resources [TSXV:SIE], (OTCPK:SNNAF), US Cobalt [TSXV:USCO] (OTCQB:USCFF), and Victory Mines [ASX:VIC].
Lithium & electric metals fund (ISIN DE000LS9L822) - Access via the Stuttgart stock exchange or wikifolio.com
The portfolio gives investors broad exposure across the EV metals miners covering lithium, cobalt, nickel, rare earths, and graphite. I help manage the fund. The certificate is endless (open fund) and listed on the Stuttgart Stock Exchange, so it can be bought via a broker that carries the ISIN or via Wikifolio. The ticker is DE000LS9L822 listed on the Stuttgart stock exchange and accessible from any German exchange. The performance since creation on March 31, 2017, is +11.3%, and the management fee is 0.95% pa.
Investors can view the portfolio holdings and learn more by accessing here.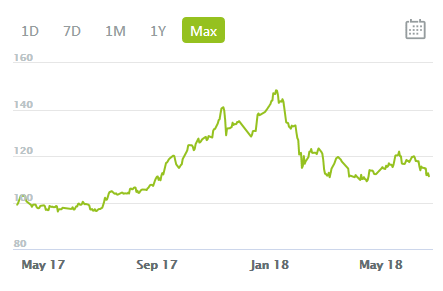 Disclosure: I may receive 50% of the profit from the above fund.
Conclusion
Cobalt spot prices fell in June to USD 36.06, and Glencore/Katanga Mining appear to have sorted out their DRC mess. On a positive note, most of the juniors continue to progress well, despite the poor current market sentiment. Fundamentals behind the sector remain very strong and have been improving steadily as some of the highlights below show. The very recent India news has the potential to kick start a lot more deals in the cobalt and lithium sectors.
My highlights for the month were:
International Energy Agency - "Even considering changes in battery technology aimed at reducing cobalt content, demand for the metal is expected to increase by between 500pc and 1,250pc by 2030."
Benchmark Minerals - "The cobalt conundrum is just beginning."
BNEF - "Despite the move to low cobalt chemistries, based on current announcements there will be shortages of cobalt by the early 2020s. We view cobalt supply as one of the largest potential risks to EV sales over the next five to seven years."
Reuters - "After cobalt-free pledge, Panasonic to triple consumption for auto batteries: sources. Panasonic Corp expects to more than triple its cobalt consumption in five years' time, industry sources said."
Indian state-owned firms mandated to acquire overseas lithium and cobalt assets - A rough deadline of March 2019.
The next month will be most interesting as we get many large catalysts including Cobalt Blue (PFS), Australia Mines (BFS), Clean TeQ [DFS], Havilah Resources (Kalkaroo PFS, Wanbao decision), and Ardea Resources (Scoping study late July).
As usual, all comments are welcome.
Disclosure: I am/we are long GLENCORE (LSX:GLEN), KATANGA MINING [TSX:KAT], NORSILK NICKEL (LME:MNOD), HIGHLANDS PACIFIC [ASX:HIG], AUSTRALIA MINES [ASX:AUZ], FORTUNE MINERALS [TSX:FT], RNC MINERALS [TSX:RNX] , ARDEA RESOURCES [ASX:ARL], COBALT BLUE [ASX:COB], AEON METALS [ASX:AML], GME RESOURCES [ASX:GME], CASSINI RESOURCES (ASX:CZI) , HAVILLAH RESOURCES [ASX:HAV], CONICO LTD [ASX:CNJ], CRUZ COBALT CORP [TSXV:CUZ], BANKERS COBALT [TSXV:BANC], POSEIDON NICKEL [ASX:POS], ALLOY RESOURCES (ASX:AYR), CASTILLO COPPER (ASX:CCZ), CELSIUS RESOURCES [ASX:CLA]. I wrote this article myself, and it expresses my own opinions. I am not receiving compensation for it (other than from Seeking Alpha). I have no business relationship with any company whose stock is mentioned in this article.
Additional disclosure: The information in this article is general in nature and should not be relied upon as personal financial advice.
Editor's Note: This article covers one or more microcap stocks. Please be aware of the risks associated with these stocks.