In a close landmark decision, the Supreme Court just ruled in favor, 5-4, of allowing states to collect sales tax from online retailers regardless if they have a physical presence in the state. The decision arose from a 2016 lawsuit filed by the State of South Dakota, against online retailers Wayfair (NYSE:W), Overstock.com (NASDAQ:OSTK), and Newegg. The ruling overturns a prior 1992 court decision, Quill Corp vs. North Dakota, which established the "physical presence" standard for sales tax. Those of us old enough will remember that in the early days of e-commerce, purchasers of items over the internet paid NO sales tax at all.
In the majority opinion, Justice Anthony Kennedy, said that times have changed to such a degree that online retailers no longer qualify for "an arbitrary advantage over their competi­tors who collect state sales taxes" by claiming they don't have a physical presence in a state.
"The internet's prevalence and power have changed the dynamics of the national economy," Justice Kennedy wrote.
There is no arguing that the retail industry has been transformed by the Internet. In 1992, less than 2% of Americans had internet access, compared to about 89% today. Last year, e-commerce sales totaled $452 billion, representing approximately 9% of all retail sales. In a federal report to Congress released last year, it was estimated that state and local governments were missing out on $8 to $13 billion in tax revenue because they could not collect sales tax from online retailers.
The South Dakota case only applied to online retailers with more than $100k in annual sales or 200 transactions in the state. Left to the states to decide, the details are still very much up in the air. Many large online retailers are requesting legislative action from Congress to legislate a fair, equitable solution. Etsy (NASDAQ:ETSY) and eBay (NASDAQ:EBAY) are particularly concerned about protecting many of the small merchants or "microbusinesses" that sell on their platforms.
In a blog post responding to the ruling, Etsy CEO Josh Silverman notes "One vitalizing effect of the Internet has been connecting small, even 'micro' businesses to potential buyers across the Nation. People starting a business selling their embroidered pillowcases or carved decoys can offer their wares throughout the country—but probably not if they have to figure out the tax due on every sale."
With its ruling, the Supreme Court may have been attempting to level the playing field between online and brick-and-mortar retailers, but it may have some unintended consequences. Besides potentially hurting small online businesses, it will result in higher prices for consumers. The lobby arguing for the sales tax argued that online retailers currently have a 4-11% price advantage over local stores. That price advantage may diminish or disappear.
Many States Had Already Taken Action
Contrary to the claim that physical presence was the former standard as opposed to "economic interest", 31 of the 45 states with sales tax had already expanded their tax authority to extend to online retailers prior to the new Supreme Court ruling. Amazon (NASDAQ:AMZN) for example already collects tax on its first-party sales in all 45 sales tax states. Amazon also collects taxes on behalf of third-party sellers in Washington and Pennsylvania per those states' rules.
While bills vary by state with regard to internet sales tax, they fall into 3 broad categories:
Economic Nexus Bills – These bills set aside the "physical presence" standard established in Quill and focus on economic sales thresholds within their state.
Expanded Nexus Bills – These bills aim to extend the physical presence standard to include affiliates, click-through, and drop ship nexuses. It also extends the imposition of sales tax to marketplaces.
Non-Nexus Collection Bills – Bills that require out of state sellers to inform buyers about the responsibility to pay sales tax on their remote purchases.
The map below compiled by MultiState, displays state sales and use tax compliance pending legislation and laws in various states: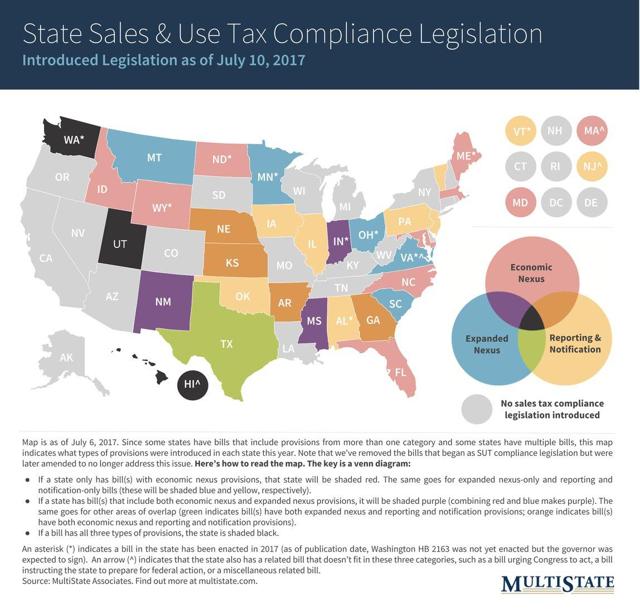 Bills have been enacted in Alabama (AL SB 86), Indiana, (IN HB 1229), Maine (ME LD 1405), Minnesota (MN HF 1A), North Dakota (ND SB 2298), Ohio (OH HB 49), Virginia (VA HB 2058, VA HB 1500, and VA SB 962), Vermont (VT HB 516), Washington (WA HB 2163 — governor is expected to sign legislation), and Wyoming (WY HB 19).
Bills in several other states advanced past their chamber of introduction (in Arkansas, Georgia, Hawaii, Indiana, Kansas, Minnesota, Mississippi, North Carolina, New Mexico, Pennsylvania, South Carolina, Texas, Utah, and Virginia). Many of these states' regular sessions have adjourned, although carryover is possible in some of them. More information on session dates and carryover can be found here (note that blue rows indicate states that have adjourned).
Financial impact to online retailers?
Wayfair, the online furniture retailer named in the case, said in a statement that the decision will have no noticeable impact on their sales because they already collect sales tax on most transactions. As mentioned, most of the larger online retailers like Amazon already collect sales tax as well. It could potentially harm smaller online retailers that do not already have that system in place. But to the extent consumers are already used to paying sales tax on online transactions, and the cost is somewhat hidden in the transaction, the impact to online sales for most online retailers should be negligible.
Regardless, shares of large internet sellers tumbled the day the ruling was announced.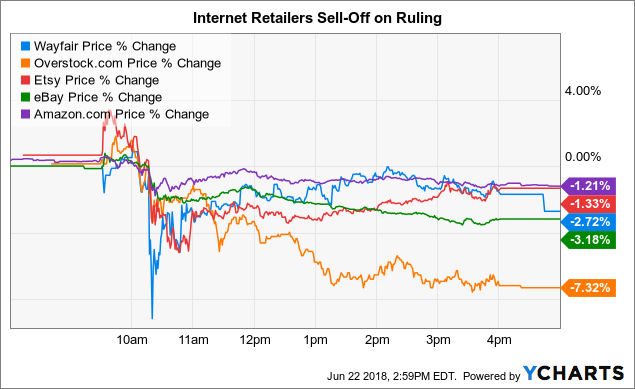 The truth is that the rise of online retail has not been solely been driven by price advantage. Many other factors including convenience, selection, 24-7 availability, quick and flexible shipping options, and mobile access, have propelled the rapid adoption of online sales. If it was intent of the Supreme Court to "take away an arbitrary advantage" and level the playing field, it is not likely to help most traditional retailers. It is up to traditional retailers themselves to level the playing field by offering shoppers a desirable destination and a reason to buy merchandise in their stores.
Disclosure
EQM Indexes is the creator of the EQM Online Retail Index. It is not possible to invest directly in an index. Exposure to an asset class represented by an index is available through investable instruments based on that index. EQM Indexes does not sponsor, endorse, sell, promote or manage any investment fund or other investment vehicle that is offered by third parties and that seeks to provide an investment return based on the performance of any index. EQM Indexes makes no assurance that investment products based on the Index will accurately track index performance or provide positive investment returns. EQM Indexes is not an investment advisor, and makes no representation regarding the advisability of investing in any such investment fund or other investment vehicle. A decision to invest in any such investment fund or other investment vehicle should not be made in reliance on any of the statements set forth on this website. Prospective investors are advised to make an investment in any such fund or other vehicle only after carefully considering the risks associated with investing in such funds, as detailed in an offering memorandum or similar document that is prepared by or on behalf of the issuer of the investment fund or other vehicle. Inclusion of a security within an index is not a recommendation by EQM Indexes to buy, sell, or hold such security, nor is it considered to be investment advice.
Disclosure: I am/we are long IBUY. I wrote this article myself, and it expresses my own opinions. I am not receiving compensation for it. I have no business relationship with any company whose stock is mentioned in this article.