Looking for a high-quality business development company to add to your existing high-yield income portfolio? Golub Capital BDC (NASDAQ:GBDC) might be just the one. The business development company has interest rate upside, good credit quality, and special dividend potential. Further, the company has managed to grow its net asset value in the last several years, something not a lot of BDCs can say for themselves. Shares sell for a premium to the last reported net asset value, but the dividend has a good margin of safety. An investment in GBDC yields 7.0 percent.
Golub Capital BDC - Portfolio Overview
Golub Capital BDC is structured as a business development company, which means the company is required by law to distribute the majority of its taxable income to shareholders as dividends.
According to Golub Capital BDC's website, the business development company invests in "a diverse portfolio that includes senior secured, one stop, mezzanine and second lien loans and warrants and minority equity securities by investing approximately $5 to $30 million of capital, on average, in the securities of middle-market companies."
At the end of the March quarter, Golub Capital BDC had made 189 different investments with a combined value of $1.7 billion.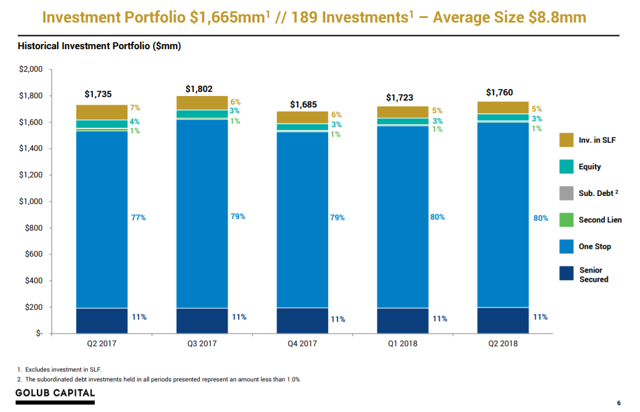 Source: Golub Capital BDC
Golub Capital BDC has a high degree of portfolio diversification. Its top ten investments account for just 20 percent of the BDC's investment portfolio.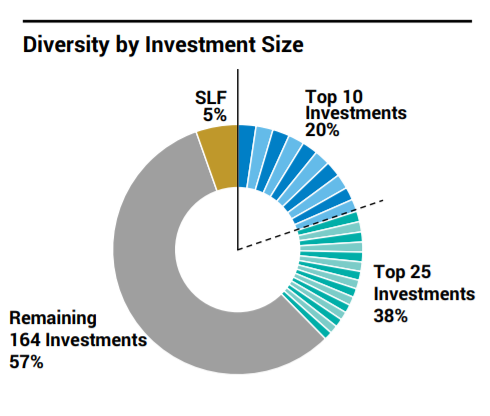 Source: Golub Capital BDC
In terms of industry diversification, Golub Capital has a concentration in diversified/conglomerate services and healthcare/education/childcare which together represent 42 percent of the BDC's investments. Besides those industries, Golub Capital BDC is moderately diversified.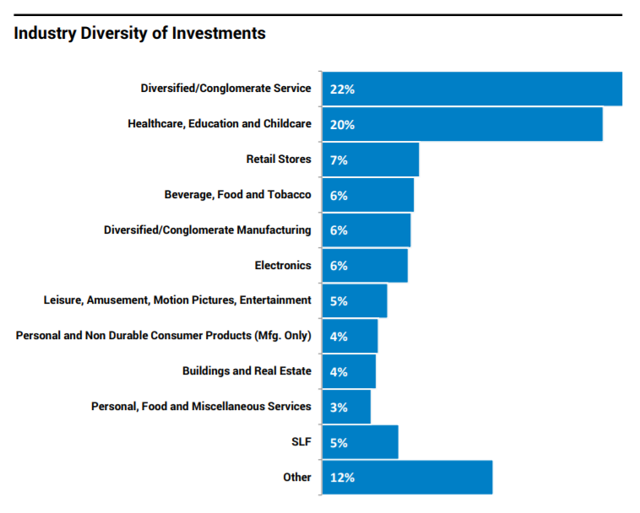 Source: Golub Capital BDC
The Fed just raised interest rates the second time in 2018, supporting investments with floating-rate asset bases. Golub Capital BDC has a large, variable-rate investment portfolio that can be expected to produce higher net interest income in a rising rate environment.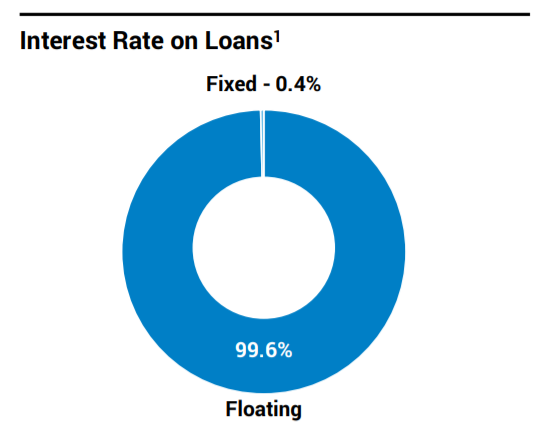 Source: Golub Capital BDC
Solid Credit Quality
Golub Capital BDC has a very low amount of investments on a non-accrual basis (0.1 percent on a fair value basis at the end of last quarter), underscoring superior credit quality.

Source: Golub Capital BDC
Growing Net Asset Value
Not a lot of BDCs have been able to grow their net asset values consistently in the last several years. Fortunately, Golub Capital BDC managed to grow its book value over time, a property of a higher-quality BDC.

Source: Golub Capital BDC
Special Dividend Potential
Golub Capital BDC produced $0.31/share in net investment income in each of the last four quarters and $0.04-0.08/share quarterly in net realized/unrealized gains per share, covering its distribution of $0.32/share.

Source: Golub Capital BDC
Golub Capital also occasionally pays shareholders special dividends, which adds to the appeal of an investment in GBDC.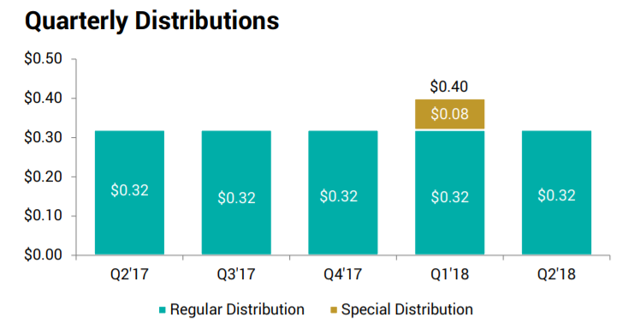 Source: Golub Capital BDC
Valuation
Golub Capital BDC's shares sell for ~14.7x Q2-2018 run-rate net investment income, and for a premium to net asset value.
The business development company reported $16.11/share as its net asset value at the end of the March quarter, meaning shares are currently priced at a 13 percent premium to NAV. Golub Capital BDC's shares have sold for a premium to net asset value for a while, a reflection of the company's growing net asset value over time and superior credit quality.
Here's how Golub Capital BDC compares against other business development companies in the sector in terms of price-to-book value ratio. The peer group includes Main Street Capital Corp. (MAIN), Gladstone Investment Corp. (GAIN), Apollo Investment Corp. (AINV), Prospect Capital Corp. (PSEC), Hercules Capital, Inc. (HTGC) and Goldman Sachs BDC, Inc. (GSBD).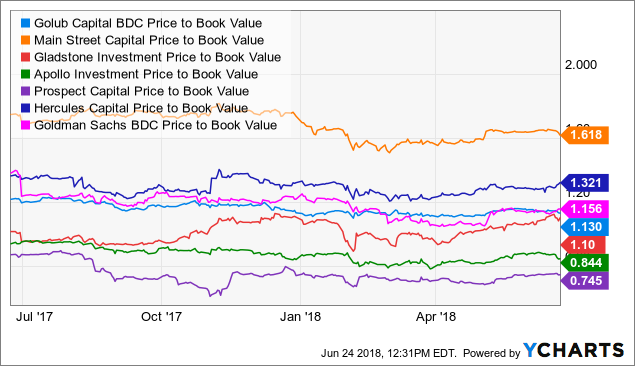 Risk Factors Investors Need To Consider
The investment thesis as presented here could be negatively affected by a couple of factors, the most significant one being a recession. The U.S. economy has been growing for nearly a decade - supported by the Federal Reserve's easy money policy - and a recession will most likely happen sooner rather than later, which in turn will most likely lead to an increase in loan default rates.
Higher defaults/non-accruals/write-offs are a big risk for business development companies, which are essentially bank alternatives, and a rise in defaults could negatively affect investment performance as well as trigger net asset value declines. As long as the U.S. economy is roaring ahead, however, Golub Capital BDC remains a promising, cyclical income play in the BDC sector.
Your Takeaway
Golub Capital BDC is a promising BDC income play with a high credit quality that underpins the company's value proposition. The BDC produces stable net investment income and has grown its net asset value at a time when many other BDCs reported NAV declines. Golub Capital BDC further has special dividend potential as the company distributed excess earnings as supplemental dividends in the past. Buy for income and capital appreciation.
If you like to read more of my articles, and like to be kept up to date with the companies I cover, I kindly ask you that you scroll to the top of this page and click 'Follow.' I am largely investing in dividend-paying stocks, but also venture out occasionally and cover special situations that offer appealing reward-to-risk ratios and have potential for significant capital appreciation. Above all, my immediate investment goal is to achieve financial independence.