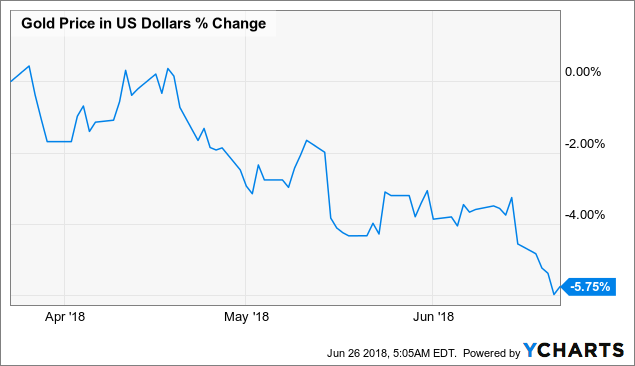 Gold and metals are trending downward recently, while trade tensions are dominating the headlines. Trump and the team of U.S. trade advisors seem to believe it is best to potentially suffer short-term economic pain in order to fight back on longer run trade issues. Although let's remember there is a major backdrop to the current situation. A trade war can be viewed as a match or spark, but what is more important is the dryness of the forest (global economy and financial system) more broadly. According to Citigroup's, Matt King:
"The vulnerability of a complex system – like global markets – owes more to the interconnections between its elements than to any one element individually [and as such] investors should not be looking for the grain of sand which causes the avalanche, or at the match which causes the forest fire, but rather at the height of the sandpile or the dryness of the forest more broadly".
Regardless of any trade concerns or future effects of tensions and tariffs, the global recovery was already seeming to encounter turbulence. Again, this is before Trump's trade brinkmanship. Momentum globally particularly in China and Europe is and has been slowing. The Eurozone PMI descended to 18-month lows in May while Chinese stocks are among the world's worst performing this year. Europe reports inflation data Friday and it will be closely watched by investors. According to Chris Williamson, chief business economist at Markit:
"The survey signals Eurozone GDP growth of 0.4-0.5% for the second quarter... Measured across both manufacturing and services, both new order inflows and expectations regarding future business activity have descended to 18-month lows, meaning hiring has also been scaled back. Pricing power has also waned in line with weaker growth of demand... With the economic indicators turning down at the same time as political uncertainty has spiked higher, the Eurozone's outlook has darkened dramatically".
In China, Q2 GDP is likely to slow. In May, Chinese retail sales, fixed asset investment and industrial production all missed expectations. This is a small data set, but those who have access to greater information, such as the PBOC are signaling, the growth slowdown and corporate debt situation is worsening. Throughout 2017 the PBOC, followed the Federal Reserve with subsequent interest rate increases of their own. This has changed and divergence in monetary policies between the PBOC and the Federal Reserve are emerging. The PBOC has lowered the required reserve ratio (NYSE:RRR). This is evidence that the PBOC is viewing the recent data as concerning and are easing policy to counteract downside momentum through providing easier financing conditions and more economic stimulus. This action from the PBOC explains a lot and is a more transparent way to analyze the Chinese economy than relying on official smoothed data.
It also signals a willingness to let the yuan depreciate and in fact it has. The USD/CNY is at a 7-month high and has bounced substantially off a low of 6.28 back to 6.56. The Chinese authorities may be using the depreciating currency as a trade tool to provide a boost to export competitiveness. This is especially relevant as Trump and the United States are imposing tariffs on $50 billion of Chinese products effective July 6th. If China retaliates, which is likely and has been communicated, Trump has promised it to be met more "more than reciprocity" and $200 billion more in tariffs on China.
Since China has a trade surplus with the United States, it is difficult for the authorities in China to "win" a trade war. China does though has a couple levers it can pull here although they may damage their own economy and financial system in the process of retaliation. They have promised not only quantitative measures, but also qualitative to combat Trump. This essentially means all options are on the board, such as imposing tariffs on U.S. products, restricting Chinese access to U.S. companies, selling treasuries or devaluing the yuan.
In conclusion, I believe gold is still in a long-run downtrend that began around 2013. The so-called bull market that began early 2016 was the result of a temporarily dovish Yellen led Federal Reserve and a false start of the global reflation theme. Draghi and the ECB have pushed out rate hikes through Summer 2019, which is not constructive for the euro currency. Emerging markets are experiencing pressure on their equities and currencies. I still believe and have said many times, the U.S. economy will continue to decouple from a weakening global environment, allowing the Federal reserve to continue to normalize policy. The mining complex will likely track emerging markets and the euro lower.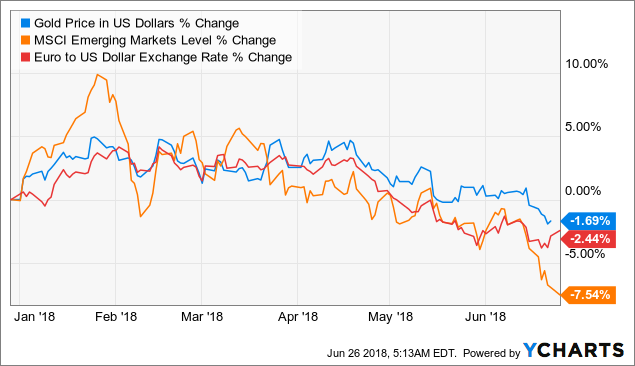 Disclosure: I am/we are short ABX, GG, WPM, RGLD, FCX. I wrote this article myself, and it expresses my own opinions. I am not receiving compensation for it (other than from Seeking Alpha). I have no business relationship with any company whose stock is mentioned in this article.