"DNA was the first three-dimensional Xerox machine…" Kenneth Boulding.
Investment theory: As readers of our posts may recall, we have long ago advanced the conviction that the US regional casino space was going to have to consolidate. Because casino sites don't follow the usual laws of supply and demand but exist on the inclinations of state legislatures to legalize casinos simply because they need the tax dollars, we have a sector geographic spread over concentrated in some states and underserved in others. This has made for a polyglot industry where a cluster of the same competitors gather in a small state, usually at sites that border neighboring states with big feeder markets. This was inevitably seen as poaching by politicians who grew tired watching their citizens drive over state lines to pour their quarters and dollars into casinos. Inevitably, those states legalized too. This was further complicated by tribal groups joining in the fray, using fuzzy federal statues as their fig leaf entry pass. The result was an industry today that has 1,000 casinos producing about $70bn in annual revenues in 40 states.
What was clearly past due was a need to rationalize this business and initiate a roll up where a handful of major public operators would dominate the commercial end of the business. Such a consolidation would cut costs, improve margins, unduplicate databases, provide more Capex to upgrade and launch new, diverse, integrated resorts.
So consolidation and restructuring began. First Penn National Gaming (NASDAQ:PENN) spun off its realty into a REIT, Gaming and Leisure Properties, Inc. (NASDAQ:GLPI), which will shortly own 46 properties leased to Penn and other regional players. Caesars (NASDAQ:CZR) opted for REIT spin offs of its 38 properties as a post-bankruptcy strategy. MGM formed a corporately controlled REIT, MGM Properties Inc. (NYSE:MGP) spinning a blend of its winners and some so-so performers from its vast portfolio into the REIT structure. The REIT seemed the answer to the best way these disparate regionals could unlock shareholder value and at the same time, free themselves to expand as operators.
More recently, we saw regional operators begin buying out smaller companies, swapping out properties to rationalize geographies, and when it appeared to make economic sense, spin off some properties into REITs. As a result, US regional casino sector over the past year, for the most part, performed well producing solid gains. Today, the trading range of the 4 most dominant operators in the group is remarkably similar. On top of that, most recently as last month, the US Supreme Court's PASPA decision, essentially green-lighting sports betting on a state by state basis, brought heft to the trade as investors began to see the potential of the regional casino group linked to established online sports betting companies as yet another catalyst to buy into the sector.
We believe consolidation is still at an early stage. It is resonant of the big media shakeout and consolidation of the 1980s that created Time Warner (NYSE:TWX), News Corp. (NASDAQ:NWSA), Disney (NYSE:DIS), Viacom (NYSE:VIA), etc . and now is further being elbowed aside as AT&T (NYSE:T), Apple (NASDAQ:AAPL), Amazon (NASDAQ:AMZN) and their like enter the contest for eyeballs. It's not a perfect analogy but close enough. We see the US regional casino sector being squeezed into perhaps no more than 7 companies controlling the estimated $55bn in revenue pouring out of commercial casinos we forecast by 2020. That averages about $7bn in revenues per company-assuming all are equal in terms of locations, quality of product, financially sturdy balance sheets and above all, in our industry-centric view, quality of management going forward. But they are not.
Quick Picks Of The 4 We See As The Key Players
We are confining our look only to price movement over their 52-week range and our own inside the industry assessment of their pluses and minuses at their current trades.
Caesars Entertainment - $11.30 to $10.48
Out of a long, tortured bankruptcy, the company has rationalized costs, sold off 20 properties into a REIT known as VICI Properties, Inc (OTC:VICI). The new management team have proven decent stewards of the massive portfolio, but in our view are thrusting out into deals in managing non-gaming hotels that hold unexciting prospect for dramatic earnings gains. The two-plus arrows in their quiver are their prospects to make some gains in sports betting with their online site and of course, the flagship value of the iconic Caesars name in a possible small-scale entry somewhere in Asia. I do not see the stock at this point going anywhere dramatic as I still have doubts as to the futures of many of their regional properties, particularly those in Atlantic City. So to me, at best, CZR bears watching as a fast entry into sport betting contracts but and because of that, it's a hold.
Penn National Gaming, Inc. - $19.96 to $36.29
The company's realty resides in the Gaming & Leisure Properties, Inc. REIT. This company has 29 properties, many under the Hollywood brand, has acquired Pinnacle Entertainment (NYSE:PNK), adding another 12 to its portfolio, four of which will be sold off to Boyd Gaming (NYSE:BYD) for regulatory reasons. It will achieve around $5bn in revenues, making it a serious player in the future of the space. Its geographic spread clusters in the same states primarily as competitors.
It has competitive challenges in some, such as West Virginia, where the new MGM National Harbor Maryland integrated resort is cleaning its and everyone else's clock. Its management is competent and professional. We had been less than impressed with its acquisition of the old Tropicana on the edge of the Las Vegas Strip simply because we think Penn's need for a Vegas flagship isn't strategically coherent for them. (They since sold it to ERI). But on the plus side, we do like their positioning for sports betting considering their traditional stake in the racino sector as well as standard casino resorts.
The stock has doubled this year. If the New Jersey sports betting paradigm takes hold in states where they operate, i.e, casinos will be licensed to have sports books, the stock could get something of a bounce. At its current trade, we're putting a PT on the stock of $42 by 4Q18 largely based on their sports betting potential.
Boyd Gaming Inc. - $24.17 to $40.44
Boyd has been, and remains, one of our favorites. It has what we believe a great balance between a growing regional presence plus great strength in the locals Las Vegas market. We have been bullish on SA posts on BYD for years for many reasons, but among them, all is our high confidence in their management.
It's one of two of our DNA picks. Established by its eponymous founder Sam Boyd as a locals casino back in the 70s. It has long mastered the arts and science of customer service. It made a great bet on Atlantic City when it defied conventional wisdom and opened the now market-leading Borgata at the Marina there. Its 50% partnership with MGM produced outstanding returns because their instincts on the market was a contrarian view that proved on target. Boyd exited with net $600m for its share take plus a share in any realty tax adjustments MGM would receive from the town. It also ran the online casino site there.

They stand well positioned to benefit from sports betting initiatives state legislatures are furiously working on now. In particular, they are solidly positioned to compete for state contracts where they are already licensed.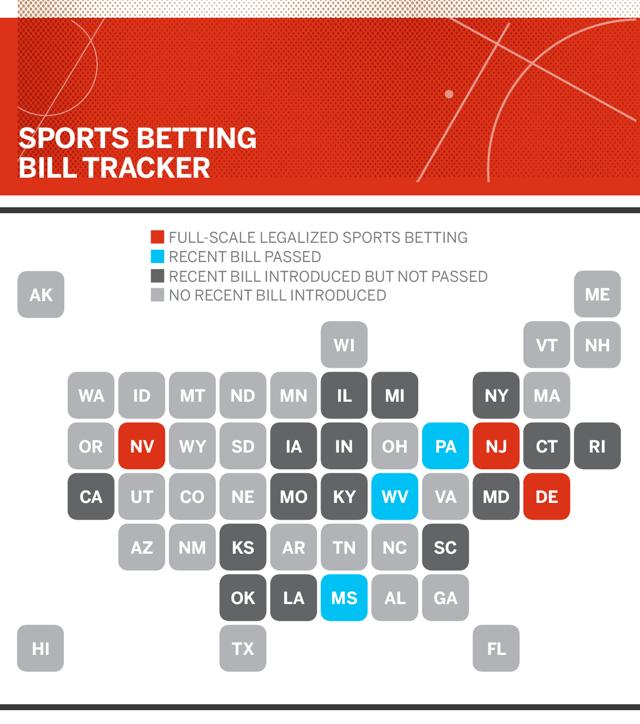 It reinvested its Borgata gain into the Las Vegas locals market and began expanding its geographic portfolio. Across the board and across time as I have evaluated its management from my own perspective as an industry person, I have liked what I have seen.
I expect BYD to continue to make smart choices in expanding its geography by picking up new properties and being very well positioned to acquire smaller regionals just ahead. I see BYD as one of the best bets out there for appreciation despite its 40%+ upside move in the last 12 months. In looking at its forward earnings profile and catalysts from sports betting news benefitting the sector in general, I am putting a PT of $52 on the stock by 2Q19.
Eldorado Resorts, Inc. (NASDAQ:ERI) $18.80 to $46.45
Followers of this space have known that among almost all peers, ERI has been placed in my pole position favorite. The company operates 20 properties in ten states with a great balance between its hometown performers in Reno at its acquisitions outside Nevada. It's gaming positions include 21,000 slots and VLTs, 600 table games, and 7,000 rooms. It's among the most carefully balanced operators in the space.
It has moved fast, diversifying its geographic spread. Some analysts began to question whether the pace of expansion was too fast and by extension, whether the stock had taken too far a leap over the last 12 months. Here are our calls:
On September 20, 2016, the stock was $14.26. We called a strong buy signal. On September 15, 2017, we called a $35 PT, urging readers to take note of what we believed was a solid pick based on the operating history of the family management going back in the day to the 1980s when we knew them first hand in Reno. Now, the stock at writing trades at $46.45, up 300% from our initial SA call.
Our rationale at $14.26 is not materially different than it is now. To us, ERI is a class Warren Buffett principle move: You buy growth potential based on management performance over time, linked to a solid product with the DNA to outperform most companies in its sector. As we have noted and continue to point out, the founding Carano family, third-generation key management people operate the company. While it is indeed pretentious to assert here that the family clearly does not need the money but is fast pacing the company toward an ever bigger scale up only on the basis of pride, it is apparent to me that the challenge to bring their long-established hands-on customer service smarts to a bigger customer base goes deep into the bones of the family management team. This management knows how to run a tight but happy ship. CEO Gary Carano reported to shareholders during his 1Q earnings call that over $35m in synergies have already been achieved after their recent run of acquisitions. (Tropicana, LV, and Isle of Capri casinos).
For this reason, despite what appears to be a toppy price, I have evaluated ERI in the consolidation environment going forward and see a $58 stock by 4Q 18.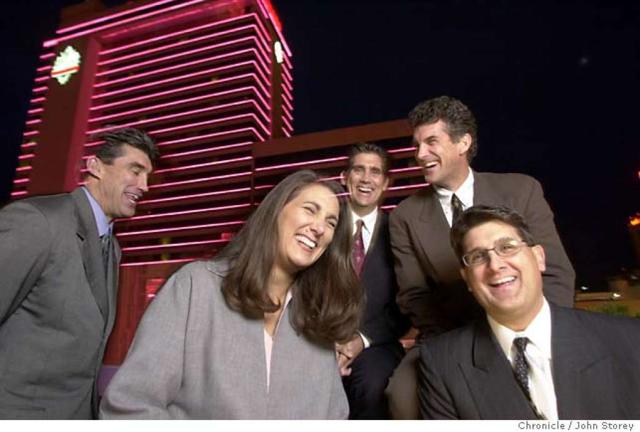 In brief, as I always say, these are people you want to be partners with. They've not come up through the standard corporate ladder. After college, they've worked the casino floor, sold change, managed shifts, watched the front desk and donned the eyeshades in the office counting the cash. The kind of operational know how that resides in the DNA of a management team resonates for me after seeing the results in over my 30 years inside the business.
Author's note: More detailed analysis and recommendations on the US regional gaming sector will follow next month on my SA marketplace site: The House Edge.
Disclosure: I/we have no positions in any stocks mentioned, and no plans to initiate any positions within the next 72 hours.
I wrote this article myself, and it expresses my own opinions. I am not receiving compensation for it (other than from Seeking Alpha). I have no business relationship with any company whose stock is mentioned in this article.