Article Overview
I recently wrote an article on Diamond Offshore (NYSE:DO) from a credit perspective and I wanted to provide similar analysis for other key names in the offshore drilling sector.
Instead of doing that in separate articles, a comparative analysis makes more sense. It gives a broad view on the balance sheet fundamentals along with clarity on the best positioned names from a credit perspective.
Equity investors will be primarily looking at this analysis, but it makes sense in these times to make an investment decision based on credit metrics.
Of course, other parameters such as order backlog, quality of fleet and quality of counterparties needs to be considered. This article will provide some insights on these factors as well.
Comparative Credit Analysis
The chart below gives the comparative credit analysis for companies in the offshore drilling sector. Besides Diamond Offshore, I have included Noble Corporation (NYSE:NE), Rowan Companies (NYSE:RDC), Transocean (NYSE:RIG) and Ensco (NYSE:ESV) in the analysis.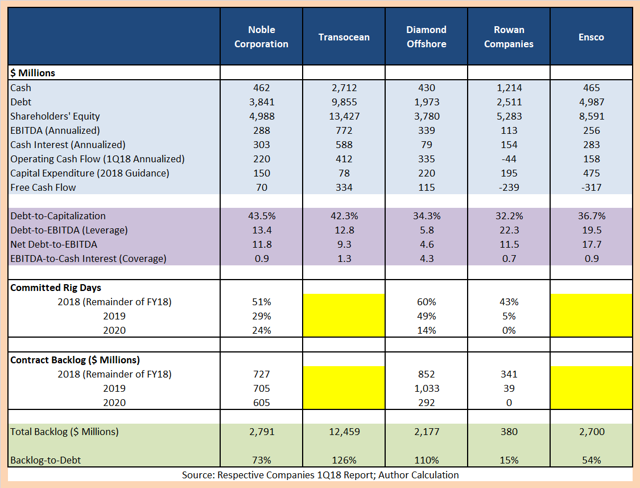 Note: For Transocean and Ensco, latest data on committed rig days and yearly backlog is not provided in the respective reports.
The table is self explanatory, but I would like to mention few key points:
1. From a leverage perspective, Diamond Offshore looks best. For most companies, the increase in leverage has primarily been due to a sharp decline in EBITDA than an increase in debt in the recent past. With industry recovery likely to be slow and with a relatively overcrowded rig market, EBITDA margin is likely to remain depressed. This will keep leverage at elevated levels.
2. A more important metric is the EBITDA interest coverage. On a standalone basis, leverage is high for Diamond Offshore. However, with EBITDA interest coverage of 4.3, debt servicing is likely to be smooth. The same does not hold true for most other companies in the offshore drilling sector. However, Transocean and Rowan Companies has ample cash buffer and I expect these companies to reduce debt to manage the debt servicing burden more efficiently.
3. For most companies in the analysis, free cash flow is likely to be positive. This provides support from a deleveraging perspective. However, it is worth noting that Rowan Companies has a very slim order backlog and considering the total debt, even Noble Corporation and Ensco have a slim order backlog. Considering the point that Diamond Offshore scores better on key metrics, Rowan, Noble and Ensco can be avoided in the foreseeable future.
4. From a total backlog perspective, Transocean and Diamond Offshore are well positioned as compared to peers and I expect these two companies to navigate the challenging times with relative ease.
Conclusion
There is little doubt that the offshore rig market will take time to recover and the core challenge is excess rig supply. As this article shows, rig utilization has picked up marginally in the recent past, but there is a significant gap that exists between total rigs and contracted rigs.
Even as rig utilization improves in the coming quarters, I expect day-rates to remain depressed and that will continue to impact EBITDA margin.
The table below gives the EBITDA and EBITDA margin for companies in 1Q18 as compared to 1Q17 and there is a clear case of significant shrinkage in margin.

This factor is discounted in the stocks, but as margin remains depressed, credit metrics will also remain strained.
This does not mean that offshore stocks can't deliver healthy returns. I recently discussed Diamond Offshore and that stock is higher by 37% since my last article nine months before. The key point is to be very selective in exposure to the sector and that's the reason for providing this comparative analysis.
Diamond Offshore and Transocean are my stock picks from the offshore sector for the next 12-18 months.
Disclosure: I/we have no positions in any stocks mentioned, and no plans to initiate any positions within the next 72 hours.
I wrote this article myself, and it expresses my own opinions. I am not receiving compensation for it (other than from Seeking Alpha). I have no business relationship with any company whose stock is mentioned in this article.