It's been a little over six months since I released my top 5 silver stocks for 2018. I release these picks every year, with the goal to outperform the physical price of silver (SLV) and the silver miners (SIL).
It has not been a good year for silver. As of writing on June 18, the SLV is down by 4.1%, while the SIL has declined by 12.3%, according to charts at Yahoo Finance.
So far, my picks have done quite well, as every single pick has outperformed the market. I have to admit that I might have gotten a little lucky (so far) with some of these picks.
Here's how my top picks have performed, and my current recommendations for subscribers of The Gold Bull Portfolio, my marketplace service.
Summary of Picks (as of 6/18)
Average pick performance: 24.642%
SIL performance: - 12.3%
SLV performance: -4.1%
#5 Coeur Mining (CDE)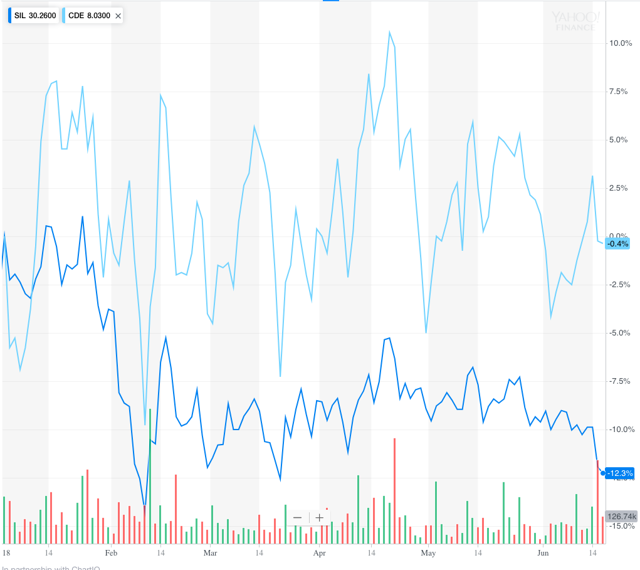 (Coeur shares in light blue; SIL in dark blue. Credit: Yahoo Finance).
Coeur Mining shares have declined by just .30%, compared to the 12.3% decline in the SIL, so it has been a good year for the silver miner thus far. When I picked shares, I said I thought the acquisition of the Silvertip mine was a good one for the company, and I felt the stock was trading at a deep value, with an EV/EBITDA of under 8.
Coeur released its Q1 2018 financial results on April 25. The highlights included the commencing of production at the Silvertip mine, ahead of schedule. Silvertip should reach commercial production shortly and have a positive impact on shares.
In February, the company also announced the results of a new re-scoped mine plan and PEA study on the Rochester mine in Nevada; the introduction of high pressure grinding roll technology had a substantial impact on the economics of the mine, increasing NAV to $609 million (5% discount) with a 20% reduction in expected costs per silver ounce.
#4 New Pacific Metals (OTCQX:NUPMF)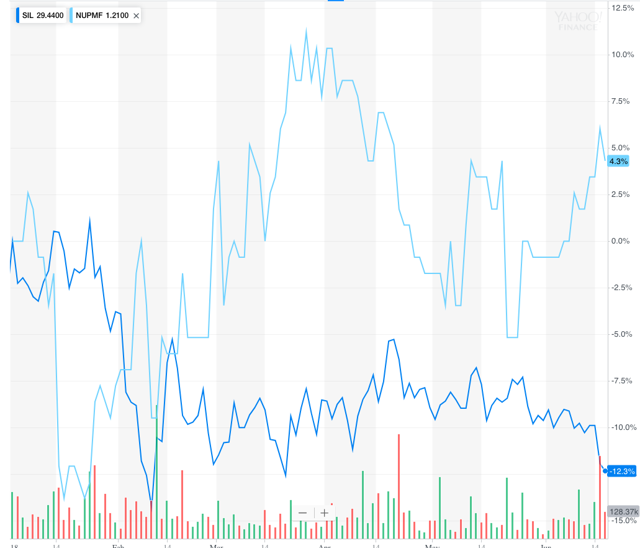 (New Pacific Metals in light blue. Credit: Yahoo Finance).
Despite no recent news from the company, New Pacific Metals' stock has returned 4.3% YTD, compared to a 12.3% decline in the SIL.
New Pacific is developing the high-grade Silver Sand deposit in Bolivia, which it purchased last year. It has seen small-scale, historic mining and was drilled during the period 2012 through 2015 by a company called Alcira. Past drills returned high-grade silver over wide intersections, with values ranging from 168 g/t to 329 g/t.
Major shareholders of New Pacific include Silvercorp (SVM), which owns 29.8% as of writing, and Pan American Silver Corp (PAAS), which owns 12.1%. Dr. Rui Feng, CEO of Silvercorp and New Pacific, also owns 7.8%.
New Pacific currently carries a market cap of approximately C$200 million, despite minimal exploration and lack of a resource at Silver Sand. However, I think the deposit clearly holds a lot of upside based on past exploration results, an initial metallurgy test that indicated high recoveries, and the heavy insider ownership from Silvercorp and Pan American.
#3 SilverCrest Metals (OTCQX:SVCMF)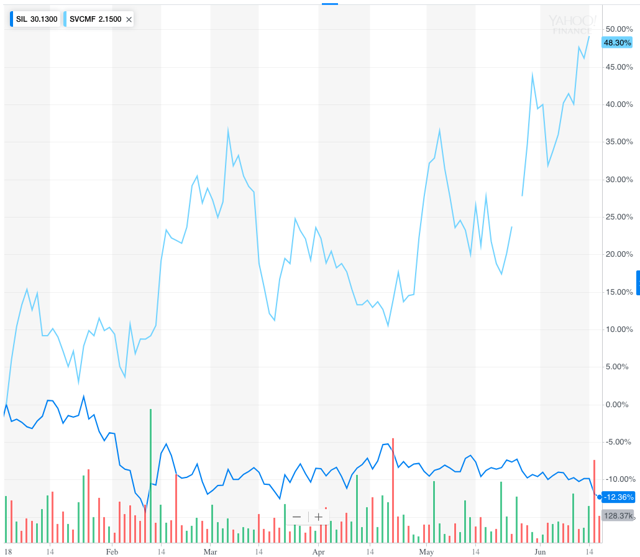 (SilverCrest Metals stock pictured in light blue. Credit: Yahoo Finance)
In my previous coverage, I stated that I was impressed with SilverCrest's exploration results at the Las Chispas silver-gold project in Mexico, and with shares trading at a low level to end 2017, I felt it was likely a buying opportunity entering 2018.
I also stated:
"Following the company's drilling success, it is planning on releasing a maiden resource estimate for Las Chispas in Q1 2018, which I think should be a catalyst for the share price."
SilverCrest's initial resource was announced in February and impressed the market, with the company reporting an initial inferred resource of 62.82 million silver equivalent ounces, comprised of 401,600 ounces of gold and 32.67 million ounces of silver.
In May, the company capitalized on its rallying stock, as it closed on a C$17.25 million financing, offering 8.21 million shares at a price of C$2.10. Management and insiders currently own 15% of the company, according to SilverCrest's corporate presentation.
An updated resource in Q3 and a PEA study in Q4 should provide further catalysts for the stock.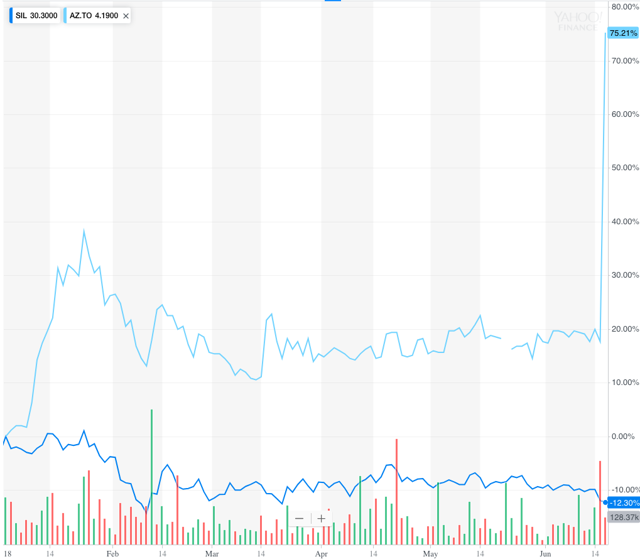 (Arizona Mining shares are up 75.21% YTD on the TSX. Credit: Yahoo Finance)
It looks like I nailed this pick at No. 2. Shares are up 75% since the article was published.
In the article I stated:
"...officers and directors own approximately 35% of the company, with Australian company South32 (OTCPK:SOUHY) owning close to 20%. South32 is a $10+ billion mining company, and I think its large equity ownership opens up the doors for a potential acquisition in the future.
South32 announced on Monday, June 17 that it will acquire Arizona Mining for $1.3 billion (C$1.8 billion) in an all-cash deal. It will pay C$6.20 per share for the 83% of Arizona that it doesn't already own, which represents a 50% premium to Arizona's share price at Friday's close.
Arizona shares currently trade at C$6.14 on the TSX. The deal is expected to close in September 2018.
#1 Silvercorp Metals (SVM)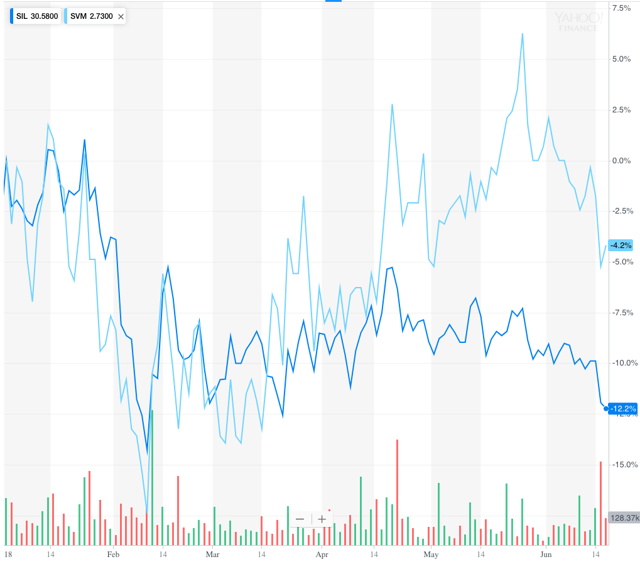 (Credit: Yahoo Finance)
Silvercorp shares are down 4.2% YTD compared to a 12.2% decline in the SIL.
Silvercorp is one of the lowest-cost silver producers and continues to trade at a deep value. Shares trade at an EV/EBITDA of 4.08 and a forward P/E of 10.58. The stock yields .92% with a minuscule payout ratio of 7.41%. Silvercorp is also returning cash to shareholders by buying back shares, as it spent $4.2 million to buyback 1.71 million shares of the company in the fiscal year 2018.
Silvercorp's balance sheet remains in great shape, ending the previous quarter with $106.1 million in cash, cash equivalent and short-term investments and no debt. It also has $38 million invested in New Pacific Metals, as previously noted.
On June 26, Silvercorp announced a very high-grade silver drill result of 3,363 g/t silver and 2.06% lead over 2 meters at its LMW mine. I recently covered SilverCorp in detail for subscribers.
Subscribers The Gold Bull Portfolio receive access to my real-life gold portfolio holdings (breakdown by stock symbol and weighting), research on junior miners/explorers, and early access to insider buying reports, earnings releases and more. Readers can sign up now and get a discount on subscriptions (for a limited time only).
Disclosure: I am/we are long SVM. I wrote this article myself, and it expresses my own opinions. I am not receiving compensation for it (other than from Seeking Alpha). I have no business relationship with any company whose stock is mentioned in this article.
Editor's Note: This article covers one or more microcap stocks. Please be aware of the risks associated with these stocks.