Marine Money Week 2018

Image Credit: Marine Money Website
Marine Money is the world's largest ship finance forum, which this year attracted over 50 companies and 1,000 delegates from across the globe. I've attached the full agenda for those who would like to see all of the events, and there are also audio recordings available on their webpage. We've followed these proceedings for several years, but this was our first year in attendance.
I personally participated in a panel to discuss retail and institutional investor sentiment and approaches to shipping (audio recording here), and I also participated in the final panel where analysts provided their top picks (follow-up report planned soon). This review will cover the key highlights from the forum, including the general sentiment and recent developments for each major sector. We also met privately with around two dozen firms, the coverage of which is hosted exclusively on Value Investor's Edge, but which we plan to incorporate into our upcoming public updates.
Key Trends: Sentiment, Regulation, IPOs?
Improving Sentiment
The biggest 'key trend' is that industry sentiment is on the rise. For the first time in several years, there was a generally positive vibe throughout the conference, and the forward supply/demand balances of almost all sectors look promising through 2020 and beyond. This is notably different than 2017 when the dry bulk and LNG markets were weaker and smart tanker investors were nervous. 2016 was far more bearish yet, with offshore and dry bulk in the depths of despair, and strong tanker markets were generally met with skepticism. This rise in sentiment is interesting because shipping stocks are hardly trading at strong valuations. In fact, although we've had some very profitable runs, the shipping sector has been a difficult place to invest.
The opening session of Marine Money included a clear ode to this troubled run, with one of the first slides illustrating how the S&P 500 has absolutely trounced the shipping sector, defined by the Guggenheim Shipping ETF (SEA).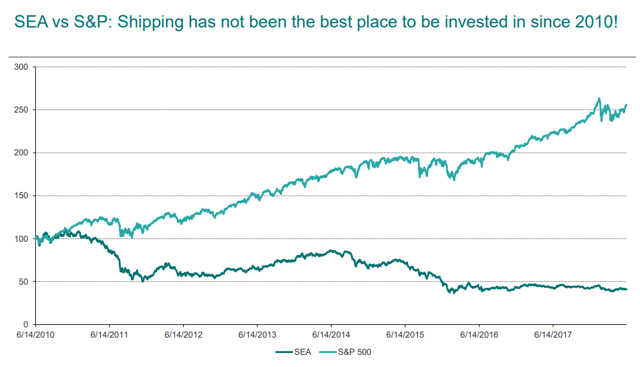 Source: DNB Markets Presentation, Marine Money 2018, Slide 2
This has been a brutal run, full of troubled companies, but it now seems we're on the cusp of a total inversion of these trends. On a related note, we published a bullish market piece in October 2017, titled "Is the Shipping Sector a Great or Terrible Investment?" with the following observation:
It won't take a demand renaissance for markets in many sectors to surge in 2018-2020, we simply need slow and steady global trade growth. Just a few percent growth, coupled with natural fleet aging and upcoming regulations could lead to a bull cycle we haven't seen in 15 years.
Perhaps we were slightly ahead of the sentiment curve? We shall see...
Regulation Challenges
Although the sentiment shift was the most notable takeaway, the 2020 low-sulfur fuel requirements were a prime focus of discussion. For those unfamiliar with this major International Maritime Organization ("IMO") requirement, a quick read of James Catlin's excellent initial review is a must. Note that James published this backgrounder in November 2016. Nineteen months later, it is still one of the best reads on the internet! In February 2018, James provided further updates to discuss slow steaming and potential trade route shifts.
The big picture summary: On 1 January 2020, the IMO will ban the direct consumption of high-sulfur heavy fuel oil (i.e. "bunker fuel" or "HSFO" with 3.5% sulfur mass) and will only allow direct fuel burn with a maximum mass of 0.5% sulfur. HSFO can still be burned, but only by ships with scrubbers, which cost anywhere from $6M to $10M to install on each vessel. This means that refineries will have to produce more marine gas oil ("MGO") or similarly complaint blends. Naturally, the assumption is that HSFO prices will decline and MGO prices will increase, at least in the short term.
The current pricing spreads between HSFO and MGO range from the mid-$400s to around $700/ton, respectively (roughly a $250/ton split). Starting in 2020, the spreads could go anywhere from $200 to well over $500 during initial implementation, with the most likely impact as a huge spike followed by a medium-term decline back to around a $300 split as refineries chase margins.
Additional alternatives include installing LNG-powered turbines or in the case of Dorian (LPG), LPG is also being tested as a direct shipping fuel source.
The compliance economics and strategies, ranging from scrubbers to fuel hedging to enforcement expectations, were included in at least half of the panel discussions, including the subject of a focus presentation by Euronav (EURN) during Monday's pre-conference investor events. CEO Paddy Rodgers summed up the options as follows: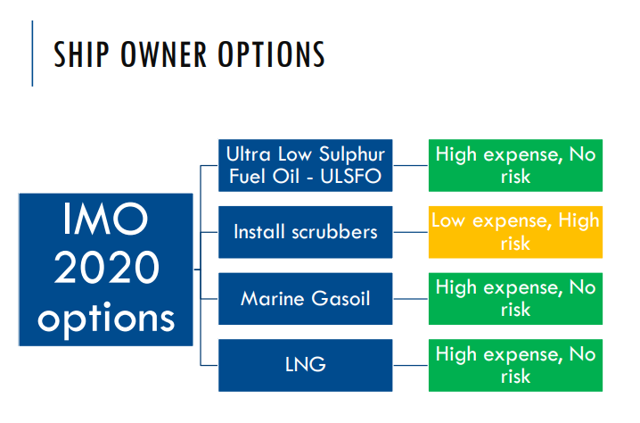 Source: Euronav IMO Presentation, Slide 14
There were three full-length discussions during Marine Money itself, including an insightful presentation from Nicolas Busch of Navig8, which illustrates the various compliance options and current market balance. Both Euronav and Navig8 focused on the advantages of 'eco-built' vessels, with a clear benefit to be had from lower fuel consumption as prices are likely to rise. If we assume a bunker fuel cost of $800/ton, these vessels could save up to $15k/day.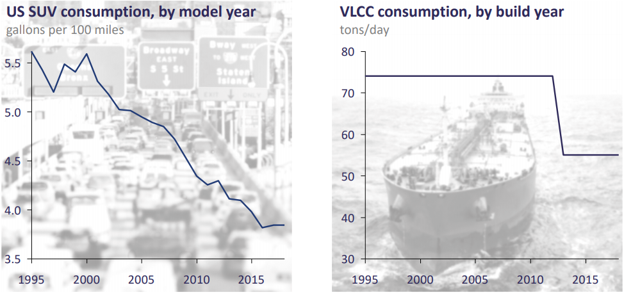 Source: Navig8 Presentation, Marine Money 2018, Slide 6
Scrubbers as a compliance method depend upon the estimated payback period. For a large vessel (i.e. Newcastlemax bulker or VLCC), with fuel consumption in the 60-70 ton-per-day range, with an $8M installation cost and a $300/ton spread in fuels, the payback period could be as fast as 18-24 months. These sort of economics make good sense for large vessels, but perhaps not for smaller or even mid-size vessels.
Additionally, there's the risk that spreads will rapidly tighten between complaint and non-complaint fuels. There's also the opportunity cost of taking a vessel offhire for several weeks to install a system. Finally, this is an expensive capital upgrade that many shipowners frankly cannot afford.
Generally speaking, those who are installing scrubbers are hoping that nobody else does it. Those are decide to forgo scrubbers are praying that lots of their peers dive into it. There's a sort of game theory going on here and those with the loudest mouths probably shouldn't be followed... Notably, the refineries are privately urging for scrubbers, as they want to continue defending their margins as the global fleet continues to serve as the 'incinerator for the refining industry.'
Although the 'scrubber question' was a key topic of debate, the one bullish note was that almost all ship owners expect some sort of 'slow steaming' as a reaction to increased fuel costs. Euronav (EURN) provided this slide, which illustrates that a shift from 13kts to 10kts reduces fuel burn by 40% while only increasing time by 30%.
If fuel costs $40k per day ($800/ton @ 50 tons per day) and time-charter rates for VLCC and large bulkers are sticking around current charter-equivalent levels of around $20k/day, then the solution is blindingly obvious: slow down! Slow steaming, even just on the laden (filled) runs, could 'artificially' add over 10% to the global ton mileage demand.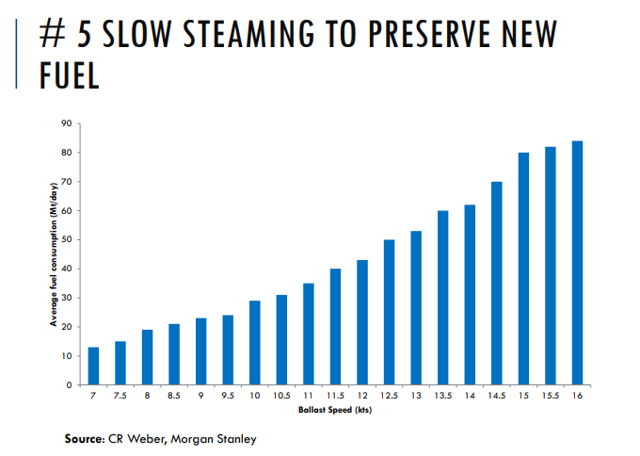 Source: Euronav IMO Presentation, Slide 26
These are very exciting times, and yet another reason to get bullish amidst all of the uncertainty. Also a good reason to consider modern eco-tonnage as we've suggested in previous write-ups.
I strongly suggest reading the previous-linked reports by Mr. Catlin as well as listening to the panels on ship financing considerations, market fundamentals, and fuel availability and compliance.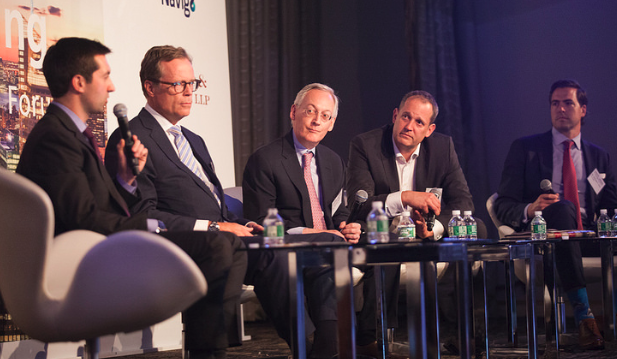 Image Credit: Marine Money Gallery, IMO 2020 Panel
The last link in particular is an insightful source as it includes direct commentary from ship owners and operators including Carnival Corp. (CCL), Star Bulk Carriers (SBLK), TOTE Maritime, and Hoegh Autoliners.
Capital Markets Access, New Wave of IPOs?
Beyond the general sentiment improvement and heavy focus on regulation challenges (note: I expect 2019 to be even more of a frenzy), there was also a clear nod towards upcoming initial public offerings from GoodBulk (GBLK) and Navios Maritime Containers (NASDAQ:NMCI). These would be the first such offerings since June 2015, which speaks to the recent challenges of the sector to attract fresh equity capital.
I'm following both of these offerings closely as part of our research on Value Investor's Edge, and so is the shipping sector at-large. A "dealmakers" panel focused on the topic, with the understanding that if GBLK and NMCI are successful, then we are likely to see a surge in similar deals. MPC Containers is yet another firm that is in the wings, waiting for a clear chance at the US markets.
Sector Panels And Breakdown
Beyond the broad trends, Marine Money also provided insights into the current markets and sentiment for key sectors, including dry bulk, containers, crude tankers, product tankers, and LNG.
Asset Play Sentiment
VesselsValue provided a clear presentation on which sectors have been 'Hot or Not,' using the Tinder-reference "Swipe Right/Left" to define the sector sentiment, as defined by asset valuation curves. In conclusion, bulkers and containers are hot: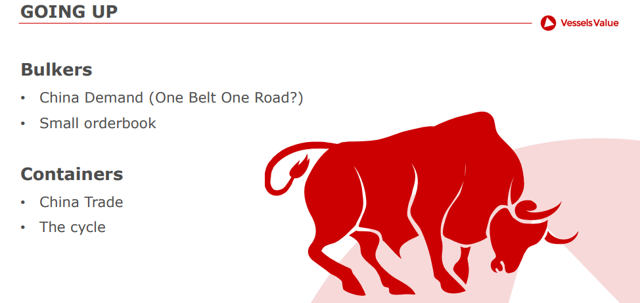 Source: VesselsValue Presentation, Marine Money 2018, Slide 50
Tankers and Gas are meanwhile in the slumps...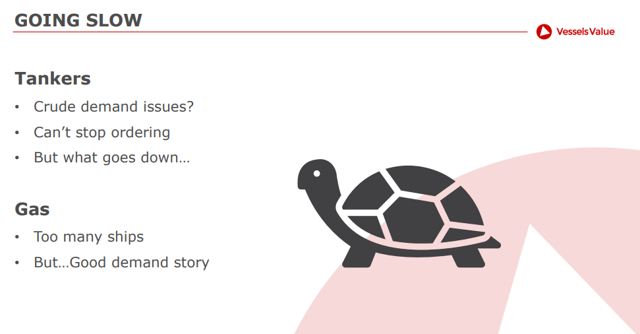 Source: VesselsValue Presentation, Marine Money 2018, Slide 51
We'll broadly cover each sector below.
Dry Bulk
Dry Bulk has suffered through weak markets for almost 7 straight years, culminating in record low performance during 2016. However, we're now on a major recovery run, with asset values approaching a more normalized curve with anticipation towards improving earnings.
Bulk commentary was spread throughout the conference, including discussions by Star Bulk (SBLK), Golden Ocean (GOGL), Genco Shipping (GNK), and Eagle Bulk (EGLE), but the main conversation occurred on Wednesday morning in a panel hosted by Michael Pak of Axia Capital Markets (audio here).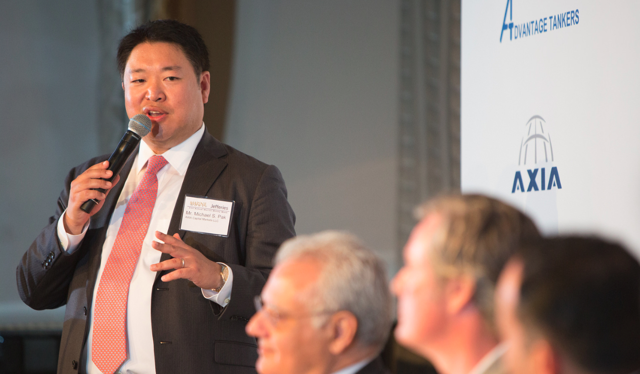 Image Credit: Marine Money Gallery, Dry Bulk Panel
The "Trend is your Friend" in this market as we continue to see rising trade in each of iron ore, coal, and grains. Meanwhile the orderbook remains small and there is still a decent amount of older tonnage that might not survive 2020.
I've personally been a major investor in dry bulk throughout the past couple years, including very profitable runs and flips with almost all of the major companies, including Scorpio Bulkers (NYSE:SALT), Genco (GNK), Star Bulk and even Dry Ships (DRYS) more recently. One of my current personal favorites, which also ties exceptionally into the regulation trends, is Scorpio Bulkers (SALT). SALT has a 100% eco-fleet with full ballast water treatment installation (i.e. the "other regulation" Our latest report is linked here.
Containers
We've seen a wild run with containerships, as they were one of the few sectors to quickly recover after 2008, only to collapse back in 2015-2016. We're now entering a bifurcated market scenario, where midsize and feeder vessels look attractive whilst large ships (i.e. ULCV and Neo-Panamax) appear oversupplied. Seaspan (SSW) has been a major recent winner and we're also seeing fresh investment opportunities from the likes of Navios Maritime Containers ("NMCI") and MPC Containers ("MPCC").
Seaspan in particular spoke to consolidation in the industry and the importance of adopting an industrial lease model (audio link here), while MPC Containers illustrated the significant recovery in smaller vessels along with continuing upside (audio link here).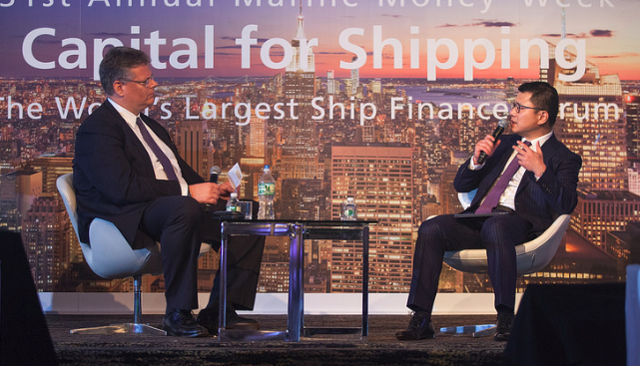 Image Credit: Marine Money Gallery, Seaspan in Focus
I met privately with MPCC CEO Constantin Baack to further discuss the market trends, which are clearly shown in their recent presentation. Note the feeders and mid-sizes are both old (top right) while there is almost no replacement tonnage on order (top left). Finally, these are intra-regional trades, so there is little direct exposure to US-China 'trade war' concerns.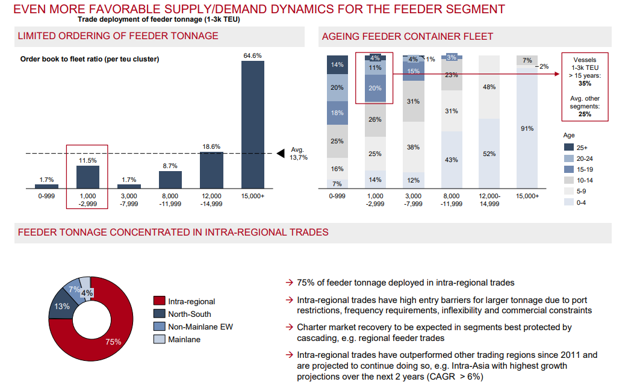 Source: MPCC Q1-18 Earnings Presentation, Slide 25
We've directly participated in the containership recovery by investing in Seaspan at $5-$6 when it was hated in mid-2017, but we've recently taken profits at $9. I'm currently enticed by the midsize container sector and I have significant exposure via Navios Maritime Partners (NMM), the primary sponsor of the upcoming Navios Containers IPO.
Crude Tankers
The crude tanker sector is in the middle of a very difficult year after completing an altogether mediocre 2017. The forward balance is still tentative, but heavy demolitions of old tonnage are a positive trend, and the 2020 regulations should continue to shake out these marginal assets. Nordic American Tankers (NAT) in particular, has agreed to dispose of 8 of their eldest vessels, which represents a stunning change in sentiment from just a couple quarters ago.
These topics and more were discussed in the Crude Tankers Panel, led by Peder Jarlsby of Fearnley Securities (audio here). The discussion focused on ensuring a forward balance of assets, helped by both record demolitions and restrained newbuildings. Finally, there are bullish potential trade routes, including US-to-China if the oil pricing spread remains high.
We've tried to steer more clear of this sector, but we had selectively invested, including a significantly profitable run in International Seaways (INSW). I'm hedging this sector as I remain very cautious, with my headline position a short on Frontline (FRO), paired off against DHT Holdings (DHT) in case we get a surprising rip to the upside.
Product Tankers
The product tanker sector is in weak markets, but the recovery is "just around the corner," or so the story has been told for a decade. With the exception of a very strong 2015, the market has been in dire straits, with the majority of owners forced to either heavily dilute equity or turn to high leverage sale leasebacks. Scorpio Tankers (STNG) in particular has done lots of both, including an awkward consolidation move.
The perpetual optimism remains, shared in a "Ready to Rally" panel chaired by Randy Giveans of Jefferies (audio link here).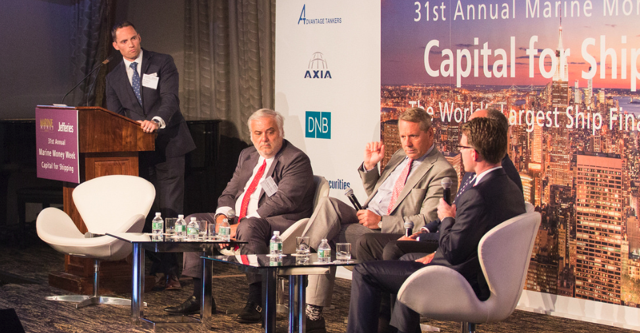 Image Credit: Marine Money Gallery, Product Tanker Panel
Key participants included Ardmore Shipping (ASC), Team Tankers, Chembulk Tankers, and d'Amico Shipping. The key trends are a historically low orderbook against both major refinery additions in 2019-2020 alongside major disruptions anticipated in 2020. Product owners expect to fully profit from the ensuing chaos.
We believe this is indeed the best time to be looking at product tankers, but this opinion comes with a massive dose of humble pie. Unlike the other sectors where Value Investor's Edge has been quite nimble, my personal trading record in product tankers is quite dismal. I've incorrectly subscribed to the "right around the corner" theory several times in the past 3 years. Scorpio Tankers (STNG) has been a long-term favorite and we're sitting on substantial percentage losses. We also tried to trade Ardmore Shipping (ASC), but gave up a couple years ago.
LNG - Liquefied Natural Gas
The LNG sector is perhaps the most exciting sector in the entire shipping universe, and they seem to be uniquely set for a very strong run. Unlike most sectors which are roughly cyclical, LNG seems to also be secular, driven by urgent political and environmental needs for lower pollution. China is a massive buyer, just recently eclipsing Japan as of May 2018.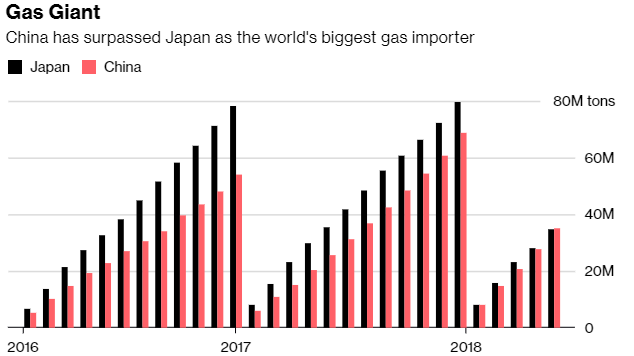 Image Source: Bloomberg Report, Dan Murtaugh
These trends and exciting orderbook trends (i.e. potential for undersupply) were discussed in the aptly named "Bullish on LNG" panel, led by Stifel Research Director Ben Nolan (audio link here). Key participants included GasLog (GLOG) (GLOP) along with Teekay (TK)(TGP) and Hoegh (HMLP) (OTC:HOLHF).
I am markedly bullish on LNG, discussing the importance of a "clear story" in my comments to the Investor Sentiment Panel on Wednesday (full audio here). These investments are panned out with substantial recent stakes in both Golar LNG (GLNG) and Teekay LNG Partners. Spot rates have been surging while stock prices are sleeping. I believe we have a remarkable couple years, perhaps even a decade, ahead of us here.
Investor Sentiment, Research, Trends
On Wednesday morning, we participated in a panel to discuss retail and investor sentiment in the shipping markets (audio link here) alongside Jon Chappell of Evercore ISI and Elvis Pellumbi of CF Partners.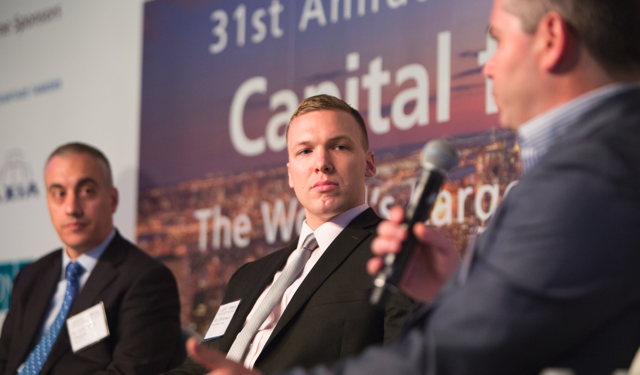 Image Credit: Marine Money Gallery, Retail & Institutional Investor Panel
Key focus items included the differentiation between valuing firms on NAV vs. cash flows, what is important to different types of investors, and where the strongest investment potentials lie. Elvis is particular is excited about both the Jones Act and LNG sectors, and we pointed to the strong stories in containers and LNG. Jon offered sage input on valuation metrics and shifting sentiment.
Conclusion
Marine Money 2018 was a very exciting and informative event, and I believe this is an essential source of information for all current and prospective shipping investors. Definitely the place to be for those with significant capital invested, and I hope our public recap is helpful.
I look forward to a fruitful discussion in the comments section below. Stay tuned for our update covering the 'Top Ideas' from key industry analysts!
Access the Latest Research
Value Investor's Edge focuses on deep-value opportunities in shipping, industrials, midstreams, international opportunities, and special situations. Each member of our analyst team is singularly focused, which means you benefit from the strongest expertise in a single sector while also gaining access to opportunities in related markets. We seek opportunities to exploit market disconnects while providing regular previews and reviews on the sectors we cover.
You'll also join a community of investors committed to helping keep one another informed about the best opportunities and news impacting the markets. Click here to sign up, and see for yourself why we have 96% 5-star reviews.
Disclosure: I am/we are long SBLK, NMM, TK. I wrote this article myself, and it expresses my own opinions. I am not receiving compensation for it (other than from Seeking Alpha). I have no business relationship with any company whose stock is mentioned in this article.
Editor's Note: This article covers one or more microcap stocks. Please be aware of the risks associated with these stocks.