Investment Thesis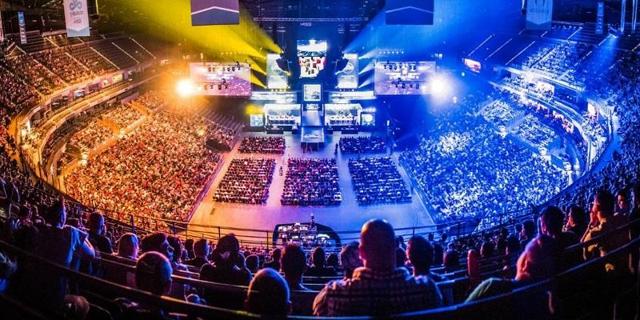 Source: eSports Observer
From the time video games entered homes, they have only risen in popularity among people of all ages. Video game publishers and developers will continue to see revenue increases from the growing sale of their games as well as their involvement in the competitive gaming scene. With no physical size or strength barriers to entry, video games attract a much broader and international audience than traditional sports. Revenues in the video game industry are growing at rates that would rival the revenues brought in by major professional sporting leagues within a few years.
Introduction to eSports
Since their entry into the home with Pong in 1972, video games have exploded in popularity worldwide. In 2017, the industry generated $108.5bb in revenues from the sale of games, gaming video content, and accessory sales.

Source: SuperData - 2017 Year In Review
eSports, or Electronic Sports, are the professional side of video games. They take place all over the world and draw in viewership audiences of over 40 million. eSports is the general term to categorize all the different video games played in competition. The most popular games in the competitive scene are DOTA 2, Counter-Strike Global Offensive, and League of Legends. These three titles combined for 57% of the 2017 total eSports prize pools for a collective $69.2mm.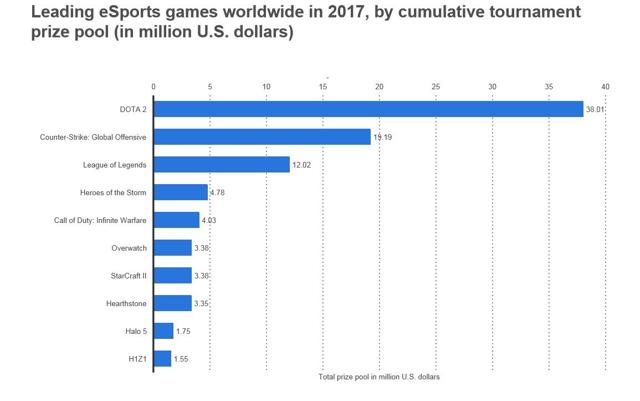 Source: Statista - eSports Market
These competitions have grown drastically in size and popularity over the last several years. eSports competitions worldwide paid out $121.1mm in prize money to gamers in 2017, a 26% increase from 2016 and a 246% increase from 2014, the year the streaming service Twitch.tv got acquired by Amazon (AMZN) for $970mm.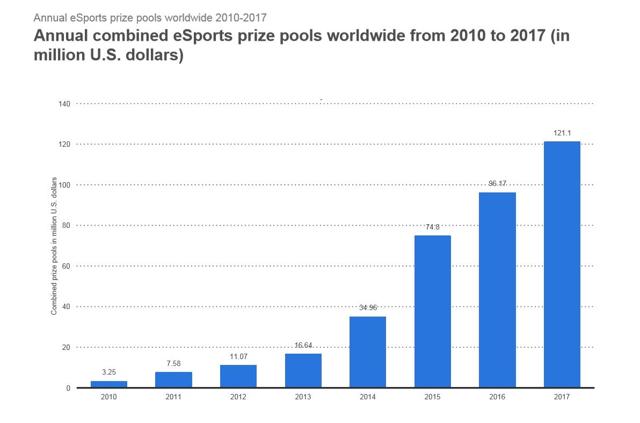 Source: Statista - eSports Market
As of June 25, 2018, there have been 786 eSports competitions that have paid out a total of $47.6mm to their winners with the largest competitions still to come. Epic Games, the publisher of Fortnite has announced that they will be providing $100mm for Fortnite prize pools for the coming eSports season, and the annual DOTA 2 tournament, The International, has over $15mm in prizes lined up for a single weekend in August.
The massive prize pools in eSports are possible because of the revenue generated by the eSports industry which reached $655mm in 2017. Newzoo projects eSports revenues to grow 38% in 2018 to $906mm thanks to investments in branding for the overall eSports community as well as individual companies ranging from peripheral accessories to energy drinks.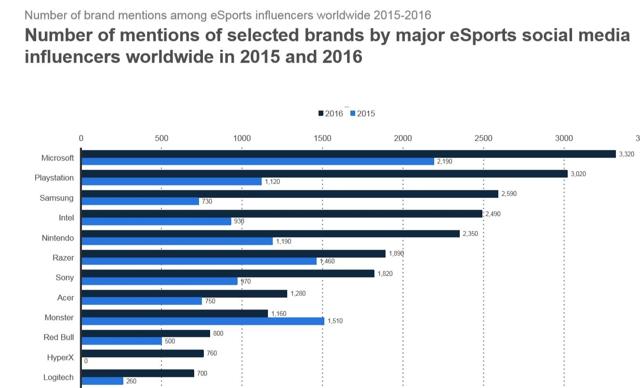 Source: Statista - eSports Market
Second-year NFL Wide Receiver for the Pittsburgh Steelers, JuJu Smith-Schuster, just signed a six-figure endorsement deal with lesser-known peripheral accessory retailer HyperX, a division of Kingston Technology, to wear their product when he creates content for Twitch.tv and YouTube. Smith-Schuster is one of many well-known celebrities that stream their gaming experiences online to an audience of avid eSports fans.
Multi-Platinum musicians Post Malone, Deadmau5, T-Pain, Logic, and Steve Aoki, Ultimate Fighting Championship fighters Max Holloway, Demetrious Johnson, and Quinton Jackson, and former NFL player and actor Terry Cruz have all maintained Twitch.tv channels where they stream themselves playing video games to thousands of fans watching live.
Streaming
Live streaming is a relatively new form of entertainment where people have the ability to live broadcast whatever they are doing to a viewing audience. While many may know about live streaming from Facebook's (FB) Facebook Live, the fastest growing online streaming company is Twitch.tv. Twitch.tv is a streaming platform that has cornered the video game and eSports market. Twitch viewers spent over 355 Billion (with a B) minutes watching content on the website in 2017 or 246,527,778 days. This is a 393% increase from 2012 viewership which topped out at 72 billion minutes of content watched. Though Twitch does not disclose its revenue, it does let the public know that over 20,000 partnered streamers and 150,000 streamers earning money from the content they release on the site and from tips their viewers give to them.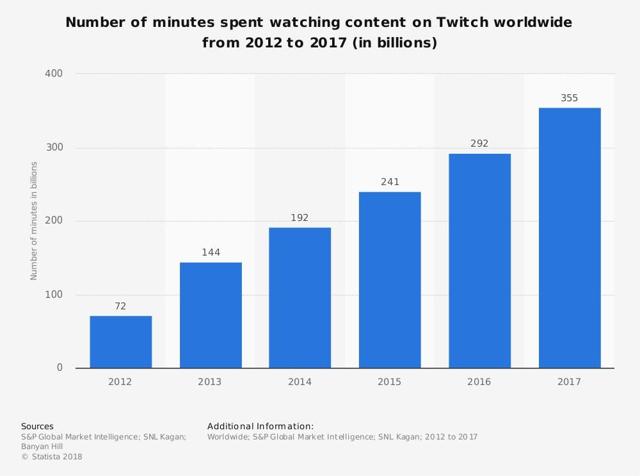 Source Statista/S&P Global Market Intelligence/SNM Kagan
United States Penetration
eSports have been wildly popular in Asia for years but are just beginning to attract the attention of American audiences.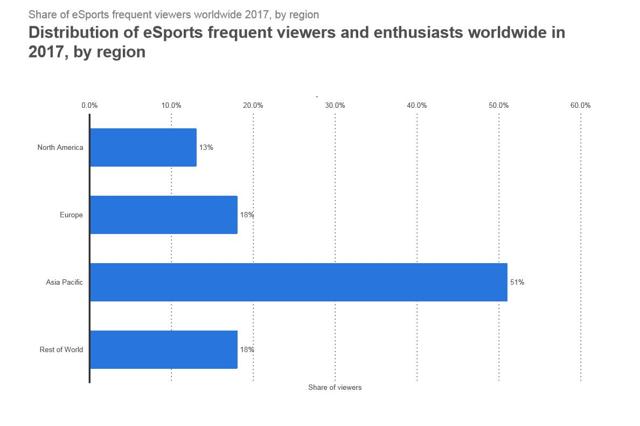 Source: Statista - eSports Market
Despite dominance in Asian viewership, North America has been steadily climbing to the top of revenues generated from eSports. In 2016, North America hosted 28% of all eSports competitions but brought in 44% of all revenues generated from ticket sales worldwide.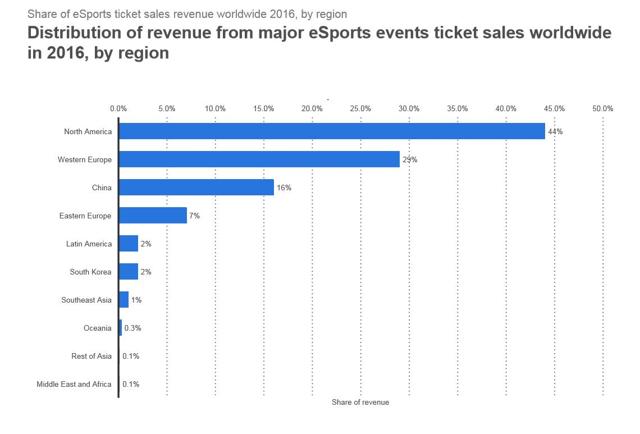 Source: Statista - eSports Market
The demand for eSports in the United States cannot be understated, and with eSports being projected to produce nearly $1bb in revenues this year, the opportunity that persists is wide.
A new addition to the eSports world is Activision Blizzard's (ATVI) Overwatch League, which was launched this year with an initial 12 teams up for sale at $20mm a piece. The teams were quickly bought up and delivered $240mm in revenue. Activision has announced they plan to grow the league to 28 teams in the near future, which would bring in an additional $480-960mm in team purchases alone as sources close to Activision expect the prices to be as high as $60mm a team.
Conclusion
Whether you're a fan of video games or not, if you are an investor looking for new opportunities you cannot avoid the world of eSports. With a massive worldwide appeal, exponential growth in viewership, and near billion-dollar revenues eSports offer a vast variety of options to gain exposure. Game developers like Activision and Nintendo (OTCPK:NTDOY) will likely experience the highest return in eSports as they will retain the competition rights to their games and be able to sell competitive teams worldwide as well as collect on revenues from the sale of their games and additional downloadable content. Having an audience of hundreds of millions that can generate a billion dollars in revenue annually is typically unheard of in a sector so few investors follow. With the growth potential of eSports and the video game industry relative to its current size and age, opens the doors for investors to still get in early and ride along as eSports continue climbing in popularity to rival traditional sports.
Editor's Note: This article discusses one or more securities that do not trade on a major U.S. exchange. Please be aware of the risks associated with these stocks.