International Business Machines (NYSE:IBM) has transformed into the Big Blue Innovator which will provide significant upside to their share price while paying large consistent dividends as the technological landscape evolves. When an organization has existed for more than a century, they must reinvent themselves from time to time. Some analysts and Seeking Alpha contributors consider IBM to be a boring and stale technology company, while I see them as an overlooked and undervalued diamond in the rough. IBM has rejuvenated its organization to play a key role in reshaping the business landscape of the future while returning to growth and generating returns which will leave shareholders smiling from ear to ear.
IBM's massive portfolio of patents is only getting bigger and more relevant
2017 marked the 25th consecutive year the Big Blue Innovator has led the world in U.S patents issued. IBM received a record-breaking 9,043 U.S patents in 2017. Almost half of the patents issued to Big Blue in 2017 are advancing artificial intelligence, cloud computing, blockchain, quantum computing, cybersecurity and other technologies which will not only change how the world works but the infrastructure which business is based on. Five of the patents from 2017 which are shaping the future are:
U.S Patent 9,560,075 – Luring Hackers
Cybersecurity technology that enables AI systems to lure malicious hackers with email exchanges and websites that divert their attacks
U.S. Patent 9,601,104 - Personalizing AI Communication
A system that analyzes, interprets and mirrors a user's unique speech and linguistic traits
U.S. Patent 9,755,923 - Forecasting Cloud Resources
A system to predict cloud computing needs, based on human behaviors and current events
U.S. Patent 9,818,064 - Improving Quantum Signal Fidelity
A method for improving a quantum computer's ability to read signals, which can lead to efficiency in the system's components
U.S. Patent 9,824,031 - Speeding Trust on Blockchain
A method to remove steps for settling transactions among multiple parties, even untrusted ones, without involving a third party
IBM is focused on today and shaping the technological landscape of the future
The Big Blue Innovator is building some of the most important segments of the future through IBM Cloud, Watson, Services, Systems, Security and Research. As companies become trendsetters by adopting the latest enterprise solutions, they will gain a competitive advantage over their peers, forcing them to embrace the latest technologies. IT departments are designing their networks based on cloud infrastructure and moving toward an off-prem model. As this adoption occurs, every organization will recognize the need for an AI interface which can understand their data. The old saying that knowledge is power could have never been truer as the organizations of tomorrow will require a technological infrastructure embedded with intelligence which is protected with cutting-edge security. IBM has created a full ecosystem which is already powering some of the most influential companies of today while shaping the landscape of the future.
IBM Cloud – A platform which provides a single architecture which unifies infrastructure and services including artificial intelligence, internet of things, quantum computing and blockchain.
58 cloud data centers across 19 countries
10 of the largest global banks are on the IBM cloud
9 of the top 10 retailers utilize IBM Cloud-as-a-Service
1,900+ cloud technology patents awarded in 2017
IBM Watson – Artificial Intelligence offering a range of cognitive technologies to professionals in industries such as healthcare, transportation, retail, insurance, and education.
100,000+ patients and consumers touched by Watson Health
Watson has grown over 70% in organizations
1,400+ artificial intelligence patents awarded in 2017
IBM Services – Help organizations transform for competitive advantage
1,000+ clients served from the IBM service platform with Watson
50% of the world's telecommunications IT infrastructure is managed by IBM Services
Clients can collaborate with IBM strategists through 38 IBM iX studios
IBM Systems – IBM's mainframe, cognitive systems, and storage offerings provide the foundation for AI and data-intensive applications and workloads
Z14 is the only server which can encrypt all data pervasively without requiring changes or downtime
87% of all credit card transactions and almost $8 trillion in payments are supported by IBM Z systems
POWER9 are the most advanced servers for AI and data-intensive workloads
IBM Security – IBM enterprise security has been advanced by AI and advanced analytics
60 billion security events monitored on a daily basis
Protects 22 of the world's largest 25 banks
Opened X-Force Command which is the industry's first commercial cyber range which allows clients to experience simulated cyber attacks
IBM Research – IBM has twelve global research labs which further projects such as AI, quantum computing, blockchain, and Watson
Debuted a 50 – qubit quantum prototype
Developed 5-nanometer transistors
MIT/IBM collaboration through the MIT-IBM Watson AI Lab to further joint research in AI sciences and technology
IBM's Watson
Watson is making huge impacts in sectors such as education, financial services and IoT, but Watson Health is my pick to lead the way
The Big Blue Innovator does so many things great but the largest implications for success not just for profits but for humanity overall lies with Watson Health. This division is broken into five segments consisting of Life sciences, Oncology, Value-based care, Government, and Imaging. This division is special as it has the potential to accelerate drug discoveries, transform monitoring patient safety from a reactive manual process to a predictive source of safety insights, deliver cognitive medical imaging solutions for radiologists, cardiologists and healthcare providers while the Oncology division can reduce the time it takes clinicians to identify eligible trial options for their patients and provide evidence-based treatment options based on expert training.
Healthcare is one of the largest industries worldwide not just in the U.S and the Watson Health division can drastically further medicine as we know it. I believe we are at the very beginning of how technology will change our lives, and in the next ten years, we will see more technological advancements then we have over the past fifty years. I have become almost infatuated with Watson Health because of the potential to generate huge profits while having a positive impact on human lives. If Watson Health can positively impact medical outcomes and further value-based care while driving quality and cost improvement on a federal level this division alone could be an untapped revenue stream which could fuel growth for decades to come.
IBM's $6.28 annualized payout
This payout reflects 18 years of dividend growth and a dividend yield of 4.52% while having a payout ratio of only 45.4%.
IBM has been paying a steady dividend since 1992 and started significantly increasing their dividend in 2006. Over the past twelve years, IBM has increased their quarterly dividend from $0.30 to $1.57. IBM is a dividend powerhouse as they are paying out less than 50% of their earnings to shareholders, which leaves a lot of room for future dividend increases. IBM still generates billions in earnings, and the dividend train is likely to continue for a very long time.
IBM has been on my dividend portfolio's watchlist for quite some time. Big Blue meets all my criteria which include a low payout ratio, 5+ years of dividend growth, and at least a yield of 3%. IBM exceeds my expectations in this area, but it has remained on my watchlist and not in my portfolio because of the market sediment. I have been waiting to see if I could add them closer to a 5% yield, but the recent sell-off has made this dividend play very attractive.

(Source: Dividend.com)
Headwinds
IBM is facing headwinds that could prove to be substantial threats to its business.
IBM's share price has been on a downward trend for the past five years while the S&P 500 and some of their competitors have taken advantage of the competitive landscape. IBM's Consolidated Statement of Earnings for 2017 shows they are still a powerhouse, but many of the numbers are going the wrong way which has been a troubling concern for Mr. Market, analysts and shareholders.
IBM has seen their total revenue decrease from just over $81.741 billion in 2015 to $79.139 billion at the close of 2017. While one may not think that this is that big of a deal, the gross profit is the real troubling number. Net income for Big Blue decreased by over $7 billion over the past three fiscal years. IBM profited $13.190 billion at the close of 2015 while in 2017 saw their income finish at $5.753 billion. One of the important things I look for is shareholder equity, and this figure also diminished by $667 million over the previous fiscal year.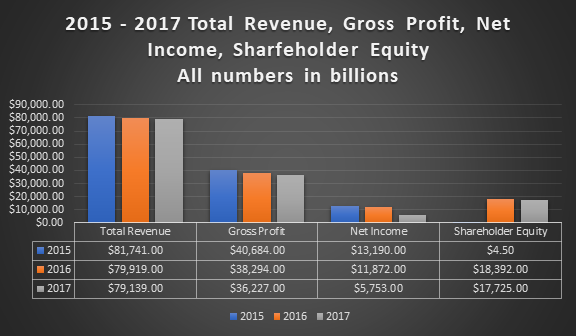 (Source: Steven Fiorillo) (Data Source: IBM 10K)
IBM has also been facing fierce competition from three of the largest tech companies in the world who compete in the cloud space. IBM has been losing ground to its competitors in this space as their market share has decreased to about 7% in cloud infrastructure.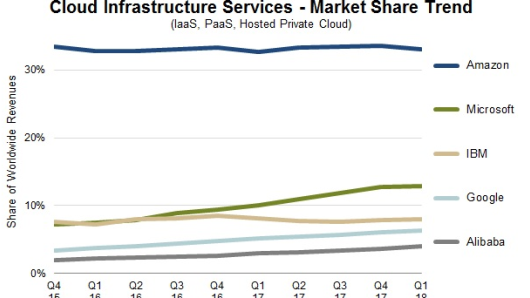 (Source: Synergy Research Group)
These headwinds are just a few factors which have contributed to Big Blue's declining share price. The S&P 500 has crushed IBM over 5 years with a 68.87% return vs. IBM's -28.65%.
IBM vs. the S&P 500 over the past five years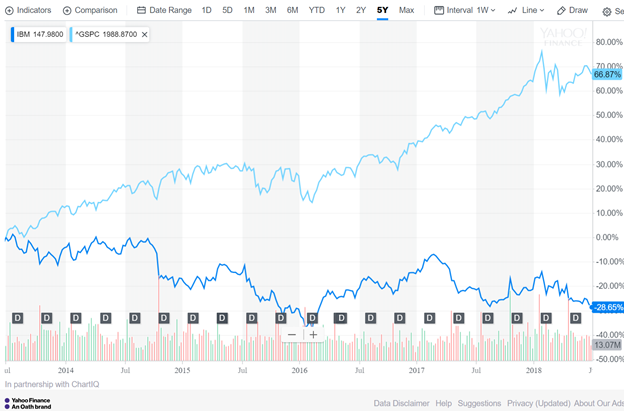 (Source: Yahoo Finance)
IBM's 5-year share price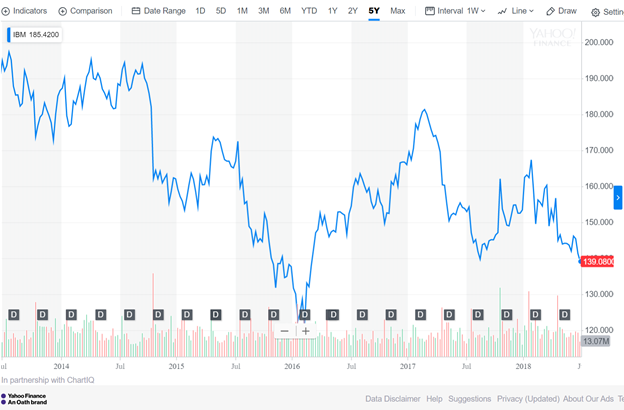 (Source: Yahoo Finance)
Conclusion
IBM hasn't been the poster child for the bull market where many tech companies are constantly making all-time highs. IBM has been one of the sectors laggards trailing the S&P 500 by over 80% over the past five years. While Big Blue has had its troubles ranging from declining revenues to net income which has devastated the share price and growth of the organization, I believe there is light at the end of the tunnel.
While the market views IBM as a troubled stock, I believe they have reinvented themselves and the sleeping giant will reclaim their rightful place among the IT giants. The Big Blue Innovator is developing critical systems and services which companies of tomorrow will build their infrastructures from. Their portfolio of patents is second to none as 2017 was a record-breaking year consisting of 9,043 patents awarded with 1,400+ in artificial intelligence and 1,900+ in cloud technology. I believe that IBM's Cloud services in conjunction with Watson, IBM's Services, Systems, Security and Research divisions will provide a one-stop shop for any business to build their infrastructure on. Big Blue has always been an innovator, and it seems as if this has been all but forgotten. You don't last over a century in the IT space without being able to reinvent yourself multiple times and zigging when others are zagging. IBM has stood the test of time, and the next technological revolution is going to play right in their wheelhouse. IBM is a sleeper pick with massive upside potential and a 4.52% yield to keep dividend investors happy.