Today's post highlights a winner in one of the country's fastest growing industries… self storage.
As longtime readers know, you can make a lot of money following big secular trends. And nowadays, the trend of "owning stuff" is in full force. In fact, we have more self-storage facilities in the United States today than Starbucks (SBUX) cafes.
One of the biggest players in this space… Extra Space Storage Inc. (NYSE:EXR). Over the past few years, the partnership has quietly accumulated some 1,400 locations totaling more than 103 million square feet of real estate. And business, it seems, is booming. Over the past 12 years, fund flows from operations per share has grown nearly sevenfold. During that same period, same store sales have increased at a mid-single digit annual clip.
The growth has paid off for investors, too. Units have delivered a total return, including dividends, of 707.9% over the past 10 years, recently hitting a fresh all-time high. Yet despite the run, this REIT looks poised to sustain that performance for a number of reasons.
Leading Company Behind Booming Business
In the world of real estate, self-storage has little sex appeal compared to a sparkling office tower or glitzy downtown hotel. No one dreams of building a property empire through nondescript warehouses where people stash their extra possessions. But what the industry lacks in cool, it has more than made up for in shareholder returns - largely due to our society's growing demand for storage space.
Analysts credit most of the boom to our relentless accumulation of stuff. Since 1967, consumer spending on durable goods in this country has grown more than 20-fold. Good for living standards, of course. It becomes a problem, though, when we run out of physical space to store all of these possessions. Since 1980, the size of the average American home has increased by more than 50% (and tripled since the 1950's). Yet today, nearly one out of every 10 Americans rents a self-storage locker.
The business also benefits from what insiders call the four D's: the disrupted, the dislocated, the divorced and the downsized. Historically, these factors have stayed rather consistent regardless of the broader economy.
But over the past few years, Baby Boomers have started to scale down their lifestyles. With the shift to smaller condos and retirement communities, all of the stuff that goes into a big suburban home needs to go somewhere. Given most of us can't bear the thought of throwing something out, more and more has ended up in self-storage lockers.
Millennials have become prime industry customers, too. While this generation has taken longer to settle down, they're still accumulating lots of things. Facilities have become a safe haven for material goods between frequent moves and a solution to smaller living spaces.
Analysts, however, also credit some of the self-storage boom to a severe supply crunch. Many cities won't approve new facilities because they look tacky, create few jobs, and generate little in the way of property taxes. In some parts of the country - especially places like California and the northeast - it can take years to get a property approved. That is, if you can find affordable land at all.
For Extra Space Storage, this supply mismatch has resulted in soaring profits. During the first quarter, the partnership saw same-store revenue increase by 5.2% from the same period last year. As of March 31, management reported a near record high occupancy rate of 92.1%. Net income came in at $0.70 per diluted share, up 9.4% from the same period in 2017.
Management has passed on most of those profits in the form of higher distributions. Since 2013, Extra Space Storage has increased its payout 244%. Today, shares pay out a quarterly distribution of $0.86 each, which comes out to a yield of 3.5%.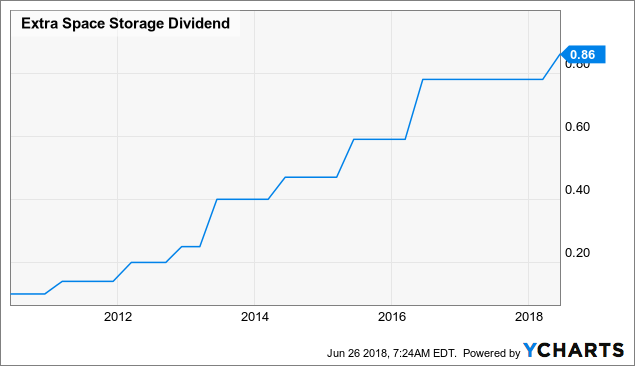 That growth rate looks sustainable at least for the foreseeable future. Management has several avenues to continue growing the business:
Acquisitions: The top five self-storage companies control only a fifth of the total market. Mom-and-pop operations still own most of the properties out there. Like a shark eating up all of the little fish in the pond, Extra Space Storage has quietly started to buy up a number of small players in the business. And through the benefits of economies of scale, the company can often squeeze efficiencies out of these operations.
Raise Rents: Record high occupancy rates mean landlords can easily pass on rent hikes each year. In the most supply constrained parts of the country, owners can sometimes get away with raising prices at a mid- to high-single digit annual clip. Analysts describe self-storage tenants as "sticky" customers. Moving to a new facility requires research, packing, and hassle. Most won't go through the entire process just to save $10.00 or $15.00 a month.
Third-Parties: Extra Space Storage has found innovative ways to grow the business through their ManagementPlus program. In exchange for handling all of the day-to-day operations of running a self-storage facility, the company charges property owners a fee for their services. This allows Extra Space Storage to grow their business with little in the way of new capital investment.
All of which should translate into respectable growth for the business. Over the next five years, the street expects fund flows from operations, a common measure of profitability in the real estate business, to grow by 7% to 9% annually. Investors can likely expect the distribution to grow by more or less the same rate.
Of course, you can't call this thesis bulletproof. Years of double-digit price hikes may have irked customers. If prices keep rising, some tenants may second guess storing their stuff. Indeed, the slowing pace of rental increases in some parts of the country suggest that rent fatigue might have already arrive.
New construction could also swamp the market. Developers spent just under $4.0 billion building new self-storage facilities last year, double the industry's expenditure in 2016. More competition, some fear, could lower occupancy rates or force landlords to offer more discounts to fill vacancies.
That said, Extra Space Storage is well positioned for these threats. In contrast to most industry rivals, the firm earns most of its revenue from urban centers and states like California, Virginia, and New York. Here, zoning restrictions and a shortage of affordable land prevent developers from bringing much supply to the market. This entrenched position should allow management to continue raising prices year in and year out.
The Bottom Line
Extra Space Storage shares have traded sideways for quite some time. But after months of consolidation, this REIT has finally broken out to new all-time highs. And with fast growing profits and a tidy distribution, this top dividend stock could deliver outsized returns over the next few years and beyond.