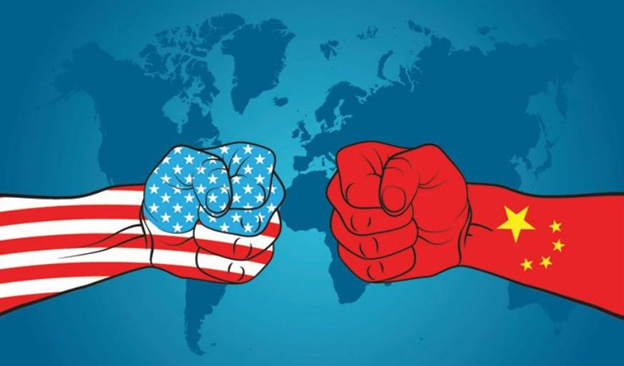 Trade tensions seem to escalate with each White House statement or tweet from the President. It seems there are new threats every day, from the tit-for-tat between the U.S. and China that could lead to tariffs on hundreds of billions of dollars' worth of goods, to targeting Chinese investment dollars in U.S. technology companies, to proposed tariffs on imported automobiles from Europe. China, Canada, Mexico, and the EU represent the largest trade partners of the U.S. (EU is a larger trade partner in aggregate than Japan) and disrupting the flow of goods and capital will certainly have an impact at the individual level, both in terms of economic growth and investment returns. While much of the back and forth is likely little more than saber-rattling, investors will be well served to prepare their portfolios for the worst-case scenario while maintaining upside exposure if all works out.
What to Expect From A Trade War
A trade war with our most important trade partners, even for a short period of time, could have significant consequences for the U.S. economy. The first, and in many cases the most important consequence, would be higher prices for consumers. Products imported to the U.S. will become more expensive as companies try to pass along the added expense of the tariffs. This in itself could lead to reduced demand, kicking off a downward spiral of both supply and demand in a rising price environment. This would be happening at the same time that demand for U.S. products declines as tariffs are imposed on those items by trade partners. This series of events would quickly percolate through the economy, resulting in slower corporate earnings growth as well as slower GDP growth.
These trade dynamics would also likely negatively impact the value of the U.S. dollar. With a reduced trade surplus, foreign governments, namely China, will have a reduced appetite and desire to purchase assets denominated in U.S. dollars. This can manifest itself through a weaker dollar, higher interest rates, or both.
Don't Be Scared, Be Prepared
The following ideas can protect investor portfolios throughout the uncertain future ahead, but they can also add value during more stable periods by generating attractive expected real returns in any environment. These strategies are intended to add protection against an all-out trade war without distorting portfolio construction or sacrificing diversification benefits. In some cases, the protection value is in the optionality provided by these strategies above and beyond their positive expected real returns. Because one of the primary consequences of a trade war would likely be higher prices, several of the strategies suggested here are similar to some of those I discussed in an article about hedging against inflation more efficiently. The other two primary factors underpinning the portfolio strategies discussed here are a weaker dollar and higher interest rates.
Gold & Black Gold
Commodities can be used to hedge against two of the three expected outcomes from a trade war, namely higher prices and a weaker dollar. The price impact will be felt directly through higher input costs due to tariffs and supply constraints driven by trade frictions. Second order impacts will be felt through corporate attempts at passing higher costs through to consumers in the form of higher wholesale and retail prices. The weaker dollar can act to exacerbate this problem as many commodity futures contracts are settled in U.S. dollars. For example, as the dollar weakens, the price of crude oil traded globally but settled in U.S. dollars will become relatively more expensive in dollar terms. The inverse relationship between the U.S. dollar and the price of oil can be seen in the chart below.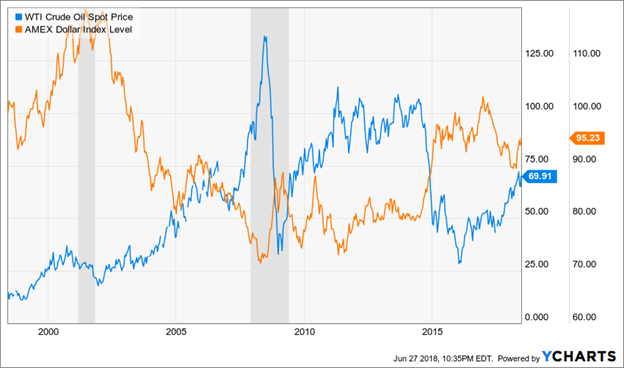 While the United States Oil ETF (USO) is popular and provides exposure to spot prices, its performance can be hampered when the forward curve for WTI is in contango. Other options include the United States 12 Month Oil ETF (USL) and the United States Brent Oil ETF (BNO). The United States 12 Month Oil ETF is relatively more attractive given it spreads its exposure over 12 months of contracts, not just the front month, allowing it to better manage the erosion experienced by USO when WTI is in contango.
Although not as pronounced as with oil, the inverse relationship between the U.S. dollar and the price of gold can be seen in the chart below. Gold can provide protection against both a decline in the dollar and rising inflation. That being said, as an unproductive asset class, position size and costs should be managed. While both SPDR Gold Shares (GLD) and iShares Gold Trust (IAU) are good options to gain gold exposure, IAU is cheaper at 25 basis points compared to 40 basis points for GLD. The caveat with holding gold is that it can be volatile, and therefore should be held in appropriate position sizes of maybe only 3-5% of portfolio value. We currently use both GLD and IAU in our portfolios in position sizes up to 5% of portfolio value. We are in the process of replacing GLD with IAU to reduce total portfolio expenses.
Alternatively, it may make sense to gain exposure to a broader basket of commodities to better capture rising prices and increased input costs. The Invesco DB Commodity Index Tracking Fund (DBC) provides direct exposure to crude oil, natural gas, precious and industrial metals, as well as agricultural commodities like corn and soybeans, and wheat.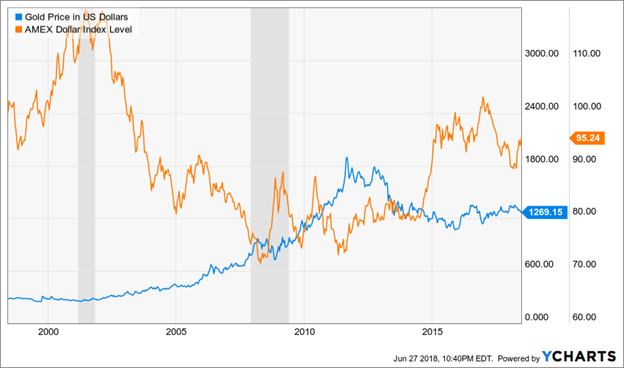 Shorten Your TIPS
Including TIPS in your portfolio can be effective at hedging inflation, but investors should be mindful of the exposures and risks that come with the position. Because of the declining interest rate environment we have experienced in the U.S. over the last several decades, investors in long-duration bonds, including the majority of the TIPS market, have realized attractive long-term real returns. In other words, investors in TIPS have been paid for the duration and interest rate risks they were taking in addition to the inflation adjustment. Given the current position of the FOMC to continue raising rates, it seems unlikely that this trend will continue, or if it does, it will likely be muted compared to recent years. If rates do continue to rise, duration will act as a headwind, offsetting much of the benefit from the inflation hedge. This headwind can be managed by allocating dollars to short-duration TIPS funds.
Although the iShares TIPS Bond ETF (TIP) has been popular since its 2003 inception, its average effective duration of 7.5 years now makes it far less attractive as a pure inflation hedge.
There are several shorter duration TIPS funds available at extremely low expense ratios. Both the Vanguard Short-Term Inflation-Protected Securities Index Fund ETF (VTIP) and the iShares 0-5 Year TIPS Bond ETF (STIP) are available with an expense ratio of only 6 basis points compared to 20 basis points for the iShares TIPS Bond ETF. The two short-duration ETFs have effective durations under 3 years, limiting their exposure to rising interest rates, resulting in a more direct inflation hedge. Vanguard examined the trade-offs between traditional longer-duration TIPS and the growing short-duration TIPS in its 2012 research paper.
Not All Tech is Created Equal
Because of the unique nature of technology, I believe it can be used not only as an inflation hedge but also as a hedge against trade disputes. To do this effectively, it is important to understand where the vulnerabilities lie in addition to where the strength is in order to be selective. Specific names like Amazon (AMZN), Netflix (NFLX), and Alphabet (GOOG) (GOOGL) are not likely to suffer from trade disputes. Their businesses are largely driven by consumers seeking entertainment value, convenience, competitive prices, and a broad array of information. Their input costs are ideas in the form of intellectual property and data, which is largely provided at no cost by users. These business models are insulated from trade disputes simply because they do not trade in the goods and services impacted by tariffs.
This rationale is not true of all tech names. Companies like Apple (AAPL) as well as many hardware makers are right in the line of fire because so much of their manufacturing takes place outside of the U.S. Facebook (FB) may not work with this thesis either as privacy laws are inconsistent and fluid across countries. The point here is that not all individual companies have the same exposure, so investors must be selective, or consider using a more diversified approach through a low-cost ETF to manage risk.
The ROBO Global Robotics and Automation Index ETF (ROBO) focuses exclusively on companies within the robotics, automation, and AI industries with diversification across geographies and market caps. A broader technology option, which is not strictly limited to robotics, automation, and AI, is the Vanguard Information Technology Index ETF (VGT). Both ETFs are good options to gain exposure to fast growing technology firms at a low cost. Many of the firms, particularly within the ROBO portfolio, have limited direct exposure to trade disputes due to the availability of growth capital, rapid development of new technology, and even faster development and implementation of new applications. These technologies and applications benefit from the capital expenditures of their customers who are seeking efficient ways to reduce costs associated with their labor needs, old technologies, and input costs. True innovation in this space, which leads to productivity gains, is the driving force of growth and profitability, mitigating the impact of restrictive trade policies.
Look to Local Currency Bonds
With a potential downturn in the value of the dollar, combined with higher interest rates and inflation, an allocation to foreign bonds becomes attractive from an expected return perspective. Portfolios benefit from not only increased diversification, but also holding bonds issued in local currencies from around the world, in both developed and emerging markets, can also generate attractive real returns during periods of a weakening currency and rising inflation in the U.S.
The reasoning behind this is that as the U.S. dollar weakens and inflation rises, assets denominated in foreign currencies will become more valuable in U.S. dollar terms. The combination of these dynamics, in addition to attractive yields on many foreign bonds, results in an expected real return that not only can be additive to portfolios now, but also that will become even more attractive as these conditions progress over time.
Because understanding local markets and credit quality is critical when evaluating potential investments, using active management in this space is most appropriate. PIMCO and Eaton Vance (EV) each have attractive, well-managed offerings in the foreign bond space. PIMCO manages its PIMCO Global Bond Unhedged (PIGLX) or (PAGPX), a globally diversified bond portfolio with local currency exposure. Approximately 60% of this fund's assets are spread across developed markets with the remaining 40% allocated to fixed income instruments within the U.S. The fund's largest allocations are to agency mortgage-based securities, corporate bonds, and government and government related issuances. The Eaton Vance Emerging Markets Local Income (EEIAX) allows investors to gain exposure to local currency emerging market bonds with a 30-Day SEC Yield of 6.3% and average credit quality of BB. The fund's largest holdings are spread across the Dominican Republic, Serbia, Russia, Peru, and numerous other developing countries. Expense ratios are relatively high compared to middle of the road equity funds, but the professional management, exposure to the asset class, and absolute return mandates justify the cost.
Final Thoughts
The ideas I described above are intended to provide investors with attractive total returns, no matter the environment. Given the uncertainty around U.S. trade policy, and the material effect that it can have on global trade, economic growth, and asset prices, it is prudent to consider tweaking your portfolio strategy to not only add protection, but also to benefit if or when these dynamics come into play. That being said, I am not advocating for distorting investor strategic asset allocations. Rather, I am suggesting areas that can be tailored to the current environment without sacrificing portfolio diversification. Using the above strategies should be looked at within the broader context of the global financial markets and sized appropriately. Any overweight or underweight position needs to be considered carefully to understand its impact on long-term total returns. I look forward to your feedback and answering your questions in the comment section below.
Disclaimer
Please remember that past performance may not be indicative of future results. Different types of investments involve varying degrees of risk, and there can be no assurance that the future performance of any specific investment, investment strategy, or product (including the investments and/or investment strategies recommended or undertaken by Mosaic Advisors ("Mosaic"), including the author, or any non-investment related content, made reference to directly or indirectly in this commentary will be profitable, equal any corresponding indicated historical performance level(s), be suitable for your portfolio or individual situation or prove successful. Due to various factors, including changing market conditions and/or applicable laws, the content may no longer be reflective of current opinions or positions. Moreover, you should not assume that any discussion or information contained in this commentary serves as the receipt of, or as a substitute for, personalized investment advice from Mosaic or the author. Mosaic is neither a law firm nor a certified public accounting firm and no portion of the commentary content should be construed as legal or accounting advice. A copy of the Mosaic's current written disclosure Brochure discussing our advisory services and fees continues to remain available upon request.