The legalization of Marijuana not only provides a huge opportunity for real entrepreneurs but it also provides one for people with a history of penny stock promotion and bankruptcies. Terra Tech (OTCQX:TRTC) (OTCQX:TRTCD) is the latter.
The last two businesses that Terra Tech's CEO, Derek Peterson, has been involved in resulted in people being convicted for crimes. One was convicted for embezzlement and in the other a union official was convicted for taking bribes from his co-founder. We have uncovered different but equally concerning abuses of governance and self-enrichment at TRTC. Self-enrichment starts with TRTC's foundational $51.5 million related-party purchase of one single dispensary, Black Oak, from its CEO (Source - pg 25/42 -10-K). Issues in the management suite don't stop at the CEO. The CFO appears to be a crash test pilot for driving micro cap stocks to zero, having been involved in at least three total shareholder wipeouts, the last time holding the title of CFO & CEO. The current COO (and former Treasurer of TRTC) filed for personal bankruptcy due to unpaid gambling debts and allegedly lied to casinos to obtain credit, which makes him an unusual choice for COO (Central District of CA-Case No. 8:09-bk 14465-TA).
The fact that TRTC is a paid stock promotion (search "compensation"), a reverse merger (10-K pg 4), and that management team has been selling lots of stock is just the tip of the iceberg.
TRTC's financials show a company bleeding cash. We will present recently filed lawsuits that TRTC's businesses allegedly are unable to pay suppliers on time. We believe these lawsuits may trigger a default on TRTC's recently issued toxic convertible bonds. Even if TRTC succeed in dismissing these suits, we believe the end may still be near. TRTC's three core businesses are all showing signs of declining QoQ. We provide a detailed explanation of: Dispensary & Cultivation business (impressively it even loses lots of money selling marijuana when the industry is booming); Edible Garden (sounds marijuana related, but it really sells fresh basil and lettuce at a net loss); and IVXX (the company's self-created marijuana brand that went from 200 distribution points in 2015 to 6 today).
We caution investors that the financial picture could be worse than the numbers we have analyzed in the company's public filings. TRTC's auditor, Macias Gini & O'Connell LLP (whose only other public company clients have a combined market cap of <$3m), has rendered an adverse opinion on the company's financial controls (see auditor section below).
Before we discuss executives selling shares at an alarming rate and a long history of past financial misdeeds by management, including the alleged diversion of deals away from the public company and to its private investment vehicles, we will focus on TRTC's immediate liquidity concerns.
TRTC finds itself in a weak financial position (with only $4.5m of cash on hand (pg 3 10-Q) at the end of Q1 and a burn rate of $6.7m during Q1 (pg 4). In early 2018, TRTC issued Convertible Debt twice; the terms of the convertibles were highly punitive for equity holders. They allow the holders to short stock in advance and convert into equity at a 22% to 24% discount to the lowest two-day VWAPs in the prior 13 days (source). In default, the discount would increase to 41%. At the current price in a no-default scenario, shareholders can expect dilution of ~36%. Dilution increases as the share price drops. These types of debt instruments are often referred to as "death spiral" and make convertible holders somewhat indifferent to a falling stock price. In our opinion, these structures not only serve to flag the company's desperate capital position (having only a little over two months of cash in the bank at present burn rate) but also increase the level of probability that the equity ultimately plummets towards zero while the convertible holders profit.
We have uncovered further lawsuits that allege internal fraud and preferential dealing have occurred at Terra Tech. The suits allege members of management conspired to direct deals to themselves as opposed to the public company and that Terra Tech employees were complicit.
If equity holders are clinging to the hope that the management team might be able to turn things around, we would suggest they pay attention to the recent executive departure. On April 20th, 2018, Ken VandeVrede, the Chief Agricultural Officer, resigned. He was the only member of the management team and board that we have not found to have been declared bankrupt or previously involved in stock promotion. Unlike most directors that bow out quietly, he resigned due to disputes with the company, and now Terra Tech is accusing him of committing fraud.
Related Party Dealings & Bribery
If you had $51.5 million and wanted to invest in Oakland in 2016, you could do two very different investments. You could either pay the combined annual salary of Steph Curry, Klay Thompson, and Draymond Green for a season (and still have $7.4 million left over) or you buy a single marijuana dispensary 100 meters from a homeless encampment that was 12% owned by TRTC's CEO. TRTC chose the latter.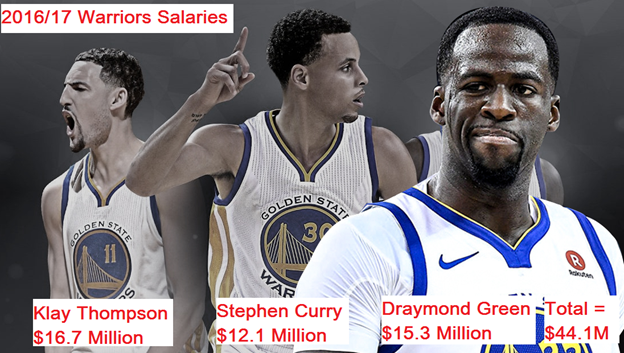 In 2016, TRTC purchased a single marijuana dispensary from Black Oak, an entity 12% owned by its CEO. (Source - pg 42/25 -10-K). Our investigators visited this dispensary. Inside it is no better or worse than any other dispensary in the Bay Area, however, it is located in a bad neighborhood in Oakland.

Another twist in this story is that Derek Peterson's former business partner & co-founder of Black Oak, Martin Kaufman, got the Black Oak license (now Blum) via paying bribes to cannabis union leader Dan Rush. (Summary story here; Dan Rush criminal complaint here). According to the complaint (which Derek was also named in, Paragraph 17), Kaufman avoided prosecution by agreeing to cooperate with the US Attorney Office in Dan Rush's case regarding the bribery. Dan Rush was convicted of receiving bribes from Kaufman and sentenced to 3 years in prison (Note - Kaufman and Peterson were never charged with a crime in this case). Paying bribes to union officials to get dispensary licenses is definitely not a sustainable competitive advantage.
Our investigators drove buy and visited the Blum Oak dispensary to see what TRTC received for stock valued at $51.5m. What they found was a dispensary that is located within 3 blocks of two homeless encampments in Oakland, CA, a city that currently ranked the third most dangerous city America by Forbes.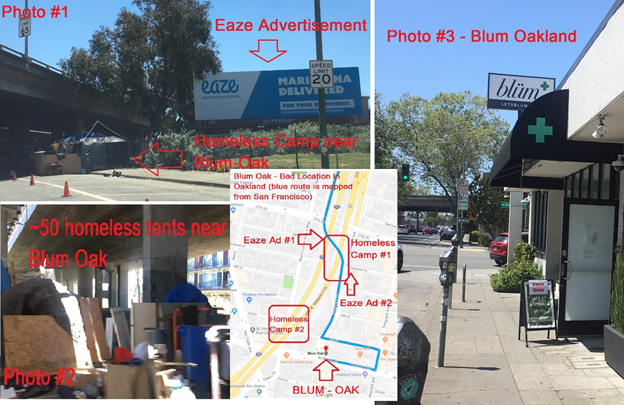 (Source - Fuzzy Panda Researcher Photos & Google Maps)
This "high" price paid to a related party ($51.5 million) also appears more egregious when compared to TRTC's only other dispensary purchase. A $7 million deal that TRTC paid for its Santa Ana location in September 2017.
New Lawsuits - Terra Tech Potentially in Default on Convertible Debt
We have discovered two recent lawsuits which allege TRTC has failed to pay its vendors in a timely manner which if true is a sign of significant financial distress.
TRTC's CEO also has a history of not paying debts. Another of his previous businesses, WeGrow Oakland, was also sued for not paying its bills. WeGrow went bankrupt and another of Derek's recent partner's, Dhar Mann, was charged with 13 felony charges for stealing Oakland city funds. He was convicted and sentenced to 5 years probation. WeGrow's problems seemed to have started simply as an inability to pay employees and suppliers. There are multiple reports of cashers at the dispensary not being paid on time (when paid at all) and other suppliers that were not paid in full - article.
Schawk Inc. v. Terra Tech Case
Schawk USA Inc. is suing Terra Tech (CA Case 2:18-cv-02571-FMO-AGR) for $179,005 + monthly interest and late fees. Terra Tech has been accused of failing to pay Schawk for advertising and point of sale marketing services that it has provided. This case was filed on March 29, 2018. TRTC filled a response on June 1, 2018, denying these claims and still refusing payment to Schawk Inc.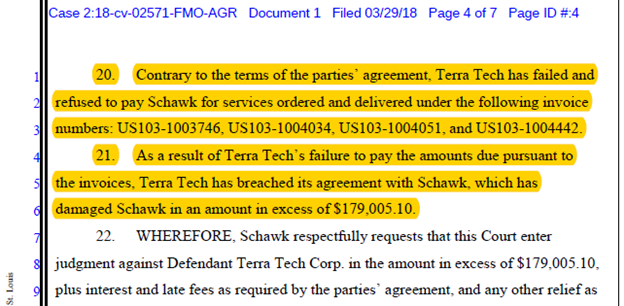 Schawk Inc.'s lawsuit also states it has all the agreements in writing as well as the invoices that were accepted by Terra Tech.

Whitetown Realty v. Edible Garden
Whitetown Realty is also suing Edible Garden (a Terra Tech entity) for not paying rent on time and has declared it in default of its lease. (NJ Case: MRS L 000796-18 - pg 45). It is suing Terra Tech for $2,247,082.98, and this lawsuit and breach of the lease agreement was filed on April 10, 2018.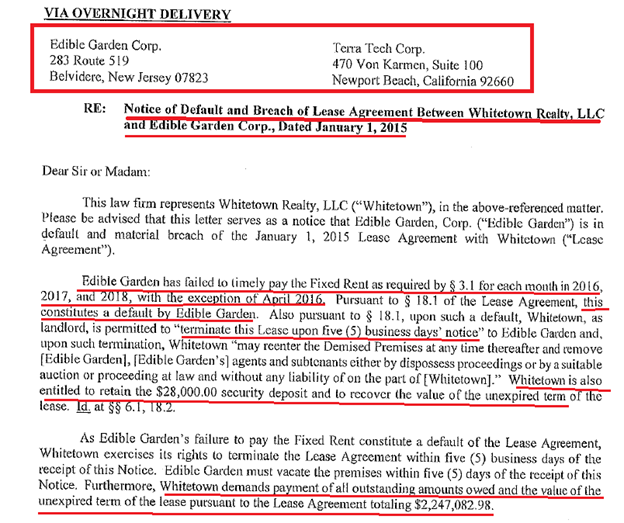 Terra Tech's response to the lawsuit filed April 11, 2018, claims it is current on its rent and cannot legally be evicted. TRTC claims that the payments might have been late but are not its fault since the responsibility for paying belonged to Steve VandeVrede, a Terra Tech employee and member of the Vande Vrede family who TRTC bought Edible Garden from. Terra Tech is currently accusing Steve, Ken, and the rest of the Vande Vrede family of fraud (CA Central District - Case 8:18-cv-00602-JVS-JDE)
Should either of these cases go against TRTC, it may accelerate the share price decline. Any court judgment >$50,000 against TRTC triggers a default on TRTC's outstanding convertible notes which can then be converted into stock at a 41% discount and sold immediately (Pg S-32 & Note 4).
The Management Team: A History of Bankruptcies & Shareholder Wipeouts:
Below is a full list of the management team and board of directors of Terra Tech and select highlights from their previous involvements in public companies and personal financial histories.

Source - Table created by Fuzzy Panda Research - Summary of each allegation is below
Terra Tech's CEO is Derek Peterson. However, he didn't always go by that name. He used to be known as Derek Oppedisano. We have asked the company multiple times but have yet to receive a response about why he changed his name. Fortunately, when you google "Derek Peterson" you find a lot not to like for a company CEO. Derek Peterson was fired by Morgan Stanley for failing to disclose to his employer that he was engaging in an outside business. (see Finra Track Record)
Derek Peterson and his wife, Amy Almsteier (a former TRTC board member and major shareholder), were accused of accepting illegally issued shares of IEAM in a pump and dump stock promotion known as the Mazzuto Scheme (more on that in Appendix A). In the settlement they agreed to pay a financial settlement of an undisclosed amount to IEAM shareholders, after its stock went to $0.00.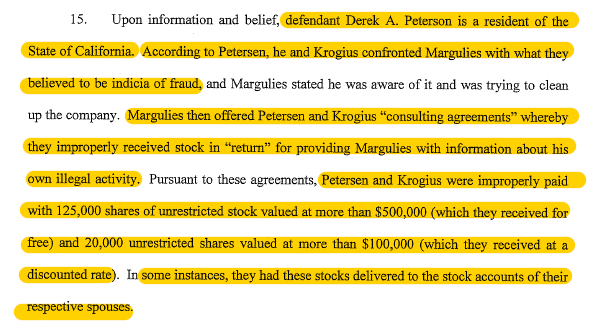 (Source - Pg 15 - NJ Case No. 09-11475 BLS)
Derek's financial history is checkered. He filed for personal bankruptcy in March of 2012 (CA case 8:12-bk-13957-ES). The filings suggest a lack of financial prudence. With his house as his only asset (secured by an unpaid Chase mortgage for $800,000) Derek managed to rack up over $50,000 of credit card debt and $1.75 million of debts to Morgan Stanley (pg 13-14 of bankruptcy filings).
Michael James, who is currently the CFO of Terra Tech, has, to put it kindly, had a pretty poor track record of involvement with public companies. He was involved in three previous companies that were listed and all three resulted in total shareholder wipeouts. Most recently he was both the CFO (started July 2010) and CEO (June 2012) of Inergetics, Inc. (OTC:NRTI) (source - NRTI 10-k pg 22). NRTI was a previous nutrition related penny stock wipeout. Investors should be concerned that NRTI (like TRTC) issued "death spiral" convertible debt (see article on MJ stocks to avoid). The stock went from a peak of $2.10 during his tenure to trading for $0.02 (-99%) when he moved over to become full-time CFO of Terra Tech. Michael James was also Chairman of Guided Therapeutics (OTCPK:GTHP), another 99.9% penny stock wipeout trading <$0.01 (chart). He was also on the board of Nestor, Inc. from 2006 and CEO from Jan 2009. It was a 100% wipeout going to $0.00 and even went so far as having the SEC revoke its registration as a listed company in 2014 (SEC Statement).
The COO, Michael Nahass, filed for his own personal bankruptcy in 2009 listing 0 assets and 1 to 10 million of debts primarily to casinos for unpaid gambling debts (Central District of California, Case No. 8:09-bk 14465-TA) (pg 45 of 10-k). His debts include owing the Bellagio ($457,500 - Doc 24), Mandalay Bay ($347,500 - Doc 24), Caesar's ($705,000 - Doc 19), Discover Financial ($12,375 - Doc 20), and Chase Bank ($60,651 - Doc 21). The Bellagio alleges Michael Nahass was able to run up these large gambling debts by deceiving the casino and showing it that he had sufficient assets to cover the credit it extended to him (Source - Paragraph 7 Case 8:09-ap-01606-TA). From January 2012 to July 2015, Mr. Nahass served as Terra Tech's Treasurer, a very interesting position considering his gambling habit and history of accusations of deceiving casinos with false accounts.
Newest Board Member Alan Gladstone is also not a stranger to bankruptcy court. He was the former CEO of Anna's Linens and managed to take that company into ch. 11 bankruptcy not once but twice (link, bankruptcy 2015, Wikipedia).
Steven J. Ross - Adds to the list of TRTC directors who has had a front row seat to a corporate bankruptcy. Mr. Ross is an Ex VP at Longhai Steel (LHAI), he joined the company in 2012. Three years before the company had its reverse merger IPO (pg 2 of S-1) by Ladenburg in the peak of the China Hustle era. Steven Ross joined in 2012 (10-K pg 32), and the company had its registration revoked by the SEC in 2015. Shareholders lost 100% of their investment. (link to SEC revoking registration).
Canary in the coalmine - Chief Agriculture Officer & Major Shareholder Resigns
Only one current TRTC board member or executive hasn't been linked to previous bankruptcies or shareholder wipeouts that we could find, and that was Ken VandeVrede. Unfortunately for investors in TRTC, he no longer appears to be guarding the hen house. He resigned from the Board of Directors on April 20, 2018, "because of a disagreement relating to the operations, policies, and practices of the company."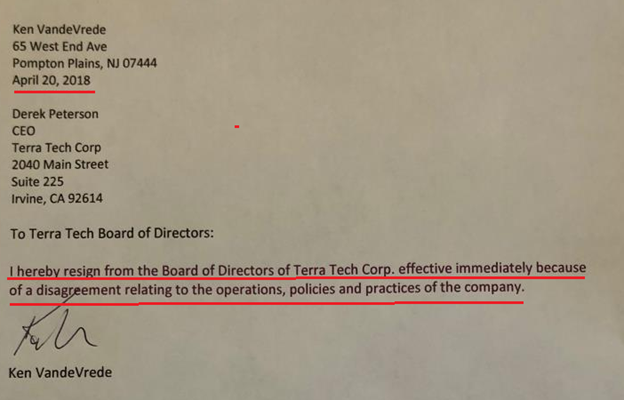 Lack of Cash
TRTC's financial health is in a critical state. Terra Tech's recent 10-Q shows it having $4.5 million of cash on hand (pg 3 10-Q) but loss from operations is currently running $6.7m a quarter (pg 4). TRTC was forced to issue $10 million of toxic convertible debt in Q1 in order to pay its bills and issued an additional $5 million on June 12th (debt filing)
TRTC's "Death Spiral" Converts
Likely due to its desperate financial position and lack of alternative financing, Terra Tech has issued convertible debt. This type of toxic convertible debt is sometimes referred to as "Death Spiral" financing. Investors sometimes refer to these as "Death Spiral" converts because the deals are structured such that the debt holder is always able to convert and sell at a discount to the current trading price. This ensures ongoing pressure and further dilution on the stock as it trades lower. In the case of TRTC, the debt holders are able to convert at a 24% & 22% discount when factoring in their interest rate. TRTC has issued two of these highly dilutive debt deals already in Q1-2018 and already issued more in Q2.
The chart below shows how much dilution and liquidation pressure TRTC shareholders will face assuming the holders of the existing $45m of converts exercise. At today's price, investors will likely be diluted by 36% to 47% when the convertible holders exercise. This doesn't require shareholder approval. Debt holders immediately have the right to convert to common and sell. If TRTC is deemed to have defaulted, then the conversion discount increases to 41% which is a looming possibility should it lose one of the two lawsuits filed by the vendors that are suing it. The dilution becomes significantly more punitive as the share price decreases as you can see below.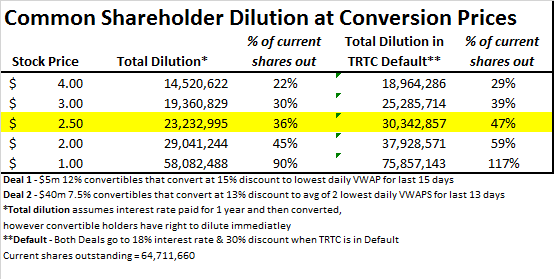 Source - Table created by Fuzzy Panda Research - Explanations of the conversion deal & assumptions is below the chart
A 2015 Bloomberg article describes the shady death spiral convert business. As the article mentions, the only real risk to the convertible financier is if they are not able to convert shares to common before the company goes bankrupt. Fortunately for Terra Tech financiers their convertible deal contains provisions that allow them to short the TRTC stock before converting, as long as they aren't Net Short. The deals also contain provisions that allow convertible owners to convert to common shares at a discount immediately after providing financing to the company.
Key Terms of Terra Tech's Two Recent Death Spiral Convertible Debt Deals:
Deal 1: $5 million of Convertible Debt that is convertible for 85% of the lowest daily VWAP in the 15 prior days and a 12% interest rate.
Deal 2: $40 million of Convertible Debt done in $5 million tranches that is always convertible for 87% of the average of the 2 lowest VWAPs in the 13 days prior to conversion and includes a 7.5% interest rate. The first $5 million was sold March 12, 2018, and an additional $5 million was sold on June 12, 2018.
Debt Immediately Convertible at a discount - The debt is immediately convertible to common stock at their discounted rate. (Note 4)
Default - It gets worse! If Terra Tech is ever in default, the interest rate in both Deal 1 & Deal 2 increases to 18% per year and the discount rate increases to 30% below avg of 3 lowest VWAPs in the last 20 trading days (link - page S-32). Thus, $1 million of convertible debt would convert to a guaranteed $1.68 million of dilution for common stock holders if it's held for 1 year.

Default can occur for many reasons including:

Any court judgment against the company >$50,000. TRTC currently has two court cases pending that would send it into default.
Another cause for default is if TRTC delays in issuing shares to its convert holders. "In default if they don't deliver shares to the convert holder promptly (prior to the 3rd trading day after conversion day)." So basically it would go into default if it tries to stop the death spiral.

Constant Selling Pressure - In Deal 2 Terra Tech secured $40 million worth of interest but the lender is going to participate in $5 million increments. This will likely result in constant selling pressure on TRTC stock as it continuously converts and sells its stock from the new deal.
How similar toxic debt spirals played out
Terra Tech's CFO, Michael James, issued toxic convertible debt at his last company, Inergetics Inc. in August of 2014. (source - NRTI S-1 pg 10). Less than 1 year later Inergetics stock had declined by over 99% and was trading for <$0.01
Auditor Issues - Adverse Opinion on Financial Controls
The company's main auditor since 2016, Macias Gini & O'Connell LLP, wrote that it has an ADVERSE OPINION (see below documents) for Terra Tech's internal financial controls. Receiving an adverse opinion is almost unheard of! There are 4 types of auditor opinion, an adverse opinion is the worst.
"An Adverse Opinion is a professional opinion made by an auditor indicating that a company's financial statements are misrepresented, misstated and do not accurately reflect its financial performance and health."
This pours cold water on the bull case that there is an imminent uplisting to the NASDAQ. Nasdaq does not accept companies with adverse auditor opinions, non-independent board of directors, and poor accounting controls.
This lack of accounting controls could be partially explained by TRTC's Director of Corporate Operations having previously been a bartender for the 3 years prior. Alternatively it might be because the CFO doesn't have much support from TRTC's Staff Accountant who was a Barista at Starbucks up until the time they joined TRTC.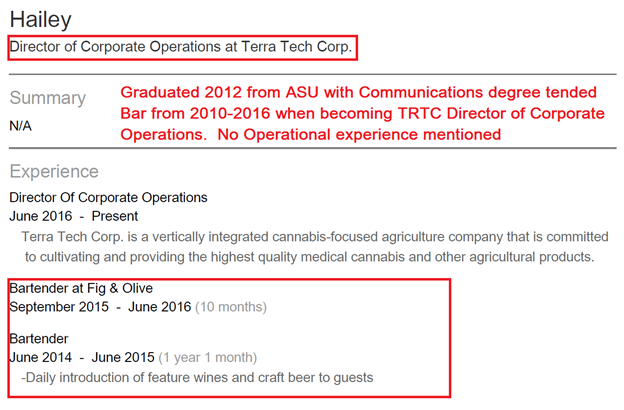 Source - LinkedIn - Fuzzy Panda Profile summary in Red
The auditor identified flaws:
Risk Assessment
Insufficient personnel to adequately exercise accounting judgment
Lack of majority of independent board members
Lack of controls to identify sources of material misstatements or potential accounting errors
Ineffective IT controls for financial spreadsheets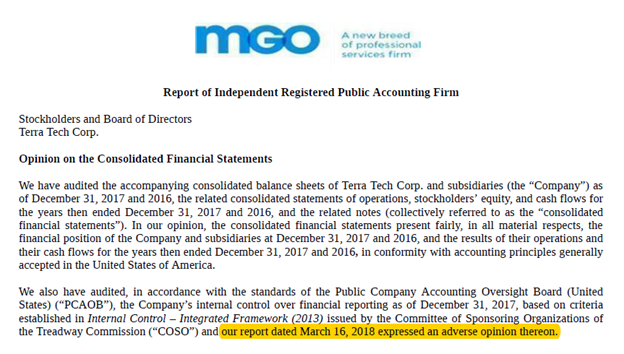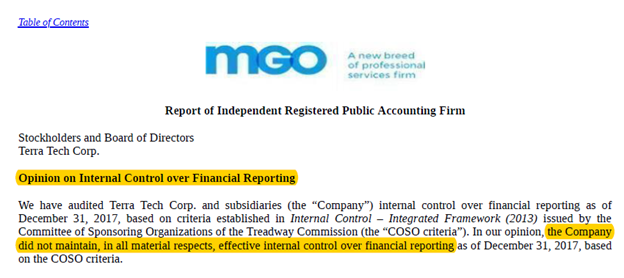 Strangely, TRTC also hired a second auditor on March 16, 2018, Benjamin & Young, but only had it audit the year ended 2015. We have contacted TRTC management with an extensive list of questions including why it has hired a second auditor but it has not yet replied.
Lawsuits against TRTC employees:
Another recent lawsuit supports our opinion that Terra Tech is mismanaged and poorly run.
Terra Tech v. Vande Vrede family (which includes TRTC employees & board members) has multiple accusations of fraud against its own employees and major shareholders. (Case 8:18-cv-00602-JVS-JDE - US District Court - Central District CA).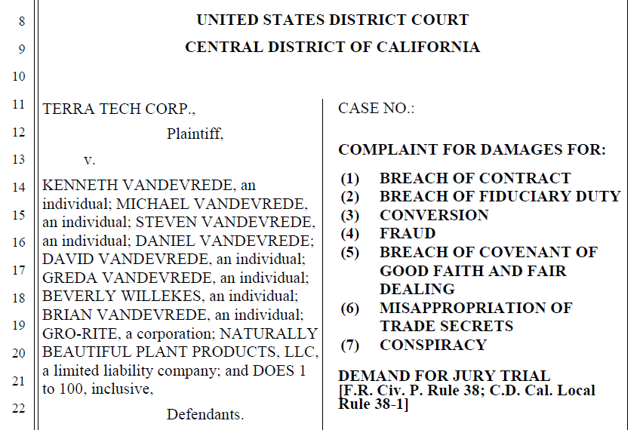 Accusations include:
Diverting multiple marijuana opportunities away from Terra Tech and to its own Vande Vrede investments. Some that Terra Tech was negotiating and others that Terra Tech never saw. This shows the complete incompetence of TRTC management as it lost at least 7 opportunities to its own employees.
Having Terra Tech employees produce PowerPoint presentations for the Vande Vrede family personal investment deals.
Not working hard (accused of working less than 30 hours a week).
On the recent conference call, TRTC management mentioned it wasn't that focused on M&A opportunities. However, from the lawsuit it becomes very clear that it has been interested in M&A opportunities, just not ones that benefit the public company.
Opportunities have been diverted away from TRTC Shareholders
The lawsuit mentions 5 different opportunities that Terra Tech employees diverted to their own family office rather than the company: Cultivar, Chill Waze, Summed Growers, CBD Water, and Great Meadows.

Management should have been aware of this since Terra Tech was in active negotiations with one of the diverted opportunities and the Vande Vredes are being accused of even using TRTC employees to produce PowerPoints for their pitches to divert opportunities.

Stock Promotion
Terra Tech has actively engaged in paid stock promotion throughout the company's history. Its current claim to fame is being the largest client by market cap of "Small Cap Voice" - see the disclaimer regarding the paid stock promotion. Other past paid stock promotions by Terra Tech can be seen at hotstocked.com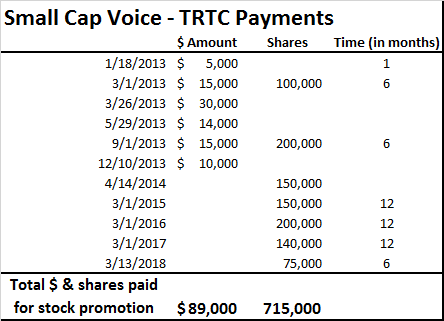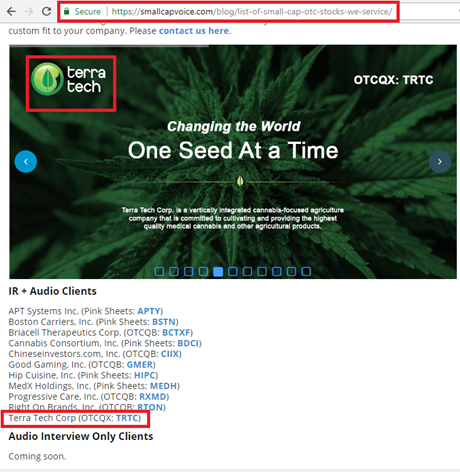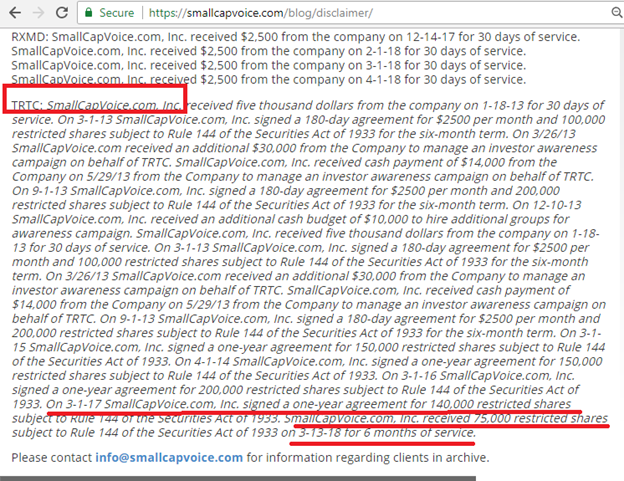 Factors like the Toxic Debt financing and Paid Stock Promotions are important for marijuana investors to use in determining which companies are more likely to have real promise versus which ones are likely using the Marijuana legalization hype to misappropriate shareholders' money.
Industry sources like "New Cannabis Ventures" run by Alan Brochstein warn their own readers to watch out for companies that have these two telltale signs of a bad investment. Alan has recently recommended buying TRTC so we assume that he is unaware of both the recent toxic debt issues and the long history of paying stock promoters.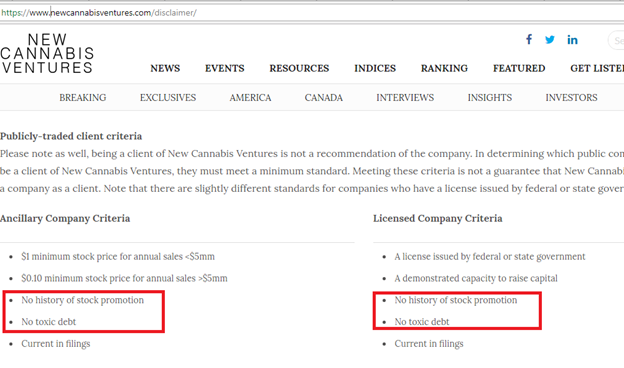 Valuation of Business Lines
Even though TRTC's financial controls are deemed unreliable by its own auditor, we analyze each of TRTC's business lines, all of which have been unable to generate profits. TRTC has accumulated a shareholder deficit of $115m (pg 3 of 10-Q). The cash burn has continued and in 2017 alone TRTC's operating activities burnt through $15.9 million. (pg 32).
Blum - Dispensary & GrowOps

Terra Tech currently owns & operates 6 dispensaries (2 in California and 4 in Nevada) with plans to open 1 more. Cumulatively this business line has burned through $13.1m of cash in the last two years. QoQ Growth for the business has gone NEGATIVE too, declining 22% in the last quarter.
Investors should be concerned that this division of the business was unable to make money during a period that it operated with little legal competition as recreational legalization has proven to be a disaster for existing players in markets such as Washington. Black Oak also only received one of the initial medical marijuana licenses in Oakland via paying bribes and has had difficulty securing additional recreational licenses.
With marijuana now recreationally legal, the consumer experience has become increasingly important. This is likely bad news for Blum. TRTC's pricing for product doesn't compare favorably with the competition. The Santa Ana Blum location charges $70 for 1/8 of top shelf LA Kush. This compares to $55 at Med Men whose Santa Ana location is both more convenient to the highway and is less than 1 mile away from Blum. Our own researcher paid $80 (with tax) for 1/8 from the Blum Oak location. This compares too much lower costs on Eaze.com which currently range from $39 to $49 for a premium 1/8 and it is significantly more convenient as they do home delivery. A more complete section on customer reviews of locations is in Appendix B, but those reviews consistently call out complaints of Blum being "Overpriced as Hell" & customers that "Feel Ripped off."
All of the above factors are already starting to impact TRTC's financials. Legalization in California occurred at the beginning of 2018. Since then, TRTC's revenue has declined on a quarter over quarter (QoQ) basis (-22% in Q1-2018). Management highlights YoY growth on its call, but that neglects the major fact that it purchased Blum-Santa Ana in Sept. 2017. Unfortunately, SG&A is increasing as the stubbornly high cost basis has continued to balloon so operating losses have increased 34% QoQ.
Seemingly unsatisfied with a sub-scale dispensary business, TRTC has made the decision move into growing. We believe this is ill-timed. Prices for flower have continued to crater. According to CannabisBenchmarks.com, prices that growers are receiving on the open market sunk to historic lows in June 2018 (source). That is after prices had already declined by ~30% over the previous 24 months (see below spot price chart)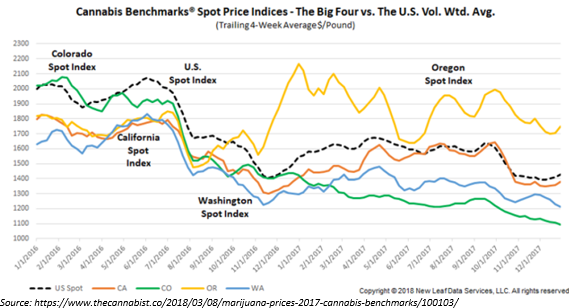 Edible Garden Business - Not Marijuana related - TRTC sells basil, butterhead lettuce and other local produce.
We have trouble ascribing any value on the Edible Garden business. Edible Garden has consistently lost money and currently is embroiled in a lawsuit for violating its lease terms that would result in it being evicted from its facility. The core business is distribution of vegetables to New Jersey grocery stores. Revenues had a massive 52% YoY decline from 2016 to 2017 from $12m to $5.7m and losses have almost doubled. The Edible Garden Division is currently being sued by its landlord, Whitetown Realty, which has alleged it hasn't been paying its rent on time, a claim that has not been disputed by TRTC.
Even before Edible Garden ran into trouble with its landlord, its financials were in deep trouble. It sells low-margin vegetables to New Jersey retailers at a significant net loss.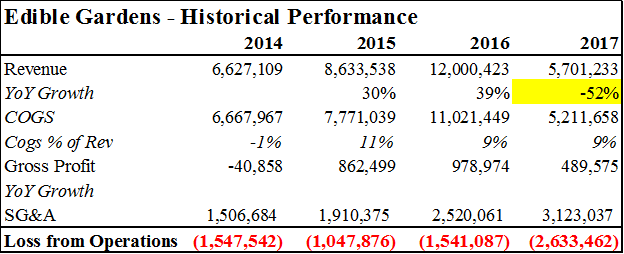 Source (2017 10-K pg F-48, 49 & 2015 10-K pg F-24, 25)
IVXX Business Line - IVXX is Terra Tech's self-developed line of cannabis waxes, shatters, oil, and vape pens. In 2015, Terra Tech claims that it was for sale in over 200 stores/dispensaries (2015 10-K pg 5). We have found 0 dispensaries that currently sell IVXX products outside of Terra Tech's self-owned Blum Dispensaries. In fact, IVXX's own store locator doesn't work. The only 6 listed dispensaries on its website DO NOT SELL IVXX product and 4 of them are actually closed.
Thus, we can only determine that IVXX has been a complete failure of a business line and the brand is currently worth $0.00 as it is not distributed to any other retailers. We find it impossible to believe that consumers would choose to buy IVXX branded product like a vape pen over a Pax one or its pre-rolled over established brands like Island.
Branded Marijuana has become a very competitive business and it is clear by the complete lack of distribution that Terra Tech's IVXX brand is worthless.
Insider Sales
Insider sales at a company are a great indicator that a company is overvalued. Terra Tech's management team has consistently been selling shares selling a total of 21,982,726 million shares back into the market on 83 occasions in just the last 3 years while making 0 open market purchases at the time this was written. It was even willing to sell at prices as low as $0.13 (reverse split adjusted that is $1.91). Furthermore, all those shares sold were either awarded for free via generous stock grants (like the new board member who received a 1m share grant) or via M&A transactions like the related party purchase of Black Oak.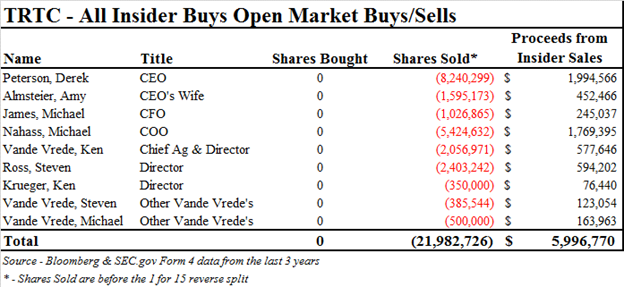 Conclusion
We recommend that investors follow the lead from the Terra Tech Insiders and they sell stock in TRTC. The only risk to the upside we see is euphoria around marijuana stocks, but we believe this business is fundamentally set to burn cash and dilute shareholders until it goes to $0.00. If you are long other marijuana stocks, this provides a great hedge as there is 1.7 million shares of borrow as of 6-28 at the relatively low borrow rate of -11%.
We conclude that Terra Tech is a great short for the following reasons:
Suppliers and landlords are suing the company for not paying its debts.
Toxic convertible debt that will cause a Death Spiral for the Common Stock.
Management team involvement in both past pump and dumps and received its first dispensary license via bribery.
Management team has a history of bankruptcies (both personal and with companies they have run).
Resignation of the only board member and management team member not connected to past bankruptcies or stock promotions.
Fundamentally disadvantaged dispensary business (worse pricing, locations, and customer reviews) in an increasingly competitive market.
Auditors gave the financial controls an adverse ruling.
No chance of a near-term Nasdaq uplisting.
Insider selling.
Reverse merger that is also a paid stock promotion.
We believe TRTC is a very unique short due to the fact that it has recently issued Toxic Convertible Debt and also has been not paying its suppliers. Beyond all the bribery, penny stock wipeouts, and bankruptcies both of these things mean that the company is in an extreme state of distress. The convertible debt will continue to be a negative catalyst since there is a motivated seller of the stock all the way to $0.01. In fact, the lower the stock price goes, the more shares will be issued to the convert holders and the larger dilution will be.
We are short shares of TRTC and, given all that we have discovered regarding the management team's checkered past, consider the stock completely uninvestible on the long side.
-------------------------------------------
Appendix A - More on the Mazzuto Scheme:
Derek Peterson (CEO of TRTC) & wife Amy Almsteier (Amy is a major TRTC shareholder, owning 2.2% - 10-K pg 53 and a former Board Member pg 46 2016-10-K) were allegedly involved in the "Mazzuto Scheme". Here is a link to the court order regarding IEMA v. John Mazzuto, et al. Simply put, it was a pump-and-dump scheme using restricted stock to loot IEAM (Industrial Enterprises of America) (see summary below from pg 3 of court order).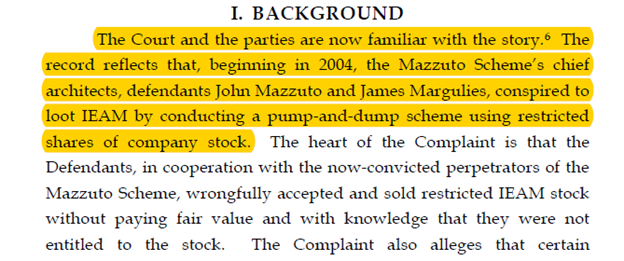 Derek & Amy were allegedly involved in the Mazzuto Pump & Dump scheme for selling illegally issued stock (pg 5 & 10 of the IEAM compliant)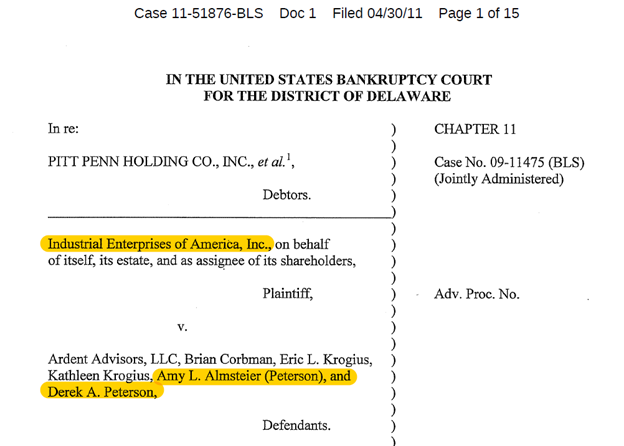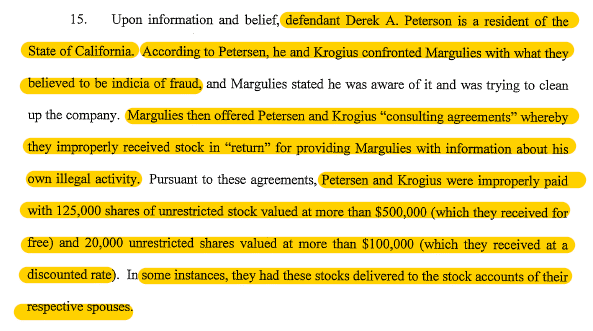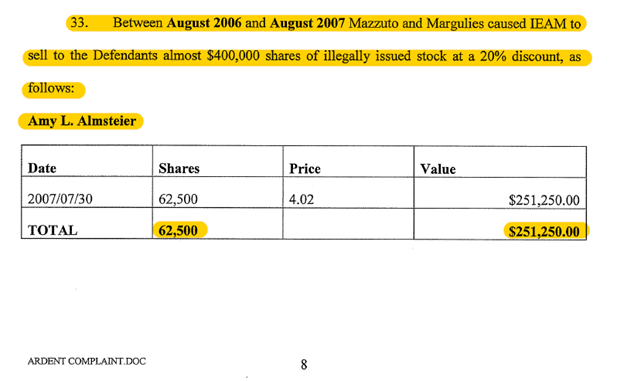 Derek & Amy settled its case paying an undisclosed amount of its ill-gotten gains back to IEAM's Shareholders via Bankruptcy Court. (pg 1 & 4 of this legal filing from Delaware Bankruptcy Court Case No 09-11475 (BLS))


Appendix B - Customer Reviews for Terra Tech (Blum)
The Oakland Blum Dispensary is the longest run dispensary by Terra Tech; thus we think it is interesting to look into the actual customer reviews. Even TRTC's customers think that Blum is:
"Horrible"
"Overpriced as Hell" & "Feel Ripped off"
"F--- Blum"
"Can't use F---ing Passport as ID
The recent customer reviews for Blum Oak are listed below unedited (screenshot on 5-28-2018) and tell a story of non-competitive pricing & poor customer service.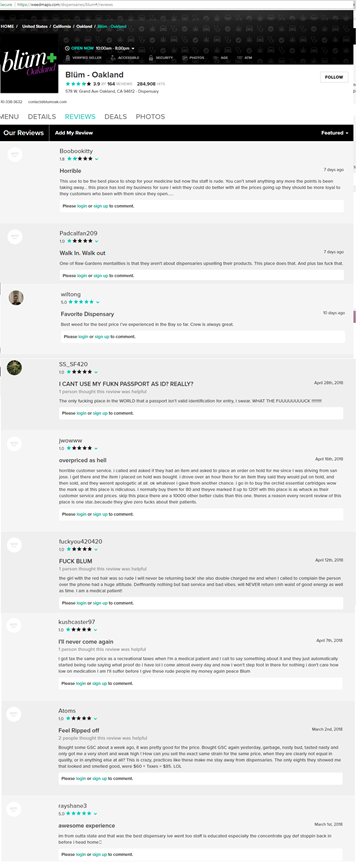 Reviews for its other locations also aren't great. With the exceptions being the Santa Ana location that it bought in Sept. 2017 for $7m & Blum Las Vegas - West.
Blum Las Vegas - Decatur has 2.5 stars on Yelp.com

Blum Las Vegas - Desert Inn 3.5 stars on Yelp.com

Blum Las Vegas - Western is better at 4.5 stars on Yelp.com

Blum Reno has 3.5 stars on Yelp.com.

Blum - Santa Ana is a big outlier. It gets good reviews on both Yelp (4.8 stars) & Weedmaps.com (4.9 stars). Terra Tech purchased "The Reserve" (now Blum - Santa Ana) for $7 million in Sept. 2017 so it will be interesting to track if the great reviews continue under Terra Tech's ownership.
Appendix C - All Open Market Insider Transactions: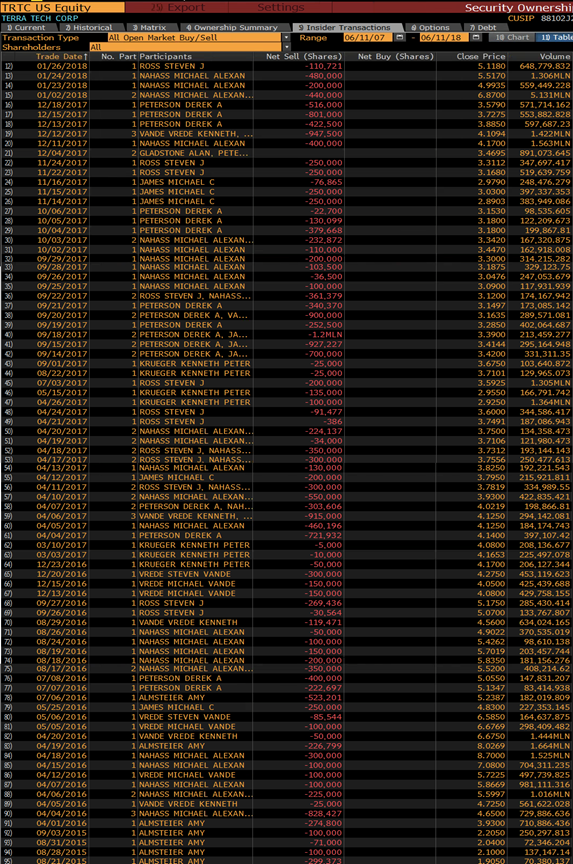 Appendix D - Links to All Legal Cases Mentioned:
CEO, Derek Peterson CA Bankruptcy Filing - Case 8:12-bk-13957-ES; Doc 11 - Assets & Liabilities
Michael Nahass, COO & Former Treasurer, CA Bankruptcy Filing - CA 8.09.Bk.14465.TA; Doc 19- Gambling Debts Caeser's ; Doc 24 - Gambling Debts Mandalay Bay & Bellagio; Bellagio-vs-Michael-Nahass-8-09-AP-01606-TA-Doc-1
IEAM vs Derek Peterson, Amy Almsteier, Ardent Advisors, et al - Delaware Bankruptcy Court Case 09-11475 (BLS) - Mazzuto Scheme; Derek Peterson & Amy Almsteier Settlement
Schawk USA vs Terra Tech - CA Case 2:18-cv-02571-FMO-AGR; TRTC Response - Doc 14
Edible Garden vs Whitetown Realty NJ-MRS L 00796-18 - Notice of Default is Page 45
Terra Tech vs Vande Verde Family - CA 8-18 Cv 00602 Jvs Jde
Note - We have not been able to find the counterlawsuit from the Vande Verde Family against Terra Tech - VANDE VREDE ET AL vs. TERRA TECH CORP ET AL, Docket No. L-000104-18 (N.J. Super. Ct. Law Div. Apr. 11, 2018)
Disclosure: I am/we are short TRTC, TRTCD. I wrote this article myself, and it expresses my own opinions. I am not receiving compensation for it. I have no business relationship with any company whose stock is mentioned in this article.
Additional disclosure: Fuzzy Panda and affiliates of Fuzzy Panda are short shares of Terra Tech as of the time of publication. Fuzzy Panda does not claim any responsibility to update their report or their positioning in shares of TRTC at any future time. This article is our opinion and the result of extensive research on the company, investors are encouraged to do their own due diligence.
Editor's Note: This article discusses one or more securities that do not trade on a major U.S. exchange. Please be aware of the risks associated with these stocks.