Despite seeing several of my projections materialize, I turned out to be too cautious of a bull.
This Thursday, Nike (NYSE:NKE) delivered an impressive set of fiscal 4Q18 results. Revenues of $9.79 billion beat not only consensus by the widest margin of the past 18 quarters at least, it topped my more aggressive expectations as well. Net earnings of $0.69/share were higher than the Street's projection by a nickel, and seem to have come in ahead of management's own guidance.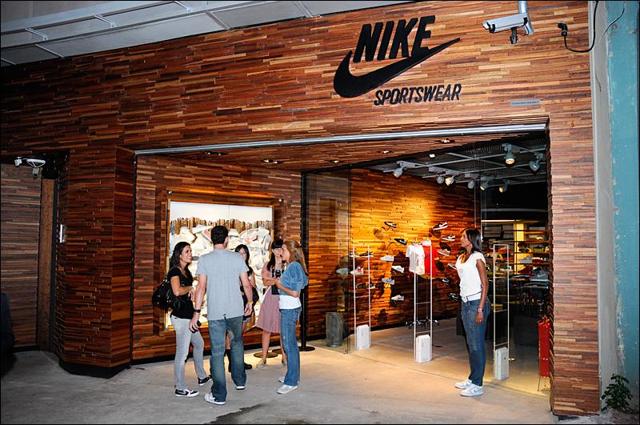 Credit: UOL
In my recent earnings preview, I identified a few key factors that I believed would drive Nike's performance in the last quarter of fiscal 2018:
Robust sales driven by Nike's international sector, boosted by World Cup-related revenues more evident in the apparel segment.
Recovery in North America sales, more of a fiscal 2019 story, playing out modestly in the fourth quarter of this year.
Gross margins flat to very slightly up, likely a result of strong pricing amid a strong global economic environment.
Materially higher SG&A expenses as a result of seasonal brand marketing and digital channel investments.
On the first item above, the results certainly did not disappoint - far from it. Every geography outside North America saw revenues increase in the double digits, and each segment managed to boost sales at a more aggressive rate than in the first three quarters of the fiscal year. The World Cup effect that I have discussed was certainly a driving force, with "Global Football apparel approaching triple-digit growth in Q4 fueled by high-energy national team collections" in Europe.
On the second bullet, strength in both footwear and apparel helped Nike produce low single-digit growth that was noticeably better than early-year trends. Granted, comps were not too hard to beat this time, after the segment stalled in fiscal 2017. But I believe the recovery in North America tells an encouraging story about Nike's recent marketing efforts, including the revamping of the digital channel. And in regards to investor sentiment, the rebound also sets the stage for what will likely be a more robust fiscal 2019, and removes the once lethargic business segment from the list of yellow flags.
Regarding the last two items (expenses and profitability), I was surprised to see gross margin of 44.7% beat my expectations by a hefty 50 bps, even though I had already calibrated my estimates for strong pricing. The usual direct channel headwinds did not seem to play as much of a role this time, with a heavier mix of regular-priced items helping to produce robust gross profits. SG&A came in ahead of my aggressive expectations as a result of demand creation and marketing expenses. But considering the company's outperformance elsewhere in the P&L, the six-cent YOY EPS drag driven by opex will likely be perceived as needed fuel for growth, and should not be an item of concern for shareholders.
See my summarized income statement below.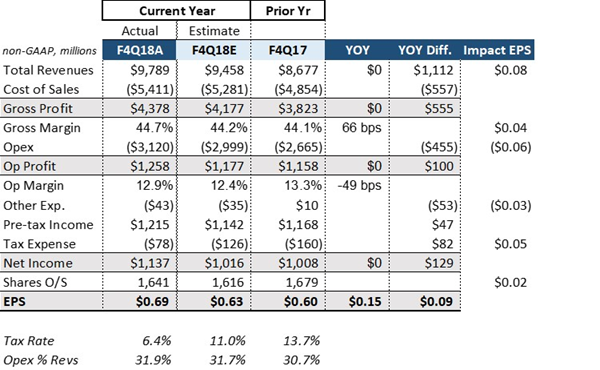 Source: DM Martins Research, using data from company reports
On the stock
Given the results of the quarter and strong fiscal 2019 guidance (higher top-line growth, better gross margins), it is hard for me to scale back on my NKE bullishness. This is true in spite of a stock that keeps climbing fast, as the valuation chart below illustrates.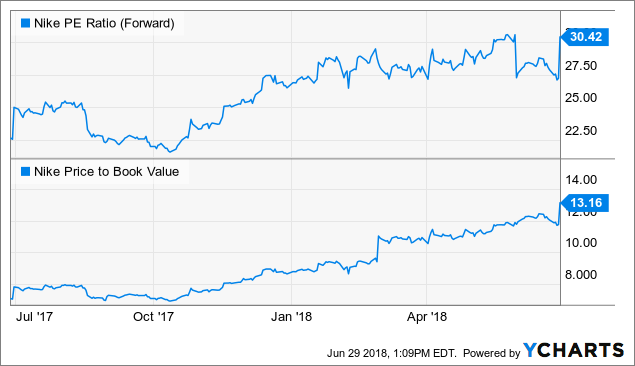 A value investor at heart, it is not easy for me to get overly excited about the stock of a sports apparel company that trades at a forward earnings multiple north of 30x. But in this case, I believe growth expectations and strong fundamentals justify the investment. I wouldn't necessarily count on shares appreciating another 36% in the next 12 months, as they have in the past year. But to me, NKE continues to look like a high-quality, GARP (growth at a reasonable price) play at current levels.