The MSCI US REIT (RMZ) index outperformed the S&P 500 (SPY) with a return of 0.4% compared to a loss of 1.3% for the S&P. The one-month outperformance is now almost 6% as REITs seem to be shrugging off current and potential rate hikes and instead are being driven by economic growth and inflation.
Single Family Homes seem to have given back some gains, but the average decline was primarily driven by a 6.5% drop in Reven Housing (RVEN), while Invitation Homes (INVH) and American Homes 4 Rent (AMH) were up 2% and 1.5%, respectively.
Regional Malls gave back some of their gains as well with a decline of 3.1%, and unlike Single Family Homes, the declines were broad based with CBL & Associates (CBL) declining 6.8% followed by Pennsylvania Real Estate (PEI) with a drop of 5.6%.
Timber bounced back this week with a gain of 2.4%, led by a 5.2% return from PotlatchDeltic (PCH) which was recently added to our Low Vol REIT portfolio and is currently being reviewed for a research update.
Data Centers and Manufactured Homes round out the Top 3 performing sectors this week with a 1.9% and 1.7% return, respectively. Within Data Centers, 4 out of the 5 stocks were up, with only QTS Realty (QTS) declining by 0.6%. Meanwhile, UMH Properties (UMH) led the Manufactured Homes sector with a 2.8% return and is now up 16% over the last 3-month period.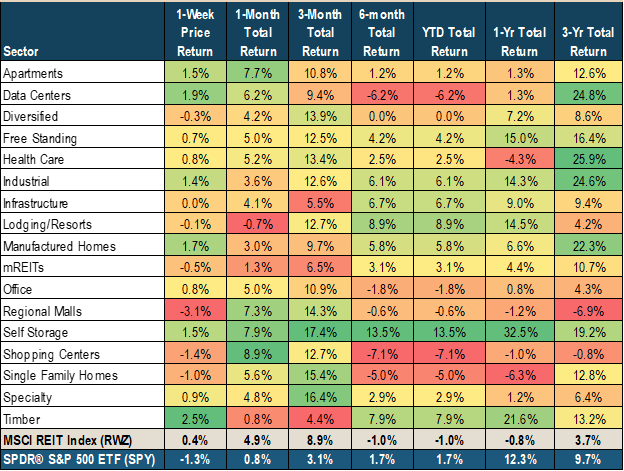 Returns as of 6/29/2018
Note: Returns are based on the average returns all REITs within each sector. Not market-weighted.
Top and Bottom Performers
Top 5

Bottom 5

REITonomics
GDP was a disappointment this week with an estimated 2% growth, which was lower than the 2.2% expected. Economists forecast that 2Q growth will be much stronger and that some of the expected growth that didn't occur in 1Q would shift to the next quarter.
New Home Sales
New home sales increased 6.7% to an annualized rate of 689,000 while April's number of units was revised down from 662,000 to 642,000. Overall, the trend is still upward in this very volatile data, which is good news. But activity is well below the 1.4M units reached before the previous recession. That number was obviously unsustainable, but the concern now is whether the trend will continue as rates rise.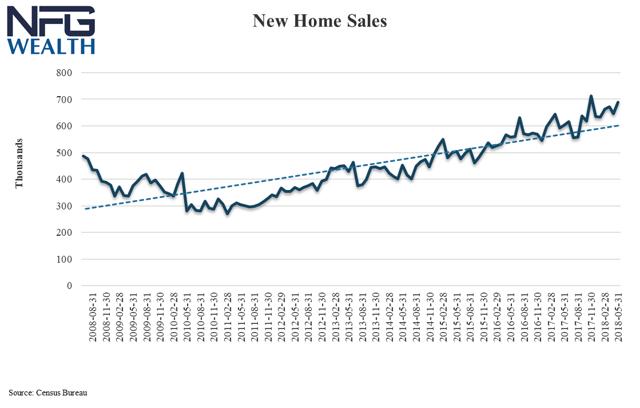 Durable Goods Orders
Durable goods order declined last month by 0.6% while Core durable goods orders declined 0.3%. Durable goods are those items that typically last for at least 3 years.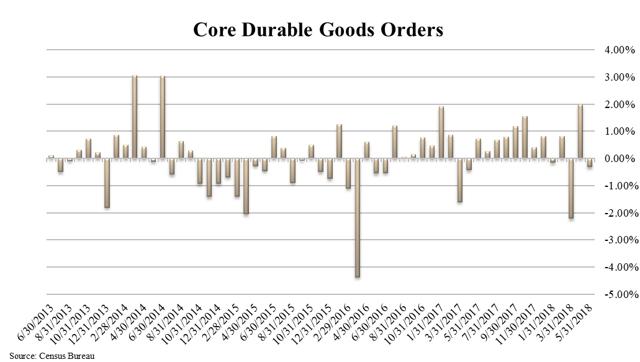 Pending Home Sales
Pending home sales declined last month, which was disappointing considering the forecast was for a 1.1% increase. The result could be driven by the timing of closings – faster closings than new contracts – or a slowdown in new contracts – or a combination of the two. Generally speaking, however, a higher than expected number is positive and not only was the latest release below expectations, it was the second month in a row of declines. If consumers slow down the pace of home purchases, we are once again reevaluating the longevity of the Single Family Home REITs.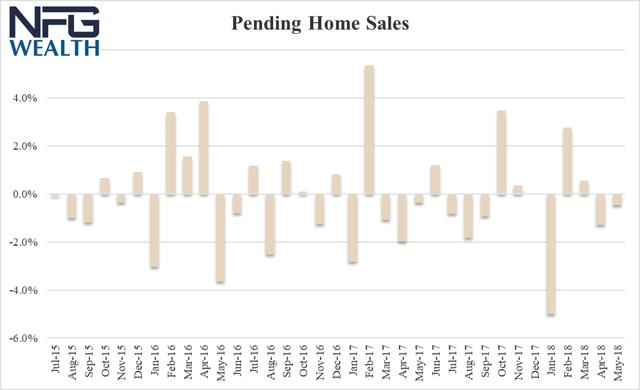 GDP
GDP came in at a disappointing 2% while economists had forecast 2.2% growth. The good news was that growth was more evenly distributed this period compared to the prior period. Contribution from personal consumption was 0.6% while private investment was 1.22%. Government spending contributed 0.22% and net exports were almost a non-factor with a contribution to GDP of -0.4%. Despite the lower-than-expected overall growth number, the economy seems to be growing steadily without any one component overwhelmingly dominating. In my opinion, that's a good recipe for further growth.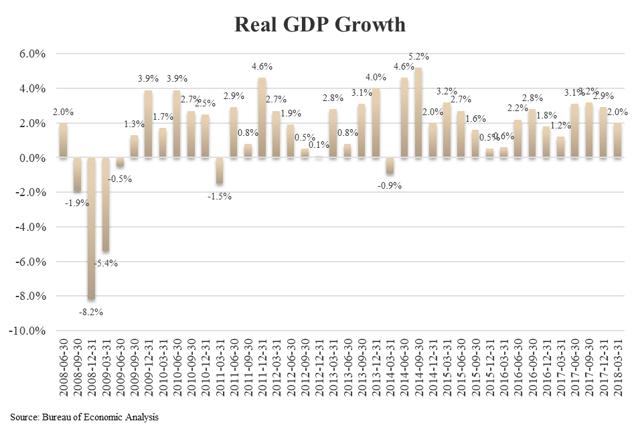 Initial Jobless Claims
Initial claims ticked slightly upward this week, but the less volatile 4-week moving average continued to trend downward – further fuel for consumer confidence, spending, and quite possibly, wage growth and inflation.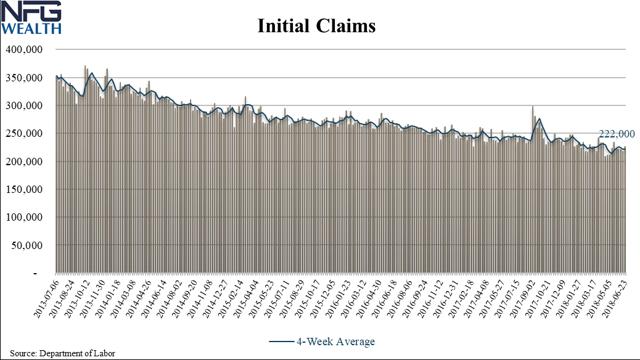 Core PCE Price Index
The Core PCE Price Index hits its highest level in several years and finally hit the Feds target of 2%. Technically, it was 1.96%, but the story is that inflation is here, even if it's still benign. In 2016, we had several consecutive months that indicated inflation was taking hold, only to drop back down to below 1.5%. I believe this time it's for real.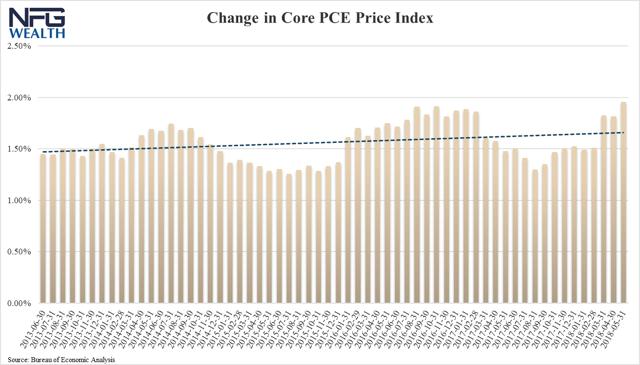 Personal Spending
Consumer sentiment is still high which usually translates into consumer spending. Personal spending was up for the third month in a row which bodes well for Retail REITs.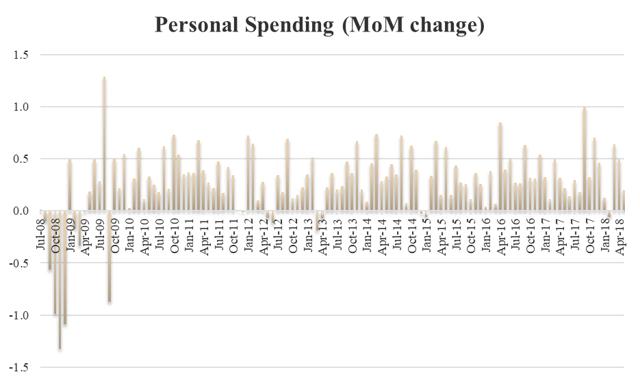 Michigan Consumer Sentiment
Despite a slight decline in the University of Michigan Consumer Sentiment index, it remains near all-time highs. I believe this trend will continue so long as the labor market remains strong. Wage growth should continue to firm up, which translates into at least another leg of consumer spending.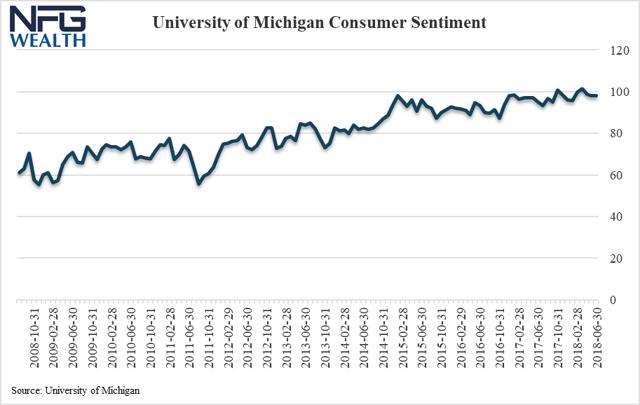 Select News Highlights
Please note these are highlights and have not been further analyzed beyond announced information.
Analyst Upgrades/Downgrades
Upgrades
Suntrust and DA Davidson both upgraded Federal Realty Investment Trust (FRT) to buy.
Franklin Street Properties (FSP) was raised to outperform from neutral by Baird. Shares were up about 2.7% on the news.
Deutsche Bank raised its target price for Boston Properties (BXP) to $134 from $133 and raised its price target on Mack-Cali Realty (CLI) to $21 from $20. A more material price target increase was assigned to Kilroy Realty (KRC), whose target price was raised from $75 to $81.
RBC initiated coverage on City Office REIT (CIO) with an Outperform rating and price target of $14.
Citigroup raised Mack-Cali price target to $20 from $18.
DA Davidson raised Piedmont Office Realty Trust (PDM) from neutral to Buy and lifted target price $3 to $23.
Downgrades
Next Up:
The report on Cousins Properties (CUZ) and Sabra Healthcare (SBRA) were published on REITs, Opportunities, and Income and I expect a report on New Senior Investment (SNR) to be published shortly. This coming week I will also be publishing the portfolio summary for readers interested in how the Low Vol REIT Portfolio is performing relative to the MSCI US REIT Index and on an absolute basis. Spoiler alert, it continues to outperform.
Disclaimer: Please note, this article is meant to identify an idea for further research and analysis and should not be taken as a recommendation to invest. It is intended only to provide information to interested parties. Readers should carefully consider their own investment objectives, risk tolerance, time horizon, tax situation, liquidity needs, and concentration levels, or contact their advisor to determine if any ideas presented here are appropriate for their unique circumstances.
Past performance is not an indicator of future performance.
Investing in any security has risks and readers should ensure they understand these risks before investing.
Real Estate Investment Trusts are subject to decreases in value, adverse economic conditions, overbuilding, competition, fluctuations in rental income, and fluctuations in property taxes and operating expenses.
This post is illustrative and educational and is not a specific offer of products or services.
Information on this blog is not an offer to buy or sell, or a solicitation of any offer to buy or sell the securities mentioned herein, nor is the author compensated by any of the products mentioned.
Information presented is believed to be factual and up-to-date, but we do not guarantee its accuracy and it should not be regarded as a complete analysis of the topics or subjects discussed.
Information presented is not believed to be exhaustive nor are all the risks associated with the topic of each article explicitly mentioned. Readers are cautioned to perform their own analysis or seek the advice of their financial advisor before making any investment decisions based on this information.
Investment decisions should be based on an individual's own goals, time horizon, and tolerance for risk. Nothing in this content should be considered to be legal or tax advice and you are encouraged to consult your own lawyer, accountant, or other advisor before making any financial decision.
All expressions of opinion reflect the judgment of the author, which does not assume any duty to update any of the information
Any positive comments made by others should not be construed as an endorsement of the author's abilities to act as an investment advisor.