The 2018 CCAR has been released
The Fed released the 2018 Comprehensive Capital Analysis and Review (CCAR) results for 35 banks.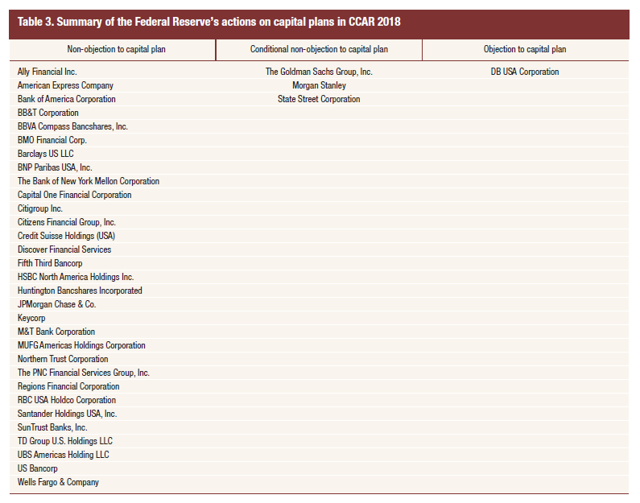 Source: The Fed
The regulator did object to the capital plan of Deutsche Bank's (DB) U.S. unit due to qualitative concerns based on material weaknesses in capital planning. In addition, the Fed issued conditional non-objections to the capital distribution plans of Goldman Sachs (GS) and Morgan Stanley (MS). As a result, GS and MS will limit their capital returns to shareholders to the levels they paid in recent years. We note that weaker numbers from the investment banks were largely expected as both names have disappointed with their DFAST (Dodd-Frank Act Stress Test) results. As a reminder, in contrast to other SIFI-designate banks, their SLRs (supplementary leverage ratios) in the severely adverse scenario were barely above the 3% regulatory minimum.
Big-6 U.S. banks: Projected minimum SLR under the severely adverse scenario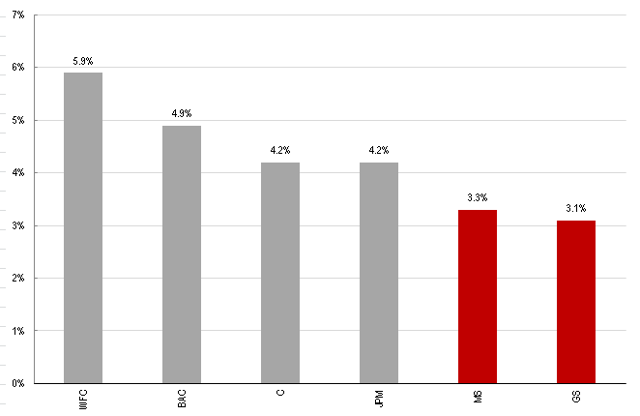 Source: Fed, Renaissance Research estimates
Winners and Losers
Without a doubt, Citigroup (C) is a clear winner this year. The bank raised its quarterly dividend from $0.32 to $0.45 per share, and also announced a $17.6B share repurchase program. As we have said in a prior article on the bank, Citi remains overcapitalized, especially given its tangible leverage ratio, which is the highest among the big-6.
Based on the 2018 CCAR outcome, Citigroup is trading at the highest total shareholder yield, which includes both dividends and buybacks.
2018 CCAR: Total shareholder yield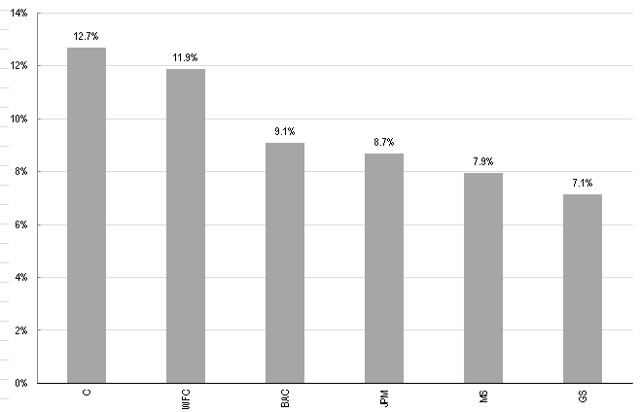 Source: Fed, Renaissance Research estimates
The second-best CCAR outcome was delivered by Wells Fargo (WFC), in our view. WFC increased its quarterly DPS to $0.43 from $0.39, while the bank's buyback plan came in at an impressive $24.5B. As said earlier, even though WFC's conservative risk-profile was overshadowed by the infamous sales practice scandal, its long-term fundamentals remain intact. Importantly, that was confirmed by this year's DFAST and CCAR. Based on the announced capital plans and the current share price, WFC is trading at a 3% dividend yield.
Dividend yields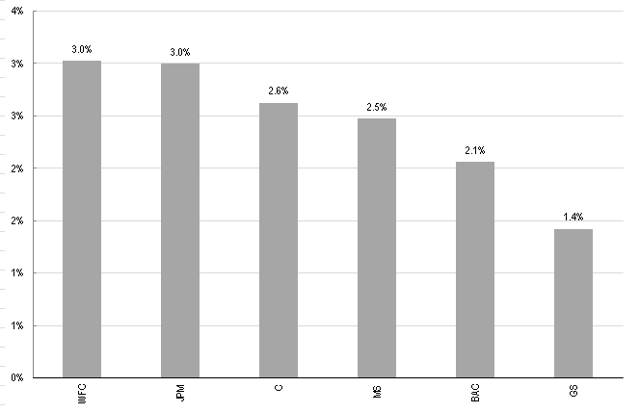 Source: Fed, Renaissance Research estimates
Notably, WFC has also delivered the largest total payout ratio.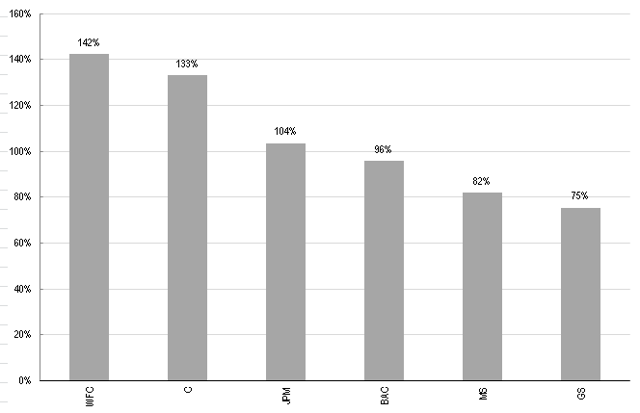 Source: Fed, Renaissance Research estimates
Although JPMorgan's (JPM) dividend per share was slightly below our estimate, we still view the bank's CCAR as solid. The bank boosted its quarterly dividend by 56% to $0.80 and authorized a $20.7B buyback.
We believe Bank of America's (BAC) CCAR was a major disappointment. Despite a well-capitalized balance sheet and a significant rise in earnings, BAC increased its dividend by only 25%. Prior to the 2018 CCAR release, BAC's dividend payout ratio was already the lowest among large-cap U.S. banks. While JPM, WFC and C delivered increases in their payout ratios, BAC's payout has declined compared to the 2017 CCAR! We do think that this could be a concern for some investors.
Based on the 2018 CCAR and 2017 earnings adjusted for non-cash items, BAC has the lowest dividend payout ratio among the big-4.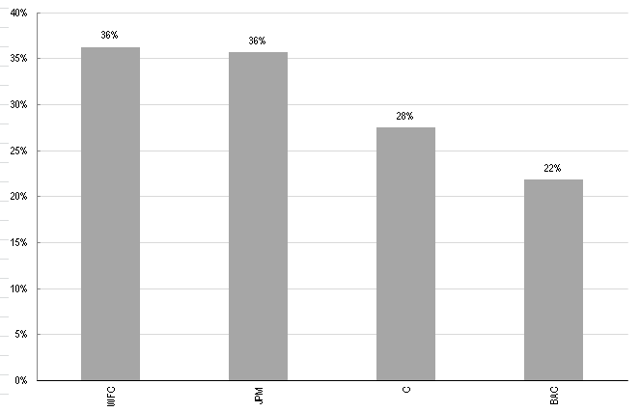 Source: Fed, Renaissance Research estimates
Final thoughts
Following the 2018 CCAR, we reiterate our view. JPMorgan and Wells Fargo remain our top-picks in the large-cap banking space. Although Citigroup is a clear winner, we believe its exposure to EM (emerging markets) will continue to weigh on the stock. BAC has disappointed, but the stock is reasonably valued, and we believe the downside is limited unless there is a major correction on the markets. Despite the fact that both GS and MS look very cheap, we still expect investment banks to underperform universal banks in this environment.
If you would like to receive our articles as soon as they are published, consider following us by clicking the "Follow" button beside our name at the top of the page. Thank you for reading.
Disclosure: I am/we are long JPM, WFC. I wrote this article myself, and it expresses my own opinions. I am not receiving compensation for it (other than from Seeking Alpha). I have no business relationship with any company whose stock is mentioned in this article.