Stock Market & Economic Outlook For Mid-Year 2018
Includes:
ACT, ADME, ADX, AGZ, AIEQ, AIRR, AMCA, AMJ, AMJL, AMLP, AMU, AMUB, AMZA, ASG, ATMP, BBC, BBH, BBP, BDCL, BDCS, BFOR, BGR, BIBL, BIF, BIL, BITE, BIZD, BKT, BTEC, BTO, BUI, BUY, BUYN, BXUB, BXUC, CAPX, CBA, CDC, CEM, CEN, CET, CFA, CFO, CHGX, CLAW, CLIX, CLM, CLRG, CLTL, CNDF, CNSF, CRAK, CRF, CSF, CTR, CURE, CWS, CZA, DDG, DDIV, DDM, DEEP, DES, DESC, DEUS, DFVL, DFVS, DGRO, DGRS, DGRW, DHS, DHVW, DIA, DIG, DIV, DIVB, DIVC, DLBL-OLD, DLBS, DLN, DMRL, DOD, DOG, DON, DPST, DRIP, DSE, DTD, DTUL, DTUS, DTYL, DTYS, DUG, DUSA, DVY, DVYL, DWAQ, DWAS, DXD, EDOW, EDV, EEH, EES, EGF, ELKU, EMLP, EMO, EMTY, ENFR, EPS, EQAL, EQL, EQWL, EQWS, ERGF, ERX, ERY, ERYY, ESGL, ESGS, EUSA, EWMC, EWSC, EZM, EZY, FAB, FAD, FAS, FAZ, FAZZ, FBGX, FBT, FCG, FCOM, FDIS, FDL, FDLO, FDM, FDMO, FDN, FDRR, FDVV, FEI, FEN, FENY, FEX, FFTY, FGB, FHLC, FIBG, FIBR, FIDU, FIF, FINU, FINZ, FLAT, FLGE, FLLV, FLQL, FLQM, FLQS, FMAT, FMK, FMO, FNCF, FNCL, FNDA, FNDB, FNDX, FNG, FNGD, FNGU, FNK, FNX, FNY, FPL, FQAL, FSTA, FTA, FTC, FTEC, FTT, FTXD, FTXG, FTXH, FTXL, FTXN, FTXO, FTXR, FUGAX, FUND, FUTY, FVAL, FVD, FVL, FWDD, FXBY, FXD, FXG, FXH, FXL, FXN, FXO, FXR, FXU, FXZ, FYC, FYT, FYX, GAM, GASL, GASX, GBIL, GER, GGT, GMZ, GNMA, GOVT, GRF, GSEW, GSLC, GSY, GUSH, GUT, HAIL, HCRF, HDLV, HDV, HECO, HIE, HOML, HQH, HQL, HTD, HUSV, HYDD, IAI, IAK, IAT, IBB, IBUY, IDU, IEF, IEI, IEO, IEZ, IGM, IGN, IGV, IHE, IHF, IHI, IJH, IJJ, IJK, IJR, IJS, IJT, ILPRX, IMLP, INDF, ITA, ITB, ITOT, IUSG, IUSV, IVE, IVES, IVOG, IVOO, IVOV, IVV, IVW, IWB, IWC, IWD, IWF, IWL, IWM, IWN, IWO, IWP, IWR, IWS, IWV, IWX, IWY, IYC, IYE, IYF, IYG, IYH, IYJ, IYK, IYM, IYT, IYW, IYY, IYZ, JCE, JDIV, JHMA, JHMC, JHME, JHMF, JHMH, JHMI, JHML, JHMM, JHMS, JHMT, JHMU, JHSC, JKD, JKE, JKF, JKG, JKH, JKI, JKJ, JKK, JKL, JMF, JMIN, JMLP, JMOM, JPME, JQUA, JSMD, JSML, JTD, JUNE, JVAL, KBE, KBWB, KBWD, KBWP, KBWR, KCE, KIE, KMF, KNG, KRE, KYE, KYN, LABD, LABS, LABU, LBDC, LCEAX, LEAD, LGLV, LMLP, LNGR, LRGF, LTL, LTPZ, LVHD, MAGA, MATF, MBB, MDSS, MDY, MDYG, MDYV, MENU, MFUS, MGC, MGK, MGV, MIDU, MIDZ, MIE, MLPA, MLPB, MLPC, MLPE, MLPG, MLPI, MLPJ, MLPN, MLPO, MLPQ, MLPS, MLPX, MLPY, MLPZ, MMTM, MOM, MTUM, MVV, MYY, MZZ, NAIL, NANR, NDP, NML, NOBL, NTG, OEF, OEW, OIH, OMFL, OMFS, OMOM, ONEO, ONEQ, ONEV, ONEY, OPD, OQAL, OSIZ, OTPIX, OVLC, OVLU, OYLD, PAVE, PBDM, PBE, PBJ, PBS, PBSM, PBTP, PBUS, PBW, PDP, PEJ, PEO, PEY, PEZ, PFI, PFM, PHO, PILL, PILS, PJP, PKB, PKW, PLW, PMOM, PMR, PPA, PPH, PPLC, PPMC, PPSC, PRF, PRFZ, PRN, PSCC, PSCD, PSCE, PSCF, PSCH, PSCI, PSCM, PSCT, PSCU, PSI, PSJ, PSL, PSQ, PST, PTF, PTH, PUI, PUW, PWB, PWC, PWV, PXE, PXI, PXJ, PXMC, PXQ, PXSC, PXUS, PYZ, PZI, QABA, QCLN, QDEF, QDF, QDYN, QID, QLD, QMOM, QQEW, QQQ, QQQE, QQXT, QSY, QTEC, QUAL, QUS, QVAL, QVM, RCD, RCG, RDIV, RDVY, REGL, RESP, RETL, REW, RFFC, RFG, RFV, RGI, RHS, RINF, RISE, RMT, ROLA, ROM, ROUS, RPG, RPV, RSCO, RSP, RTH, RTLA, RTM, RVRS, RVT, RWJ, RWK, RWM, RWW, RXD, RXL, RYARX, RYE, RYF, RYH, RYRSX, RYT, RYU, RZG, RZV, SAA, SBB, SBIO, SBM, SBUS, SCAP, SCC, SCHA, SCHB, SCHD, SCHG, SCHM, SCHO, SCHP, SCHR, SCHV, SCHX, SDD, SDOG, SDOW, SDP, SDS, SDVY, SDY, SDYL, SEF, SFLA, SH, SHV, SHY, SICK, SIJ, SIZE, SKF, SLT, SLY, SLYG, SLYV, SMDD, SMDV, SMH, SMHD, SMLF, SMLL, SMLV, SMM, SMMV, SMN, SOR, SOXL, SOXS, SOXX, SPDN, SPDV, SPGP, SPHB, SPHD, SPHQ, SPIP, SPLG, SPLV, SPLX, SPMB, SPMD, SPMO, SPSM, SPTI, SPTL, SPTM, SPTS, SPUU, SPVM, SPVU, SPXE, SPXL, SPXN, SPXS, SPXT, SPXU, SPXV, SPY, SPYB, SPYD, SPYG, SPYV, SQQQ, SRF, SRTY, SRV, SSG, SSO, STIP, STPP, STPZ, SWIN, SYE, SYG, SYLD, SYV, SZK, TAPR, TBF, TBT, TBX, TCHF, TDIV, TDTF, TDTT, TECL, TECS, TECZ, TFLO, THQ, TILT, TIP, TIPX, TIPZ, TLH, TLT, TMF, TMFC, TMV, TNA, TOTS, TQQQ, TTAC, TTFS, TTP, TTT, TUSA, TUTT, TUZ, TWM, TYBS, TYD, TYG, TYNS, TYO, TZA, UBIO, UBT, UCC, UDBI, UDOW, UDPIX, UGE, ULVM, UMDD, UPRO, UPW, URTY, USA, USD, USFR, USLB, USMC, USMV, USSD, UST, USTB, USVM, USWD, UTG, UTLF, UWM, UXI, UYG, UYM, VAMO, VAW, VB, VBK, VBR, VCR, VDC, VDE, VFH, VFINX, VGIT, VGLT, VGSH, VGT, VHT, VIG, VIOG, VIOO, VIOV, VIS, VLU, VLUE, VMBS, VO, VOE, VONE, VONG, VONV, VOO, VOOG, VOOV, VOT, VOX, VPU, VRIG, VTHR, VTI, VTIP, VTSAX, VTV, VTWG, VTWO, VTWV, VUG, VUSE, VUSTX, VV, VXF, VYM, WBIY, WDRW, WMCR, WTRX, XAR, XBI, XD, XE, XES, XF, XHB, XHE, XHS, XITK, XK, XLB, XLE, XLF, XLG, XLI, XLK, XLP, XLU, XLV, XLY, XM-OLD, XME, XMHQ, XMLV, XMMO, XMVM, XNTK, XOP, XPH, XRLV, XRT, XS, XSD, XSLV, XSMO, XSVM, XSW, XTH, XTL, XTN, XU, XUSA, XWEB, YGRO, YMLI, YMLP, ZBIO, ZF, ZMLP, ZROZ
by: David Zanoni
Summary
The economic indicators that matter most look positive for continued economic and stock market gains.
Recent turbulence in the market is more a result of rhetoric and fears rather than tangible negative issues.
I expect the market to perform better in the second half of the year.
Most of the volatility in the stock market this year has been the result of fears regarding a possible trade war with China. The fears were a result of Trump's hard-line stance on attempting to restrict investment from China in U.S. businesses. This led to a correction in the stock market earlier this year with continued volatility.
I've had the feeling that an all-out trade war would be avoided. This appears closer to happening since Trump recently backed down from his original hard-line stance. The original idea was to block firms with at least 25% Chinese ownership from investing in U.S. companies with "industrially significant technology". However, recent reports show that Trump backed down from that view. He is now allowing new legislation (with a bill in Congress) to enhance the currently existing review process for foreign investment in U.S. companies.
With the new lighter stance on trade, I expect the market's volatility to be lower in the 2nd half of the year as compared to the 1st half of the year. I also expect the Dow Jones Industrial index (DIA), Nasdaq (QQQ), and S&P 500 (SPY) to achieve double-digit gains for the year. This will be supported by positive economic data along with less trade war fears.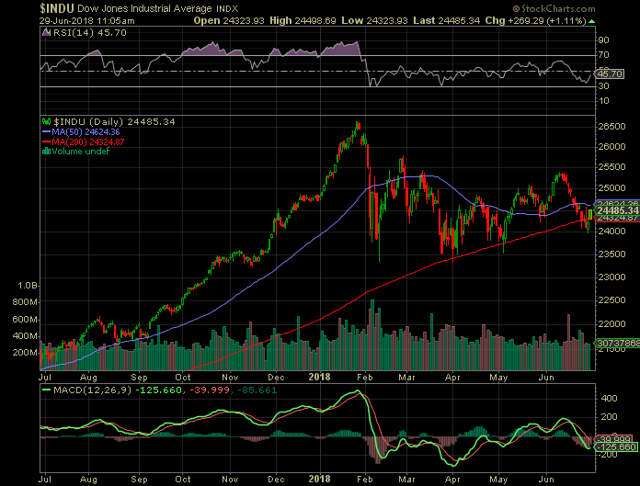 Economic Data Looking Positive
There are multiple economic indicators that look positive for continued growth and a thriving stock market. The main indicator that has a major influence on many other aspects of the economy is the housing market. When the housing market is healthy and growing, it typically leads to other large purchases such as furniture, appliances, home improvement spending, and other home-related purchases. This has a positive ripple effect for the economy and the stock market.
There are multiple positive data points in the housing market that indicate the economy will continue to experience growth. The new residential construction report for May 2018 showed that privately owned housing starts increased 20.3% over May 2017 to 1.35 million. Privately owned housing units authorized by building permits increased 8% y-o-y to 1.3 million. Housing completions increased 10.4% to 1.29 million. New home sales increased 14.1% to 689,000.
These data points show that the housing market is both growing and healthy. That means that further economic spending is likely to occur this year as the new home owners spend money on other large-ticket items such as appliances, furniture, home improvement projects, etc.
There was a decline of 3% in existing home sales in May as compared to May 2017. However, the decline was attributed to a low supply of homes on the market. The good news is that median existing home prices rose 4.9% to $264,800. This is an all-time high. This shows that consumers can afford higher house prices, which is a positive sign for the economy.
Another important factor for the economy is the employment situation. The June report, which reflected date from May 2018, showed the unemployment rate declining to 3.8%. The unemployment rate was 4.3% a year ago. The number of unemployed decreased by 6.1 million. Over the past year, the average hourly earnings increased 2.7%.
More consumers working and consumers making more money reflects a healthy economy. Those who gained employment and those who are getting wage increases are in a better position to put more money back into the economy. This creates a circle of life for economic growth.
GDP growth for Q1 2018 was recently revised down to 2% from the previous report of 2.3% and a previous revision of 2.2%. Although the recent report reflected some weakness as compared to the previous reports, I expect the tax cuts to work their way into GDP growth as the year progresses. So, it is possible that there was some pent up demand for economic spending that didn't get spent in Q1, but will be spent in later quarters. It is possible that poor weather conditions in the winter months could have caused consumers to delay shopping for certain items and that spending might take place in the later quarters of the year.
U.S. GDP growth is projected to be 2.7% in 2018 and 2.3% in 2019 according to a recent Fannie Mae report. Those estimates appear to be on the conservative side. So, we'll have to see how that turns out. At least for 2018, the growth is likely to be stronger than in Q1 for the remainder of the year.
The ISM Manufacturing report demonstrated that the U.S. economy expanded for the 109th consecutive month in May 2018. The May PMI increased 1.4% to 58.7. This reflects growth in new orders, production, and employment. The panel is seeing continued business strength with strong demand. The economy looks to be on solid ground on the manufacturing side with orders and production growing. This will help keep employment strong which creates a positive cycle of having more consumers working, putting money back into the economy.
Strength for non-manufacturing activity was also strong in May. Non-Manufacturing economic activity expanded for the 100th consecutive month. The index increased 1.8% to 58.6. Fourteen out of 15 non-manufacturing industries reported growth. The only industry that did not report growth was Information.
It looks like we have a good balance of growth coming from both the manufacturing and non-manufacturing sides of the economy. That balance will help keep growth going into the second half of the year. This is likely to have a positive impact on the stock market.
Consumers are still feeling positive about the economy according to the University of Michigan Consumer Sentiment survey. The index for June increased to 98.2 over May's level of 98. The survey indicated that consumers expect wages to continue rising and unemployment levels to decline. However, there are concerns about the impact of tariffs on the economy. This is consistent with the volatility we have been seeing in the stock market.
The Market's Valuation
The forward PE for the S&P 500 is about 17. This is about at the long-term average for the market going back to 1990. In an extreme case during the dot com bubble, the S&P 500's forward PE exceeded 26. I don't expect that to happen any time soon. However, I do think there is room for PE expansion as long as economy continues to grow. I think it would be reasonable for the forward PE to expand to the low 20s as the bull market continues. We might see it hit close to 20 later in the year if the market makes gains in the 2nd half of 2018.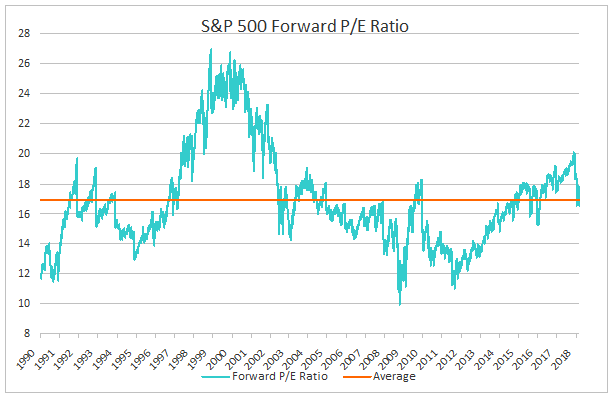 source: Seeking Alpha contributor, Ploutos
Stock Market Outlook for the 2nd Half of 2018
The biggest risk for the market has been fears associated with trade tariffs. These fears led to high market volatility this year. I think the volatility could continue during the summer as discussions continue. However, since the Trump administration backed down recently on China-based tariffs, I think the fears are likely to subside for the remainder of the year. I expect the administration to create legislation that is conducive for strong business activity.
As the situation on tariffs and trade become clearer, I expect the market volatility to subside with the major stock indexes rising again to new highs. Economic activity is strong in housing and this is likely to stimulate sales of other large ticket items as the year progresses. This will help drive stocks to new highs.
Interest rates are still at levels low enough to support strong lending for those who need loans. So, I think economic growth will continue this year. With economic data strong and consumer sentiment high, I expect the Dow Jones Industrial average to reach about 27,000 by the end of year. This reflects a little more than a 10% gain over current levels, which I think is reasonable during this long-term bull market.
Please discuss your thoughts on the economy and the stock market in the comment section below. If you like my analysis and would like more articles on strong growth stocks at no cost to you, then click on "Follow" near my name. That will allow my articles to appear on your homepage as they are published.
Disclosure: I/we have no positions in any stocks mentioned, and no plans to initiate any positions within the next 72 hours. I wrote this article myself, and it expresses my own opinions. I am not receiving compensation for it (other than from Seeking Alpha). I have no business relationship with any company whose stock is mentioned in this article.
Additional disclosure: The article is for informational purposes only (not a solicitation to buy or sell stocks). I am not a registered investment advisor. Investors should do their own research or consult a financial advisor to determine what investments are appropriate for their individual situation. This article expresses my opinions and I cannot guarantee that the information/results will be accurate. Investing in stocks involves risk and could result in losses.