Here are six things you might like to know about the Congressional Budget Office's 2018 Long-Term Budget Outlook, which was released on Tuesday.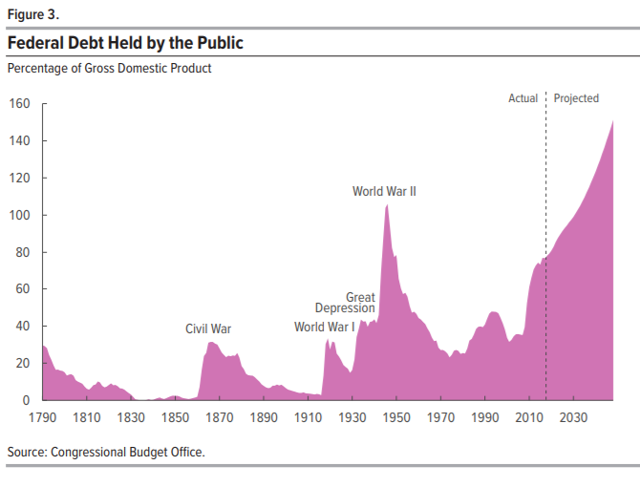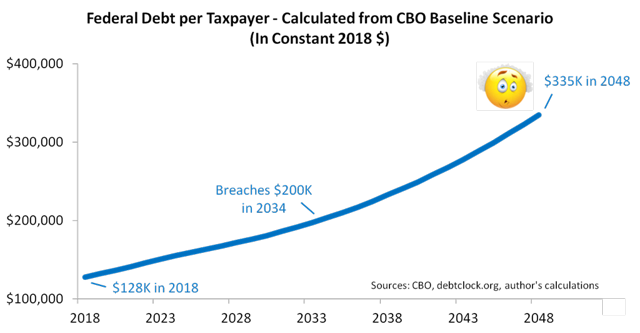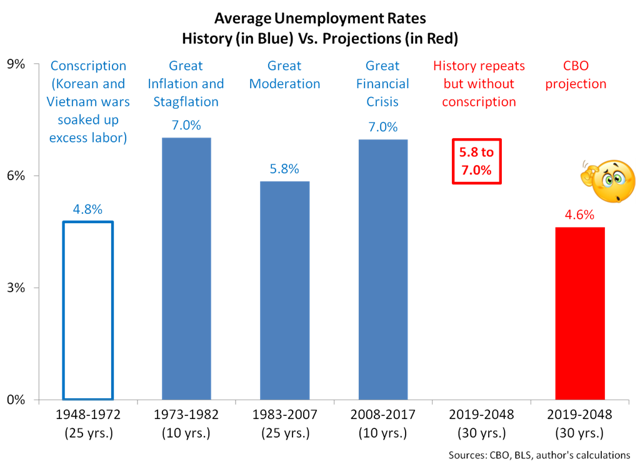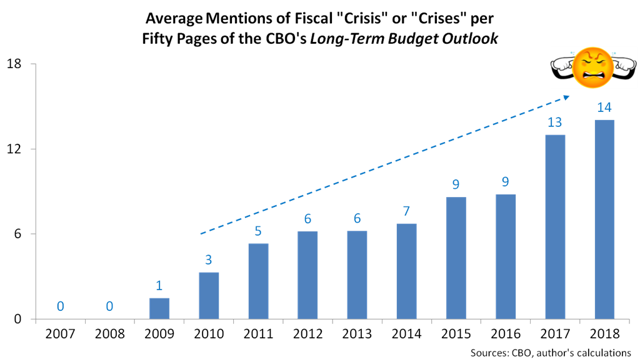 Another Fun Fact
If we add intragovernmental debt to our alternative scenario to project "gross" debt, it shows debt per taxpayer breaching $200K twice as quickly—in 2023—at which time the debt-to-GDP ratio would be 120%. That figure ties into research we conducted a few years ago using hundreds of years of data maintained by Harvard's Kenneth Rogoff and Carmen Reinhart, along with about twenty other data sources. We found that no country has ever reduced its debt-to-GDP ratio from over 120% to under 90% without either 1) haircutting its creditors in a restructuring or outright default, 2) achieving a budget surplus over the debt reduction period, and not just a primary surplus but an honest to-goodness surplus of the type America has only seen twice in the last 57 years or 3) both.
In other words, the popular belief that public debt can be "inflated away" fails to explain how debt problems were resolved through history. Generally, financial repression was more powerful than inflation (without repression, inflation drives up interest costs, sometimes worsening debt ratios), but neither has solved a severe debt problem without a more important role being played by payment adjustments, fierce fiscal discipline or both. (For details of every episode of gross debt exceeding America's current total of about 105% of GDP, see our book Economics for Independent Thinkers.)
A Final Fun Fact
When the CBO evaluated its forecasting accuracy in 2015, it found that its projections for government revenues for five years into the future were 5.3% higher than actual outcomes, on average, over 28 years of forecasting. It attributed the big forecasting errors mostly to "the difficulty of predicting when economic downturns will occur," while noting that the largest errors occurred at business-cycle peaks.
In other words, like everyone else, the CBO becomes overly optimistic as economic expansions age. (We're all human, right?) Having discovered this bias, you might have expected to see upward adjustments to the unemployment rate projections, the unemployment rate being one of the biggest revenue drivers and a budget-killer in recessions. But after checking the full forecasting history for the unemployment rate, we found that:
So much for learning from your mistakes. When it comes to unemployment, this is the most optimistic outlook ever, and yet it still results in federal debt exploding higher.
Conclusions
Argentina, here we come?
Disclosure: I/we have no positions in any stocks mentioned, and no plans to initiate any positions within the next 72 hours.
I wrote this article myself, and it expresses my own opinions. I am not receiving compensation for it. I have no business relationship with any company whose stock is mentioned in this article.