In this article, I would like to list four reasons to buy the British Pound (GBP) against Canadian dollar (CAD) or to go long GBP/CAD forex pair.
Reason One: Technical Setup
GBP/CAD has been in an uptrend since September 2017. It currently sits near 1.7300 level, which previously proved to be a strong resistance area (most notably, in August and September 2016, in November 2017 and in May 2018) and now acts as a support. Furthermore, the exchange rate is underpinned by a combination of an upward-sloping trend line from September 2017 and rising Relative Strength Index. Most recently, the pair met some resistance near 1.7700, which is a 23.6% Fibo extension level from the upside trend that began in September 2017, peaked in March 2018 and bottomed out in May 2018. In case GBP/CAD can hold above 1.7200, it will almost certainly attempt to re-test that Fibo extension level (roughly 1.7700). Indeed, should it succeed, I expect the pair to retrace 50% of its decline from 2015 high to 2017 low and reach 1.8400 later this year.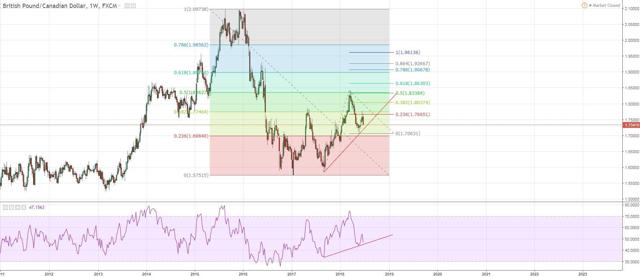 Source: TradingView
Reason Two: Relative Valuation
In my standard relative valuation analysis of major global currencies, I look at five indicators: technical overextension, secular performance relative to gold, oil correlation, economic divergence and traders' positioning. I rank the currencies on the scale of -2.5 to +3.5 for each of the studies, where -2.5 indicates oversold conditions and +3.5 indicates overbought conditions. Therefore, the overall minimum score that any currency can have is -12.5, while the maximum is +17.5.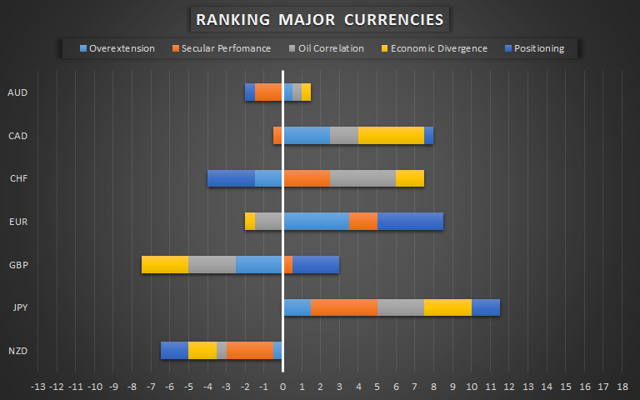 Source: Personal calculations; ranking as of June 29, 2018
The latest results show that the Canadian dollar is currently the most overrated currency among the majors with a total net score of 7.5 (see the chart above). Conversely, the British pound is currently one of the most oversold currencies with a total net score of -4.5. Therefore, one of most contrarian trades is to buy GBP against CAD (long GBP/CAD) or to sell CAD against GBP (short CAD/GBP).
Reason Three: Divergent Monetary Policy
On the face of it, the Bank of England (BoE) and the Bank of Canada (BoC) are not too far apart when it comes to monetary policy. In both countries, consumer price index (CPI) has exceeded the official inflation targets (see the chart below) and both central banks have indicated they are on a hawkish stance and are planning to continue raising interest rates this year.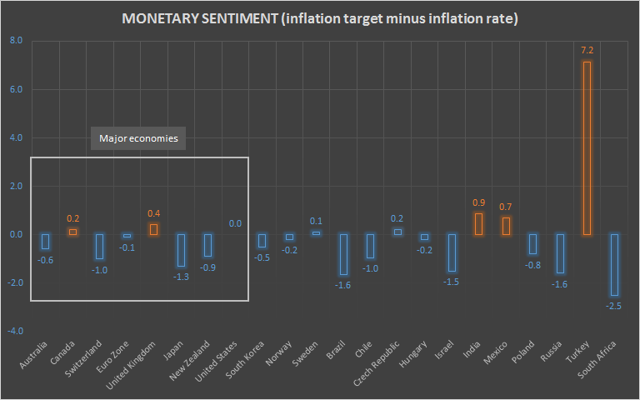 Source: central banks' official statistics, personal calculations
However, the BoE is much further away from normalizing its monetary policy than the BoC is. Despite the fact that the inflation target in the United Kingdom was breached by 40 basis points (vs. 20 basis points in Canada), the real interest rate in the UK is still lower than in Canada (see the chart below). It means that the BoE has more space to increase its borrowing rate compared to the BoC. It also means that the expectations for higher interest rates in Canada are much more entrenched than they are in the United Kingdom. In other words, a bullish surprise for the Canadian dollar is less likely than the bullish surprise for the British pound.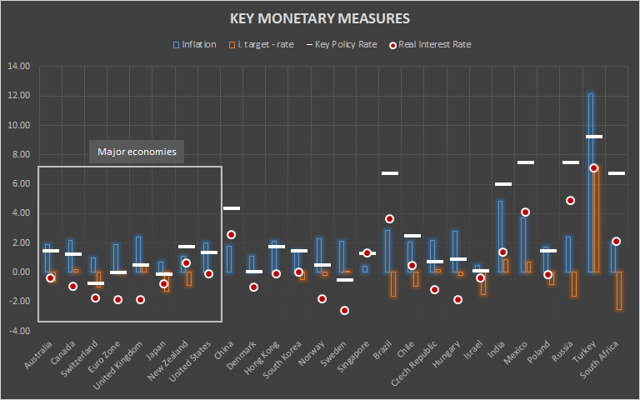 Source: central banks' official statistics, personal calculations
Indeed, the latest BoE's voting pattern took the market by surprise when on June 21, three members of the Monetary Policy Committee (MPC) voted in favor of higher interest rates. In addition, the MPC said that they would consider beginning winding down the total QE stock when interest rates hit 1.5% from a previous level of 2%. Unsurprisingly, GBP/USD jumped 1.5% on the news, rising from 1.3100 to 1.3300.
Conversely, despite being "officially" hawkish, the BoC is still trying to strike a more balanced position. Most recently, Stephen Poloz, the BoC governor, highlighted some downside risks to the economy and the market immediately deemed the comments to be dovish.
On balance, I believe that the market will be disproportionally overreacting to any bullish news coming out of the UK and to any bearish news coming out of Canada. Therefore, the psychological bias is in favor of GBP/CAD long.
Reason Four: Sentiment Extremes
Indeed, the news coming out of the UK has been surprisingly bullish. Here are just a few important prints:
Retail sales (y-o-y growth) + 3.9% vs. expectations of +2.4%;
CBI Industrial orders +13 vs. expectations of +1;
Nationwide house prices (y-o-y growth) +2.0% vs. expectations of +1.7%;
GDP growth (q-o-q) +0.2% vs. expectations of +0.1%;
Current account (Q1) -17.7 billion vs. expectation of -18.0 billion.
So it is not only that the economic news has been better than expected, it is partly that the expectations have been excessively pessimistic. The latest traders' positioning in GBP futures reflect that pessimism (see the chart below).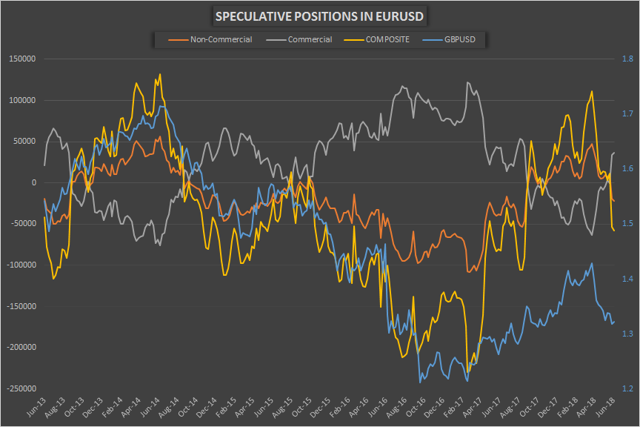 Source: CFTC COT
Traders are net-short with a composite number of contracts of 58,128, just 13% above 1-year minimum.
And this is where I see the opportunity. Sentiment is driving the markets and the sentiment in GBP is excessively bearish, while the economic data is bullish. As a trader with six years of experience behind me, I would prefer to side with the economic data rather than to join the crowd of bears. It takes time for a sentiment to turn and I am going to make a trade in anticipation of that turn.
Conclusion
Having said all of the above, the overall (classical) technical summary is still bearish for the GBP/CAD. Every technician will tell you that buying this pair is dangerous and unwise. But don't you love being a contrarian? And if you do, then you better be careful.
I have entered a small GBP/CAD long from 1.7350. The notional value of the trade is only 10,000 euros. I have to be ready to average down in case GBP/CAD continues to move lower. The pair may even try to re-test the 1.7070 level. Therefore, my position is small relative to available equity.
My first target would be 1.7650. This is where I expect to close half of my position and place a trailing stop-loss level. If GBP/CAD holds above 1.7780, expect it to move higher towards 1.8040 and possibly as high as 1.8350, which would complete the re-test of a 50% Fibo level from 2015 high to 2017 low.
Follow me for weekly updates on high-probability trading set-ups in 25 global currencies and more than 500 currency pairs.