Sustainable 8% Income from Closed-End Funds
At the end of September 2015, I began a model income portfolio built on closed-end funds (CEFs). At the time, there were many fewer Seeking Alpha contributors writing on the subject of CEFs than we have today. And few of these were writing with an emphasis on income. When started writing about high-yielding CEFs for current income I was lectured on the fate that awaited those who chased yield and admonished for advocating reckless investments that would inevitably lead to ruin for any retirees who followed my lead. The assumption - rarely, if ever, questioned or tested - was that anything yielding 8% or more was a fool's game.
Evidence from backtests were dismissed as cherry-picking winners in hindsight, and could not to be taken as predictive of future performance. Admittedly, these are hard arguments to dismiss, so I decided to run a bit of an experiment. I built a model portfolio of CEFs designed to provide current income at 8% of portfolio value, while sustaining a capital base. This would be one that readers and I could follow in real time through my periodic updates. I began the exercise with equal-weighted allocations to a diversified set of fifteen CEFs with a portfolio value of $100,000.
I have updated the portfolio quarterly since. This update is for the portfolio's eleventh quarter. It will turn three years old at the end of the current quarter.
Each quarter, I've changed the holdings slightly. In trying to keep the exercise as realistic as possible, I've never dropped or added more than two funds. Some quarters I made no changes at all to the holdings, and the only action I took was to reinvest the income that exceeded my target. At the beginning of 2017, I added an ETF to the portfolio because I wanted to have an allocation to a diversified mix of MLPs. I could have selected an MLP CEF, but choose instead to go with the InfraCap MLP ETF (NYSEARCA: AMZA) for reasons I explained at the time. To some extent this went against the spirit of the exercise, which was to build the portfolio out of closed-end funds. As it's turned out, the anticipated turnaround by MLPs didn't happen as expected, and AMZA has been a drag on portfolio value. The ETF has, however, been a strong contributor to portfolio income and, as we shall see shortly, continues to lead the portfolio in income generation.
In addition to that single ETF, the portfolio comprises fourteen CEFs. I began with equal weightings. Each quarter, I reinvested excess income (beyond the targeted 2% quarterly withdrawals) in the two most-out-of-balance holdings. This rule has led to a regular increase in AMZA's share count. At the end of 2017, I did a complete re-balance bringing the portfolio back to equal weighting, adding even more to the fund's share count in the process. We're now two quarters from that rebalance.
The High-Yield, Sustainable Capital, Income Portfolio
Here are the funds in the portfolio at the close 2Q2018.
Apollo Tactical Income Fund Inc. (NYSE:AIF)
InfraCap MLP ETF
Calamos Global Dynamic Income Fund (NASDAQ:CHW)
Eagle Point Credit Company Inc. (NYSE:ECC)
Eaton Vance Tax-Managed Global Buy-Write Opportunities Fund (NYSE:ETW)
First Trust Intermediate Duration Preferred & Income Fund (NYSE:FPF)
Miller/Howard High Income Equity Fund (NYSE:HIE)
Nuveen Preferred Income Opportunities Fund (NYSE:JPC)
AllianceGI Convertible & Income Fund (NYSE:NCV)
NexPoint Strategic Opportunities Fund (NYSE:NHF)
PIMCO Dynamic Credit Income Fund (NYSE:PCI)
Cohen & Steers Quality Income Realty Fund (NYSE:RQI)
Columbia Seligman Premium Technology Growth Fund (NYSE:STK)
Tekla Healthcare Opportunities Fund (NYSE:THQ)
Liberty All-Star Equity Fund (NYSE:USA)
At the beginning of the quarter, the portfolio was allocated as shown in these tables and charts: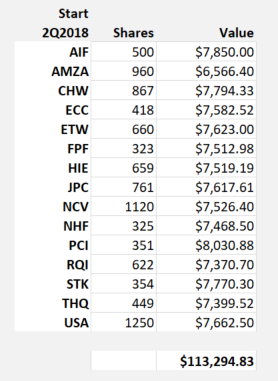 You'll notice that the equal weighting that was put into place at the beginning of the year didn't take long to break down. AMZA was the big loser, and AIF and PCI grew to higher allocations.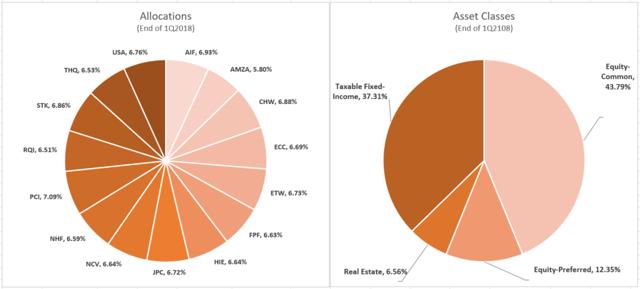 One of my priorities has been to maintain a reasonable level of asset class diversity. This is seen in the chart above. And beyond this view, within the broad asset classes shown, there is a mix of strategies and global focus for the funds, except for real estate, which is represented by a single fund.
Discount/premium valuations and distribution yields for the 15 funds at the June 29 close (end of quarter) are shown in these charts: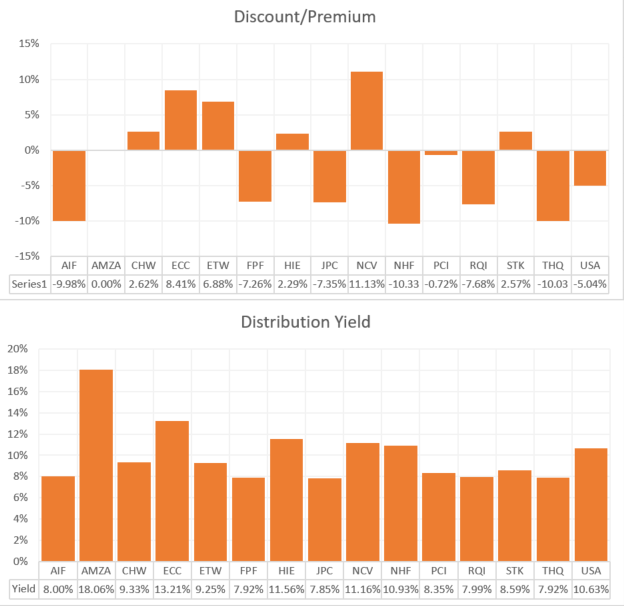 Quarter's Performance
The first quarter of 2018 finished with a dismal record (-4.8%), but for the second quarter, we see a modest gain (0.62%) in capital value. This has put the portfolio back on track to meeting its objective of sustaining capital value after income is paid out.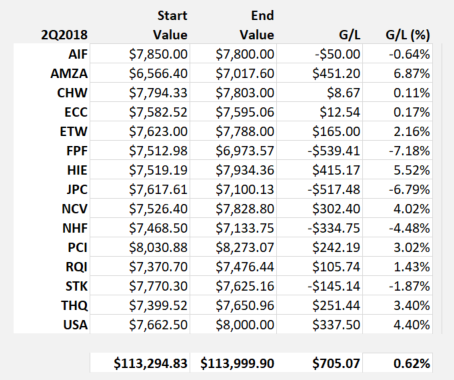 For a comparison, here are the second quarter's market price changes for the SPDR S&P 500 Trust ETF (NYSEARCA:SPY) and the iShares iBoxx $ High Yield Corporate Bond ETF (NYSEARCA:HYG) and four CEF funds of funds: Saba Closed-End Funds ETF (BATS:CEFS), the Cohen & Steers Closed-End Opportunity Fund (NYSE:FOF), the Invesco CEF Income Composite Portfolio ETF (NYSEARCA:PCEF), and the YieldShares High Income ETF (NYSEARCA:YYY):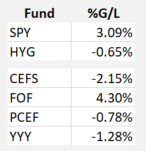 SPY and FOF beat the model portfolio for the quarter on market price change. But the high yield bond fund and the other three CEF funds of funds lag their price performance. I add these only to put the 0.62% gain in perspective, and will note that none of these figures include portfolio income. I will add that FOF has been a consistently strong-performing fund. It's not one I've owned, but a hard look at its record may reveal it to be an off-the-shelf way to implement a strategy much like the one driving this model exercise. Consider that it has an 8.1% yield, a -4.5% discount, and has done a pretty solid job of keeping pace with the broad market over the past several years.
Income
As I noted, the returns cited above do not include distributions. The model portfolio has a higher yield than any of those six funds. So, let's turn our attention to income. The next table shows the quarter's income from each of the holdings.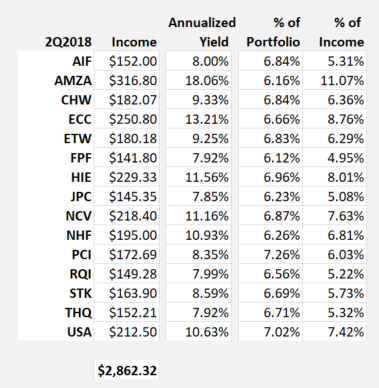 This is a yield of 2.53% for the quarter (10.11% annualized). After the targeted 2.0% is withdrawn as current income, $596.42 remains in the pool for reinvestment. This quarterly reinvestment of excess income is an important part of keeping the fund growing. While it's not a lot of capital, it has added upward of 2% to the portfolio annually.
Comparing the Funds
This chart contrasts the change in value for each of the 15 assets and their quarterly distribution yields (quarter's income divided by the value at the start of the period).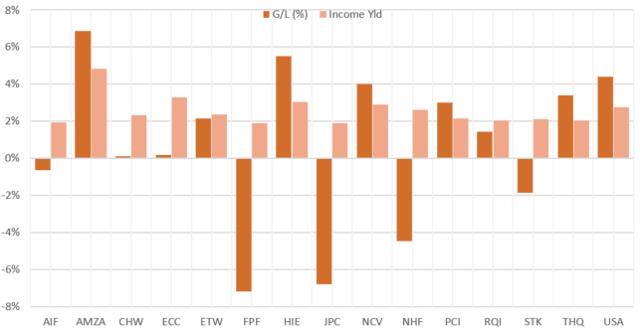 Several interesting points emerge. After several quarters marked by high income, deep losses, and increasing share numbers from reinvested excess income, AMZA leads the list both for income (as it has since it was added) and for gain in value. This is the first time since the fund was added that it has posed a gain in value at the end of a quarter. HIE, a value fund that is heavily invested in MLPs, scores second for capital appreciation this quarter and third for income. I had anticipated enhanced performance from MLPs when I added (and added to) these funds, but until now I've been disappointed; both have trailed the rest of the field. They have, however, been stalwarts of income production, so I've been willing to be patient with them both while I followed my reinvestment rules. I'm encouraged by this quarter's performance from the funds, and am anticipating that the long-awaited recovery for MLPs is at hand.
The worst-performing funds were the two that invest in preferred equity (FPF and JPC). Interest rate anxieties that have been taking a toll on preferred stocks are reflected in their declines. These two are also the lowest-yielding funds of the 15. My expectation had been that adding an allocation to the lower-yielding preferreds would be rewarded by reduced volatility from these assets relative to the higher yielders. Such has not been the case, and this is causing me to rethink the preferred allocation. While I continue to believe an income portfolio should have at least a modest allocation to preferred equity, it may not be timely to continue to hold as large an allocation as these two funds represent.
Growth and Income Are Not Necessarily Exclusive... At Least This Quarter
This next chart shows the relationship between income and change in asset values this quarter.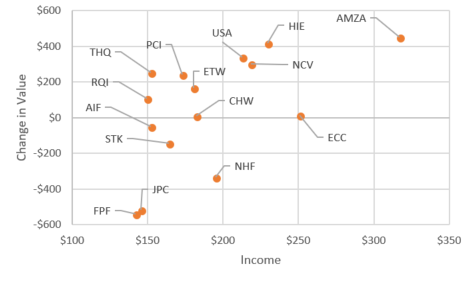 You'll notice the trend toward high yielders coming in as high gainers as well. The four highest gainers on share price also place in the top five income generators for the quarter. At the other end of the scale, four of the portfolio's five losers rank among the six lowest-yielding funds. I've not done this analysis before, but I'd be surprised to learn that this is not an anomalous result reflecting, perhaps, some of the odd price and valuation behavior we've been seeing among CEFs this year. This is something I've been noting in some recent articles on top-yielding funds (here) and exceptionally skewed valuations (here) in the CEF space. High-yielding funds have been outperforming at market. To a large extent, this performance has not been supported by NAV gains but has come from valuation movements taking the funds from deep to shallow discounts and even to large premiums. Several of the funds here fall into that category and may be clinging to tenuous positions if mean reversion on those valuations begins to take hold. This is a worrisome positioning for the near-term future.
Progress on Objectives
The model has two objectives: high income and sustainable portfolio value. Both are being met. After 11 quarters, I submit that I have shown with this model that one can sustain 8% income with no loss - indeed, with a substantial gain - in portfolio value from a portfolio of well-chosen CEFs. After withdrawing 8% annually, the portfolio value is up 13.5% since inception, for an annualized growth of 4.91%. When cash flow to current income is accounted for, the internal rate of return is 13.47%.
The following chart sums up the full 11 quarters performance for the portfolio.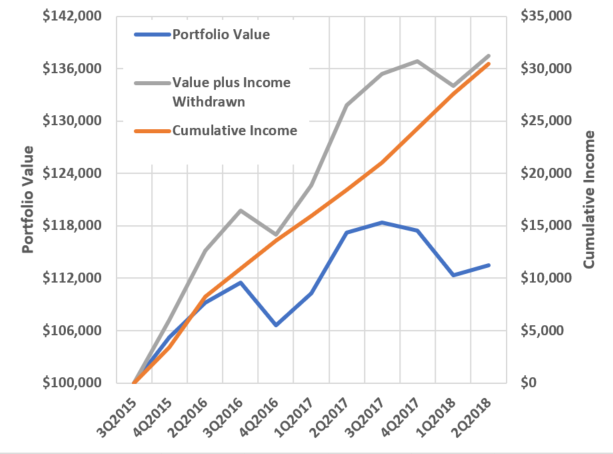 Income generation has been consistent and growing. Cash flow has grown from $2002 for the first quarter's report at the end of 2015 to $2266 for the current quarter, an increase of 13.2%. Portfolio growth plus income generated is a 37.5% gain over the 11 quarters, for an internal rate of return of 13.47%.
Portfolio Changes
The dilemma I face at this point is dealing with the preferred stock funds. I'm reluctant to trade out of an asset class simply because it has underperformed for a quarter or two. I prefer to exit CEFs when their valuations are high and there are profits that can be taken before those valuations show mean reversion. But secular trends argue that this is not a time to be in preferred stock as an asset class. So, I've decided to split the difference and trade out of one and hold one. I'll replace JPS and hold onto FPF. JPS is wholly domestic. FPF is global and I want to retain the global exposure, particularly, as I'll discuss, because I will be dropping another international fund as my second change this quarter.
The second fund I'll replace is ETW. ETW is an option-equity fund with a global portfolio. Both are asset classes I want to keep in the portfolio. And the fund has been a good performer. So, why replace it? This goes back to the point I made above. It's my view that ETW is overvalued with its 6.88% premium and Z-scores ranging from 1.6 for 3 months to a whopping 3.0 for the year. Z-scores measure how much a given discount or premium is from the mean for the period. The dimension is standard deviations, and the sign tells us which direction from the mean the valuation is. Thus, a Z-score of 3.0 means the fund is a full three standard deviations above its mean premium or discount. This doesn't necessarily mean reversion is imminent, and I have exited funds using this strategy too early in the past, but I can see no evidence supporting ETW's high valuations other than its high yield. This tells me that a potentially too-early exit is better than holding past the fund's best-by date.
In addition to the risk to ETW's value from potential reversion to the mean, meaning loss of some of that premium, there is a generally shaky climate for international equity in an investing world poised on the precipice of a global trade war. Not as strong a factor as the valuation, perhaps, but enough that I'll put it in ETW's negative column as well.
So, I looked for an equity fund to replace it. Nearly everything I found that looked potentially suitable came from the leveraged equity category. I did not want to add leveraged equity at a time when rising leverage costs are becoming a drag on CEFs. My preference in equity income is for option-writing strategies, which is a niche ETW fills. The best choice I found is another Eaton-Vance option-income fund, the Eaton Vance Tax-Managed Diversified Equity Income Fund (NYSE:ETY). I plan to discuss ETY in a subsequent article, but for now suffice it to say ETY has a better valuation for a buyer (exactly at par on June 29 close), an edge on Z-scores (0, 0.8 and 1.3 for 3, 6, and 12 months, respectively), and a stronger performance record, especially at NAV, where it's up 11.73% for the year to ETW's 7.55%. It does give up distribution, however. ETY pays 8.35% to ETW's 9.25%, but we'll make that up on the second fund I'm adding.
That second new fund is the Calamos Dynamic Convertible and Income Fund (NASDAQ:CCD). Convertible bonds dominate CCD's portfolio (77.7%). They can be highly defensive holdings in problematic market environments, which was a strong point in CCD's favor.
The top holdings in CCD's portfolio are convertible bonds from Tesla (NASDAQ:TSLA), Wells Fargo (NYSE:WFC), Intel (NASDAQ:INTL), Microchip Technology (NASDAQ:MCHP) and Micron Technology (NASDAQ:MU). The fund's yield is 9.29%, which more than makes up for income lost to the ETW-ETY differential. CCD has a premium of 2.71%. Only two funds from convertible bond specialist Calamos have lower premiums: CHW, a global fund which is already in the portfolio, and CSQ, which is primarily domestic common stock and only pays 7.81%. I have been planning a full article on CCD as my current pick from Calamos, so I'll leave further discussion for that effort.
The following table is based on Friday's closing prices. I will readjust the counts to reflect Monday's opening prices. It is calculated by selling ETW and JPS and adding the excess $596.42 from income over 2% to those proceeds. This gives $15,484.55 to reinvest. Setting the two new funds (CCD and ETY) to 1/15 (equal-weighted) positions leaves $205.04, which, by the rule, is to be added to the most out-of-balance fund. That should be FPF. But I will stretch the rule this time and put it in the second-most out-of-balance asset, AMZA, because I think preferreds have more to give up in the coming quarter, while MLPs are likely to continue to outperform. I'll note that in 11 quarters this is the first time I've stretched this rule, and sometimes it's been painful to follow it.
This makes the portfolio going into the 2018's third quarter, as shown: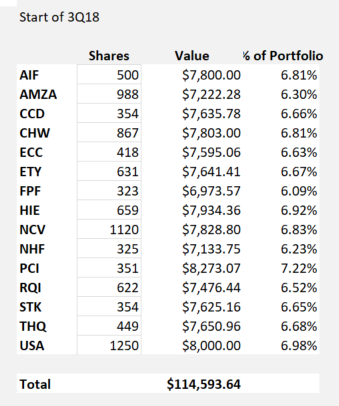 There may a few small tweaks to these allocations, no more than a few shares for AMZA, CCD and ETY based on Monday's prices. If so, I'll make those adjustments.
Disclosure: I am/we are long PCI, CHW, CCD, AMZA, NHF, ECC, HIE STK,USA. I wrote this article myself, and it expresses my own opinions. I am not receiving compensation for it (other than from Seeking Alpha). I have no business relationship with any company whose stock is mentioned in this article.
Additional disclosure: I am not an investment professional and nothing I write here should be taken as professional advice. Everyone's personal situation is unique. It is the role of finance professionals to provide advice in the contexts of an individual's personal situation. What may be right for my investment goals and risk tolerances may well be quite wrong for someone else. Do your own due diligence. Consult with professionals on your own needs, objectives and tax circumstances before you invest. I do not give advice and ask that readers refrain from asking for it.