Midstream had a disappointing week overall. Like last week, oil prices ramped up (albeit with strong backwardation) and MLPs under-performed broader energy stocks and utilities. The AMZ tracked the S&P 500 with a 1.4% decline, while the AMEI outperformed due to its exposure to Canadian midstream and utilities. Broader stock market weakness was likely a factor, along with the MLP Index re-balance and some capital markets activity in a generally thin midstream equity market these days.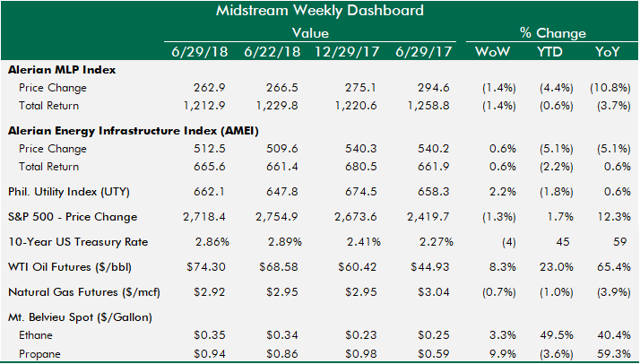 Midstream price action was frustrating overall this week, and it reminded me of the jacket that was made famous a few weeks ago by First Lady Melania with the phrase, "I really don't care. Do you?"
You guys are here reading about midstream and MLP stocks, so you obviously care. I'm here writing about midstream and MLP stocks, so I clearly care. But the market doesn't always care, especially after the numerous false starts for midstream.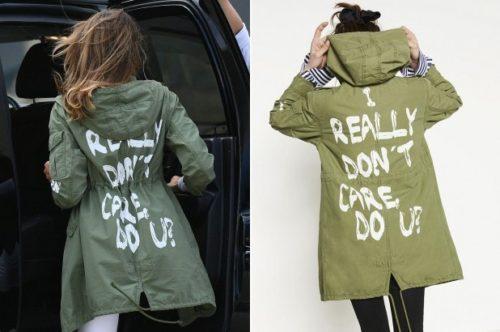 When the market doesn't care (i.e. when net flows are stagnant), then when stock-specific news happens, money flows to that stock from sales of other stocks. Two specific news items highlighted the zero-sum market this week. First, when CNXM secondary offering priced mid-week, the next day several comparable Marcellus G&P names underperformed (AM/AMGP and EQM/EQGP/RMP specifically). Later in the week, ENB got positive news on the Line 3 project, which did not spark much broader interest in midstream, but rather ENB and its subsidiaries rallied hard while the rest of the group was stagnant.
Some of the lack of interest could be chalked up to end of the quarter dis-interest or window-dressing that could potentially reverse next week. In the second half, with time and ongoing evidence that midstream operators can capture benefits from production and demand growth in their financials, I expect a broader set of investors to care about midstream.
Status Update: Mixed Month
MLPs finished June negative, breaking a two-month positive streak. For the quarter, AMZ was up 11.8%, including distributions. It was the best quarter for MLPs since 2Q 2016. It was also the first positive quarter for MLPs since 1Q 2017, breaking the second longest streak of negative quarters in MLP history (6 quarters ending in 1Q 2016). Prior to this quarter, MLPs had been negative for 10 out of the prior 14 quarters. The big rally this quarter has the MLP Index back to nearly flat for the year overall (on a total return basis).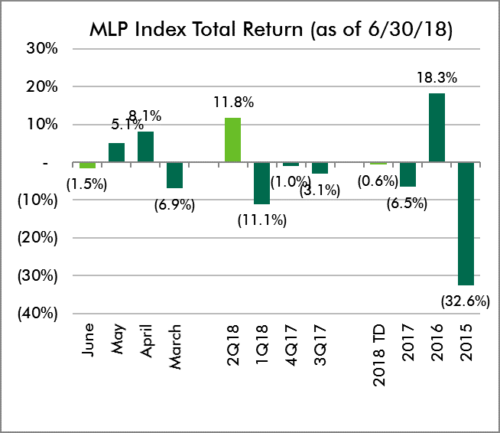 The AMEI index was positive for June, beating the MLP index handily. AMEI also finished better than MLPs for 2Q overall, but AMEI still trails the MLP Index year-to-date, because of the big lead MLPs jumped out to in January, especially vs. Canadian midstream and utilities. As a reminder, AMEI is a midstream index that generally includes 25% MLPs, 25% Canadian midstream, 15% utilities and 35% midstream corporations.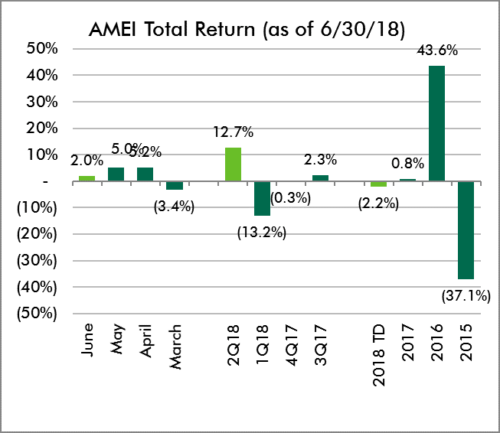 Winners & Losers
This week's stock action was refreshingly impacted by actual news related to the stocks. BWP's settlement paved the way for a big move higher that was good enough for the top spot this week. SEP and EEP traded very well on the back of the Line 3 Replacement approval, because both SEP and EEP units will soon be exchanged for ENB shares.
On the downside, NS's expensive and large preferred issuance was not received well, CNXM's secondary offering hurt its unit price, and news of a potential delay on the Mountain Valley Pipeline hurt EQM and RMP.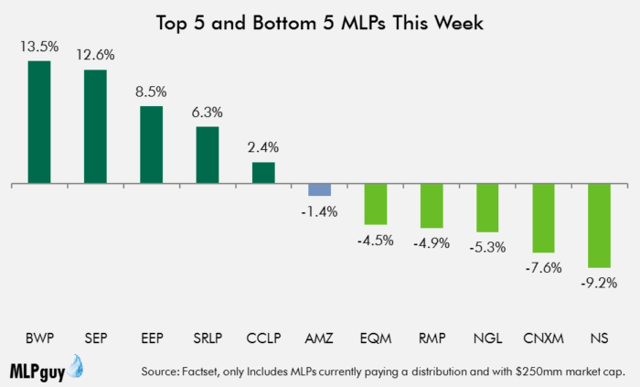 SRLP quietly made it two weeks in a row in the top 5. On the YTD leaderboard, CEQP retained the top spot, ENBL climbed a few spots and CNXM dropped a few spots. EQM joined the bottom 5 year-to-date.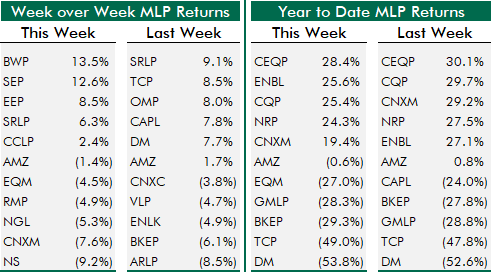 General Partners & Midstream Corporations
News drove stock in this group as well. KMI's new growth project was further evidence KMI can find new growth projects in a post-TMEP world. NSH and EQGP were negative on the news mentioned above for their respective subsidiary MLPs. Cheniere (NYSEMKT:LNG) was down on news that its largest shareholder (Carl Icahn) sold 9mm shares this week in a block trade, although Icahn and LNG fundamentals remain supportive of Cheniere. NSH and LNG were the best performers in the group last week.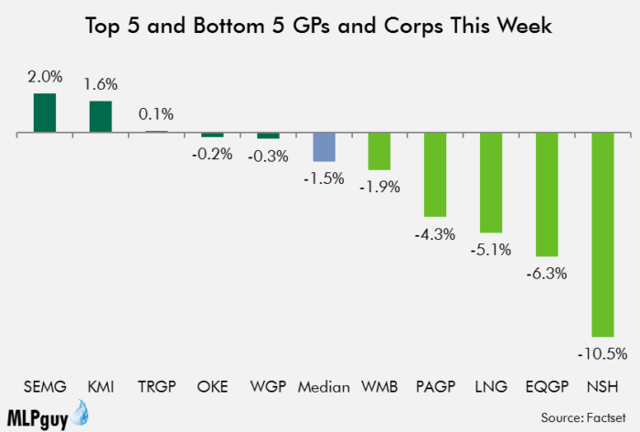 On the YTD leaderboard, OKE stands very tall at the top, while NSH dropped to the bottom of the group. WMB climbed a few spots despite negative price action this week.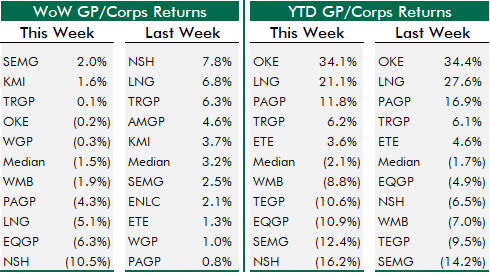 Canadian Midstream Corporations
ENB's Line 3 Replacement approval by the Minnesota PUC sent ENB and ENF share shooting higher in an otherwise bland week of trading north of the border.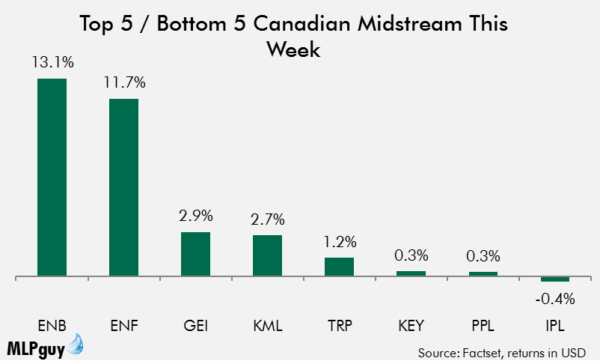 ENF took over the top spot in the group for the year so far, but ENB went from worst to middle of the pack on its big week. ENB is now outperforming rival Canadian behemoth TRP, which has made far fewer strategic announcements than ENB in 2018. With asset sales and simplifications announced and regulatory risk reduced, ENB may see the benefit of further rotation from here.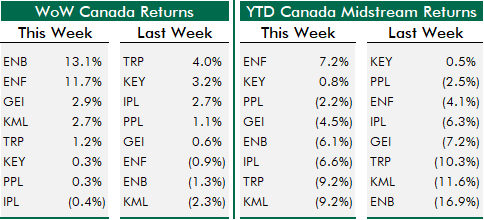 News of the (Midstream) World
Just last week, I was lamenting the lack of progress on natural gas pipeline takeaway solutions from the Permian, and this week we got a major Permian gas pipeline announced. But by the end of the week, there was even bigger pipeline news out of Minnesota. It turned out to be a super busy week, with two more MLPs exiting the sector (BWP and NAP), multiple capital markets transactions, two new midstream indices, and an IDR reset.
Oh, and at some point in August, we'll have only 4 FERC commissioners, which is kind of a big deal given all the FERC uncertainty.

Capital Markets
CNX Midstream (NYSE:CNXM) priced secondary offering of 6.5mm units for holder at $18.30/unit, raising $119mm for selling unitholder Noble Energy (press release)

Overnight offering priced at 12% discount, and traded 2.7% higher from offer price in the following session
Offer was upsized to 6.5mm units from 5mm units
NBL continues to hold 15mm units of CNXM, so the overhang remains, but added float is a marginal positive for CNXM's ability to attract investors
NuStar Energy (NYSE:NS) announced the sale of $590mm of Series D cumulative convertible preferred units (press release)

Purchasers will acquire 23.2mm preferred units at $25.38/unit, which are convertible into common units on a one-for-one basis at the purchasers' option after two years
Preferred units will receive distributions of 9.75% annually for first 2 years, then 10.75% in years 3-5 and the greater of 13.75% or common unit distribution thereafter
The preferred units are redeemable by NS after five years, and the purchasers can cause NS to redeem the units after 10 years
In addition, NSH/NS Chairman agreed to purchase $10mm of common units of NS at $24.17/unit
Proceeds from this preferred issue, combined with $200-400mm of non-core asset sales are expected to eliminate NS's equity needs through 2020
Cheniere Energy's largest holder, Carl Icahn, disclosed sale of 9mm shares noting outsized position and continues to support company (13D)

Icahn's position went down to $1.6bn from $2.2bn and is now a 9.5% stake, making him still the largest holder of LNG shares
Growth Projects/M&A
Minnesota PUC voted 5-0 to approve the certificate of need and 3-2 to approve the preferred route for Enbridge's Line 3 Replacement Project (press release)

There were some route modifications and still a pending decision to be made by the Fond du Lac tribe on a piece of the overall route over the next 60 days
ENB reiterated capex guidance for the project over all of C$5.3bn in Canada and $2.6bn in the U.S. with C$3.6bn spent to date
ENB continues to anticipate in-service date in 2H 2019
Kinder Morgan, EagleClaw Midstream (Blackstone portfolio company), and Apache (NYSE:APA) announced a JV to develop Permian Highway Pipeline natural gas pipeline (press release)

The $2bn project is designed to transport up to 2 Bcf/d of natural gas through 430 miles from Waha, Texas, to the Gulf Coast and is expected to be in service by late 2020
KMI and EagleClaw will be the initial partners with 50% ownership each and APA will have an option to acquire up to 33% equity
EagleClaw and APA will be significant shippers on the pipeline and KMI will build and operate the pipeline
ONEOK announced 1.7 Bcf/d of natural gas pipeline expansions in the Permian Basin and Oklahoma (press release)

The projects are backed by multiple firm transportation commitments and are expected to be completed in Q4 2018 through Q1 2019
OKE did not disclose costs, but did indicate the projects will add $40mm in additional EBITDA
EnLink Midstream (NYSE:ENLK) announced new crude oil gathering system in the Northern Delaware Basin called the Avenger Crude Oil Gathering System (press release)

Project is expected to cost $35-40mm in 2018 with further costs expected in future years as Devon continues to develop its acreage in the region
Initial operations are expected to begin in Q3 2018 and full-service operations in Q1 2019
Boardwalk Pipeline (NYSE:BWP) announced exercise of right to purchase common units by Loews (press release)

BWP unitholders will receive $12.06/unit in cash in a transaction that will close on 7/18/18
BWP will no longer trade on that date in a sudden end to a long, slow decline in value for BWP unitholders, despite a modestly improved result vs. a month or two ago
Navios Maritime Acquisition Corp. (NYSE:NNA) announced proposal to acquire all outstanding units of Navios Maritime Midstream Partners (NYSE:NAP) in a stock for unit transaction (press release)

NAP unitholders will receive 6.292 NNA shares for each NAP unit, valuing NAP at $3.838/unit, a 1.0% implied premium
NAP went public in November 2014 at $15.00/unit
Other
Earlier in the week, BWP disclosed settlement of class action lawsuit settlement relating to the Loews buyout (filing)

Settlement agreement indicated that if Loews were to exercise the buyout of BWP units based on the 180-day formula disclosed in the latest 10-Q, then the date for purposes of calculating the takeout price would be no later than 6/29/18
FERC commissioner Robert Powelson announced he will step down from FERC in mid-August to head the National Association of Water Companies (Platts)

Republican Powelson served as a FERC commissioner for less than a year, but was a supporter of the need for natural gas pipeline infrastructure
The 3-2 Republican majority will go away until President Trump is able to appoint a new commissioner who will need to be confirmed by the Senate
Alerian launched two new midstream energy indices, Alerian Midstream Energy Index (AMNA) and the Alerian US Midstream Energy Index (AMUS) (press release)

AMNA has 73 names in total, with no constraints on structure or country (within U.S. and Canada) while AMUS has 63 names and is limited to U.S. listed names
Top 5 holdings: ENB (10.2%), EPD (9.4%), TRP (8.8%), KMI (7.7%), OKE (6.6%)
Alerian announced special rebalancing of several of its indices due to TEGP/TEP merger (press release)

TEGP, under its new ticker TGE, will replace TEP in the Alerian MLP Index (AMZ), Alerian MLP Infrastructure Index (AMZI), the Alerian Mid Cap MLP Index (AMMI) and the Alerian MLP Equal Weight Index (AMZE)
TGE is structured as a partnership, but is taxed as a corporation and issues a 1099, so is eligible for the MLP indices in the same way that the shipping MLPs are eligible