We are officially finished with a pretty wild first half of the year. As such, I thought it appropriate to break down midstream returns based on several different factors that I believe have been driving relative performance within the sector this year.
The charts below represent the simple average of the total return of the stocks in each category. For this analysis, I included midstream MLPs and U.S. corporations. I did not include coal, shipping, upstream, refining, fertilizer, or frac sand MLPs. As such the universe includes just 55 MLPs plus 10 U.S. corporations. I didn't include Canada in any of the charts beyond the first chart that shows the relative return of Canada vs. MLPs and U.S. corps.
Structure and Geography: Corpe Diem
In the first chart, U.S. midstream corporations outperformed and posted a decent return on average. The simple average method (vs. market cap weighted average) limits the impact of some larger names that haven't performed quite so well (i.e., WMB and KMI). Canada and MLPs averaged the same return in U.S. dollars. So, while some of the larger MLPs aren't yet convinced, the market does seem to prefer U.S. corporations at the moment. The corporate structure can offer better corporate governance and less MLP-related baggage (K-1s, angry retail investors, etc.).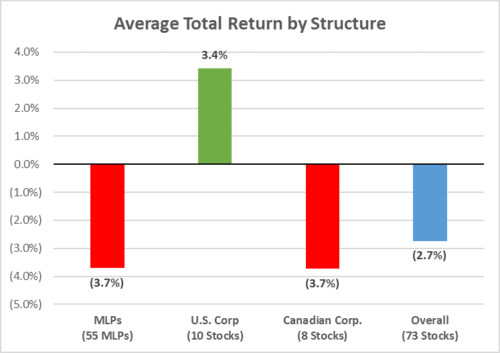 Market Capitalization: Size Matters
Large- cap midstream stocks were massive outperformers in the first half of the year. Above $10bn was positive 8.8%, while all smaller midstream categories were negative. This highlights how important scale, integration and access to capital are to the market today.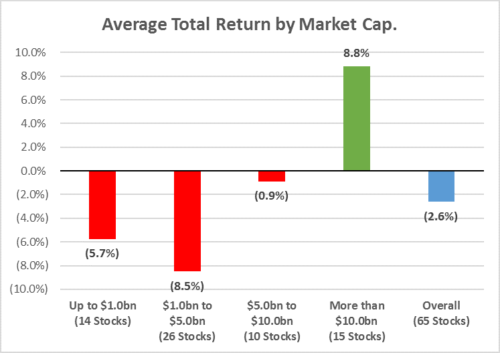 Yield: Total Return Matters
Yield-chasing did not work in the first half of the year. This chart breaks the sector down by current yield (as of today), which is a bit prescriptive, because underperforming stocks are more likely to have a higher yield. There are 22 stocks out of 65 overall with more than a 10% yield and those higher-yielding names are down 9.3% year to date, including the fat distribution payments received along the way. Conversely, lower-yielding MLPs were the best performers. Beginning-period yield would probably show a similar, but maybe less dramatic outcome.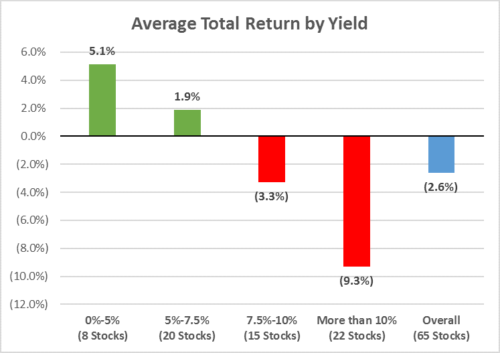 Midstream 2.0: A Better Business Model
For this chart, we broke out performance of the 13 midstream companies with all 3 of our midstream 2.0 characteristics (leverage below 4.0x, coverage above 1.2x and IDR take less than 10%). The haves dramatically outperformed the have-nots.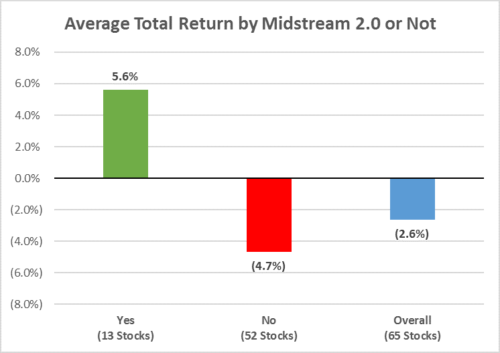 IDRs Don't Pay
Midstream MLPs without IDRs are a growing subset of the overall market. Cleaner structures seem to have been preferred in 1H 2018, with wide outperformance on average. I expect that trend to continue.