Ivy Portfolio July Update
The Ivy Portfolio spreadsheet track the 10-month moving average signals for two portfolios listed in Mebane Faber's book The Ivy Portfolio: How to Invest Like the Top Endowments and Avoid Bear Markets. Faber discusses 5, 10, and 20 security portfolios that have trading signals based on long-term moving averages.
The Ivy Portfolio spreadsheet on Scott's Investments tracks both the 5 and 10 ETF Portfolios listed in Faber's book. When a security is trading below its 10-month simple moving average, the position is listed as "Cash." When the security is trading above its 10- month simple moving average the positions is listed as "Invested."
The spreadsheet signals update once daily (typically in the late evening) using dividend/split adjusted closing price from Quandl.
The "current" 10-month simple moving average is based on the most recent 10 months including the current month's most recent daily closing price (columns C and D). This methodology may differ slightly from other sites or monthly moving average signals - every day during the current month is treated as if it is that month's closing price. This provides continuous updates throughout the month but even though the signals update daily, it is not an endorsement to check signals daily or trade based on daily updates. It simply gives the spreadsheet more versatility for users to check at his or her convenience.
The spreadsheet's column (E) displays a cash or invested signal based on the most recent full month's closing price. This signal will not update throughout the month as it is based on last month's closing price and the 10-month moving average at the end of last month. This is useful for users who want to view the signal from just the end of the month.


The current signals based on June's adjusted closing prices are below. At the end of June, all ETFs were above their 10-month moving averages except BND, RWX, VEU and VWO.
The spreadsheet also provides quarterly, half year, and yearly return data courtesy of Quandl. I made the switch to Quandl in an attempt to stabilize the portfolio; however, Finviz is still an excellent data source. The return data is useful for those interested in overlaying a momentum strategy with the 10-month SMA strategy: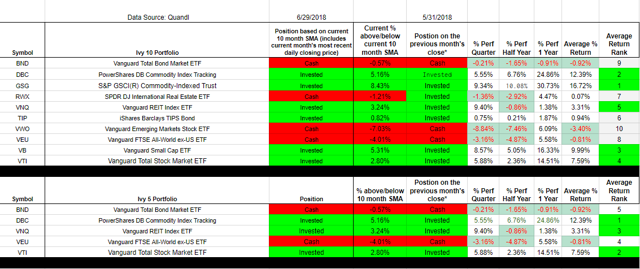 I also provide a "Commission-Free" Ivy Portfolio spreadsheet as an added bonus. This document tracks the 10-month moving averages for four different portfolios designed for TD Ameritrade (AMTD), Fidelity, Charles Schwab (SCHW), and Vanguard commission-free ETF offers.
Current signals are below:


Disclosures: None.
This article was written by
I am an independent investor writing at Scott's Investments (http://www.scottsinvestments.com). My site is dedicated to discussing and publicly tracking historically successful investments strategies and sharing free investment resources. I emphasize empirical, historical, and quantitative analysis, portfolio strategies for individual investors and technical analysis. I have quickly become a highly-rated site on Investimonials, http://www.investimonials.com/blogs/reviews-scottsinvestmentsgmailcom.aspx