Our Momentum Portfolio Gained 13.45% in June 2018 via the S&P 500's 0.48% Return
Our Momentum Portfolio was launched on April 11, 2017, with $30,000 seed money.
Our goal is to achieve an average of 150% annualized return and try to grow the money to the one-million-dollar mark in less than four years. That is $30K -> $1.00 million in less than 4 years.
The path to the success:
Year 1 - $30,000 to $75,000
Year 2 - $75,000 to $200,000
Year 3 - $200,000 to $500,000
Year 4 - $500,000 to $1,000,000
The Portfolio closed at $73,558.32, a gain of 145.19% in its year-one run, a little shy of our expectation, via S&P 500's 12.71% return.
Click here to see the details of the Portfolio's month-by-month performance.
The Momentum Portfolio's run continued in June 2018. It made a 13.45% return via S&P 500's 0.48% gain.
See the chart below for the Portfolio's daily performance via S&P 500's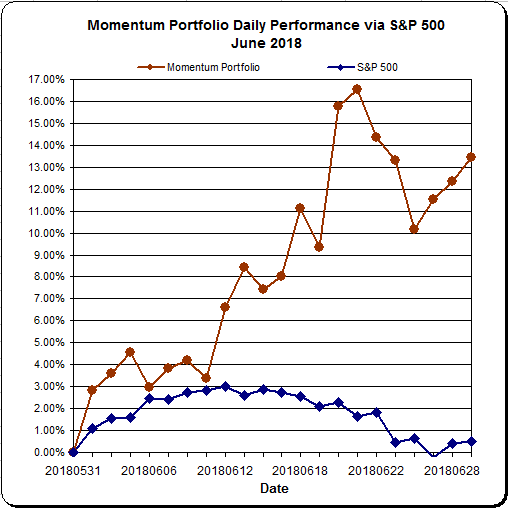 The Portfolio made a good run to have touched the 16.54% mark by June 21 due to the huge gain from our SenesTech (SNES) pick, then pulled back big the next three days after we made a wrong pick - Smart Sand (SND). It recovered some loses in the next three days but cannot get fully recovered and end the month with a 13.45% return.
For a detailed discussion on our picks for the month of June, see the section below.
We made a very important modification of our Investment Strategy and tested the revised Strategy in our last month's trading. That is,
To extend the maximum stock holding period to one month.
Previously we were mostly doing short-term plays, day trading or a trade within 2-3 days duration.
Our revised Strategy is
We can hold a maximum of 3 stocks in our Momentum Portfolio at any given time and will allocate 1/3 of cash for each stock.
Among the three spots, two will be served for the buy-and-hold type of stocks (holding period can be extended to one month) and one for short-term play (day trade or 2-3 days of play)
The purpose for the modification:
We want to try to catch a larger part of a stock's momentum run.
It is easier for our subscribers to follow.
A more detailed discussion of our revised Investment Strategy will be given in a later section.
We made four tries to implement our revised strategy last month with a mixed result. But overall, the result is good. See the section below for the analysis of our picks.
Analyze the Portfolio's Picks For the Month of June: The Good, The Bad, The Regrettable, And The Greedy One.
The Good
SNES– +52.58%
SenesTech is small-cap company and its stock SNES is an under-followed one. The company develops and are commercializes a proprietary technology for managing animal pest populations, primarily rat populations, through fertility control. Its first fertility control product candidate is ContraPest, which will be marketed for use initially in controlling rat infestations
The stock was almost delisted from Nasdaq a while ago but found a life when it made a huge jump from $0.32 to $1.25 on May 21 on the news below:
The California Department of Pesticide Regulation (CDPR) has proposed to register ContraPest® for use in California. With approval, the Company will then be able to market and sell ContraPest throughout California, which is one of the largest state markets for pest control. "California consistently leads the way with respect to innovative and environmentally sensitive policies, and California consumers can be the most demanding of the products they buy and use – the products must be effective, they must be as safe as possible, they must be ethical, and they must pose the least burden on the planet.
The next news came on June 11:
The Company announced a distribution agreement with Bug Off Pest Control Center ("Bug Off") for ContraPest®. In addition to distribution, Bug Off will be marketing and selling ContraPest throughout its network and providing ongoing training to pest management professionals (PMPs) in the Greater New York area.
We made two buys on this stock and were holding the stock for eight sessions after our second buy before finally exited our position at $2.14.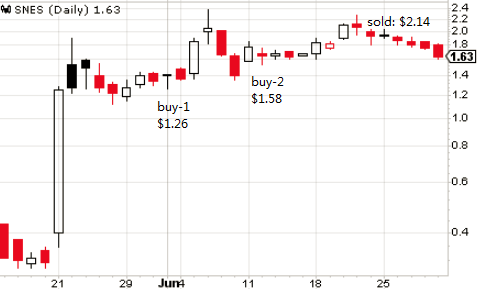 Source of the chart: StockCharts.com
As of this writing, the company is still waiting for the formal approval of selling its ContraPest product in the state of California and the stock is still in our watching list for further development.
The stock made almost 800% run from its low to high and we only caught 50% of its run.
What we hope is that we should be the first to react after the news is released and buy it at under $0.50. A lot needs to be learned.
The Bad
SND - -11.64%
The company is in the frac sand group, it supplies industrial sand to the oil and gas industry.
Its earnings and projected earnings growth are quite impressive:EPSQ1 2018 – 0.02 actQ2 2018 – 0.22 estQ3 2018 – 0.38 est
2017 – 0.39 act2018 – 1.05 est2019 – 1.34 est
Current one year target from 8 analysts also indicates that this is an undervalued stock:
Average: $8.84Low: $6.00High: $12.00
Data are all from finance.yahoo.com
The stock closed at $5.31 last week.
The stock had a small run from 5.69 to 6.12 on June 18 – June 20 and the chart looked like that it may make a breakout move as the stock may finally respond to the oil price's big raise. We bought it on its pullback. But the breakout proved to be a fake one and stock dropped big after our buy and even broke down its $5.50 support. We eventually sold it for a loss. Later, we found out that Johnson Rice downgraded the stock from Buy to Hold on June 26.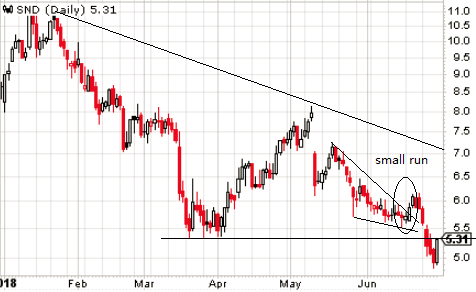 The Regrettable
Southern Company (SO) – +0.00%.
SO is a stock in the utility sector and is one of our holdings for our Core Portfolio.
The stock has been traded in a well-defined box between $43-$45 for over 5 months.
When we made the pick, we consider it for a swing trade, not a pick for its possible momentum run. But it became a momentum stock later.
We bought it at $42.96, the bottom of its range on June 6 and planned to sell it at $44.50 - $45.00 level in less than two weeks for 3.60% - 4.70% return, not impressive but acceptable. It ran to 43.50 high after our buy but fell back to $42.96 again.
We thought that it may drop to its recent low of $42.43 again. So we sold it for a breakeven trade and hoped to buy it back at a lower price.
But that proved to be our wishful thinking. It did not drop much further and bounced back strong. It then made an unstoppable run to $46.75, a momentum run with 8.80% return in 3 weeks.
The good thing is that we still hold it in our Core Portfolio.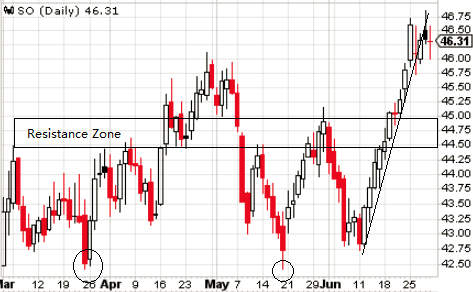 The Greedy One
jd.com, founded by Liu Qiang Dong in 1998, is one of the best-run e-commerce companies in China and in the world as well.
Our system detected a possible double bottom pattern on this stock – it tested $34.88 then $34.76 and bounced back strong on both occasions.
The following breakout run confirmed the double bottom. And we bought it at $39.76 later.
We set our target after our buy: it will run to $43-$45 level by the end of June and the projected return will be 8.10% - 13.17%, a pretty good one.
But the things followed surprised us. It touched $45 level in only in 8 sessions. Therefore we upped our target price to $47.
Our greedy cost us big. The stock topped at $45.29 and went back to below $38 level in a flash. We eventually sold it for a slight loss. That is, we turned a big win into a loss in just a few days. Another lesson to be learned.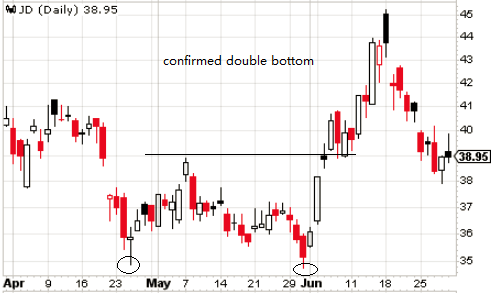 To Summarize
The above trades showed how difficult to make money in the stocks market. You may make the right picks but may still unable to make money from the right picks.
Among the four picks, we made last month, three were good ones: SNES, SO and JD. But we only made money in one of the picks. We missed SO's big run, and did not follow our own plan and turned a profitable one into a losing trade on JD.
SND was a bad pick as we fell into a bull trap and lost big.
On the other hand, we still believe that the company has very strong fundamentals and we may eventually see a big run sooner or later. SND is on our watch list together with all other frac sand stocks such as EMES, HCLP, SLCA, CVIA now.
We did have a risk control and profit protection rules set up for our short-term play but have not set the rules for the buy-and-hold type of investment. We need to do it in the following months.
A Discussion of Our Revised Investment Strategy
Our Revised Investment Strategy
We can have a maximum of 3 stocks in our Momentum Portfolio at any given time and will use 1/3 of cash for each stock.
Among the three spots, two will be served for the buy-and-hold type of stocks and one for short-term play.
The selection criteria for short-term-play stocks/ETFs: The stock should be >$5.00 and in most cases > $20.00 and we believe that it can make at least 2% move within 1-3 days and bid/ask spread should be small. The stock should have enough liquidity.
The holding period for the buy-and-hold type of stocks can be from one week to one month or until our target is met or some unexpected even happens – or so-called overnight risks.
The selection criteria for the buy-and-hold type of stocks: We believe that the stock should gain at least 8% within one-month time frame. But we will set our bar much higher: hope to see 30% - 200% gain for our picks.
When providing our buy signals, we will always indicate whether this is for a short-term-play or not.
Risk control and profit protection rules will be made in the following months and our Investment Strategy will also be subject to further modification to suit ever-changing market conditions.
Our Target
To achieve an average of 150% annualized return, the Portfolio needs to grow an average of 8% each and every month, which is a very tough job to do. We have done our study that in any given month, only ten percent of stocks can gain 10%+ and ninety percents of stocks cannot.
We have to dig out which two belong to the 10%+ gainer category. That is, we have about 95% chance of failure.
We managed to have gained 13.45% last month. If we can keep the momentum, the Portfolio will be able to make 150% return in 7 months, not 12 months. That is, we need 6 more months to go in current pace to achieve our one year target. Let us try it.
Our Momentum Portfolio is doing its year-two run. And the Journey to becoming a millionaire in four years continues in June.
In order to better serve our members, we are more focus on longer-term play now.
The market seems tired now after nearly 10 years of runs. It may be more difficult to achieve the same kind of return as we did in 2017.
But we will not lower our goal.
If you have $30,000+ to invest, if you have time to make trading during market hours, if you want to become a millionaire in four years, if you can afford the higher volatility for the Portfolio, I invite you tojoin us and try our service.
Disclosure: I am/we are long SND,SO,SNES,C,WFC,GS,DAL,LEN,LB,MU,AMD,AAOI,X,AKS.
I wrote this article myself, and it expresses my own opinions. I am not receiving compensation for it (other than from Seeking Alpha). I have no business relationship with any company whose stock is mentioned in this article.
Editor's Note: This article covers one or more microcap stocks. Please be aware of the risks associated with these stocks.