We know that this next week will be a holiday week for U.S. markets, so we're just going to go straight to the charts this week to recap the fourth and final week of June 2018!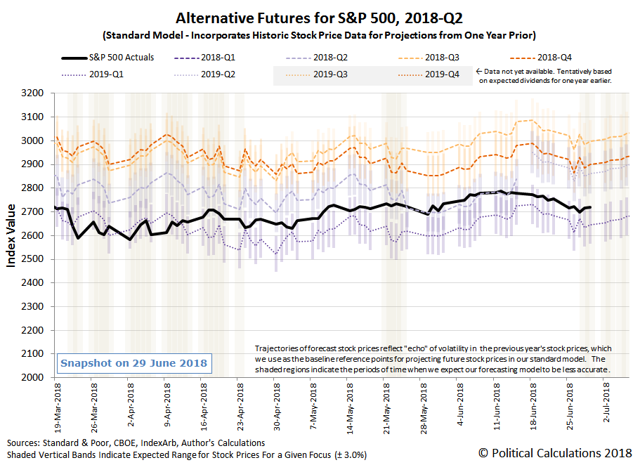 Because we're at the end of 2018-Q2, it's also time to look ahead into the alternative futures of 2018-Q3....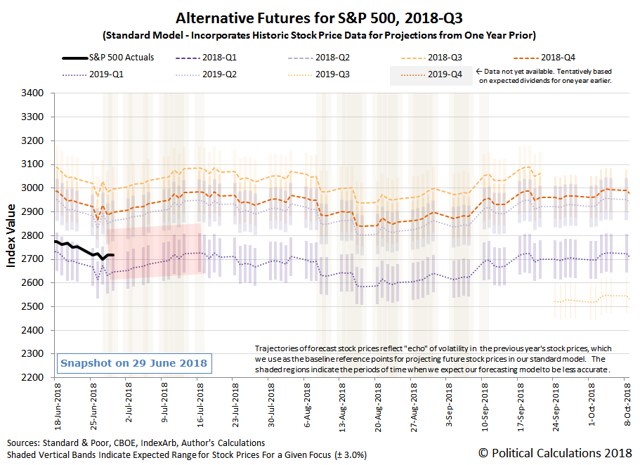 We've added a "redzone" forecast to our 2018-Q3 alternative futures spaghetti forecast chart, which we periodically do when the projected trajectories we indicate are skewed due to the past volatility of stock prices, which occurs because we incorporate historic stock prices as the base reference points from which we project the future in our forecasting model.
In this case, we've assumed that investors will remain largely focused on the distant future quarter of 2019-Q1 in setting current-day stock prices, where we think our model's projections will undershoot the actual trajectory that the S&P 500 will take. At least in the period from June 28, 2018, through July 16, 2018.
Let's get to the week's more notable market-moving headlines of Week 4 of June 2018.
Monday, June 25, 2018

Tuesday, June 26, 2018

Wednesday, June 27, 2018
Thursday, June 28, 2018
Friday, June 29, 2018
Meanwhile, Barry Ritholtz has summarized positives and negatives to be found in the economics and markets news for Week 4 of June 2018!
On a programming note, we're going to be "market-lite" this week, where we'll be featuring some more fun related items, particularly later in the week.