Texas Instruments (TXN) is one of our favorite companies. Most of what it produces is basically a collection of niche products which have dedicated uses and don't face all that much competition.
We have likened it to a collection of German Mittelstand companies, those specialist family-owned German companies that dominate their respective niches (mostly in capital goods).
While shareholders will marvel at the financial metrics of this company (just like we do), we shouldn't forget that technological excellence is the basis of Texas Instruments, and this is a sort of excellence that has taken a long time to accumulate.
This is simply due to the accumulation of deep knowledge over time, and this tends to produce increasing returns. The more you know about a subject, the easier it becomes to acquire additional knowledge about it, come up with applications and acquire knowledge in adjacent fields.
We say these things because they are often not appreciated enough. For instance, the company's growth rate is solid (above market growth), but it isn't spectacular. Shareholders marvel and bask in the high margins and the incredible cash flow generation, and the policy to return all free cash flow to shareholders.
And that boosts the share price ever higher, which is why we have called the company a shareholder's dream previously. But underlying all of that lies a deep technological competence that has been painstakingly acquired over decades and we should not lose sight of that.
Luckily (and most importantly), the company isn't losing sight of that either, it is continuing to invest in R&D, which was up by 4% in Q1 (y/y), although growing considerably slower than revenues (+11.5%).
But given their track record, investors could be forgiven to assume that management knows what it is doing. We were pleasantly surprised by the considerable increase in CapEx spending, up a whopping 42% on a trailing 12-month basis.
This is surprising, as their 300mm factory has only 50% occupancy, but when asked about this on the Q1CC, management argued that they are continuing to build out 300mm capacity as the company is the only analog company that has such capacity in the first place.
Should shareholders worry about this apparent largess? Not at all, from the Q1CC:
what that does at the end of the day is allow us to maximize long-term free cash flow per share growth. So that's what the ultimate objective is. The CapEx percent of revenue that's just a general guide that we gave.
It does this by cementing their cost advantage (40%, according to management during the Q1CC) that these 300mm production facilities give them and management is foreseeing very strong demand as well.
The company also keeps focusing on the end markets with the strongest prospects, industrial and automotive. There are sectors that are not doing so well, like the communication sector where demand actually declined.
However, demand from that sector (as well as from consumer electronics) tends to be a bit choppy and growth is likely to resume with the advent of 5G next year.
Results
The company enjoyed another excellent quarter (from the earnings PR):
Amounts are in millions of dollars, except per-share amounts.
| | | | |
| --- | --- | --- | --- |
| | 1Q18 | 1Q17 | Change |
| Revenue | $3,789 | $3,402 | 11% |
| Operating profit | $1,548 | $1,252 | 24% |
| Net income | $1,366 | $997 | 37% |
| Earnings per share | $1.35 | $0.97 | 39% |
Net income and EPS were inflated by a tax related benefit ($140M or $0.14 in EPS), but even without that the results are very good.
The strength is in embedded (especially processors) as these are driven by industrial and automotive, which now account for 54% of their revenues (Q1).
The nice thing about those sectors is not only that they are growing a little faster, they also have a very diverse customer base which tends to make the growth a little less susceptible to sudden downturns.
So we are not afraid the party will come to a sudden end, apart from a big deterioration in the general macro climate.
Margins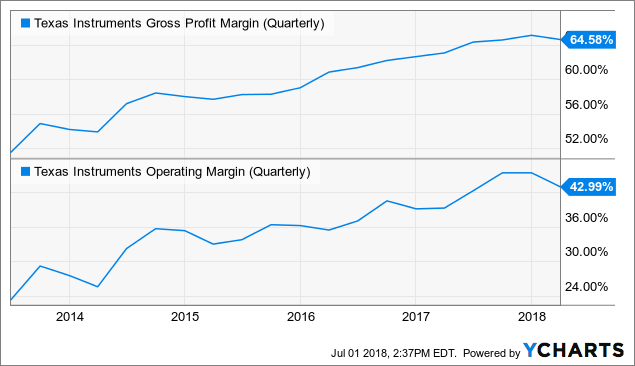 Some analysts were a little worried with the sequential gross margin decline, but given revenues were only up 1% sequentially, such small changes are basically white noise.
What is intact is the longer-run picture of increasing margins, the quarterly ones can always vary a little, but it's the trend that matters.
But as it happens (non-GAAP) gross margins (78% in Q1) are actually running well above long-term targets (70%-75%), so there is little to complain here.
Operating expenses increased just 1% y/y, way below revenue growth, indicating substantial leverage. And indeed, 43% operating margin is in the territory where some other electronics businesses would like to see their gross margins.
Cash
This, of course, is a fabulous graph: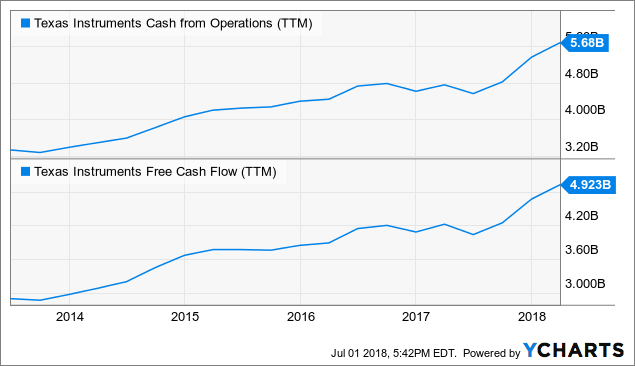 And only a fraction of the free cash flow comes from share-based compensation. All that free cash flow is returned to shareholders in the form of dividends and buybacks.
Management argues that free cash flow is their most important metric. Given the acceleration in that metric, they're doing pretty well.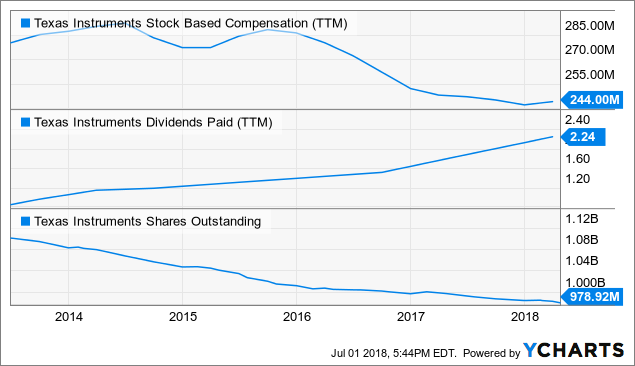 Actually, as it happened, the payout ratio is even a little above the 100% policy that management uses as their goal, returning $5.1B to shareholders while free cash flow was $4.9M in the last 12 months.
And things could be getting better still as the company has reevaluated their likely tax bills from 18% of revenue to 16% starting in 2019 and 20% in 2020 instead of 23% so there are savings from this to be reaped as well.
The company has $4.1B in debt in multiple notes costing the company a little over 2% a year ($23M in interest expense in Q1). There is also $4.1B in cash and short-term investments. The dividend yield is a really respectable 2.25%.
Valuation
Yes, you pay for the shares: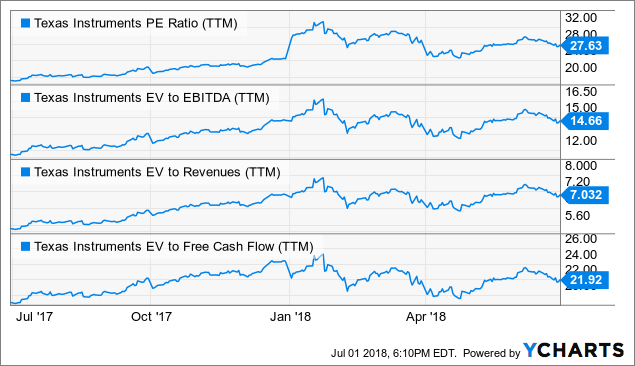 But these are GAAP figures and backwards looking. The company has a terrific free cash flow margin of 32.1% (up from 30.7% in Q1 2017). Analysts expect an EPS of $5.98 next year which gives the share an 18 multiple which isn't terribly extreme.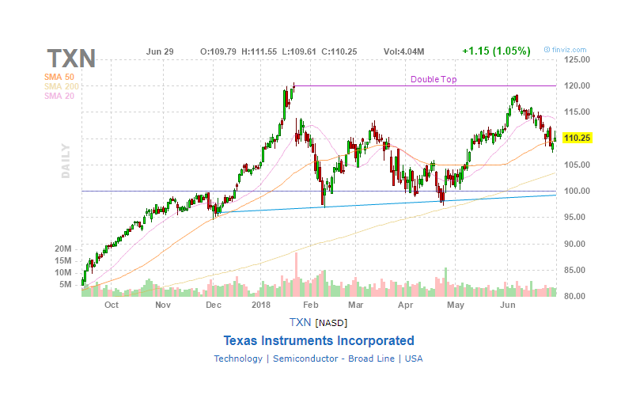 Guidance
The show isn't over either, even if the company only guided for Q2 (earnings PR):
TI's second-quarter outlook is for revenue in the range of $3.78 billion to $4.10 billion, and earnings per share between $1.19 and $1.39, which includes an estimated $10 million discrete tax benefit.
Conclusion
The company keeps on performing, driven by deep and entrenched capabilities which are increasingly applied in servicing growth markets like industrial and automotive, where the electronic content keeps increasing.
While actual growth rates will vary a little (there is also a considerable degree of seasonality during the year), we think this is one of those companies that has a secular tailwind blowing that isn't likely to revert anytime soon.
Existing investors just sit and enjoy the ride. For new investors, the problem becomes one of finding a nice entry point. We have taken our eye of the ball here for quite some time as a couple of nice entry points appeared already around $100 (see stock graph above).
It isn't unlikely that macro uncertainties could give investors another opportunity, even if that could be a mixed blessing in case the macro environment really worsens, something which we can't exclude.
Disclosure: I/we have no positions in any stocks mentioned, but may initiate a long position in TXN over the next 72 hours. I wrote this article myself, and it expresses my own opinions. I am not receiving compensation for it (other than from Seeking Alpha). I have no business relationship with any company whose stock is mentioned in this article.