Charles Dickens' historical novel, "A Tale of Two Cities", opens up with the famous phrase: "It was the best of times, it was the worst of times...". In a recently published article, I have already covered the worst of the first half of 2018, highlighting the 50 S&P 500 (NYSEARCA:SPY) constituents that lagged the most so far this year. This article highlights the 50 companies that had the best first half total return performance.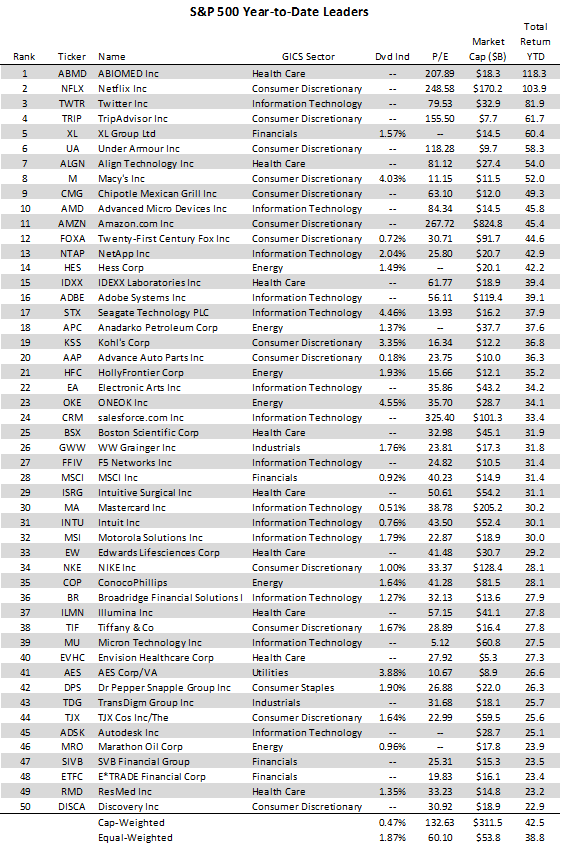 Source: Bloomberg, Standard and Poor's; P/E ratio is trailing 12 months before extraordinary items
Perhaps less well known is the second phrase of that opening line: "...it was the age of wisdom, it was the age of foolishness...". The best performing stocks in the S&P 500 currently in the first half of 2018 have a cap-weighted P/E of 132x (excluding those companies with a negative P/E), which could raise some concern that these companies are being pushed to extreme levels that future earnings will not justify.
Outside of the further expansion of this multiple, let's assess whether there are other themes that can be gleaned from this leaderboard. One of the newest S&P 500 constituents - ABIOMED (ABMD), a heart support pumpmaker - led the way, but has only contributed to the index's performance for a month. A trio of e-commerce businesses followed shortly in Netflix (NFLX), Twitter (TWTR), and TripAdvisor (TRIP). Bounce-back retail names Macy's (M) and Kohl's (NYSE:KSS) were also high on the list.
Looking at this list of leaders by industry also provides some insights. Whereas in my laggards article, information technology was absent with the exception of Xerox (XRX), information technology firms were actually slightly over-represented in the leaders category. Consumer discretionary has a substantive overweight, but that is owed again to the "Amazon Effect" (AMZN), with Amazon representing 60% of the dollars in the leaders in this sector. Financials were under-represented among the leaders, but notably no banks showed up on the laggards as well.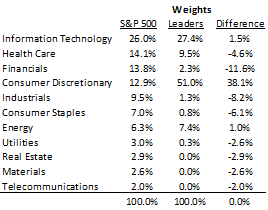 I would be interested to hear Seeking Alpha readers' view of whether they believe that the laggards or leaders list will outperform over the rest of the year. Will momentum send the leaders further higher? Or will value see the laggards rebound?
Disclaimer: My articles may contain statements and projections that are forward-looking in nature, and therefore inherently subject to numerous risks, uncertainties and assumptions. While my articles focus on generating long-term risk-adjusted returns, investment decisions necessarily involve the risk of loss of principal. Individual investor circumstances vary significantly, and information gleaned from my articles should be applied to your own unique investment situation, objectives, risk tolerance, and investment horizon.