Project $1M is a concentrated portfolio that I am running with the aim of growing a ~$275k base into $1M over a 10-year period.
I achieved a very satisfactory first-half performance for 2018, with the portfolio up 14% compared to 2.65% for the S&P 500. I compare the portfolio's performance to the S&P 500 because that is where I would otherwise invest my proceeds if given a chance. Project $1M no doubt has higher beta and higher volatility compared to the S&P 500.
My broader investment focus with Project $1M is the purchase and long-term hold of a clutch of high-growth, cash-generating businesses that is powered by secular tailwinds. The advantage of these secular tailwinds is to allow the selected businesses to grow under any economic conditions over the life of the Project $1M portfolio (a decade or more).
Markets may move the prices of Project $1M's businesses around here and there depending on sentiment; however, I am focused on the long-term returns on invested capital that my businesses can generate and the opportunity to deploy the invested capital at high rates of return over a long-term horizon. For those that are new to the Project, here are Part 1, Part 2 and Part 3 of the selection of initial investments in the portfolio.
June continued the trend of strong performance for the fund. Project $1M recorded a contribution of 2.07% in June, about 1.4% over the contribution recorded by the S&P 500 during the same time period. Since inception, the fund is up almost 19.6% on an annualized basis compared to S&P 500's performance of 12.94%. It's fair to say that the performance of Project $1M after 2.5 years has exceeded my expectations of where it would be at this point in time. The balance of the portfolio stands at ~$418k.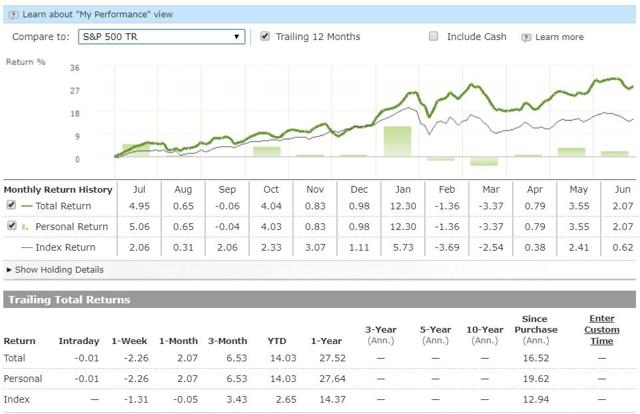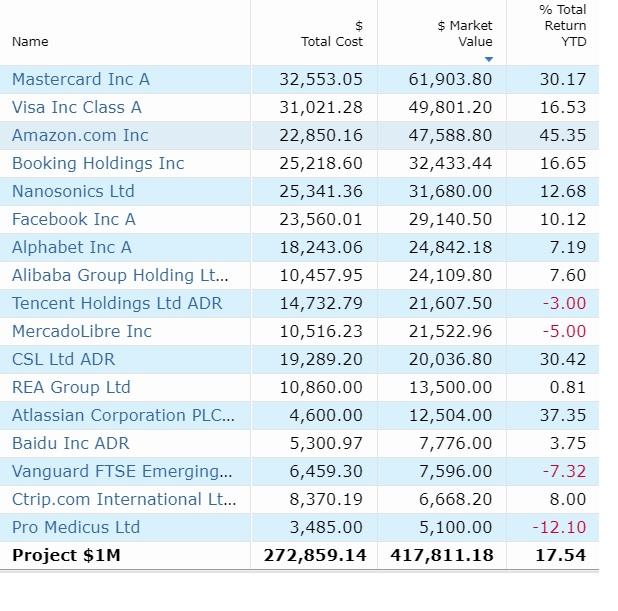 Amazon (AMZN), Mastercard (MA) and Visa (V) account for much of the outperformance
Amazon, Visa and Mastercard have accounted for exceptional outperformance in the first half of 2018. Not coincidentally, they are my largest positions in Project $1M.
Amazon continues to steamroll in a variety of industries. It appears that pharmacy benefit managers may just be the latest target. I made a fairly bold move investing in this business in late 2016, after a year in which Amazon had underperformed the index. As an individual who has their roots in value investing, this was a relatively difficult purchase for me. I couldn't get my head around Amazon's valuation, but I couldn't deny the deep trenches that Amazon is digging around its castle, and how the company is laying waste to large tracts of the retail landscape. It was around this time that I made the decision to not invest in the physical retail space, and exited the positions in Chipotle (CMG), Ulta (ULTA) and Starbucks (SBUX), which were previously a part of Project $1M.
While I wouldn't be buying Amazon here, I have no intention to dispose of my position. My estimate when I bought the business was that it would be a $1.5T market cap company at the end of Project $1M. I don't see any reason to believe that this won't be the case; however, the share price has certainly run hard, much harder than what I expected within a short space of time.
Mastercard and Visa both automatically picked themselves as core positions for my audacious project. 2.5 years later, it's arguably not that hard to see why. Both businesses continue to churn out double-digit revenue growth almost effortlessly. There still remains a large untapped cash payment pool that can be penetrated by both businesses.
It's very hard to displace Visa or Mastercard. It will take a massive effort to create the network effects and the two-sided marketplace that these payment giants have orchestrated. I don't see that happening in the next decade and potentially not even beyond that in any of the markets that they operate.
A few regrets
Overall, I'm pretty happy with Project $1M. Sure, the growth in portfolio value is pleasing; however, more than that, the business performance of the majority of the underlying positions has been pleasing to see. Growth has been effortless for many of these businesses, most of which are large 100B+ market cap companies.
I don't have the same portfolio composition as what I started with in late 2015. Many of the exits were for the right reasons. For instance, I can foresee that Starbucks will be a casualty of the carnage in physical retail, hence that position was exited some time back. Novo Nordisk's (NVO) growth rate came to a halt in early 2016, hence I made the decision to move on from that stock.
The biggest miss was arguably exiting Abiomed's (ABMD) stock in 2017. I incorrectly reasoned that Abiomed's exceptional growth would stall relatively quickly and moderate from the 40% levels that it was recording. It turns out I was very wrong about that. Abiomed's stock has more than quadrupled from where I initiated. Just goes to show you can't get all the calls right no matter how much analysis is done.
The other major one was my decision to sell Moody's (MCO). Now, this is a great business. Massive returns on capital and a stellar moat, where lenders almost demand a rating by the firm to facilitate the issuance of debt. These were all the factors that got me interested in initiating a large position in Moody's in late 2015. However, my expectations were that the rapid increase in interest rates would eventually crimp the organic rate of growth in this business over my decade-long holding period. I reasoned that while margins may hold up, revenue growth and debt refinancing may slow. It appears that I may have also got this one wrong, as the stock is up more than 70% from where I purchased. I still remain comfortable with this decision to exit as I believe that increasing interest rates will soon slow growth.
Concluding Thoughts
It's been a solid first half of 2018 for Project $1M, both in terms of share price performance and business performance. As can be seen from the performance graphs, volatility has been excessive, and this portfolio isn't one for the faint of heart. Nonetheless, I'm so far achieving exactly what I wanted to achieve with this, and I'm optimistic for how things may trend for the balance of 2018 and beyond.