Nissan's E-Power Technology Is Annihilating The Toyota Prius In Japan - Can It Also Be A Threat To Tesla And Lithium?
Summary
In a 2016 article, I discussed Nissan's attempt to face a probable supply crunch towards 2020 by introducing its newly unplugged e-Power car.
The Japanese car maker has just announced that it will sell one million "electrified vehicles" (including both all-electric and e-Power vehicles) a year by 2022.
The Nissan Note with e-Power technology is about to dethrone Toyota from the hybrid car leadership in Japan and is likely to do the same in the U.S.
But to ascertain whether it will infringe a serious damage to Tesla and lithium as well, we need to look into the factors affecting Li-ion battery and EV adoption.
The study concludes that the new e-Power system may have little effect on Tesla and lithium mainly due to Tesla's technological advantage and Nissan's intention to increase production of BEVs.
A previous version of this article was first published on March 31, 2018, as a Marketplace piece for my subscribers only.
In an article published in November 2016, I talked about Nissan's (OTCPK:NSANY) attempt to face a probable lithium supply crunch towards 2020 by introducing its newly unplugged E-Power car.
This vehicle uses a gasoline motor with the only purpose of recharging the battery of an electric car. More specifically:
Nissan's e-Power resembles the Chevy Volt in that it includes an internal combustion engine (NYSE:ICE) but unlike the Chevy Volt its ICE is now completely integrated into the Li-ion battery of the car. Whereas the Volt continues to plug-in its battery and the ICE is there to either provide more electric juice to the car or power it when the battery is down, the e-Power dispenses entirely with an external charger using an ICE to recharge its battery instead.
Although there is at the present time an unclosed discussion as to whether this car can be called an electric car insofar as in it gasoline continues to be "the sole source of energy" and for that reason, it should be taken as an example of deelectrification of the global automotive industry. Nissan seems to have opted for including it in its new definition of "electrified vehicles" on the understanding that it provides the same driving experience as a full EV albeit with a much smaller Li-ion battery.
The aim of this study is to see the extent to which Nissan is on track to delivering on its promise regarding EV massification (in Nissan terms) and whether its move could be another reason to worry about the future for Tesla and laggard lithium producing countries.
With respect to EV massification a la Nissan, the car maker has just announced a new goal to sell 1 million "electrified vehicles" (including both all-electric and e-Power vehicles) a year by 2022. As per the Electrek article in the previous link, chances are Nissan will focus a great deal on the e-Power vehicles. This is in line with my reasoning in 2016.
As I argued in a reply to a comment on my previous piece on this subject, Nissan is going after the 'big' market and even though it's too bad that precisely one of the car makers that started the EV revolution back in 2010 may (want to) contribute to its collapse, their business strategy may not be as plausible, after all.
An interesting article published by Automotive News in March this year reports that: (i) Nissan has just deployed its e-Power technology to a second nameplate, the Serena family van; (ii) the new model gets a 1.8-kWh (instead of a 1.5-kWh) battery and a 100-kW (in lieu of an 80-kW) electric motor, which is justified on the grounds that the Serena is heavier than the Note because it has to seat two more passengers; (iii) it achieves 21.5 mpg of more fuel economy than the ICE-only version, under Japanese standards, and incorporates a new driving mode not available on the Note e-Power called Manner Mode which "limits the amount of time the engine fires up to recharge the battery and allows the vehicle to cruise 1.7 miles in the EV quietude"; (iv) the e-Power technology will make it to the U.S. as an option on high-end vehicles, where it's likely to have a 130-kWh or 140-kW electric motor and "on a par at least with the 2.5-liter engine utilized in the Altima"; and (v) the Note ranked 5 in Japan's sales in 2017, with 65% of all buyers opting for the e-Power technology, while Nissan is expecting to sell 96K Serena vans a year in Japan, of which, 40% will be e-Power.
Be aware that the above-mentioned rank corresponds to the list of Japan's 30 top-selling car models including mini cars in 2017 and that when the latter are excluded the Note occupies the second spot only after the iconic Prius. What comes as a surprise is that while Toyota's (TM) Prius sales experienced a free fall in 2017 in relation to the previous year (with a year-to-year variation of - 35.2%), Nissan's Note (with e-Power technology) sales jumped from 66,561 cars in 2016 to 90,288 cars in 2017 (with a year-to-year variation of +35.6%) (See: Table 1).
Table 1
Japan: Toyota Prius Vs. Nissan Note
2016-2017

* Numbers were calculated considering that 65% of all buyers only opted for the e-Power technology.
Sources: Best-Selling-Cars 2016; and Best-Selling-Cars 2017.
This trend is likely to consolidate in 2018, as in March, the Nissan Note (including its ICE and e-Power versions) was already Japan's best-selling car with a 9,110 sales-advantage over the Toyota Prius, its largest gap on the #2 since its launch in November 2016 and, "for the second consecutive year…, the most-popular car model in Japan during the first quarter of the year." Although in May 2018 sales of the Note dropped 13% to third place, the car retained its YTD #1 position "with a comfortable 7,500-unit advantage."
So, if Nissan's e-Power system is just about to dethrone definitely Toyota from the hybrid car leadership in a very short period of time, is it reasonable to think it will also infringe a serious damage to Tesla (TSLA) and lithium in the coming years?
In order to answer this question, we may have to look more deeply into the factors affecting adoption of Li-ion batteries and EVs I identified in a previous article. In Figure 1, I relate these factors to the standard variables determining the derived demand for lithium as well as the supply of the metal, as suggested by Professor John Tilton as far back as in 1985 and described by a more recent World Bank study. For the purposes of this article, I'll focus my analysis on a restricted set of variables affecting the demand side of the problem only: the price of oil (or the price of the most important substitute of lithium), technological development and the promotion of or resistance to change. A more comprehensive examination of the lithium market is beyond the scope of this contribution.
In what follows, I use my theory first to describe what happened between January 2017 and February 2018 and then inquire as to what could occur in the next 3-4 years.
Figure 1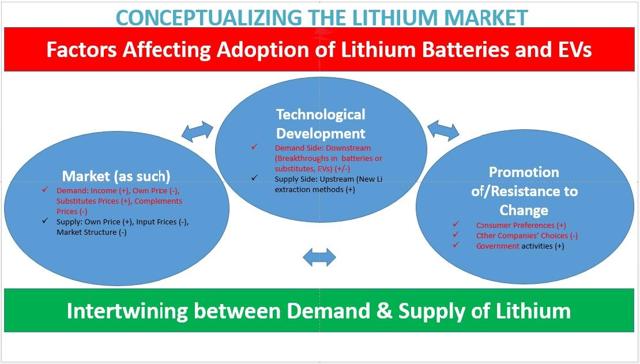 Sources: EVWorld; Seeking Alpha (2010i); Seeking Alpha (2010ii); Seeking Alpha (2017); and World Bank (2015).
A review of facts: January 2017 - February 2018
To begin with, we need to keep in mind that the new Nissan model equipped with e-Power technology is an "unplugged series hybrid" which still uses gasoline to operate. We would, therefore, expect a positive causal connection between oil prices and this hybrid's sales. In this connection, the latest hike of oil prices would partly explain why Note's sales found a privileged space in the Japanese car market. But this relationship doesn't tell us why Prius sales continued to fall despite the clear upward trend in oil prices during the period under consideration (See: Figures 2 and 3).
Figure 2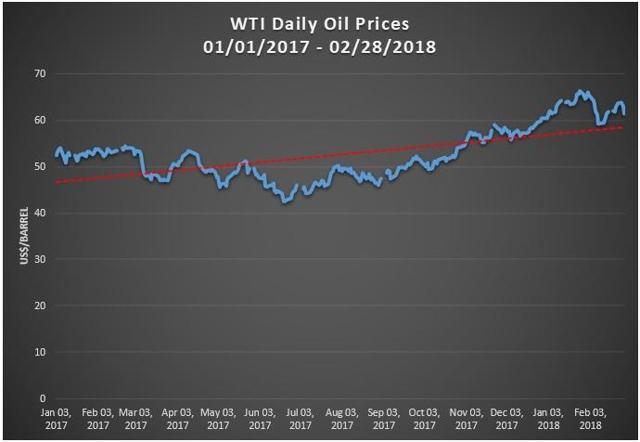 Source: EIA.
Figure 3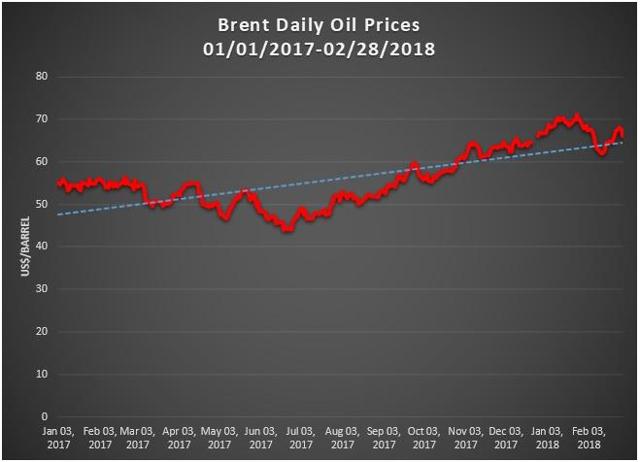 Source: EIA.
This leads us to the second determinant of my theory: technological development. Here it all indicates that Prius sales kept falling in Japan in spite of the hike in oil prices because the most popular conventional hybrid simply lost ground against competition from the Nissan Note. And this doesn't seem to be an isolated or Japan-specific episode. In fact, a similar situation was encountered in the hybrid car segment of the U.S. EV market between 2016 and 2017 with Toyota Prius sales dropping significantly and Ford Fusion sales showing the opposite outcome (See: Table 2).
Table 2
USA: Toyota Prius Vs. Ford Fusion
2016-2017

Sources: HybridCars 2016; and HybridCars 2017.
See in Figure 3 below how many times the Ford Fusion outsold the Toyota Prius between January 2017 and February 2018 to attain on those occasions the No. 1 position in the hybrid category, which inclines us to believe that this tendency - just as in the case of Japan - is also likely to consolidate in the following years. Note that in March 2018, the Fusion took the lead once again over the Prius, but the latter model fought back in April to recover its YTD pole mark ending up in May with a rather negligible 613-car advantage over the Fusion.
Figure 4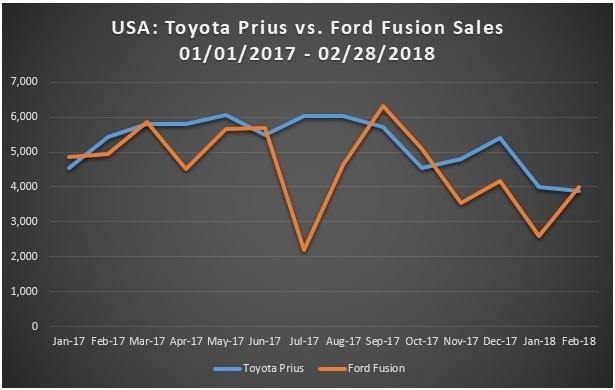 Source: HybridCars Dashboard, various issues.
What happened?
As early as April 2017, a HybridCars article provided the most interesting tip as to what could have been the reason for the result in the U.S., which can boil down to two words: acceleration technology. As is well known, the Prius is meant to be a rather slow car, the Ford Focus representing a significant improvement in this regard. While the Prius takes about 10 seconds to go from 0 to 60 mph, the Fusion only needs around 7 seconds to accomplish the mark.
A strikingly similar upshot in Japan confirms our intuition for that country as well. By the end of 2016, the measured acceleration of the Nissan Note with e-Power technology (i.e. 0-60 mph in 9.4 seconds) was also found to be lower than that of the Toyota Prius which, needless to say, constituted a significant technological advance in performance over that of the ICE car variant (i.e. 0-60 mph in 10.6 seconds).
We can now analyze the third component of my theory, namely promotion of or resistance to change by consumers, companies, or governments. Apart from concerns in regard to environmental consciousness that are likely to be less important when considering hybrid cars rather than PHEVs or BEVs, the sale numbers for the Nissan Note with e-Power technology and the Ford Fusion during the period under consideration indicate that consumers, both in Japan and in the U.S., valued performance more than fuel economy even in the face of a small increase in oil prices, which is a point that requires further scrutiny. In addition, notwithstanding the fact that Nissan's choice of the e-Power technology may have in fact been aimed at slowing down the pace towards electrification and lithification in the global automotive industry, we are not yet prepared to say much about its true effect on Tesla and lithium. Finally, the apparent success of the Note with e-Power technology in Japan shouldn't come as a surprise given the "hybrid culture" built in this country throughout the years despite the ending of the government hybrid tax break program in 2012.
Outlook for the next three or four years
First, assuming oil prices stabilize sometime in 2018 (for more than a decade) at US$60-65 per barrel - a relatively higher level than that faced since 2015 - USHEVs, which behave almost as BEVs but still use some gasoline to run, are likely to annihilate the Toyota Prius both in Japan and elsewhere, and infringe serious damage to other Hybrid Electric Vehicles (HEVs) as well as Range Extended Electric Vehicles (REEVs) and Plug-in Hybrid Electric Vehicles (PHEVs) all over the world, but may have little direct effect on Tesla and lithium in the next 3-4 years. This conclusion is based on: 1) my previous finding that while there is a clear positive causal relationship from oil prices to HEVs (which might be extended to plug-in hybrids as well), no such causal link has so far been established between oil prices and Battery Electric Vehicles (BEVs); and 2) the fact that Nissan will hold on to its strategic objectives to increase production of the Leaf while developing eight new BEVs by 2022.
Second, to a limit, the e-Power technology will tend to decrease Li-ion battery capacity in the carmaker's EVs and hence use of lithium carbonate equivalent (LCE) in their batteries but may increase EV massification a la Nissan. In addition, the possibility that the Prius will be wiped out by the new technology in the next 3-4 years presupposes, of course, that Toyota won't be able to react to and reverse the Nissan threat to its emblematic hybrid on time. To the extent that Nissan already has plans to significantly enhance the electric motor of its USHEVs to compete in the U.S. presumably with the Ford Fusion and other HEVs, as well as different REEVs and PHEVs currently sold there, chances are it will also hurt in a substantial way all of those EVs in the same time-frame. Nevertheless, these technological improvements will be insufficient for Nissan's e-Power technology to compete with Tesla's Model 3 given the latter's unreachable acceleration (i.e. 0-60 mph in 5.1- 5.6 seconds).
Third, given its hybrid nature, environmental consciousness may somewhat hinder adoption of the e-Power technology in Europe and China but it's unclear how European and Chinese governments will react to Nissan's technology. What is much clearer though is that the new way of doing things has been well received by consumers in Japan and might be pondered in the U.S. and Canada. Here we are taking for granted that California's ZEV Mandate provides a loophole for e-Power technology just as it does in the case of the range-extended version of the BMW i3 I referred to in my previous Seeking Alpha piece on this topic. Lastly, the versatility of the new system is something to take into account when projecting its scope of influence in the years ahead. In fact, in January of this year, Nissan announced that it will extend its e-Power technology to its Infiniti models which makes us think that it will consider to apply it to trucks and SUVs in general as well. If this happens to be the case, one needs to wonder whether the Nissan strategy would fit well into President Trump's intention "to propose lightening fuel economy standards at the end of March making it easier to keep selling more trucks and SUVs, which carry fatter profits."
Disclosure: I/we have no positions in any stocks mentioned, and no plans to initiate any positions within the next 72 hours. I wrote this article myself, and it expresses my own opinions. I am not receiving compensation for it (other than from Seeking Alpha). I have no business relationship with any company whose stock is mentioned in this article.