(All numbers in this report are expressed in US $ unless stated otherwise.)
Introduction
Inspired Entertainment, Inc. (INSE) is an undervalued high growth company that has been overlooked by the investment community. We believe the equity has a strong asymmetrical return profile, with at least 170% upside and the downside being limited, given how the company already trades at a very cheap valuation. The company is unique in that it is one of the first and few providers of a new category of sports betting, virtual sports. The commercialization of virtual sports betting, coupled with their server based gaming (SBG) business, represents a tremendous growth opportunity for the company. As the company continues to grow revenues and EBITDA, we expect more investors will pay attention to the equity. We are also expecting an additional upside catalyst as the company is exploring a debt refinancing to reduce interest expense. The primary risks tied to this name are macro, geopolitical, and regulatory. The United Kingdom's recent ruling to reduce the maximum betting amount for the end user will have an estimated $10-11M EBITDA impact on the company but not until what is now expected to be 2020. This gives time for management to grow other parts of their business, and they are focused on mitigating the impact of this ruling.
Company Background
Inspired Entertainment is headquartered in New York with another main office in London. Executive chairman A. Lorne Weil formed a blank check company called Hydra Industries Acquisition Corp. on May 30th, 2014, with gross proceeds from a public offering of $80 million. The type of investment vehicle used is known as a Special Purpose Acquisition Company (SPAC). Hydra Industries entered into a definitive agreement on July 13th, 2016, to acquire the Inspired Group from U.K. private equity firm Vitruvian Partners LLP for a total enterprise value of $264 million and close to 7X EBITDA. The deal was approved on December 22nd, 2016, and was funded by $80 million of Hydra's cash on hand, $20 million of a new Macquarie Capital private placement, and the rest in Hydra common shares. Hydra Industries' name was changed to Inspired Entertainment, Inc.
Inspired is a global business-to-business gaming company which supplies virtual sports betting, server based gaming (SBG), and mobile gaming products to regulated gaming operators worldwide. The company's gaming solutions accommodate a range of platforms that include gaming machines, mobile devices, computers and social applications. Inspired's customer base includes gaming operators and bookmakers such as William Hill, SNAI, Sisal, Lottomatica, Betfred, Paddy Power Betfair, Ladbrokes Coral, Genting, Codere, Sky Vegas, and the Greek Organisation of Football Prognostics S.A. (OPAP S.A).
The company currently generates approximately 65% of revenues from the UK, 13.5% in Italy, 10% in Greece, and 11.5% across the rest of the world. All of the company's revenues are generated from regulated markets.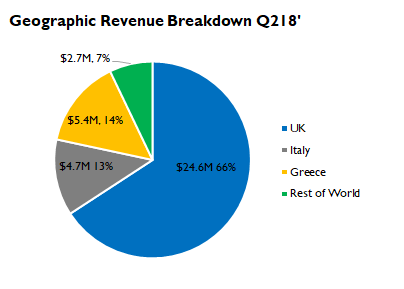 Source: Company Filings
Server Based Gaming (SBG) Segment, 73% of total revenues:
Inspired supplies SBG products and over 100 games through more than 30,000 terminals located in gaming and lottery venues. Terminals consist of a line-up of cabinets, commonly known as video lottery terminals (VLTS), such as the Flex 4K, Inceptor, Optimus, Blaze II, etc. Each cabinet offers customizable sizes, graphics and pricing. SBG also offers electronic table games (ETG) terminals such as the Sabre Synchro, which provides roulette wheels, baccarat, 3-5 Multi-Win poker or other content depending on the configuration. Games are distributed to their devices via game management systems tailored to the specific operator. Inspired generates revenues through a participation percentage rate from their clients (gaming operators) based on their $ wins per unit.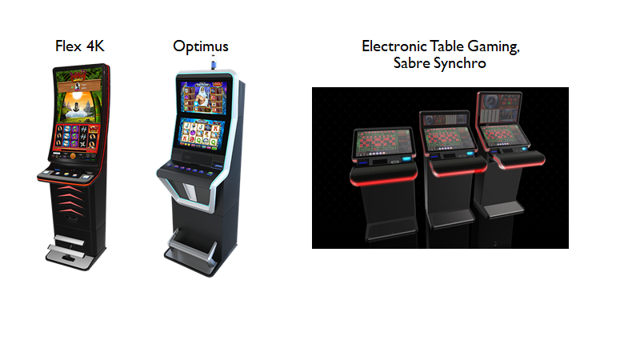 Source: inseinc.com
Virtual Sports Segment, 27% of total revenues:
Virtual sports betting has gained in popularity as fantasy sports, live sports betting and video gaming sports (esports) continue to grow. As of Q218', the company had 94 live virtual sports customers with the average revenue per customer per day totaling £849. The company has grown to include a number of reputable customers as shown below, and their customer base is geographically diverse with operators in the UK, US, Gibraltar and other regulated EU markets. To note, the PA Lottery, Golden Nugget, and Caesars are all large and reputable US based operators. Not all live customers contribute evenly to revenues, and we will likely see the PA Lottery contribute to revenue growth as we discuss later on.

Source: Company Presentation
Virtual sports can be adapted to function in sports betting, lottery, or gaming environments and is provided using complex software and networking package that provides fixed odds wagering. The company has developed an award-winning TV and film graphics team with advanced motion capture techniques. Inspired also licenses certain sports/celebrity figures in their games such as Mike Tyson and Shaquille O'Neal. To also point out,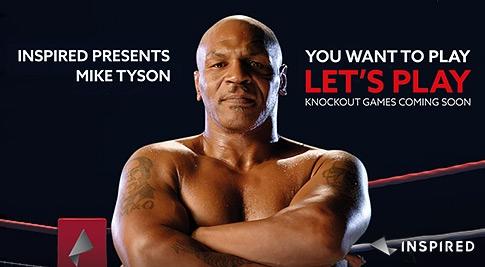 Financial Snapshot
Overall, the company has done a nice job of growing total revenues. EBITDA as of Q218' was at a $50M run rate and the company has provided EBITDA guidance of $54-58M for 2018, which looks to be achievable. It is also worth noting the nice EBITDA margins that the company boasts.

Source: Company Financials & Author Estimates
Why We Are Inspired To Invest
1. Virtual Sports Betting, A Unique, And Pioneering Business
The company is a pioneer in the development of virtual sports betting products, and this unique business has huge potential upside and deserves to be valued appropriately. Inspired's virtual sports betting business is a high margin and low capital requirement business (no hardware component), and in essence a software provider that sells to gambling operators.
There are several factors that suggest this segment will continue strong growth which include:
A. First-To-Market with Fast Growing International Adoption:
Virtual sports are a product of choice for more than 100 bookmakers across the world, and Inspired has been first-to-market virtual's in several countries/areas, including the US.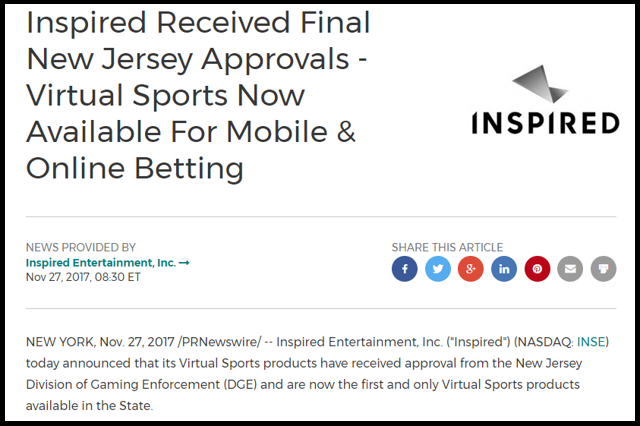 We have already seen how virtual sports betting has grown in the UK. The UK market generated £1.98B in betting gross gambling yield (see tab 7 of the excel spreadsheet released on the UK Gambling Commission (UKGC) website on May 2018) for the time period of October 2016 to September 2017. Gross gambling yield: the amount retained by operators after the payment of winning but before the deduction of the costs of the operation. For the first time ever, the UKGC included virtual betting revenues which totaled £170M, and 9% of all overall online betting revenues during the period. It is time to take virtual sports betting seriously!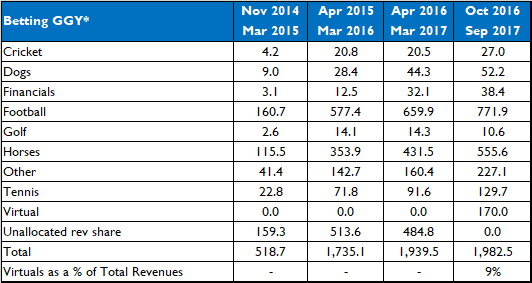 (All numbers expressed in £)
Source: UKGC
In Italy, the adoption of online betting continues to grow. Total sports betting turnover for the month of April was €955M, down almost 5% from the same month last year. However, online betting revenue continued to show growth, up 47.6% to €221M for the first 4 months of 2018. Virtual sports betting continued growth as well, and generated €139M or 15% of total sports betting turnover for the month of April 2018.
We expect the company to continue to grow in the U.S., as states and gaming operators warm up to virtuals. As of Q218', company was supplying 6 NJ operators with online and mobile virtual sports. Earlier in 2017, the company entered into an agreement with the Michigan Bureau of State Lottery and platform supplier Pollard Banknote to supply its Virtual Events lottery products online. The company is still working towards a Michigan launch and on the latest Q218' earnings call stated that it is imminent.
On May 8th, 2018 Inspired announced that their virtual sports products (stock car racing and football) will be deployed at retailer locations in Pennsylvania following a deal with the Pennsylvania Lottery and Scientific Games. Additional details were disclosed that stated virtual sports betting in the state of Pennsylvania has a total market size of 9,000 retailers and is growing. Management has stated that by the end of June 2018, they will be 100% deployed with monitors at the retailers and expect to be in 2,000 to 3,000 locations in the long term. Pennsylvania Lottery is quite excited about having Inspired's virtual products and has put marketing dollars to work to generate awareness. A tab on their site called Xpress Sports is dedicated to Inspired's football and car racing titles. While not an Inspired product, we have already seen how PA lottery's new draw game, Keno Game, have been selling tickets at an explosive rate since their May 1st, 2018, launch. The PA Lottery can very well be a template and roadmap for other state lotteries as a way to increase revenues.
We also want to point out how important first mover advantage is, given the contractual nature of their business. The company points out in their 10-K filings that virtual sports contracts are for initial terms of 3 to 5 years with renewals at the customers option.
B. Favorable Macro Trends:
Now, let us take a step back and see why there has been interest in Virtuals. While we do not have specific data on how big the virtual sports market is, we do know that the overall global sports betting market is expected to grow at a 8.62% CAGR for the period of 2018-2022. According to Statistica, international sports betting is estimated to be a $250B market with licensed online sportsbooks account for $39.7B of these revenues. In the U.S., the sports betting market was valued at $20B in 2009 and by 2016 was valued at $40B. This increasing adoption of sports betting is complimentary to virtual sports which we will discuss in section 1c.
On the latest Q218 earnings call, the company stated that the virtual sports industry's growth has been with due to adoption from a younger demographic. Another factor contributing to the popularity of virtuals is the rise of eSports which has captivated the younger demographic. eSports in a nutshell is organized competitive video gaming, and the eSports industry is expected to hit $905M in revenues for 2018, up 38% from 2017. The global audience is expected to reach 250M by 2021, which represents a 14.4% CAGR from 2016-2021. This explosive growth is driving the popularity of video games and people being comfortable with the viewing of high quality graphics simulations thus feeding into virtual sports adoption.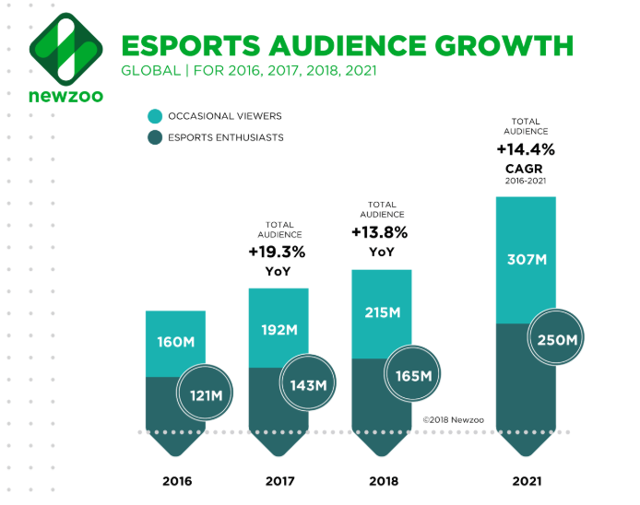 Source: Newzoo
To add, casinos have had a hard time attracting the younger demographic to spend money and offset declining slot machine revenues, as only 44% of millennials have been reported to play slots compared to 72% of non millennials. Virtual Sports betting should have strong adoption by casinos to offset slot machine declines and attract a younger demographic to come into their casinos.
Source: Pennsylvania Gaming Control Board
C. Complement to Sports Betting
The U.S. Supreme Court ruling in favor of NJ earlier in May of this year is also going to help drive the adoption of virtual sports betting. The approval of US sports betting is not a substitute but a complement for virtuals. Real time sports betting can only occur during certain times of the year and a breakdown of revenues by sports type suggests the majority of betting is occurring between football, basketball and baseball (91%).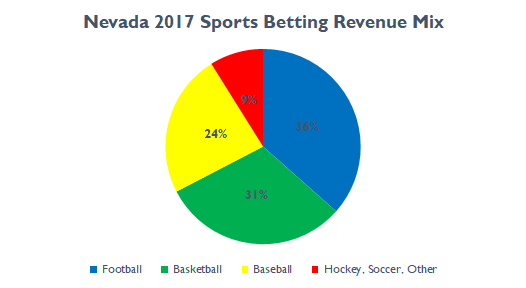 (Source)
Virtual sports betting can occur whenever and at social scenes such as sports bars and lounges. This can be huge in dull parts of year where there is a low volume of major sporting events occurring. We would view the dull period as primarily in the summertime except every 4 years when there is a World Cup. However, this might not be true right now in the U.S., as America failed to qualify for World Cup, and Inspired has just the right line-up of World Cup featured virtual sports betting games for Americans to take bets on, to relieve frustration.
2. Strong Growth Profile
On a constant currency basis, the company has done a nice job of growing revenues and EBITDA for both their SBG and virtual sports segment. As shown below, the company has maintained a steady level of growth in installed terminals with very strong growth in the first 2 quarters of 2018. A closer look beyond the surface of reported revenues shows that a large portion of the weaker revenues in 2016 and 2017 were affected by large currency moves given their primary functional currency is the British Pound. This appears to have stabilized in 2018. SBG revenue growth for the rest of 2018 will primarily be driven by SBG terminals being installed in Greece via a partnership with OPAP (Greek Organisation of Football Prognostics S.A.). It has already been reported that OPAP has seen revenue growth boosted by installed terminals. Inspired has contracts to supply 7,395 terminals to OPAP of which 4,570 have been installed as of February 8th, 2018. Management has stated that all the terminals should be rolled out by the latest, December 2018, and it should be noted that the growth in SBG is all contractual and does not rely on getting new business. For year end 2018, we expect to see 25% revenue growth in this segment. Any new additional contracts will be extra upside.
To note, their video lottery terminals offered in their SBG segment differs from traditional slot machines. Video lottery terminals ((VLTs)) are typically located in bars, Native American casinos, and horse racing tracks while slot machines are located in traditional Vegas style casinos. VLTs are linked together into one system, and the customer is competing for a pre-programmed prize and typically offer lottery like content hence the name video lottery terminal. Slot machines operate independently of one another, and each machine has the same likelihood of an immediate payout which the casino does not know when will occur. As we discussed earlier, slot machine adoption by millennials have been weak in the US, but we want to point out that management has not stated SBG growth will be a U.S. focus nor are VLTs an apple to apple comparison. Taking a step back, however, market research states that U.S. VLT operators grew net machine income by 3% in 2017. This growth is likely sustainable given how states need to revamp lottery programs to attract a younger demographic and grow revenues.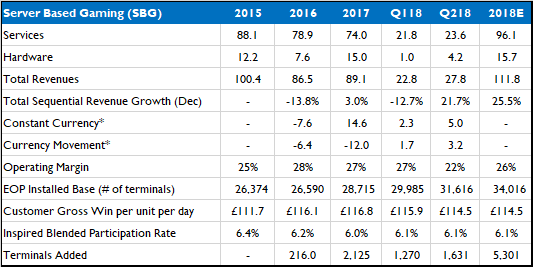 Source: Company Financials & Author Estimates
*Company provided Q118' and Q218' constant currency and currency movement numbers comparing to previous quarter year.
For the virtual sports segment, we expect to see continued revenue growth in 2018 and beyond due to the various factors we outlined earlier, especially as it relates to PA's lottery adoption. The development of the Rush Football 2 (soccer) game proved to be a great addition to their content portfolio as they grow accounts in the soccer loving Europe. They have developed a new 1st down virtual football game which could prove to be big in the US market, given our love for the pigskin. For 2018, we assumed 18% revenue growth driven by the addition of 13 live customers for the year. The number of live customers has grown consistently every year with average revenue per customer per day holding relatively constant. As this segment grows, we want to point out how good the operating margins are as seen below. They are over 20% higher than their SBG segment. An example of how a large contract works is with the recent PA Lottery agreement. The company provides the content and software to the retailers and Scientific Games provides the hardware for new installations.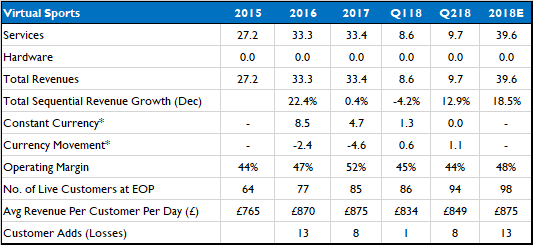 Source: Company Financials & Author Estimates
*Company provided Q118' and Q218' constant currency and currency movement numbers comparing to previous quarter year.
3. Capital Structure Improvements & Better Free Cash Flow Generation
We expect to see additional upside to the equity as the company announced on their Q218' earnings call that they are looking to refinance their existing debt structure. The current interest payments the company must make with the existing debt structure appears far too high, considering their financial profile. Net leverage (Net Debt/LTM EBITDA) is at a low 2.6X which is a manageable, and we already discussed the nice level of revenue and EBITDA growth the company has been experiencing. The disconnect between the financial profile and the interest expense is quite absurd. The company must pay cash interest on the term loan facility equivalent to 10% per annum in addition to PIK interest (non-cash) at a rate of 7% per annum. The credit facility also imposes a cash interest rate of 5.5% per annum with a commitment fee on the unutilized borrowing capacity of 2% per annum.
To illustrate this disconnect, we take a look at Scientific Games, another gaming and lottery provider and peer. Scientific Games generated LTM $1.18B in EBITDA, and has long-term debt of $8.99B as of Q118'. Net leverage stands at 7.5X which is 4.9X higher than Inspired, and the company announced a recent refinancing of their term loan facility on February 2018. Their new term loan pays interest at 2.75% per annum plus LIBOR which is down from 3.25% plus LIBOR! Looking at their entire debt structure, we see that only the company's unsecured notes are paying 10% interest. All of the secured and subordinated notes do not pay more than 7% interest, and they all sit behind $4.2B in term loan debt.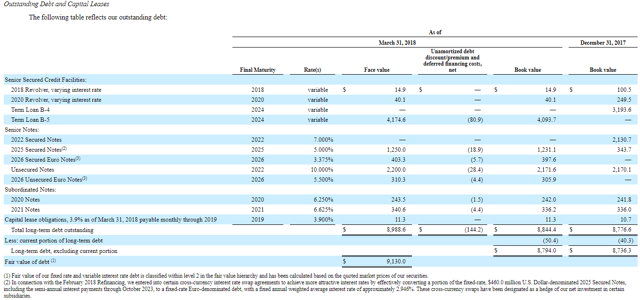 Source: Scientific Games Q118 10-Q
We believe that there is a high likelihood of a refinancing done sometime this year. The revolver matures on June 30th, 2019, and the term loan on September 30th, 2019. While the company does not need to reduce net leverage and pay down debt, a refinancing should reduce interest expense, hopefully to a level below 7% cash interest. This should save $3M to 4M in interest expense per year and improve free cash flow. The ideal situation is an increased revolving credit facility with a smaller term loan. This will provide the company with the ability to tap the revolver for managing cash needs and will also alleviate some of the investor concerns about cash generated from operations in Greece which we discuss in the risks section.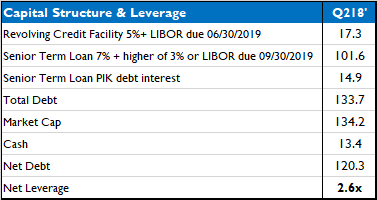 Source: Company Financials
While the company has not historically generated any free cash flow, the strong EBITDA growth expected for the rest of 2018 in our opinion, should allow the company to generate positive free cash flow. According to their SEC filings, the company must provide significant upfront capital for their SBG business for terminal assembly, software implementation and equipment installation when landing new contracts. This growth capital elevates capital expenditures which is the biggest hindrance in their free cash flow generation. However, free cash flow generation should improve for 2018 and beyond given the debt refinancing to reduce interest expense and the strong EBITDA growth expected. To add, the virtual sports segment does not have any hardware component, as we mentioned, and as it scales its capital expenditures should not increase in our opinion.

Source: Company Financials & Author Estimates
4. Strong Leadership
Lorne Weil, the company's Executive Chairman, has a strong background and experience in the technology and wagering systems space. Mr. Weil was the CEO of Scientific Games Corporation (SGMS) from 1991 to 2008. Scientific Games is a $5.4B market capitalization company specializing in supplying gambling products and services, and the stock grew 1,186% in the time Lorne was CEO. Lorne is also a sponsor of the Columbia Business School's Outrageous Business Plan competition, a competition for startup ideas. Mr. Weil has an entrepreneurial attitude which is critical when in pioneering markets such as Virtual Sports. He has done a nice job of recruiting and putting together a nice cast which includes Brooks Pierce, another former Scientific Games executive. On May 2nd, 2018 the company announced the formation of an Office of the Executive Chairman which consists of Lorne Weil, President and COO Brooks Pierce, Executive Vice President and Chief Strategy Officer Daniel Silvers and CFO Stewart Baker to run the day to day management of the company.
Under-followed Story
SPAC deals have been known to come out into the public with a more event driven investor base with a need to transition to more longer term business oriented investors. The deal to acquire Inspired closed on December 2016 and since then, there is only 1 sell side analyst that covers the equity. With a market capitalization of only $134M, this company is surely flying below many fund manager's radars. As the company continues to grow and management continues road shows and investor relation functions, we except more analyst coverage and as well as a larger investor community to follow the name.
Valuation, Excellent Potential Return Profile
Shown below, we utilize a peer comp set of 5 public comparables and 1 transaction comparable to derive an average EV/EBITDA multiple of 9.7X that we apply to Inspired Entertainment. It is truly quite surprising how a company with 33%+ EBITDA margins with growing revenues and EBITDA, only trades at a 4.8X EBITDA multiple! We have already discussed how the company's virtual sports segment is an excellent business with high margins. In the peer comparison table, there is one known public company that also offers virtual sports, Playtech. First, we want to point out that the virtual sports market is relatively new and can afford to have multiple players in it. Second, Inspired has been first to market virtual sports and an interview with an executive at Playtech shows that they acknowledge being late to the virtual sports party. Although they believe this to be an advantage, we do not believe this to be the case, given first mover advantage by Inspired has allowed them to land exclusive contracts with US state operators and other European operators. The Pennsylvania Lottery supplier agreement is an exclusive contract with Inspired and that is business that cannot be taken by any other competitor. While it is possible for a larger betting supplier such as International Game Technology to develop a virtual sports betting arm, it would take time, money and ultimately still may not be successful. They will need to hire the right virtual sports gaming developers to develop the right content suitable for the market they are looking to target. It may be easier for a larger competitor to acquire a company such as Inspired if they want to enter the space. Inspired's long tenure in the marketplace, has given them the awareness as the top virtual sports supplier, and the company consistently wins awards for being the best virtual sports provider year after year.

*NYX Gaming expressed in CAD.
Source: Company Financials & Author Estimates
To further analyze how cheap Inspired is trading, we conducted a screen of all US based companies classified in the software sector via Bloomberg. We screened to 25%+ EBITDA margins and eliminated all negative EBITDA companies and outliers (greater than 50X EBITDA) within this comparable set. The average EV/EBITDA multiple of 60 companies with the selected criteria is 17X! This illustrates the large valuation disconnect, given Inspired has a huge software and content development component to their business.
Utilizing a 9X EBITDA multiple for Inspired's 2018 EBITDA estimate of $54M, we arrive at a price per share of $17.00 which implies over 160%+ upside!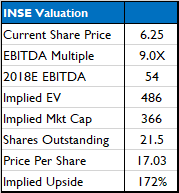 Source: Company Financials & Author Estimates
The undervaluation here is quite astonishing given the outlined growth story we discussed. However, we must ponder the risks here given the company's huge discount to their implied upside. An analysis of the company's risks suggest that the stock is at such a depressed price that, i) the majority of the risks are factored in and, ii) much of the risks are over-exaggerated by the market.
Risks
1. Liquidity is Tight
While the company is not expected to burn through cash, total liquidity stands at only $20M which is low. Current cash on the balance sheet is $13M, and the company has another $6M available to draw on the revolver. We hope that the company is able to renegotiate a larger revolver as it looks to refinance the capital structure to improve liquidity.
2. Greece
The company is growing revenues in Greece which does come with risks given the uncertainty of the country and Eurozone. The company states in their Q218' 10-Q, "$6,355 of our $13,419 of cash on hand had arisen in Greece and was being held there in our Greek accounts." The company must transfer funds earned in Greece to outside accounts which may have complications given Greece has capital controls in place. Inspired has historically been able to complete transfers and has not had any issues but has stated that the approval procedures for making transfers can vary in terms of duration, complication and difficulty. While we are not here to make these type of country related macro calls, it has been reported earlier in 2018 that Greece has reduced capital controls as it prepares for a bailout exit. Greece's finance ministry has stated that cash transfers for business transactions going abroad will be doubled to €40,000 a month and ensured of macroeconomic and financial stability. This is the positive news. However, we very well understand the bear case and how high levels of quantitative easing have distorted markets and economies across Europe. We believe any large macro shocks to the Eurozone economy will have a large affect on struggling countries such as Greece. As of Q218', 14% of revenues have come from Greece and that percentage is likely to grow given the SBG contract to supply 7,395 terminals. We view the company's growth in Greece as a potential risk that warrants monitoring.
3. Regulatory Risk in the UK
The company's SBG business provides for what is called fixed odds betting terminals which has come under serious scrutiny in the UK. This is primarily due to the addictive nature of these gambling machines which is reported to cost UK customers £2 billion per year in money wagers. The United Kingdom's Department of Digital, Culture, Media and Sport (DCMS) came to a decision on May 2018 to reduce the maximum bet amount of £100 every 20 seconds to £2 every 20 seconds, which has been reported to be the worst outcome decision for the industry. Inspired hosted a conference call on May 21st, 2018 to discuss and lay out the impact of the ruling. On the call, they estimated a decline in terminals income as there are expected shop closings that will come. They stated they are undertaking a comprehensive analysis of their UK cost structure and are initially estimating an annualized EBITDA loss of $10-11M. While this would be a significant blow if occurring now as it would represent 22% of their LTM EBITDA, there is likely no impact until 2020. The delay in implementation of the ruling can be confirmed by recent articles in June stating that bookmakers successfully lobbied the Treasury to wait until 2020 to mandate the ruling. The UK Treasury also announced that they would like a tax increase on online gambling that will likely take place before the FOBT betting reduction. This delay allows Inspired to prepare for the new ruling and continue to grow SBG and Virtuals in other countries as we discussed earlier. A 2020 forecast of EBITDA is too far to extrapolate upon, but if the company by 2020 can grow EBITDA to $60M, this would only represent a 16% reduction and will likely result in a flat 2020 year in EBITDA growth which would be a good win for shareholders. This UK regulatory risk was likely a previous overhang on the stock and the elephant in the room. We now have an estimated impact on the company and can better evaluate a worst case scenario.
4. Currency Risk
We have previously shown how fluctuations in the British pound affected the company's reported financials given their reporting currency is the U.S. dollar. We also know they derive 66% of revenues from the UK, and we have seen how Brexit triggered a dramatic movement in the pound. These volatile currency movements may not be over, but the company does have the ability to hedge foreign currency exposures to lessen and delay the effects of currency fluctuations on financial results. We hope management considers currency hedges given the uncertain outcome of Brexit.
Conclusion
Overall, we like the asymmetrical return profile with Inspired. A combination of being in a growing market, capable management team, and good products/content gives this company a high likelihood of achieving the proper equity upside.
Finally, we want to point out here that we are not advocating for abusive and addictive gambling behavior, and we do not believe Inspired is doing so as well. Inspired operates only in regulated markets and provides the B2B hardware and services for operators. We believe that the industry does serve a purpose as a form of entertainment and a controlled dose of betting, especially in a social setting should not be harmful.
Disclaimer: This material is furnished by Lerna Capital LLC or affiliates (collectively "Lerna"). This material is for information purposes only and is not an offer or a solicitation to subscribe for or purchase the securities mentioned. This material is not intended to provide a sufficient basis on which to make an investment decision. All market and commercial data in this thesis are not warranted as to completeness or accuracy. Lerna Capital LLC has a long position in this security and may trade in and out of this position without informing the Seeking Alpha community.
Disclosure: I am/we are long INSE.
I wrote this article myself, and it expresses my own opinions. I am not receiving compensation for it (other than from Seeking Alpha). I have no business relationship with any company whose stock is mentioned in this article.