Income Ideas
The market has been waffling this year, with a record high earlier this year followed by a 10% decline. A series of fits and starts caused by market jitters over the potential for a global trade war have kept the market a bit below its record highs.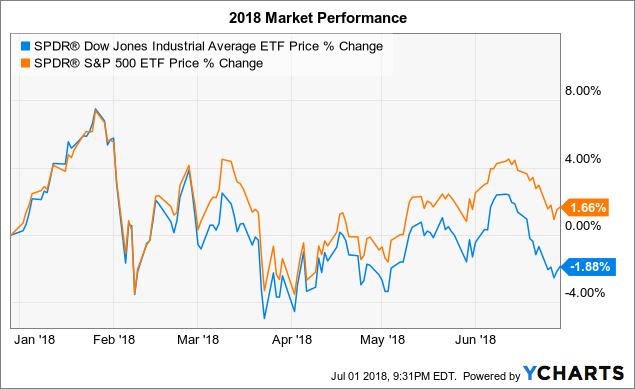 While the market has been mostly flat, there have been some stocks which have fallen to prices which have given them higher-than-average dividend yields.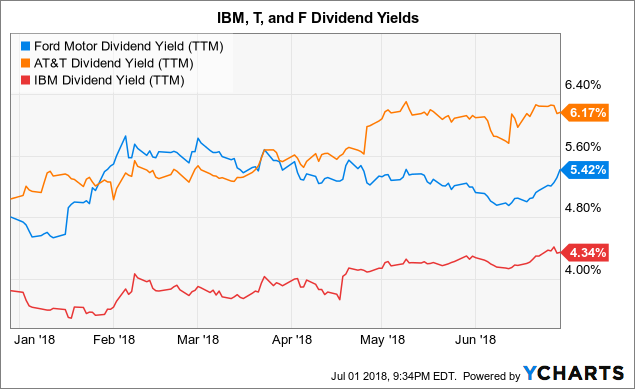 Ford (F), IBM (IBM), and AT&T (T) are some of my favorite income plays in the market right now. With yields in the 4%, 5%, and 6% range, these stocks are some of the anchors of the income portion of my portfolio. I'm not looking for massive capital gains with them, but solid and dependable income which I can use to reinvest while the market has been indecisive.
Blue Makes Green
IBM's share price has been declining this year, and it is also increasing its dividend. The combination has brought IBM's yield to 4.4%, which is higher than average for the company.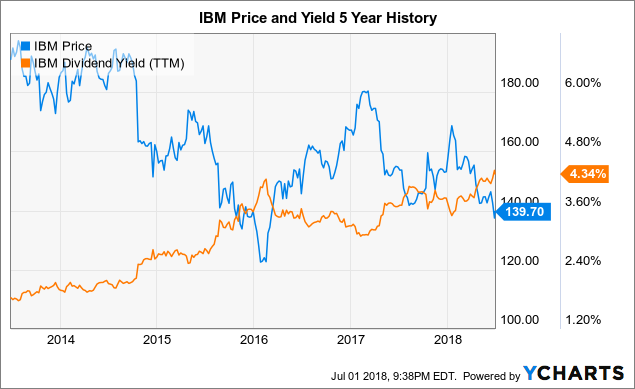 Although IBM's dividend has been growing, the stock's dividend is still covered by its free cash flow. The stock's price has declined largely because the company has been shedding legacy segments in order to transition to more modern segments such as cloud and cognitive solutions. The transition has been longer than many shareholders have preferred, causing significant selling. Notably Berkshire Hathaway (BRK.A) (BRK.B) shed its shares this year, and this apparent loss of confidence has also contributed to IBM's declining share price. However, because of IBM's work on its business transformation, the company's Q1 revenue grew year over year.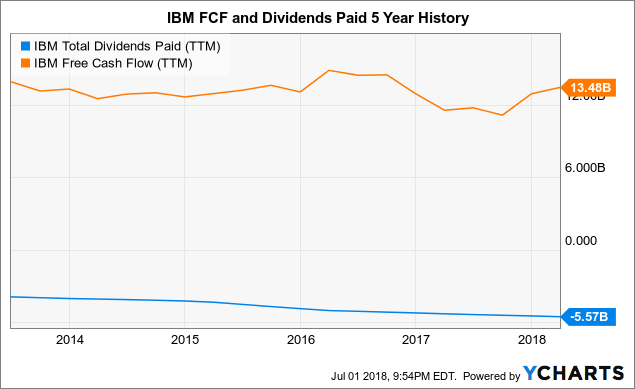 Following this trajectory, the company's annual revenue may return to growth either this year or 2019. With continued repurchases and dividend growth, IBM presents patient investors a good opportunity to collect steady income. I like the company when it's under $140/share, and would add shares there as able.
Trucking Along
F has an even higher dividend yield, roughly 5.4% when taking into consideration the company's regular quarterly payments. In addition to the normal quarterly payments, F has been supplementing its payout with special dividends. During 2017, the company paid a supplemental $0.05/share, and 2018's special dividend was $0.13/share. The company's earnings have been fluctuating; however, it is more than capable of covering the generous dividend payouts.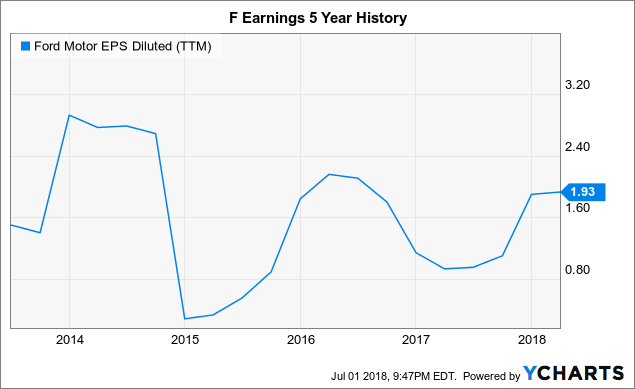 F has been a casualty of the potential for dueling auto tariffs, not the least of which since such drastic cost modifications would require a significant amount of planning to accommodate. The stock's price has dropped accordingly on the introduction of certainty. The application of tariffs on auto trade could potentially be seriously disruptive not only to F but also the entire global auto industry. However there are strong growth trends for Ford with the F-series truck line posting over 11% growth, which may help counterbalance potential industry headwinds posed by the threat of tariffs. Tariffs are certainly a significant problem for the company, which would likely explain the recent share price declines.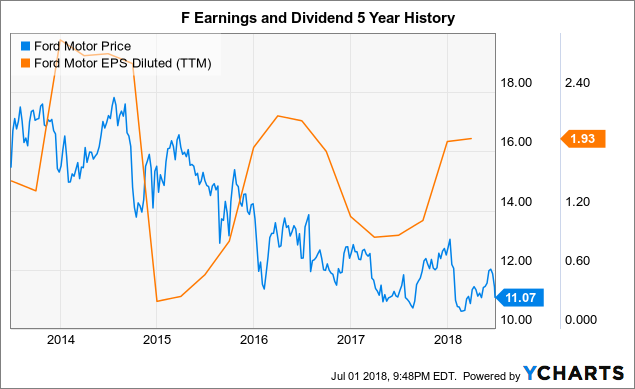 If the share price dips below $11/share, F will yield roughly 5.5%, which is a well-covered yield. At above a 5.5% yield, I'm content to be paid to wait while F weathers the tariff storm.
T Time?
I've been watching T for a while, but a bit hesitant when the Time Warner (TWX) merger was still pending and not guaranteed. Since the merger has successfully closed, the new combined T now has a net debt of over $180 billion. The increased debt load may be a contributing factor in the stock's declines over the past several months.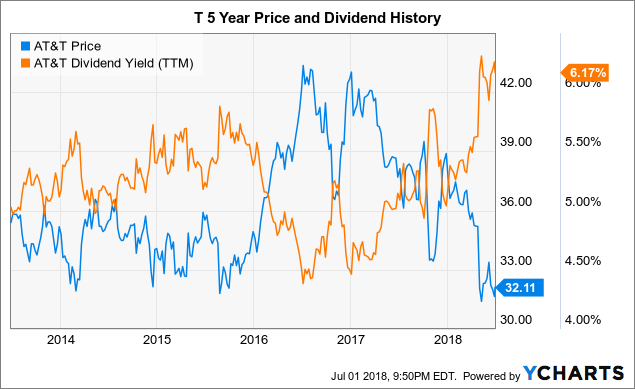 Now that the dividend is over 6% and the merger has been successful, I've added T to my portfolio. Based on the stock's previous free cash flow record, the dividend is well-sustained.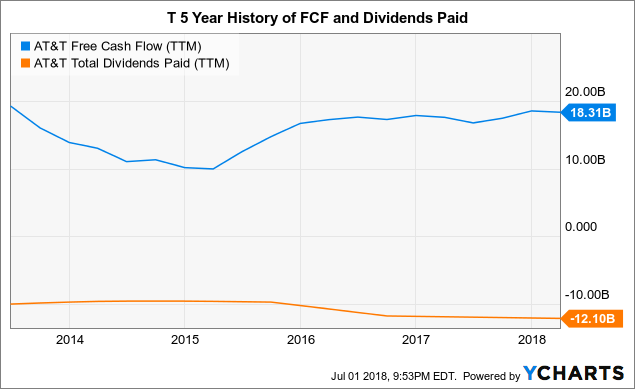 The large debt load in my perspective is now counterbalanced by the likely synergies from the deal. The company expects the deal to add to free cash flow even during the current year, and add $2.5 billion in cost and revenue synergies in just 3 years. The company also plans on improving its leverage ratio, with net debt to adjusted EBITDA of 2.9x after the completion of the deal. T expects the level to decrease to 2.5x by the completion of the first year after the deal, with continuation of improvement after that. Based on the company's expectation of cash flow improvement and leverage ratio improvement, T is a good addition to my portfolio while shares yield above 6%.
Final Thoughts
There are several high dividend opportunities in the market, with F, T, and IBM among some of the top on my watchlist. IBM's yield tops 4%, F's yield is above 5%, and T yields over 6%. These stocks have been falling lately which has boosted their yields, but overall the long-term business strategies still seem to be intact. These are some of the types of companies that I like to buy in order to collect the higher-than-average dividends while waiting for the companies to recover.
Author's Note: I am on the lookout for high yet sustainable dividends or value opportunities with a significant margin of safety. If you're looking for the same, please hit the "Follow" button by my name at the top of the article, and hopefully you'll get some good ideas for value and income stocks.