2020 Sulfur Cap - Panic And Shock Ahead?
Summary
Chaos, panic, shock, and confusion are all words used to describe the impact of the soon to be implemented 2020 sulfur cap.
Experts warn that the market appears unprepared and the results could be disastrous for maritime trade and consequently the global economy.
With just over 18 months left before the single most influential policy change in decades takes effect, the shipping community is facing a difficult transition for many reasons.
Note: This article was originally published June 18th on Value Investor's Edge, a Seeking Alpha subscription service.
Overview
The decision to implement a global sulfur cap of 0.50% m/m (mass/mass) in 2020, revising the current 3.5% cap, was announced by the International Maritime Organization, IMO, the United Nations regulatory authority for international shipping on October 27th, 2016. This will affect as many as 70,000 ships.
The IMO provided guidance on how the maritime industry might comply:
Ships can meet the requirement by using low-sulphur compliant fuel oil. An increasing number of ships are also using gas as a fuel as when ignited it leads to negligible sulphur oxide emissions. This has been recognised in the development by IMO of the International Code for Ships using Gases and other Low Flashpoint Fuels (the IGF Code), which was adopted in 2015. Another alternative fuel is methanol which is being used on some short sea services.
Ships may also meet the SOx emission requirements by using approved equivalent methods, such as exhaust gas cleaning systems or "scrubbers," which "clean" the emissions before they are released into the atmosphere. In this case, the equivalent arrangement must be approved by the ship's Administration (the flag State).
Concerns Mounting
Over 90% of global trade is carried out by sea. This includes the world's energy, raw materials and manufactured products. The looming 2020 sulfur cap presents numerous hurdles, which, according to the International Chamber of Shipping, have yet to be adequately addressed.
On May 21st, the ICS issued a warning that "chaos and confusion" will grip the market unless the UN International Maritime Organization urgently resolves several issues.
ICS Chairman Esben Poulsson predicted that "the smooth flow of maritime trade could be dangerously impeded" and "we could be faced with an unholy mess with ships and cargo being stuck in port."
This sentiment is being expressed by numerous industry participants and Marine Energy's Adrian Tolson told Ship & Bunker that "you can feel the panic starting to set in."
The impacts of this are still being hotly debated. With thousands of pages already written on the subject only two things can be widely agreed upon; this new policy is quite possibly the most disruptive change ever in shipping and the impact will extend far beyond maritime trade with the potential to affect every consumer on the planet.
Supply Shock
The idea of a supply shock is starting make its rounds in the shipping circles. A supply shock is when the availability of a good dramatically increases or decreases resulting in a significant price shift.
In this case many are expecting a significant reduction in vessel availability which would send charter rates higher, thereby increasing the cost to transport goods and commodities. This can have a ripple effect through the entire economy.
There are three potential scenarios where this supply shock could occur. The first is through vessels slowing down their speed in an effort to conserve fuel. The second comes from increased scrapping of older vessels which are no longer economical. The third would be due to a breakdown in the fuel supply chain.
Slow Steaming
Low sulfur fuel is already more expensive than the heavy fuel oil currently in use. Demand for low sulfur fuel will increase significantly in 2020 which is likely to drive the price even higher.
One way that owners have tried to minimize high fuel costs in the past is through slow steaming, where vessels travel at a lower speed in order to conserve fuel.
A previous study of mine based on past market responses to higher bunker costs coupled with widely followed speed efficiency models showed that there was a slight bit of room for further slow steaming if certain requirements were met, but they would pale in comparison to past reductions.
However, this was a purely market based study and did not assume any coordinated action on the part of owners to collectively shift strategy.
But recently owners have started to become more vocal about the need to form a consensus regarding a shift to slower speeds.
Slowing down would have an immediate impact on capacity availability as it would take longer to deliver a given amount of cargo which means fewer cargoes can be delivered in a given time frame. This is in essence the same as removing vessels from the fleet. If supply is removed while demand remains constant or increases prices, which in this case are charter rates, are bound to move higher.
If vessels do slow industry members are predicting some significant shifts.
Stamatis Tsantanis, CEO of Seanergy Maritime Holdings (NASDAQ:SHIP), noted:
If the global fleet slows down by 30 pct, which is, in my opinion, the most probable scenario, 300 to 400 Capes would exit the market.
With only 1,444 Capesize class vessels on the water this represents a potential approximate 25% reduction in capacity.
Khalid Hashim, head of Precious Shipping (OTCPK:PSGFF), put forward a similar scenario:
Reducing speed from 12 knots to 10 knots would effectively remove 17% of dry bulk shipping supply overnight.
But is this really possible?
Bulkers are currently moving at an average speed of 11.16 knots according to tracking data provided by VesselsValue. But back in 2012 when the Baltic Dry Index plunged to what were then historic lows as crude prices rose well above the $100/bbl mark, speeds slowed considerably down to the 9.5 knot range.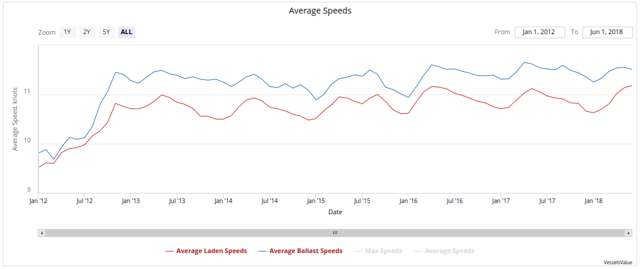 Source: VesselsValue
Crude tankers are currently moving at an average speed of 11.65 knots and a 20% reduction in speed would see average speeds slow to 9.32 knots. This speed is still higher than what was witnessed in the beginning of 2012.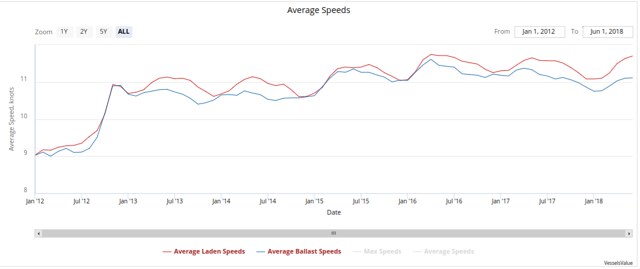 Source: VesselsValue
But it is noteworthy that even as both segments continued to experience lackluster charter rates and crude prices didn't begin declining until 2014, speeds soon picked up and returned to approximately what the Haugen Model would have suggested. That model was discussed extensively in the aforementioned report.
Many bring up the point that there has been a move toward slow steaming over the past decade and further revisions should be just as simple. But that's not the case. Over the past decade the shift to current speeds was due in large part to a collective move toward optimal speeds as they relate to market conditions. Therefore, it wasn't really a move to slow steaming - it was a move toward efficiency. Any deviations from that efficiency model have been temporary.
However, the next logical questions would be that if there is a move to slow steaming brought on by a collective strategy could it trump market mechanisms or will that move be short-lived? Also, Is a collective move in dry bulk and tankers really possible?
There are approximately 1,700 companies that own dry bulk vessels. Only about 110 of those companies have 20 or more vessels. This means the dry bulk space is incredibly fragmented and any sort of collective move therefore becomes far more difficult.
The tanker segment is in the same boat (yes, poor pun intended). There are over 2,050 companies participating in that space with just over 100 owning 20 or more vessels, representing an even greater degree of fragmentation.
Fragmented ownership will make it hard for some segments to collectively make slow steaming at large happen, but container ships due to concentration of ownership and alliances stand the best shot.
The container shipping segment has seen an unprecedented level of consolidation recently and this has left just over 550 companies participating in the space. Approximately 60 companies own 20 or more vessels and in percentage terms this concentration of ownership far surpasses that of dry bulk or tankers.
Additionally, approximately three-quarters of the global container shipping fleet fall under the umbrella of three container shipping alliances. This could help promote coordinated action in that particular segment which would increase the possibility of collective slow steaming.
Aside from the level of concentrated ownership, the challenge posed by fuel consumption in the container shipping industry will be multiplied due to the larger engines which consume more fuel, when compared to the engines in other sectors. Therefore, it seems likely that based on potentially higher fuel prices, the magnitude of increased costs would be greater which would pave the way for greater levels of slow steaming from a market based standpoint.
Concentrated ownership, alliances, and engine specifications are why it might be expected that slow steaming in the container shipping industry is expected to be more severe than in the dry bulk or tanker market and potentially more sustainable from a market perspective.
Though the 2020 Sulfur Cap kicks in January 1st it is expected that we could see changes beginning in Q4 of 2019. After all, it's not like owners can flip a switch and magically turn all the HSFO into MGO. For this reason we should see ships filling up on MGO prior to January 1st to ensure they are compliant from day one and are in compliance with not only the Sulfur Cap but also the carriage ban on HSFO for vessels not equipped with approved pollution abatement technology. This may provide some insight as to how successful owners have been in this collective action.
Demolitions
As costs for filling up will likely be felt just prior to 2020 some analysts have suggested that we could also see demolitions begin to materialize in Q4 as well. Older vessels are less efficient in terms of both vessel and engine design than modern vessels. These older vessels will likely be phased out if the economics dictate.
In a February report, Shipbroker Banchero Costa provided an overview of the global fleet which could be demo candidates following the implementation of the 2020 Sulfur Cap. What is noteworthy is that their models suggested 15 years may be a cut-off point meaning that tonnage built in 2005 and before could sent to the scrapyards.
So what would that look like in percentage terms?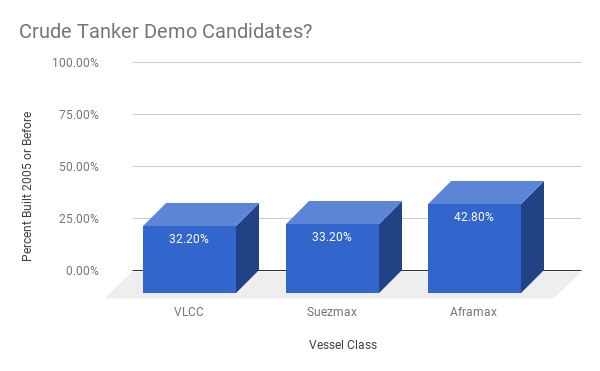 Source: Data from VesselsValue - Chart by Value Investor's Edge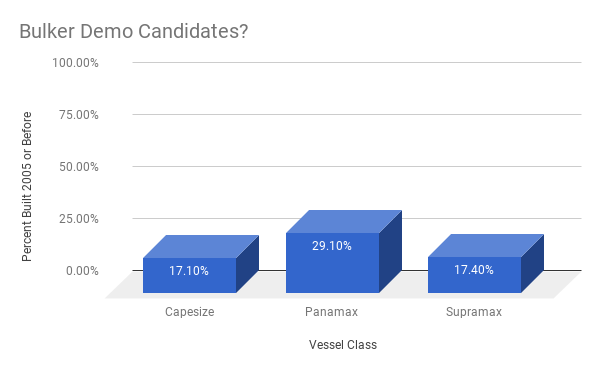 Source: Data from VesselsValue - Chart by Value Investor's Edge
The container shipping segment presents a bit of a different story. The two largest vessel classes (ULCV which are 13,400 teu and above and New Panamax which are 10,300 - 13,399 teu) have no vessels that will be 15 years or older come 2020. So while there are approximately 4 million teus on the water that will be 15 years or older come 2020, representing just under 20% of total capacity, it is all located in smaller classes which are actually experiencing the beginning of a tightening market.
But will these demolition projections come to fruition? If owners have their way the answer is no.
Demos Vs. Slow Steaming
When news of the Sulfur Cap first broke, many market analysts predicted a surge in demo activity as a result. So why do owners now appear to be favoring slow steaming over demos?
As noted earlier, Stamatis Tsantanis, CEO of Seanergy Maritime Holdings said there was a possibility that the global fleet could slow down by 30%, the equivalent of 300 to 400 Capes exiting the market. This sort of supply contraction, he suggested, could see Capesize rates jump to $50,000/day.
That's almost triple what they are currently and even with higher bunker costs would greatly exceed industry average breakeven levels even on the much older ships.
This means that slow steaming would not only lead to higher charter rates but would also allow owners to keep their older tonnage on the water at profitable levels.
Therefore, it's hardly a surprise that owners are promoting the idea of slow steaming over everything else. So it seems increasingly likely that there will be a plan A and plan B. Plan A is where owners attempt to push slow steaming. However, if that proves unsuccessful they will likely be forced to resort to demolitions as economics dictate.
Fuel Availability
Another widely discussed topic is if enough compliant fuel can be produced.
The main concern is that as of right now most shippers will opt to run low-sulfur fuels, but they fear that rising demand for these fuels will bump against refining capacity limits and cause price spikes that might spread to other markets, notably diesel and even crude oil.
A well known 2016 IMO study indicates that the refining capacity will be sufficient to provide adequate quantities of low-sulfur marine fuel by 2020.
However, others are very skeptical. BIMCO pointed out several potential flaws in the IMO study and concluded that it is "not possible to determine from the study that there would be sufficient fuel available in 2020."
Some have suggested that 2020 will have huge implications for the global refining sector, undermining margins for simple refineries that turn a significant share of their crude run into HSFO, but potentially boosting margins for complex refineries. This means there will likely be increased incentive to produce compliant fuel.
It is widely anticipated that the increased demand for MGO will result in higher prices. During the recent Marine Money conference in New York, some owners suggested that a major shortage will be avoided as refiners chase margins.
It should be noted that this isn't the first time shipping markets have faced a required fuel shift.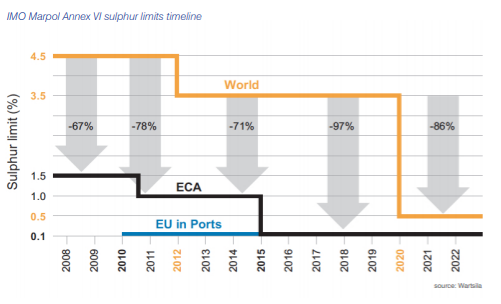 Source: Seatrade Maritime News
Though it is not the first time the markets have faced this sort of shift, it will be the most profound.
Recently Exxon and BP both indicated that fuel blending will be on the rise, possibly signaling that is their planned route. This echoes an earlier announcement by Shell which noted that increased blending with gasoil is a likely way forward.
Worries about fuel hybrids range from compliance issues to increased wear and tear on engines. But Exxon had success a few years ago with their HDME 50 hybrid fuel which allowed vessels to comply with the ECA sulfur cap while increasing engine operational efficiency and reducing the risk of engine and boiler damage. But it is noteworthy that fuel hybrid was developed over a period of four years, and time is in short supply. Nevertheless, with a road map already in place it seems likely that fuel hybrids will play a major role in compliance.
Turning 3.5% into 0.5% varies from impossible to very easy - depending on the crude slate. Fortunately there are a couple things currently happening which could prove to be beneficial. First, increased production of light/sweet crude with low sulfur content. Second, complex refinery builds in the Middle East, like the expansion to the UAE's Ruwais refinery which brings capacity up to 900,000 b/d and Kuwait's 615,000 b/d Al Zour refinery, should increase supply to the second largest bunkering hub, Fujairah.
Another major bunkering port, Antwerp, is also benefiting from a round of upgrades which will increase supply of compliant fuel. Total just wrapped up its $1.2 billion Antwerp refinery modernization of its 338,000 bpd facility which will reduce the high-sulfur heavy fuel oil yield in favor of compliant bunker fuels. ExxonMobil said in early June it expects the new delayed coker at Antwerp "to be fully operational in 2018." The $1 billion investment announced in 2014, will enable the 320,000 bpd refinery to upgrade high-sulfur fuel into various types of diesel, including the variant mandated by new laws governing shipping fuels.
In the latest Platts refinery roundup we see several more projects that are in the works and under discussion.
But it's important to keep things in perspective. In total 3 million barrels per day of HSFO bunkers will need to switch to 0.5%. So while these expansions are good news it still remains to be seen if this new capacity coupled with blending can adequately accommodate the market.
One likely scenario being touted by analysts is that certain regions will be able to meet demand while others will fall short. This would create significant arbitrage opportunities and increasing demand for product tankers to bring compliant fuel to bunkering hubs which find themselves in a product deficit. But major bunkering hubs will likely work hard to keep an adequate supply on hand which would prevent major port congestion in key regions.
Conclusion
The 2020 Sulfur Cap is creating quite a bit of uncertainty and confusion. The potential for a supply shock does exist but might not be as bad as some suggest.
Personally, I do not expect panic, shock, chaos, and confusion. But I do expect some significant market shifts that will play out over time.
Following the initial adoption many thought that demolitions would be playing a major role upon implementation. But if owners have their way that may not be the case. Slow steaming would bring the best results in terms of profitability so industry participants look to promote that outcome.
It is noteworthy that the previous shift to the current rate of steaming is based on a move from inefficient high speeds to optimal speeds given current market conditions. A collective move toward efficiency is always easier than trying to inspire a coordinated move away from efficiency in a highly fragmented market.
My first article on the subject looked at the issue of slow steaming from a strictly market standpoint and it assumed no coordinated action among shipowners' to alter speed. This market oriented analysis suggested that while there was room for slower steaming it would be limited to a knot or two.
With demand for MGO is expected to skyrocket and supply availability is in question, this could create a bit of a short term price increase. If prices top $1,000/mt we would see speeds slow down even further, perhaps by another knot.
So, while there is talk of a collective move to slower steaming it looks as though the efficiency models will actually inspire the majority of the move based on expected market conditions.
With the industry so fragmented in the dry bulk and tanker space it may be hard to organize any collective action beyond what the market calls for and even more difficult to maintain the ranks. This is why I am a bit skeptical that anything that deviates from market efficiency models will be sustainable.
Probability for success on this front is greatest in the container shipping segment where concentrated ownership and alliances make coordination far more likely.
Slow steaming will likely have an impact on vessel demolitions. If vessels do slow that would create a shift in vessel availability and likely raise charter rates. If rates do begin to climb this could lead to fewer vessels being sent in for demolition than previously thought. After all, higher rates can enable older vessels to remain on the water as long as long as they are profitable and safe.
For the most part, oil majors are staying tight-lipped on the details of internal research and development into the mass-production of 0.5% blends. But it is widely understood in the industry that probably all of them have such programs ongoing. With the potential for higher margins coupled with recent refinery expansions and the prospect of blending it seems unreasonable that there will be a full blown supply crisis. However, it seems plausible that regional trouble may occur in the early stages of implementation only to be resolved shortly after.
Final Thoughts
One final set of thoughts on the likelihood of the industry maintaining slow steaming beyond what the market and efficiency models would dictate.
First, engines are designed to function at certain speeds. Marine engineers have always been advised by engine manufacturers that low load operation must be avoided. The engines must be run close to its continuous rating for optimization of all its parameters and allowing the individual components to operate in their designed range. Marine Insight has more on how damage may occur if engines are not operated properly.
Second, competition among shipowners for cargoes is strong. Charterers know there is an optimal speed which would minimize the costs of a voyage for transporting their cargo. They will likely press owners to follow this formula and schedule their shipments with those most willing to adhere to market based schedules. Ships have a speed v/s consumption table at various RPM in ballast and loaded condition. It is a usual practice that the charterers ask for this data prior to fixing the charter party.
Third, if owners are successful in raising charter rates some owners will likely deviate from the pack and begin to speed up as efficiency models dictate.
Thank You
If you found this article helpful and/or would like to easily refer back to it in the future, please click the "Like" button and it will be saved to your favorites.
If you would like to stay up to date on my latest analysis, I invite you to follow me on Seeking Alpha (click the "Follow" button next to my profile picture at the top) as I continue to cover all aspects of maritime trade.
Finally, if you are wondering what is the best way to invest in maritime trade please visit Value Investor's Edge. Please take advantage of our two-week free trial going on right now.
Disclosure: I/we have no positions in any stocks mentioned, and no plans to initiate any positions within the next 72 hours. I wrote this article myself, and it expresses my own opinions. I am not receiving compensation for it (other than from Seeking Alpha). I have no business relationship with any company whose stock is mentioned in this article.
Additional disclosure:
Value Investor's Edge is a top-rated research service dedicated to offering actionable trades and strategic income opportunities. We now cover a variety of deep value and income-driven sectors, while maintaining our focus and very profitable record of shipping industry coverage. Members receive exclusive access to over a dozen reports per month, including regular shipping and commodity macro analysis from James Catlin, exclusive content by top-tier deep value analyst J Mintzmyer, industrial and MLP ideas from Michael Boyd and international insights from Ian Bezek. This winning team has developed a dedicated following of highly knowledgeable investors and industry professionals who also share their own thoughts and ideas.