This is the first update for my model dividend growth portfolio that I started at the end of May. The month of June was an extremely choppy month that saw stocks rise for the first half of June and subsequently fall all the way back down to where they started the month. The following chart shows the round trip in performance of the S&P 500 (SPY) and my benchmark, the Schwab U.S. Dividend Equity ETF (SCHD), made over the month of June.

Yahoo Finance
Portfolio Selection Specifics
Because I did not want to give everything away in my first article, I gave a broad definition of the criteria/process I was using, and since this is the second article, I will cover the process in more detail. I start my search by looking for companies that have these fundamental and performance characteristics:
- Minimum 2% dividend yield
- Projected to grow EPS over the next 5 years
- Stock Price >$10
- Gross margins >20%
- Operating margins >10%
- Share price is down today
- Share price is down over the last week
- Share price is down over the last month
- Share price is closer to 52-week low than 52-week high
After running a screen for companies with those characteristics, I put those companies through three tests to determine if they are worth adding, and those three tests (technicals, short interest, dividend stress test) are what I described in my first article, but will explain in more detail.
Technicals
I look for companies that are technically appealing. Specifically, I look for those companies that have an RSI (relative strength index) below 50, but I prefer if a company is further oversold. I also look at the trend and level of the MACD, and this is more of a subjective point. For example, here is the technical chart for one of my new additions, Taiwan Semiconductor (TSM). The chart I will be showing is a weekly chart for the purposes of showing the MACD, but on the day I purchased TSM for the portfolio, the RSI on the daily chart was below 50. As you can see in the chart below, the MACD is near the same level it was during the Great Recession and during the correction in 2015.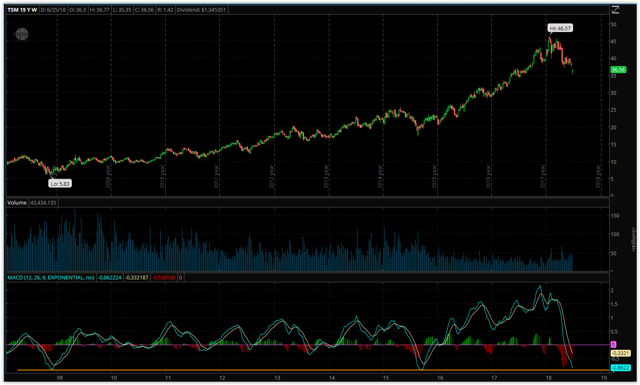 ThinkorSwim
Short Interest
Stocks that have high short interest can be a drag on performance. The following chart shows the Thomson Reuters most shorted stocks index, and over the last five years, it has vastly underperformed the market. For that reason, I exclude any stocks from consideration if they have greater than 5% short interest at the time when I consider initiating a position.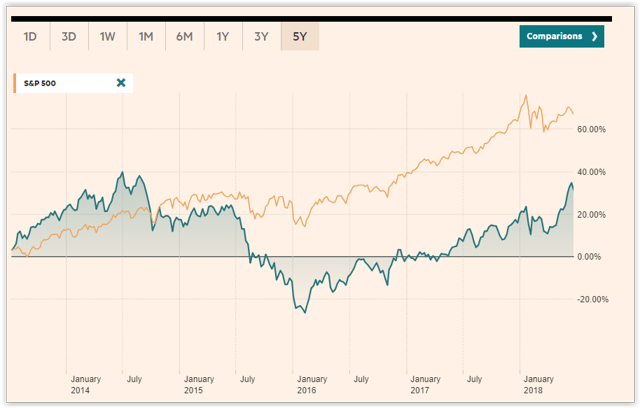 Financial Times
The next chart shows that there has been a recent spike in the performance of the most shorted index, kind of a dash for trash rally. This phenomenon will not last forever and the underperformance of highly shorted stocks is likely to resume. A competing portfolio has roughly 25% of its funds allocated to stocks that are above my 5% short interest threshold, and while that group of companies may be performing well right now, the above chart shows that over the long-term, highly shorted stocks underperform the market.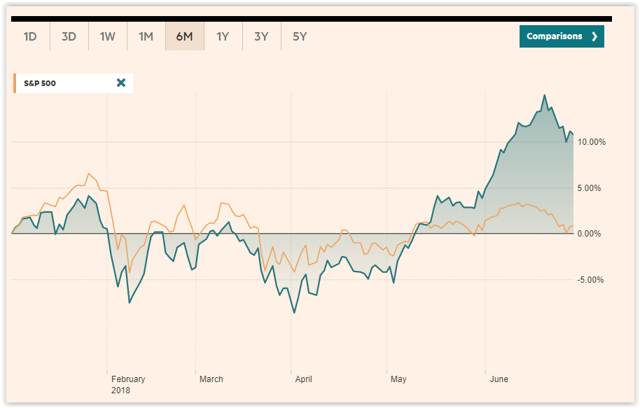 Financial Times
Dividend Stress Test
The final test I run companies through is a dividend stress test, where I model for continued dividend growth over the next five years but have declining cash flows. I do this to make sure should things turn bad that a company has the capacity to continue raising its dividend even in the event that things turn bad. I will provide an example below so you can see the process that I use for each company. The first is my dividend stress test results for Johnson & Johnson (JNJ), and as you can see, even in the event cash flows decline and dividends continue increasing, dividends as a percentage of cash flows are still low at just over 61% in five years.
| | | | | | |
| --- | --- | --- | --- | --- | --- |
| Calendar Year | Est. Div/Share | Shares | Divs $ Paid | Proj. CFFO | Proj. Div as % of CFFO |
| 2018 est. | 3.54 | 2731.9 | $9,670.93 | $21,053.44 | 45.94% |
| 2019 est. | 3.70 | 2731.9 | $10,116.60 | $20,380.13 | 49.64% |
| 2020 est. | 3.86 | 2731.9 | $10,556.92 | $19,728.34 | 53.51% |
| 2021 est. | 4.02 | 2731.9 | $10,989.37 | $19,097.41 | 57.54% |
| 2022 est. | 4.18 | 2731.9 | $11,411.40 | $18,486.65 | 61.73% |
New Additions
The first three holdings I included in the portfolio were Johnson & Johnson, U.S. Bancorp (USB) and Royal Caribbean (RCL). In my first article, I covered the reasons why I chose to include each of those companies. During the month of June, I added six new positions, and some of them I already added additional shares after my initial purchase because of unjustified declines.
Equinix
I chose to add shares of data center REIT Equinix (EQIX) because it was oversold and had fallen substantially since the highs made in November 2017 near $500/share. Equinix formed a double-bottom pattern in the three months prior to my portfolio starting, and I took advantage of a down day at the beginning of June to get in. Equinix has only been paying a dividend for a couple years; however, dividend growth has been strong, and EQIX will continue to benefit from companies continuing their push into the cloud.
Travelers
I chose to add shares of insurance company Travelers (TRV) because of its long history of dividend growth and share repurchases, which have significantly decreased its share count and allowed for continued dividend growth. Financial stocks have been performing poorly, and I purchased shares of Travelers for the model portfolio, and I added additional shares later in the month when shares declined even further.
Taiwan Semiconductor
I chose to add shares of Taiwan Semiconductor because shares were oversold and I added additional shares after my initial purchase when Intel (INTC) took down the whole semiconductor complex when its CEO had to leave. Dividend growth investors often overlook Taiwan Semiconductor because it pays an annual dividend instead of a quarterly dividend. Taiwan Semiconductor is also attractive because it has a higher dividend yield than Intel.
Xcel Energy
I chose to add shares of Xcel Energy (XEL) because during the first part of June, many utilities were selling off day after day and Xcel Energy was appealing because of its dividend growth and the fact that it has a large and growing part of its power generation portfolio that comes from renewable sources. In addition, Xcel Energy has been closing down coal power plants and has plans to continue closing down plants in the future.
Rockwell Automation
I chose to add shares of Rockwell Automation (ROK) as it has been taken down with many other industrials because of tariff fears, and I added additional shares after my initial purchase. Automation of factories in the industrial space is not slowing down and recently Rockwell Automation partnered with PTC Inc. (PTC), which has a portfolio of industrial IOT software products. In addition, in June, Rockwell Automation announced an increase to its share repurchase program totaling $1.5 billion over the current fiscal year.
Packaging Corporation
I chose to add shares of Packaging Corporation (PKG) as they were oversold with many other industrials because of trade fears. Packaging Corporation is tied to e-commerce growth, and unlike many other industrial companies, the majority of its revenues come from the United States. Evidence of this is shown by the fact that Packaging Corporation is included in the iShares Russell 1000 Pure U.S. Revenue ETF (AMCA) which only holds companies that have at least 85% of their revenues from within the United States.
Eaton
Eaton (ETN) was my most recent addition to the portfolio, and I added shares because it is a high-quality diversified industrial company that stands to benefit from the continued growth in the ever-increasing need to electrical equipment and parts. As previously stated, many industrials have been declining because of trade/tariff fears, which have created the opportunity to pick up shares of Eaton at a discounted level.
Previous positions added to
I added to the position in Royal Caribbean shortly after my initial purchase because the stock fell 5% on an analyst note about hurricanes impacting cruise line companies in the second half of the year. Royal Caribbean has a $1 billion buyback in place, and a week later the company took a large stake in Luxury company Silversea Cruises, which focuses on higher-end cruises, and this move was viewed as a positive. In addition, shares of Royal Caribbean had been in positive territory, and then fell 5% last week when Carnival (CCL) reported soft guidance.
Portfolio overview & performance
The following table shows all of the positions for my portfolio, and so far, the portfolio return for June was 0.135%. In comparison, my benchmark, SCHD, returned 0.41%, but is fully invested in SCHD, where my portfolio currently is only 25% invested. As I noted in my first article, I will be methodically building the portfolio over time as opportunities come available.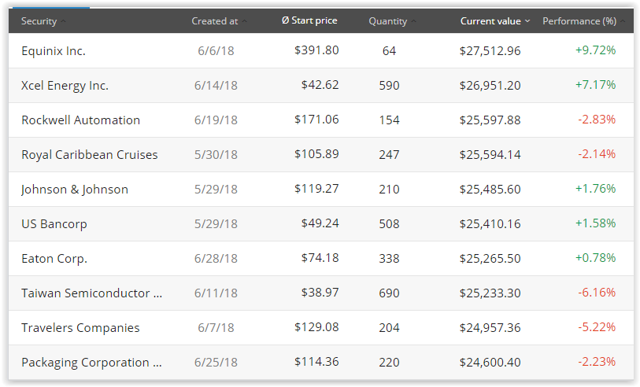 Sharewise
Closing Thoughts
In closing, I am pleased with the performance of the portfolio given how choppy the market has been. Companies like Taiwan Semiconductor and Royal Caribbean were unjustly brought down by other companies in the same space and thus I believe these two stocks will have a quality bounce once they start reporting earnings and start trading on their own merits and not based on news of other companies. Over time I expect that my process will prove to be successful as time goes on given the process I use to screen for and test prospective portfolio additions.