It's been 4-1/2 years since the beginning of my 10% high yield portfolio and I can now say at this point (retired) it has been successful. From 2014 to 2017 (4 years) I reinvested all dividends back into the portfolio to grow both portfolio balance and income cash flow.
This update will review my 6 month progress (see Chart 3) and give a recent example of the inverse correlation between asset classes (see Chart 1). I will also suggest throughout your working career and including retirement to always be in the accumulation phase. This basic principle of compound growth assures a lifetime of financial success (see Figure 1).
I list in Table-1 my current BDC (business development companies) and Table-2 my mREIT (mortgage real estate investment trust) stocks. I reevaluate continually each individual investment based on sustainable dividends and management effectiveness. My goal is to find the most durable and dependable dividend producers in the BDC and mREIT segments of the market.
Insight Into High-Yield Investing
My retirement planning while working, was doing all the right things, but my balance reached only 5.5 times my GEE (gross employment earnings). According to online professional gurus and others I would need 10 to 12 times my employment income before retirement. They suggest working until 70 and cut expenses drastically.
I'm not one for taking "No" for an answer, so I determined to buck the trend and find out for myself if high-yield investing was the bogeyman everyone keeps telling me. Oops, I guess I proved them wrong! Today I'm close to 8 times my GEE and generating income-cash-flow over 75% of my previous gross employment income. I retired at my FRA (full retirement age) and am now enjoying the fruits of my labor.
Not bad for something I should have been afraid of. I bet most people are in the same boat as I was nearing retirement. This portfolio is not based on luck, but logical steps taken to build an income machine. This entire portfolio design is the product of my own conviction to maintain cash flow during a bull market or recession.
Most of the balance growth listed below is from dividend reinvestment four years before retirement. The original investment was converted from my 401(k) into a self-directed IRA while still working. Once in the IRA I could buy dividend investments to build my cash-flow holding company. When you reach 59-1/2 this process can be accomplished while still employed and contributing to your 401(k).
Please note the portfolio balance is just a byproduct from reinvesting dividends to grow the income cash flow. The main focus of this portfolio is to grow the income stream.
4-1/2 year performance, since 2014:
Portfolio balance growth from initial starting capital: 41%
Income cash-flow yield from original investment: 14%
Current YAM (yield at market), June 29, 2018: 10%
Portfolio Management
This is my first full year in retirement and I'm withdrawing IRA funds to pay expenses. Since I take out a percentage of the income to pay expenses the surplus dividends are reinvested back into the portfolio to continually grow the income stream. I have implemented a number of key principles to enable high-yield portfolio management.
Success is based on margin of safety:
The portfolio yield at 10%; exceeds income needed for expenses.
Bull or Bear continued income generation; based on studies.
50% BDCs (corporate-loans), 50% mREITs (bond substitute) assets.
The number of income streams consists of 40 investments.
Income allocation; each stock pays at least 2.5% toward total income.
Withdraw 60% of dividends to pay expenses and add to emergency funds.
Reinvest the surplus 40% back into the portfolio for growth.
Manage all assets to provide sustainable dividends.
This portfolio is unique because, 100% of the assets are considered high-yield providing an average yield of 10%. The assets are high-yield RIC (regulated investment company) investments required to payout 90% of their earnings as dividends.
It's split evenly between BDCs and mREITs to continue income generation in both a bull and bear market. I do not play each side of the market independently, but play the game from both sides. Trading in and out of stocks does not describe this portfolio design, but staying fully invested at all times.
Why Have a 50/50 Asset Split?
The economist and Nobel Prize winner Harry Markowitz created formulas to determine investment allocation between stocks and bonds depending on risk. He was asked by The Wall Street Journal how he invests his own money:
I visualized my grief if the stock market went way up and I wasn't in it - or if it went way down and I was completely in it. My intention was to minimize my future regret. So I split my contributions 50/50 between bonds and equities.
The understanding of human emotions between bull and bear markets is timeless. The logic to split the portfolio assets to generate high income in both market cycles will reduce the psychological emotional response of being on the wrong side of the market during economic stress. The fact is we can't predict the future, but we can anticipate the outcome of an event based on the probability of success.
As for market stress, the first three months of 2018 created an environment to test our emotions when the market went into corrective territory. I for one was buying as much as I could with any surplus funds on hand. I built into my retirement plan a RIP (redundant investment provision) that gives me an alternative to continue reinvesting when my IRA runs out of surplus reinvestment funds.
Compound Growth, Employment and Retirement
It's not hard to understand this concept. The simple truth in retirement; I continue to earn income just like my working career. I then take out a percentage of the income (from-dividends) to spend, and save the remainder to continue my compound growth investment plan (see Figure 1).
This is just what I've been doing over the past few decades. Why not continue this proven method in my IRA portfolio. This not only creates growth, but greatly exceeds inflation. The fact of generating 10% yield assures the fact I do not need to consider selling assets for income. I'm continually in the accumulation phase, before and during retirement.
Figure 1: Continuous wealth building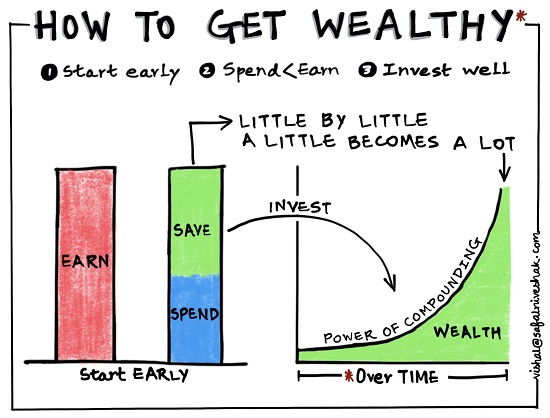 Source: Safalniveshak, How to get wealthy
This simple process is the foundation of any investment plan. Just like during our working career, we can design our retirement portfolio to generate income. If the income is greater than expenses, we can reinvest the surplus to build wealth and increase cash flow. The best of both worlds can be a reality if planned from the beginning.
Trade War, Inverse Correlation as Designed
After Friday's close, June 15th, the U.S. announced tariffs against China causing a declining market for both Monday, June 18, and Tuesday, June 19. With the 10-year rate declining, BDCs tracked the S&P 500 moving lower, while mREITs moved higher. This is a small example of BDC and mREIT inverse correlation in just two days. I believe this same occurrence will develop during the next recession. A flight to safety was in order for both Monday and Tuesday.
Chart 1: Trade-War Fear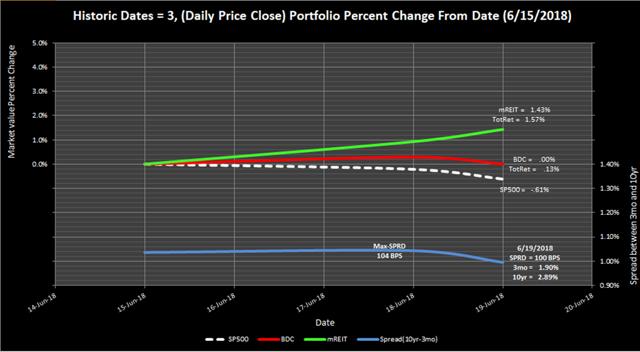 Source: Portfolio Online Tracker; Joe HYI
The top numbers for both the BDC (red line) and mREIT (green line) are price only movements. The lower numbers for BDC and mREIT lines are with dividends added to price based on a daily accumulative calculation.
Your portfolio should work like a system made up of integrated individual parts all working for a common goal. Like I said in my past article I treat my portfolio just like a business where you have individual contributors all working together to generate a product. It just so happens the product my business generates is cold-hard-cash.
First-Half 2018 Performance
Every year I start my reference date on the last trading day of the previous year. I only invest in BDCs and mREITs to allow income to be generated in both a bull or bear market. The red and green chart lines are the two groups of investments plotted over time.
As shown in Chart 2, since the beginning of the year both asset classes have been lagging the general market. Both investment groups have been in an uptrend since Feb. 5th low.
Please note that I do not use the S&P 500 as a benchmark, but as a fear indicator when investors are dumping stocks. That's when I spring into action and begin to purchase investments from my buy list.
Chart 2: YTD Portfolio Change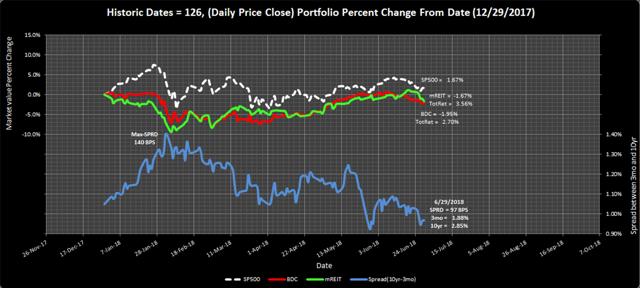 Source: Portfolio Online Tracker; Joe HYI
My portfolio is designed with 20 BDC and 20 mREIT individual stocks listed in Table 1. The mREITs are negative in price since the beginning of the year, if we add dividends they are positive 3.56%. The BDCs are negative in price since the beginning of the year; if we add dividends they are positive 2.70%.
The Fed bumped the overnight lending rate up a quarter percent in June and the possibility of two more by the end of the year. The question becomes: Will the Fed continue to increase rates while the market continues to struggle?
First-Half 2018 Results
The performance chart displayed in Chart 3 illustrates three metrics. This one chart displays all I need to know on how my business is performing based on brokerage account data.
Chart 3: Q1 Performance
The first metric is total portfolio balance "red line" that indicates the decline in price for the first two months of 2018. Notice the February decline of almost 7% where I introduced my RIP method and purchased more income shares. In the accumulation phase I want price to stay steady or decline to add more cost effective shares.
The portfolio balance is basically price of all my investments not in my control, but controlled by the fear and greed of investors. The only control I have is reinvesting surplus dividends that grow the balance, but price is the over-controlling contributor to balance value. YTD the balance is back to positive territory with a 0.6% price gain.
The second metric is the actual accumulated dividends "black line." My challenge is to obtain companies with sustainable dividends, and grow my income during the year. The accumulated income will continue to increase for the remainder of the year and is unaffected by price; it's currently at 4.85%.
The third metric displayed with "green bars" is the projected income growth. Every time I purchased shares future income increases. The same holds true for dividend changes (increase or decrease) during the year. Based on the investments and shares owned my future income growth is 3.5%.
I look at cash entering my account as real. I avoid the "illusion of confusion" thinking that price appreciation is of any value to my income focused high-yield portfolio design. As I continue to suggest, when I reinvest to increase cash flow, the portfolio balance will naturally follow along.
"Cash is king" - just like my working career, cash I can count on and not the illusion or promise of price appreciation controlled by a manic depressive market.
Portfolio Table
The following tables list my current stock selections at the end of the first half of 2018. As I said previously the BDC, mREIT portfolio is dynamically updated based on the ability of each management team navigating the changing economic environment. The end-game is to find dependable income producers where investment change is held to a minimum.
Table-1: H1 2018

Type

Description

Symbol

Yield

% Inc.Alloc.

Weight

YTD DivChg

BDC

Goldman Sachs BDC Inc.

(GSBD)

8.8%

1.2%

1.3%

BDC

TCG BDC Inc.

(CGBD)

8.7%

1.3%

1.7%

BDC

MAIN Street Capital

(MAIN)

6.0%

1.5%

2.6%

BDC

Golub Capital BDC Inc.

(GBDC)

7.0%

1.6%

2.4%

BDC

PennantPark Floating Rate Capital

(PFLT)

8.3%

2.0%

2.7%

BDC

Gladstone Investment Corporation

(GAIN)

6.8%

2.1%

2.5%

3.1%

BDC

Solar Capital Ltd.

(SLRC)

8.0%

2.1%

2.7%

2.5%

BDC

Newtek Business Services Corp.

(NEWT)

8.6%

2.2%

2.4%

7.5%

BDC

TPG Specialty Lending Inc.

(TSLX)

8.7%

2.6%

2.6%

BDC

Fidus Investment Corporation

(FDUS)

11.0%

2.6%

2.2%

BDC

Monroe Capital Corporation

(MRCC)

10.4%

2.6%

2.3%

BDC

FSIC Investment Corp.

(FSIC)

10.3%

2.6%

2.6%

BDC

Apollo Investment Corporation

(AINV)

10.8%

2.6%

2.5%

BDC_ETN

2xLeveraged Long Exchange Trade

(BDCL)

19.8%

2.6%

2.8%

BDC

New Mountain Finance Corporation

(NMFC)

10.0%

2.7%

2.9%

BDC

TCP Capital Corp.

(TCPC)

10.0%

2.8%

3.3%

BDC

Hercules Capital Inc.

(HTGC)

9.8%

3.2%

3.0%

BDC

Stellus Capital Investment Corp.

(SCM)

10.6%

3.2%

3.2%

BDC

TriplePoint Venture Growth BDC

(TPVG)

11.6%

3.7%

4.1%

BDC

Ares Capital Corporation

(ARCC)

9.2%

3.7%

1.4%

48.9%

51.2%

Table-2: H1 2018

Type

Description

Symbol

Yield

% Inc.Alloc.

Weight

YTD DivChg

mREIT*

Ares Commercial Real Estate Corp.

(ACRE)

8.1%

0.4%

2.0%

3.7%

mREIT

TPG RE Finance Trust

(TRTX)

8.5%

0.5%

0.6%

13.2%

mREIT_CEF*

Guggenheim Strategic Opportunities Fund

(GOF)

10.0%

1.4%

0.6%

mREIT

Ladder Capital Corp Class A

(LADR)

8.3%

1.8%

2.2%

8.3%

mREIT

Dynex Capital Inc.

(DX)

11.0%

1.9%

1.8%

mREIT

Starwood Property Trust Inc.

(STWD)

8.8%

2.0%

2.3%

mREIT

PennyMac Mortgage Investment Trust

(PMT)

9.9%

2.6%

2.0%

mREIT

Two Harbors Investment Corp.

(TWO)

11.9%

2.6%

2.1%

mREIT_CEF

PIMCO Dynamic Credit and Mort.

(PCI)

8.4%

2.6%

1.9%

mREIT

Invesco Mortgage Capital Inc.

(IVR)

10.6%

2.7%

2.3%

2.4%

mREIT

Blackstone Mortgage Trust Inc.

(BXMT)

7.9%

2.7%

3.3%

mREIT

MFA Financial Inc.

(MFA)

10.6%

2.8%

2.7%

mREIT

Chimera Investment Corporation

(CIM)

10.9%

2.8%

3.6%

mREIT

AGNC Investment Corp.

(AGNC)

11.6%

3.1%

2.7%

mREIT

Apollo Commercial Real Estate

(ARI)

10.1%

3.2%

2.8%

mREIT

Annaly Capital Management Inc.

(NLY)

11.7%

3.2%

3.3%

mREIT

Cherry Hill Mortgage Investment

(CHMI)

11.0%

3.3%

3.0%

mREIT

AG Mortgage Investment Trust

(MITT)

10.6%

3.5%

3.2%

5.3%

mREIT

New Residential Investment Corp.

(NRZ)

11.4%

3.8%

3.1%

mREIT_ETN

ETRACS Monthly Pay 2XLeveraged

(MORL)

20.7%

4.2%

3.3%

51.1%

48.8%

Every $100,000 investment at 10.0% yield = $10,000 income at today's stock price.

This (BDC, mREIT) portfolio has been generating 10% yield since the beginning of 2014.

* Added two new stocks after removing two, based on buyouts.
Each table is sorted by income allocation percentage (the "%Inc.Alloc." column). The goal from 40 individual stocks is to generate 2.5% of the total income. Some are over allocated where I do not add to that position, but will add to stocks less than 2.5% when surplus dividends are available.
I have also identified dividend changes for each company (the last column). This year I'm holding investments that will at least keep their dividends steady. More changes may occur during the year. I do not count special dividends toward the investment yield since they can be stopped at any time. To date I have eight dividend increases.
Portfolio Changes
I was not expecting to purchase any additional income stocks until we get another correction like we had in February, but two of my investments are being acquired.
CYS Investments Inc. (CYS) is being purchased by TWO and the acquisition will reduce operating expenses. TWO also reaffirms their quarterly dividend of $0.47 to be stable. Since I already own TWO with a full position, the acquisition of CYS will enhance TWO's assets and grow the business.
MTGE Investment Corp. (MTGE) assets are being purchased by NLY. I already owing NLY at full position and it did not make sense to wait for the MTGE acquisition to be accomplished. I'll still own MTGE indirectly through NLY. The management personnel of MTGE will be retained by AGNC. I purchased a position in GOF and completed a full position in PMT with the proceeds.
Guggenheim Strategic Opportunities Fund "GOF" is a CEF (closed-end fund) that can invest in U.S. government agency fixed-income debt and pursue additional avenues of investment. I'm looking for sustainable dividends and am willing to take a chance with GOF since it has continued to increase their dividends from September 2007 at 0.142 per month to the current value of 0.182 per month. I'm OK with that.
One of my sell criteria for investment is when the stock gets acquired. I sell the stock and purchase a replacement within the same asset class. I purchased a starting position in ACRE a commercial mREIT with 100% floating rate protection when interest rates rise. I'm always on the lookout for companies I believe will fit into my investment criteria.
Conclusion
The market correction in the beginning of the year provided good entry points to increase income cash flow. Once a stock has been purchased, price movement is not a consideration with my single focus placed on the income cash flow.
When investing in high yield, the concept of investing in the stock market is completely different than what we have been taught all our lives. It doesn't have to be chasing price gain as a means of accomplishment, but the income cash flow the asset is creating.
For price chasers, the only way for price gain to benefit the investor is to sell the stock and convert the capital gain into actual cash. If it was a dividend stock, you now have to find a replacement to continue the cash flow that was lost.
The mindset for investing in high yield income removes the constant emotional response for capital gain or loss, but now only concentrates on the income cash flow. I have many income stocks that are down from my original cost, but the high income produces a positive total return.
Compound growth is measured by the total portfolio balance and income generated. My portfolio balance went from 5.5 times my gross earnings while working, to almost 8 times in 4-1/2 years. Cash flow income went from 0 to over 75% of my final gross employment paycheck.
My 5-year anniversary is coming in 6 months for creating this portfolio that is now being used to finance my retirement. A journey accomplished by taking a chance with high yield has paid off.
A word of caution: Many comments I have read over the years complain about price loss when investing in high yield. You might experience 10, 20 and even 30% price loss from your high-yield investments and still obtain a positive total return if held for a number of years. High dividend stocks will overwhelm the price loss when holding good companies. This is what I have observed over the years and report on this fact in previous articles with charts. If you can't stomach price loss of this magnitude, you might not want to invest in RIC stocks. If you need income only, high yield might be the place to obtain your financial independence.
Disclaimer: I am not a financial adviser, but an independent investor. Please note the stocks included in the 50/50 portfolio are not recommendations. They were personally selected by the author and contain a great deal of investment risk. The stocks in the portfolio are BDCs and mREITs. Both investment vehicles are RICs and are required to distribute at least 90 percent of their earnings as dividends to investors.
This is a live active IRA portfolio that I believe will withstand the markets' bull and bear cycles based on my own research. The progress will be updated and tracked for feasibility of this investment method over the years. The article titled 50/50 Portfolio (BDCs And mREITs) Baseline 2014 details how the portfolio was constructed. It must be noted that investment selections are dynamic and based on management's ability to navigate economic conditions. I have made changes during the years as any portfolio manager is expected to perform.