Towards the end of last month, I made the argument that due to rising fears over global trade tensions with the United States, as well as a dovish than expected tone from the ECB regarding the ceasing of QE, the CHF has been rising and could be expected to rise further.
Since then, we see that the CHF/EUR has descended steadily to a level of 0.8651 at the time of writing: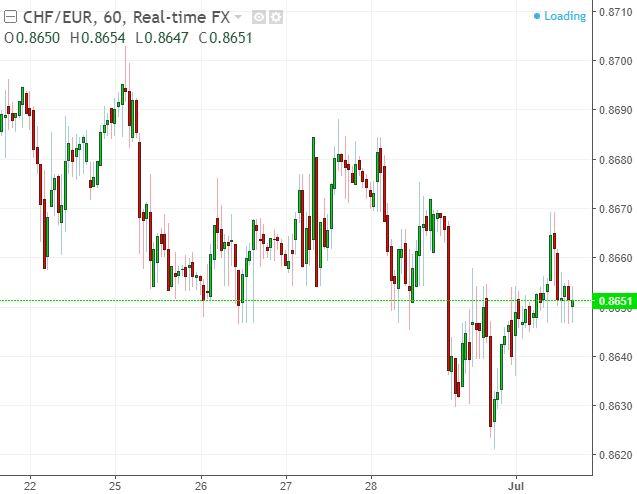 From a daily chart standpoint, it will be interesting to see whether the pair meets support at the 0.86 level - this could be a sign that the currency is steadily gaining strength and set to go higher.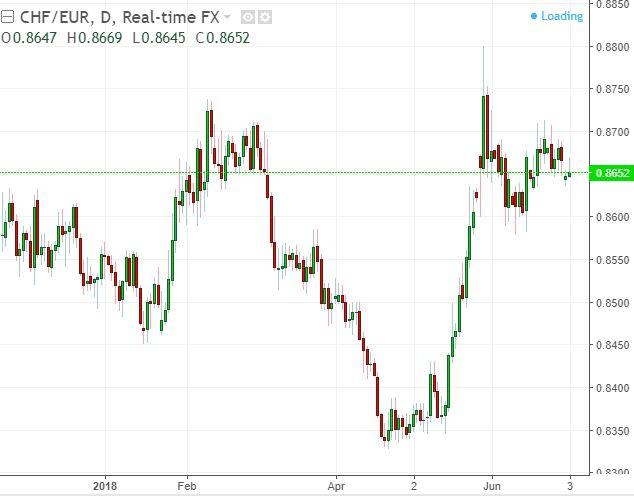 Towards the end of June, the euro had seen a boost primarily due to a migration deal being reached by the EU. However, we have concurrently seen lower than expected growth from Germany limit the rise in the euro. In particular, with manufacturing data coming in lower than expected, as well as reports that the German Interior Minister had rejected the migration deal negotiated by Angela Merkel, this had placed further strain on the euro.
Additionally, with fears that German automobile exports to the United States may be adversely affected by additional tariffs, European markets as a whole took a significant hit as a result.
On the other hand, what is quite interesting is that we have seen the KOF Economic Barometer - a key measure of forecasted economic activity in Switzerland - rise again in June to 101.7 points, its first increase in three months. Should we see trade fears escalate, then it is looking increasingly likely that the Swiss franc will increasingly see demand for its "safe haven" status. Additionally, Switzerland is one of the few countries in Europe where the rate of investment in its economy today is greater than that of 10 years ago, in spite of a stronger Swiss franc. Therefore, a rise in the franc may not necessarily deter economic activity, which would provide more of a bullish case for the currency.
Taking the above into account, I expect that the Swiss franc could well find support at the 0.86 level and rise from there. The issue of trade is a delicate one for the European Union at this point in time, and should we see further apprehension on the part of investors, then this could well mean a rise in the CHF/EUR going forward.
Disclaimer: This article is written on an "as is" basis and without warranty. The content represents my opinion only and in no way constitutes professional investment advice. It is the responsibility of the reader to conduct their due diligence and seek investment advice from a licensed professional before making any investment decisions.
Disclosure: I/we have no positions in any stocks mentioned, and no plans to initiate any positions within the next 72 hours. I wrote this article myself, and it expresses my own opinions. I am not receiving compensation for it (other than from Seeking Alpha). I have no business relationship with any company whose stock is mentioned in this article.