Inflation data released in June point to a continuation of gradually firming inflation in the United States. The Core Consumer Price Index (CPI) increased 0.2%, bringing core inflation to 2.2% year-over-year in May. While it is clear that general prices are firming, we are cautious of placing too much weight on a single data point. We have long argued the importance of secular trends that will drive markets over time, and we believe demographics and technology will likely keep inflation contained in the long run.
That said, inflation expectations still play a role in the Federal Reserve's monetary policy decisions; and this recent data, along with revised projections for higher growth and lower unemployment in the near term, contributed to the Fed's June 13 decision to raise the Federal Funds rate by 25 basis points (0.25%), bringing the target range to 1.75-2.00%.
This decision was widely anticipated given the continued strength in U.S. data, but we think the Fed could be facing some challenges in maintaining its expected path toward normalized rates amid rising geopolitical uncertainty. Notably, depending on how the global trade situation unfolds, the Fed could be forced to hit the pause button or even reverse course.
We continue to think that the front end of the yield curve offers attractive value given higher short-term yields, while we anticipate that longer-term interest rates can still move moderately higher this year. If the Fed deviates from its expected path, we could see more volatility in interest-rate-sensitive markets. This ongoing dynamic underscores that fixed-income investors have to be selective not only about how much they own, but what they own.
Outperformance with lower volatility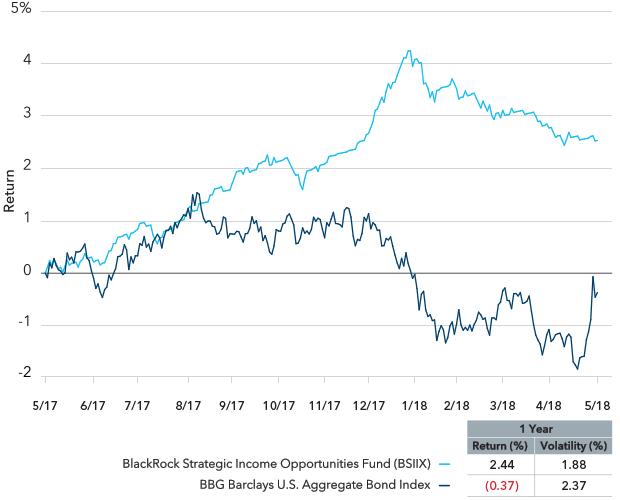 Source: Morningstar as of 5/31/18. Returns are from 5/31/17 through 5/31/18. Volatility is measured from 5/31/17 through 5/31/18 using daily returns. For standardized performance of the BlackRock Strategic Income Opportunities Fund, click here.
In the Strategic Income Opportunities Fund, we hold the majority of duration in the 0- to 2-year part of the yield curve, but we also hold exposure in the 7- to 10-year space as we believe rates are hovering around the highs of their near-term range. We slightly reduced the fund's inflation protection positions (in breakeven form) as the market's expectations for future inflation have become more aligned with our view.
We increased the fund's allocation to investment grade credit on the front end of the curve and continue to hold high-quality names for income generation. Within emerging markets, a stronger U.S. dollar and global trade tensions are creating a headwind for the sector. Although we reduced the fund's overall EM exposure, we continue to hold select positions in China, Argentina and Mexico.
Article was originally on BlackRock.com
© 2018 BlackRock, Inc. All rights reserved.
Investing involves risk, including possible loss of principal.
Carefully consider the Funds' investment objectives, risk factors, and charges and expenses before investing. This and other information can be found in the Funds' prospectuses or, if available, the summary prospectuses which may be obtained visiting the iShares ETF and BlackRock Mutual Fund prospectus pages. Read the prospectus carefully before investing.
Stock values fluctuate in price so the value of your investment can go down depending on market conditions.
International investing involves risks, including risks related to foreign currency, limited liquidity, less government regulation and the possibility of substantial volatility due to adverse political, economic or other developments. These risks often are heightened for investments in emerging/ developing markets or in concentrations of single countries.
Fixed income risks include interest-rate and credit risk. Typically, when interest rates rise, there is a corresponding decline in bond values. Credit risk refers to the possibility that the bond issuer will not be able to make principal and interest payments.
Non-investment-grade debt securities (high-yield/junk bonds) may be subject to greater market fluctuations, risk of default or loss of income and principal than higher-rated securities.
Short-selling entails special risks. If the fund makes short sales in securities that increase in value, the fund will lose value. Any loss on short positions may or may not be offset by investing short-sale proceeds in other investments.
The funds may use derivatives to hedge its investments or to seek to enhance returns. Derivatives entail risks relating to liquidity, leverage and credit that may reduce returns and increase volatility.
The opinions expressed are those of the fund's portfolio management team as of May 2018, and may change as subsequent conditions vary. Information and opinions are derived from proprietary and nonproprietary sources deemed by BlackRock to be reliable, are not necessarily all-inclusive and are not guaranteed as to accuracy. There is no guarantee that any forecasts made will come to pass. Reliance upon information in this material is at the sole discretion of the reader. Percent of net assets figures represent the Fund's exposure based on the economic value of securities adjusted for futures, options, swaps and convertible bonds.
©2018 BlackRock, Inc. All rights reserved. BLACKROCK, BLACKROCK SOLUTIONS, BUILD ON BLACKROCK, ALADDIN, iSHARES, iBONDS, iRETIRE, LIFEPATH, SO WHAT DO I DO WITH MY MONEY, INVESTING FOR A NEW WORLD, BUILT FOR THESE TIMES, Target Date Explorer the iShares Core Graphic, CoRI and the CoRI logo are registered and unregistered trademarks of BlackRock, Inc., or its subsidiaries in the United States and elsewhere. All other marks are the property of their respective owners.
The Funds are distributed by BlackRock Investments, LLC (together with its affiliates, "BlackRock").
535856