As readers might have noticed, in order to diversify my offering and coverage universe, this year, I started running a Conservative Portfolio 'Conservative PA.' Incidentally, during the first half of 2018, the Conservative PA was up more than 7%, and through that time period the portfolio held approximately 50% in cash. This handily beat the S&P 500 and Dow Jones Industrial indices. Procter & Gamble (NYSE:PG) was purchased at $72.83 (see here), on April 24, 2018, and this was one of the many securities that helped generate those strong first-half 2018 returns (Market Adventures readers received real-time buy and sell alerts on all recommendations). This is the formal P&G write-up.
Executive Summary
P&G owns some of the best consumer staples brands in the entire world (see below in the Major Brands section). The company has five elements of superiority strategy: Product, Packaging, Brand Communication, Retail Execution, and Value. The company is known for recruiting at places like Harvard B school and yet, however pedestrian the products categories they compete in, this company prides itself in its sophistication and scientific approach. The products that it sells have massive global addressable markets and are used by hundreds of millions of people on a daily basis. In FY 2018 (ending June 30, 2018), P&G raised its dividend for the 62nd consecutive year and has paid a dividend for 128 years. This is amongst the bluest of Blue Chips and a must-own, if you can buy it at the right price, for a well-rounded dividend portfolio.
The reason why P&G shares have dropped back, after hitting a 52-week high of nearly $95, is because its organic sales growth trajectory has been tepid. This combined with rising interest rates and modest gross margin pressure due to private label competition and rising commodities price inputs have weighed on shares. The sell side has also soured on the stock and this pessimism is reflected in the current and recent share price weakness.
P&G's segment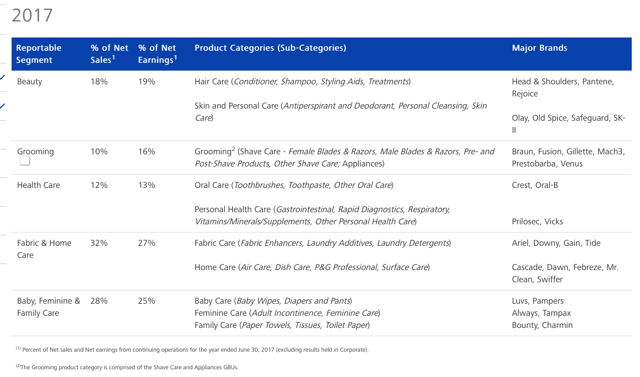 Despite returning a significant amount of capital back to shareholders in the form of dividends and stock buybacks, the stock is still well off its all-time high.
(All quoted material is from PG's Q3 2018 conference call).
Fiscal 2018 will be another year of significant cash return to shareholders. We expect to pay nearly $7.5 billion dollars in dividends and repurchase shares in the range of $6 billion to $8 billion this year. Combined return between 13.5 to 15.5 billion dollars of value to shareowners, following 22 billion last fiscal year and 16 billion in fiscal 2016.
5-Year Chart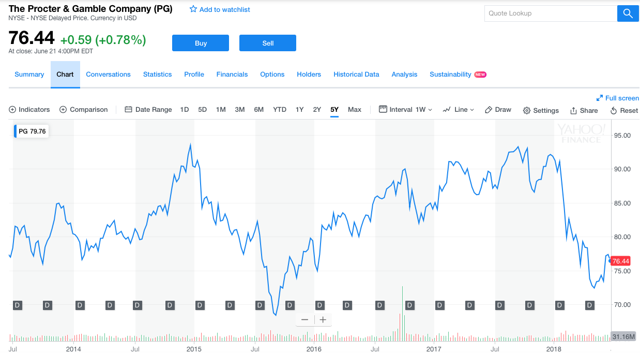 Source: Yahoo Finance
In this piece, we will review PG's historical financial, look at some key metrics, and review and discuss the Q3 2018 conference call in greater detail.
Cash Flow Statement
Lots of cash flow from operating activities to fund CAPEX, dividends, and share buybacks.
Key Metrics
P&G's top line has been stagnant. However, because of assets sales it is hard to isolate organic sales.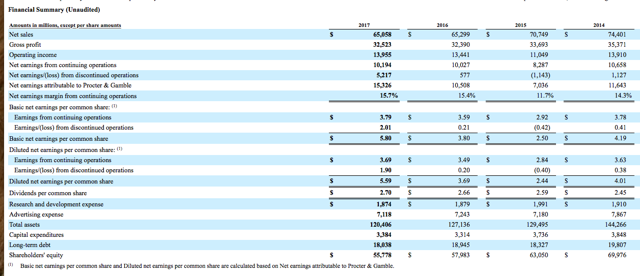 In FY 2017 (ending June 30, 2017), P&G's organic sales were up 2% and Core EPS was up 7%.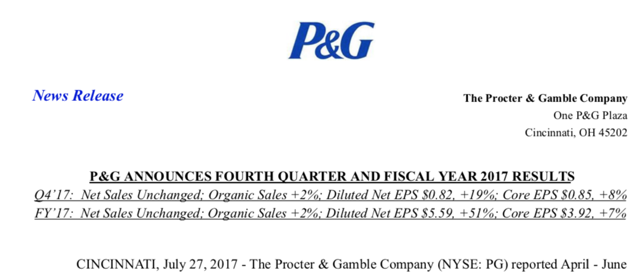 P&G Sold Its Beauty Business to Coty For $11.36 Billion
Speaking of selling assets, recall that on October 3, 2016 (fiscal year 2017), P&G completed the sales of its beauty business to Coty (COTY). This was the largest divestiture in P&G's history. The deal was very complicated and designed to avoid paying taxes on the gain (see here). The company essentially retired 105 million shares of P&G stock and Coty assumed $1.9 billion of debt, so total deal consideration of $11.4 billion (hence the $11.36 billion figure in the cash flow chart above).
As part of the transaction, P&G retired 105.0 million shares of P&G stock, behind the exchange of 409.7 million shares of Galleria Co., which converted into common shares of Coty. At P&G's closing stock price on Friday, September 30, of $89.75, these shares represent value of $9.4 billion. In addition, Galleria Co. assumed approximately $1.9 billion of debt in the transaction, the proceeds of which were subsequently distributed to P&G prior to the consummation of the split/merger. The combination of the stock retirement and debt proceeds results in a total value of approximately $11.4 billion.
Tepid Organic Sales Growth And Weak Pricing
Three Months Ended March 31, 2018 (FY 2018 Q3)
Organic volume is up 2% and organic sales are only up 1%. Price was down across all segments and down 2% overall. The sell side had a field day mentioning this on the Q3 FY 2018 conference call.

Nine Months Ended March 31, 2018 (FY 2018)
For the nine months ended March 31, 2018, revenue was only up 1% and operating income was flat. Both gross margins and operating margins were down 60 bps.
FY 2018 Q3 Conference Call (see here)
Management covered a lot of terrain in the opening remarks.
CFO Jon Moeller discussed the $4.2 billion Merck (MRK) OTC business acquisition that will take place in FY 2019, after the P&G and Teva (TEVA) JV ends on June 30, 2018.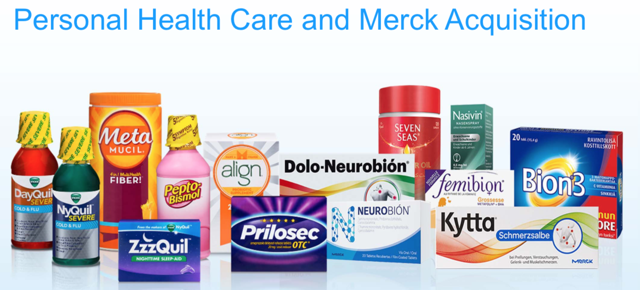 Overall volume of value share trends continued to improve. Volume shares now in line with prior year levels improving in both developed and developing markets. Seven of 10 global categories are now growing or holding volume share. Value share is down 30 basis points all in and adjusting for intra-category mix impact is down just 10 basis points. Several large businesses are moving to positive share trends. Feminine Care and Skin and Personal Care shares are growing.

Retail trade transformation in the U.S. is reshaping our categories. Rapid shifts to e-commerce and aggressive inventory management, trade inventory reductions, primarily in the U.S. drove strong organic sales down by roughly a point this quarter. From a business standpoint, we're not where we need to be on two large businesses, Baby Care and grooming.
Guidance - 2% organic sales growth
Moving to guidance for fiscal 2018, we're maintaining our guidance range for organic sales growth of 2% or 3%. We're at 1.4% fiscal year-to-date leaving as at the low end of this range potentially rounded up to 2% for the full year. We expect fiscal 2018 all in sales growth of about 3%. This includes a net benefit from the combination of foreign exchange acquisitions and divestitures.

We're raising our outlook for core earnings per share growth from a range of 5% to 8% to a range of 6% to 8%. Commodities are projected to be a $350 million after tax headwind for the year consistent with the outlook we provided last quarter. Transportation costs are now a $200 million headwind for the year. Foreign exchange is roughly $175 million after tax benefit. The combined impact of commodities, transportation and foreign exchange are $0.14 per share impact on core earnings per share, a four point drag on core earnings per share growth.
CEO, David Taylor, focused on how it isn't business as usual at P&G. He noted that eight of the ten broad product categories are performing fine. Grooming (shaving) and Baby Care are the segments that are underperforming.
Baby Care weakness
First, Baby Care, Baby Care is our largest improvement opportunity. The challenges we faced are market specific and are very well understood. We're addressing them quickly and they've taken longer than planned to resolve, but recent trends in China on our global pants in naturals launch illustrate that we can make progress with important growing segments.
Nice organic sales improvement in China, and India
I'll give you a little more detail on China baby because I know it's a high interest area. Overall, diaper organic sales in China were up 2% this quarter. This is important turning point, not the end point, but the first quarter of growth in 16 quarters. We're getting our portfolio adjusted and we're getting the capacity and plans in place to win. This compares to a 12% decline at the first half of the year. Clearly, we're making progress and what's driving the progress and improvements is pant style diapers and premium taped diapers.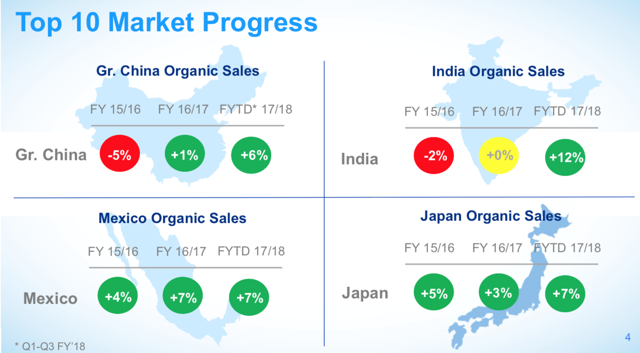 Interesting macro commentary on demographic and the size of the OTC market.
With Vicks, we are leader in OTC cough cold treatments and in digestive health with the Metamucil, Pepto-Bismol and Align brands. We see several areas where Merck's capabilities can accelerate P&G's brands and businesses. We believe Personal Health Care will continue to be a financially attractive category. It's a huge category at about $230 billion in sales and with strong profit margins.

The three megatrends that are supported growth of OTC healthcare for the last decade, and they should continue for many years to come. First the aging population, today they're about 650 million people age 65 or over. This is projected to more than double to about 1.6 billion people by 2050. Over the same time period, the global average lifespan is projected to increase by almost 8 years.
Analyst Q&A
The sell side analyst commentary ranged from negative to super negative. These seven exhibits and questions on conference call poignantly capture analysts' negative sentiment towards P&G.
Exhibit A - (2.5 year into the turnaround where are the results?)
Exhibit B - (Negative pricing and commodity cost inflation. Does this mean a profit growth paradigm shift?)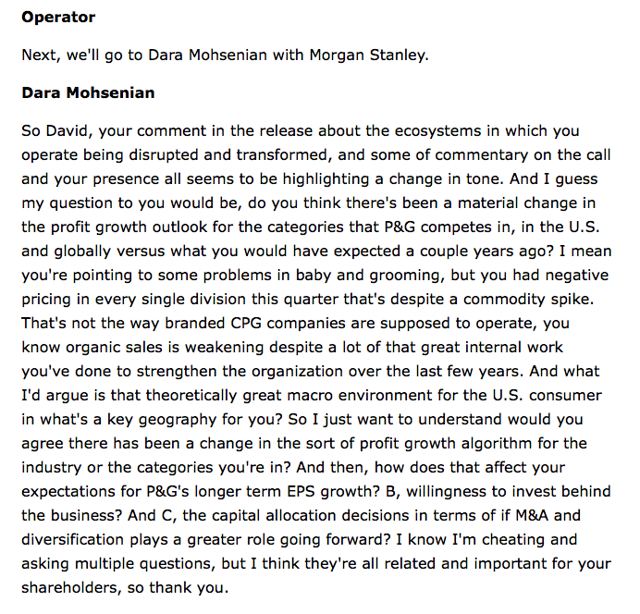 Exhibit C - "Pricing has broadly deteriorated across the industry"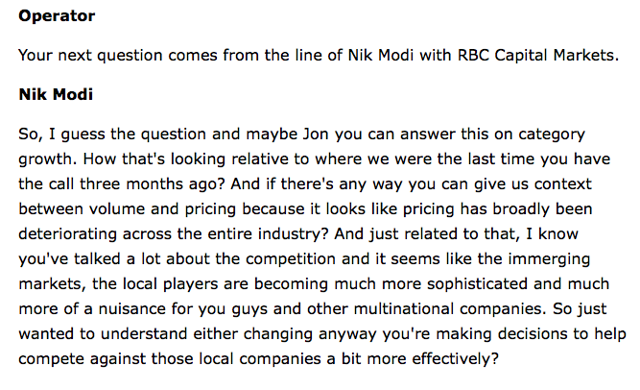 Exhibit D - Pricing mix is eroding and you rely on promotions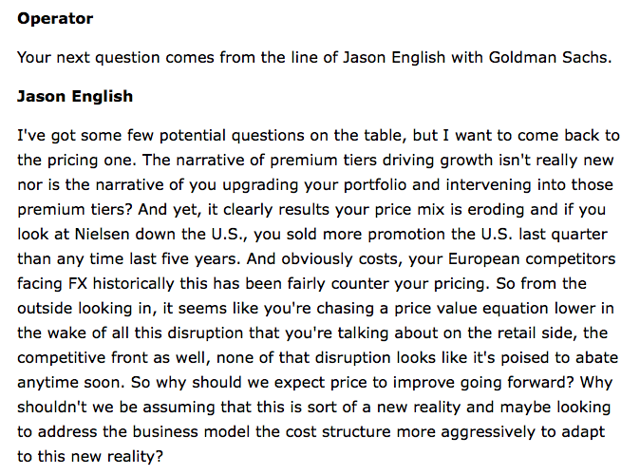 Exhibit E - Gross Margin Pressure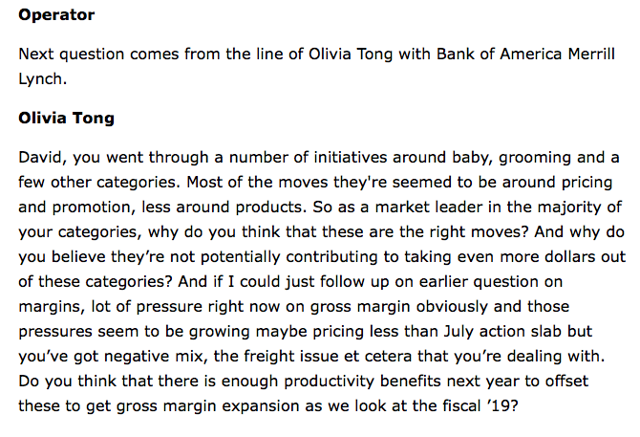 Exhibit F - Plan B?
And then the second question, building on some the things we've been talking about. I guess I'm wondering what plan B and you may say it's too early to talk about that, but look less as there is little bit drama but acquisition for sure and it comes up to be more smaller compelling pack of change if any guy do a really good job your market organization in terms of talking about change but why not if we can make much films about it and the actual numbers aren't good, right. You're pricing guides were down 2% and this is after a quarters and quarters and quarters the accommodation and no price wars when we heard children that this question we really just ask this question. And by the way it only becomes positive it sounds like sometime in that fiscal year and towards the pricing but that doesn't feel good. You said look we are 8 out of 10 are good, and two of them are not good into your categories but there is always through they are not good right. I mean it just seems like there is always something at P&G as some calorie combinations are doing well which impacts the whole business it hasn't come together we get that but I guess why will it now continues to be the question we ask and if you look at as that business is neutral but we have heard some form and that business is real for at least five years. So I guess what if the strategy doesn't work, what if the world is actually two dramatically different HPC you start look like packaged foods for investors perspective what is Plan B. One of the things you guys think about as a record option as I just don't innovate is it shakes your headcounts by 80% not 25%. Are you just going to have excess and we're going to have expected all of your earning. I really want to get underneath this Plan B part as well please?
Exhibit G - Strong consumer confidence but weak growth.
Valuation
As of March 31, 2018, there were 2.515 billion shares of P&G outstanding. So yesterday's closing price of $78.13 gives the company a market capitalization of $196.5 billion. The company had $22.5 billion in long-term debt. So we are looking at an enterprise value of $219 billion. If we assume normalized cash flow from operations of $14 billion, then we are looking at an EV/Cash flow from operations multiple of 15.6X.
The stock is trading at roughly 18.5X FY 2018 EPS guidance.
Takeaway
A combination of weaker than expected organic growth, rising interest rates, and modest gross margin pressure has caused the sell side to turn super bearish on P&G shares. Fear surrounding private label competition based on price by retail has reached a very high level. Hence why I was so deliberate about sharing the seven exhibits that encapsulated those fears. Notwithstanding the weakness in grooming (shaving) and baby care, P&G has been making more progress than analysts want to recognize. It is very logical that the shaving business is challenged due to competitors such as Harry's and Dollar Shaving club as the pesky underdogs have made strong inroads into the lower end of the shaving marketplace. In the baby segment, retailers are fighting hard to win their fair share of in store traffic and hence why there is so much emphasis on this sector. P&G understands this dynamic and is working to combat it.
At the end of the day, although I acknowledge the issues surrounding weaker organic sales volume and market share gains, increasing private label competition, and commodity cost inflation, I am hoping to get a chance to buy back a 4% to 5% stake in P&G at $74. We flipped our shares at $77 as it was part of a broader portfolio rebalancing and not specific to P&G.
Should shares go down into the high $60s, we would get aggressive and take the stake up to 10%. I am more optimistic on the strength of P&G's brand than the sell side. Stocks tend to move in and out of favor and value investors need to take advantage of periods of peak pessimism.
Appendix
As you can see, we picked up a roughly 4% sized position in P&G shares at $72.83 (Fidelity charges $5 per trade). I reluctantly sold it for 5.5% return in less than six weeks.