This article was first published on Trend Investing on May 4; therefore all data is as of that date.
In this article, my goal is to present a fairly comprehensive overview of all the main North American (US and Canadian) primary listed EV metal miners. I will follow in the next article with my top 8 (2 from each section) North American EV metal miners.
US And Canadian Lithium Miners
Albemarle (NYSE:ALB)
Albemarle is a large diversified chemicals company. They are the global leading lithium producer (along with SQM) producing ~72ktpa of lithium carbonate equivalent [LCE] in 2017. Albemarle's flagship assets include their ~50% JVs - Atacama salar (with SQM) in Chile, and Greenbushes (with Tianqi Lithium (SHE:002466) in Western Australia. Both are very large, high grade, world-class assets. The company also has a small lithium mine at Silver peak in the Clayton Valley, Nevada, USA (not too far from the Tesla (NASDAQ:TSLA) gigafactory). Lithium accounted for 42.2% of Albemarle's total revenue.
Albemarle's current focus is to steadily expand their lithium production over the next 5-10 years. A slight negative has been their battles with Corfo in Chile, and the scaled royalties on their lithium production.
Current market cap is USD 10.8b. You can view an interview I did with CEO Luke Kissam here.
Salar de Atacama Chile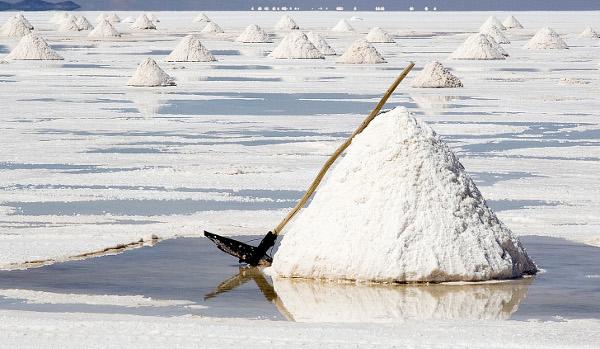 FMC Corp. (NYSE:FMC)
FMC Corporation is an American chemical manufacturing company headquartered in Philadelphia, Pennsylvania. The company has a large agricultural division, as well as their lithium division.
FMC produced 18.5kt of LCE in 2017 from their Hombre Muerto salar in Argentina. The company plans to expand by ~10,000 tons of lithium carbonate capacity by the end of 2020, and a further 10,000-ton increase by 2022. Note however that lithium only accounted for 11.7% of FMC's total revenue.
FMC plans a $500 million IPO of lithium business on NYSE in the fall.
Current market cap is USD 11.3b.
Lithium Americas [TSX:LAC] (OTCQX:LACDF) (NYSE:OTC:LAC) (LACDF)
Lithium Americas' ("LAC") flagship project is their 50% JV (with SQM) Cauchari-Olaroz lithium salar in Argentina. The company states "it is the 3rd largest lithium brine deposit in the world." Their 2012 NI 43-101 compliant resources were an indicated 8.7 million tonnes lithium carbonate at a lithium grade of 666 mg/L. The JV plan to commence production at Cauchari-Olaroz in 2020 with 25,000tpa production, later to be expanded to 50,000tpa.
The March 2017 DFS (100% project basis) resulted in a post tax NPV10% of US$803m @LCE 12,000/t, after-tax IRR of 28.4%, 40-yr mine life, average cost of production $2,495/t. Project capital costs were estimated at $US425 million.
LAC's share of the project is now fully financed thanks to LAC's equity off-take partners Ganfeng Lithium (SHE:002460) and Bangchak Petroleum.
LAC also owns the Lithium Nevada (formerly Kings Valley project) lithium clay project in Nevada. A recent resource upgrade resulted in a Measured and Indicated resource increase to 6.0 million tonnes of lithium carbonate equivalent [LCE] at 2,917 ppm Li.
Current market cap is CAD 569m.
Bacanora Lithium [AIM:BCN] [GR:2F9] (OTC:BCRMF) - Formerly Bacanora Minerals
Bacanora's flagship project is the lithium clay Sonora project in Mexico.
The recently completed Feasibility Study [FS] demonstrated strong economics of US$1.25billion pre-tax NPV8%, pre-tax 26.1% IRR, life of mine gross operating costs of US$3,910/t Li2CO3, and a 19 year mine life. The Company's objective to commence the construction of a 35,000 tpa lithium carbonate operation at Sonora in H1 2018, targeting first production in Q1 2020.
Bacanora also own 50% of the Zinnwald Lithium Project in Germany.
Current market cap is GBP 123m.
Nemaska Lithium [TSX:NMX] [GR:NOT] (OTCQX:NMKEF)
Nemaska Lithium is currently developing their 100% owned Whabouchi lithium spodumene project in James Bay Quebec, Canada. Whabouchi has a good grade (1.4% LiO2) and 37 MT Proven and Probable Reserves.
Their recent FS resulted in a post tax NPV 8% of CAD2.4b (US$1.8b), post-tax IRR of 30.5%, with a USD 616m CapEx (includes contingency), and a 33-year mine life. The Company plans to be a fully integrated producer from spodumene through to lithium carbonate or hydroxide. The company plans to commence production by around 2020/21 and ramp up to 34,000 tpa.
The Company has recently been making strong progress towards project financing including a ~CAD100m investment from Softbank, a USD 150M streaming agreement with Orion, and a USD 300-350M bond offering. They also recently signed a Signature of Agreement to supply lithium hydroxide to Northvolt.
Current market cap is CAD 522m.
Critical Elements [TSXV:CRE] [GR:F12] (OTCQX:CRECF)
Critical Elements have 11 potential projects including the large Rose lithium tantalum resource in James Bay Quebec. The other projects are prospective for lithium, nickel, copper, cobalt, and iron.
The Company is currently seeking off-take and project funding partners.
Current market cap is CAD 185m.
Neo Lithium [TSXV:NLC] (OTC:NTTHF)
Neo Lithium 100% owns their tenements of the entire Tres Quebradas (the "3Q Project") salar in Argentina, covering 160Km2. The salar has a high lithium grade (784-895 mg/l) and very low impurities (1.87 Mg/Li).
Their Preliminary Economic Assessment [PEA] resulted in a post-tax NPV8% of USD 1.2b, post tax IRR of 28%, and a CapEx of USD 490m.
The Company is currently progressing the project with off-take and project funding discussions, and permitting. The company plans to be a 35ktpa LCE producer commencing ~2021/2022.
Current market cap is CAD 152m. You can read my CEO interview on Trend Investing here.
AIS Resources [TSXV:AIS] (OTCQB:AISSF)
AIS Resources is a Canadian junior lithium explorer and developer fast tracking towards production at their 100% optioned to own tenements at Guayatayoc Laguna and Quiron Salar (also referred to as Pocitos Salar) in Argentina. The Company also has a smaller Argentina lithium project at Vilama salar.
The company is currently commencing a drilling program at their Chiron project at the Pocitos Salar in Argentina. They also plan to commence drilling at their Guayatayoc Laguna soon. By about mid-year they plan to announce a mineral resource, and follow thereafter with a BFS. The company plans a modular approach to production, starting with ~8ktpa by ~2020.
Current market cap is CAD 23m. You can read my article "AIS Resources is racing towards lithium production in Northern Argentina", or my Chief Operating Officer Phillip Thomas interview within Trend Investing here.

Advantage Lithium [TSXV:AAL] (OTCQB:AVLIF)
Advantage Lithium 75% own tenements at the Cauchari lithium project in Argentina, near their 25% partner Orocobre [ASX:ORE] (OTCPK:OROCF). The project borders the Lithium America/SQM Cauchari-Olaroz project.
The Company is currently working on a resource upgrade, followed by their scoping study.
Current market cap is CAD 129m.
Millennial Lithium Corp [TSXV:ML] (OTCQB:MLNLF) (OTCQX:MLNLF)
Millennial has tenements at the Pastos Grande Lithium project and the Cauchari East lithium project. The company states - "Millennial controls over 20,000 hectares of claims in the heart of the Lithium Triangle – home to the world's most prolific lithium deposits." The Company has a Measured and Indicated Resource containing 2.1 million tonnes LCE. The Company quotes Pasos Grandes lithium grades as "Li grade of 400mg/L to 600mg/L."
Their Preliminary Economic Assessment [PEA] resulted in an after tax NPV of US$824m, based on 25ktpa production, CapEx US$410m, with a OPEX estimate of US$ 3,218/tonne of Li-Carbonate.
The Company is currently working on their Feasibility Study [FS].
Current market cap is CAD 170m.
LSC Lithium [TSXV:LSC] (OTC:LSSCF)/Dajin Resources [TSXV:DJI] (OTCPK:DJIFF)
LSC Lithium is focused on six development stage lithium projects: Pozuelos, Pastos Grandes, Salinas Grandes (Salta), Salinas Grandes (Jujuy), Rio Grande and Jama. LSC Lithium Corporation (51%) has partnered with Dajin Resources (49%) for some tenements primarily located in the Salinas Grandes/Guayatayoc salt lakes basins, Argentina.
Rio Grande has a NI-43-101 Inferred Mineral Resource 2.19m tonnes LCE. The company is currently working on their PFS for Pozuelos and Pastos Grandes.
Current market cap is CAD 111m.
Wealth Minerals [TSXV:WML] [GR:EJZN] (OTCQB:WMLLF)
Wealth Minerals has a portfolio of lithium assets in Chile, such as 46,200 Has at Atacama, 8,700 Has at Laguna Verde, 6,000 Has at Trinity, 10,500 Has at Five Salars. In total the company has tenements of ~75,500 hectares.
The company has formed a JV to develop the Atacama and Laguna Verde projects with WML at 90%, and ENAMI at 10%. The Company states that they have a "100% royalty free interest" in Atacama and Laguna Verde.
Note: ENAMI, as a state-owned enterprise, has a key position in any dialog with government agencies regarding the projects in the JV, as the JV is part of a broader government policy of advancing lithium mining in Chile.
Note: Atacama is known for its exceptionally high grades (lithium 1,840mg/l, and potassium 22,630mg/l) and large resource.
The Company plans to focus now to progress their Atacama and Laguna Verde projects.
Current market cap is CAD 136m.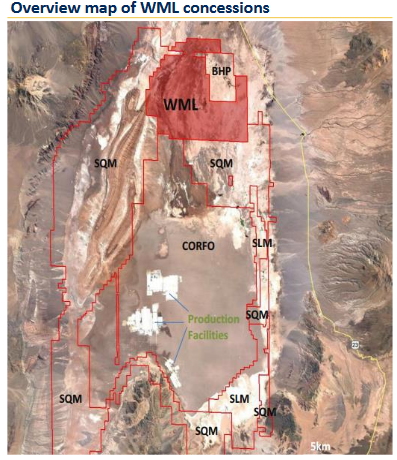 Pure Energy Minerals [TSXV:PE] (OTCQB:PEMIF)
Pure Energy owns the Terra Cotta lithium brine project in Argentina and the Clayton Valley Nevada project. Their Clayton Valley grades are very low at 123mg/L, good chemistry with 2.9:1 Li/Mg ratio, and total inferred resource is only 218,000t LCE (with some exploration upside).
The PEA for Clayton Valley resulted in a post tax NPV8% of USD264m, post tax IRR of 21%, with USD 297m upfront CapEx, based on 10.3ktpa lithium hydroxide.
The Company recently commenced drilling at Terra Cotta, where it is likely they will be able to secure a much bigger resource, and hence better economics.
Current market cap is CAD 32m.
Cypress Development Corp. [TSXV:CN] (OTCQB:CYDVF)
Cypress Development owns tenements in the Clayton Valley, Nevada, USA. They recently released a large maiden NI 43-101 compliant lithium resource as shown below. Average grade is 899 ppm (0.09%) Li (equivalent to 899mg/L), hosted in clay.

The Company state - "Lithium occurs in illite and montmorillonite clays throughout the sediments," and "metallurgical tests have shown the claystone is acid leachable with lithium extractions ranging up to 80% in agitated leach using sulfuric acid."
The Company is currently doing metallurgical testing and working on their PEA.
Current market cap is CAD 18m.
Piedmont Lithium [ASX:PLL] (OTC:PLLLY)
Piedmont Lithium states they are "the only US lithium spodumene project," with their 100%-owned Piedmont Lithium project in North Carolina, USA. The company has already identified a 4+ kilometers of strike length, with an exploration target of 10-15m tonnes at a grade of 1.00% to 1.25% Li2O.
The Company is currently undertaking an aggressive drill campaign to define a maiden resource by Q2 2018. They are also working on permitting and their scoping study.
Current market cap is AUD 86m.
Other US and Canadian lithium juniors
ABE Resources [TSXVABE] [GR:1AJ2] (OTCQB:ABEPF), American Lithium Corp. [TSX-V:LI] (OTCQB:LIACF), Argentina Lithium & Energy Corp. [TSXV: LIT] (OTCQB: OTCQB:PNXLF), Avalon Advanced Materials [TSX:AVL] [GR:OU5] (OTCQX:AVLNF), Far Resources [CSE:FAT] (OTCPK:FRRSF), Lithium Chile [TSXV:LITH] (OTCPK:LITH), MGX Minerals [CSE:XMG] (OTC:OTC:MGXMF), NRG Metals Inc. [TSXV:NGZ] (OTCQB:NRGMF), Plateau Uranium [TSXV:PLU] [GR:QG1A] (OTCQB:PLUUF), Portofino Resources Inc.[TSXV:POR] [GR:POT], Savannah Resources [LSE:SAV] (GR:AFM], and Standard Lithium [TSXV:SLL] (OTC:STLHF).
US And Canadian Cobalt Miners
Katanga Mining [TSX:KAT] (OTCPK:KATFF)
Katanga Mining is a Canadian cobalt miner with a very large high grade copper-cobalt mine in the Democratic Republic of Congo [DRC]. The company has the world's largest cobalt reserves.
In late 2017, the company restarted their DRC copper-cobalt project and plan to produce 11ktpa of cobalt in 2018, and up to 34ktpa in 2019 if demand is there. In more recent times, the company has been affected by proposed new punitive DRC taxes, as well as issues with their DRC partner ($3.9b deficit at Kamoto Copper Co).
The resource is world class; however, Congo corruption and a large debt owed to Glencore (86% owner of Katanga) are both problematic.
Current market cap is CAD 1.75b.
eCobalt Solutions [TSX:ECS] (OTCQX:ECSIF)
eCobalt 100% owns the advanced stage Idaho Cobalt Project ("ICP"), located in East Central Idaho within the Idaho Cobalt Belt, USA.
The company has completed their Feasibility Study [FS] and is currently finalizing a new optimized FS, advancing due diligence with potential off-take partners, and commenced pre-construction activities.
Details from their FS are shown in the table below.

The project benefits from an excellent grade (~0.46% Co), but is not so large in size, therefore limiting production to around 1ktpa over a 12.5 year mine life. US location is a large plus.
Current market cap is CAD 227m. A possible 2020/2021 producer.
Fortune Minerals [TSX:FT] (OTCQX:FTMDF)
Fortune is currently focused on advancing the vertically integrated NICO cobalt-gold-bismuth-copper project, comprised of a proposed mine and mill in the Northwest Territories that will produce a bulk concentrate for shipment to a refinery that the Company plans to construct in Saskatchewan. The products that will be produced at the refinery include cobalt chemicals used to make high performance rechargeable batteries, bismuth metals and chemicals, as well as gold.
The company is currently updating their FS with a higher production target (~1.8-2.2ktpa cobalt) to improve economics. Project CapEx is larger than some due to the vertically integrated mining plan; however, costs of production are forecast to be negative due to valuable by-product credits from bismuth and gold.
The Company is making progress on all fronts - access (Tlicho all-season road), project financing, and off-take discussions.
Current market cap is CAD 84m. A possible 2021 producer.
First Cobalt [TSXV:FCC] (OTCQB:FTSSF)
First Cobalt is a large tenement holder in Cobalt camp Ontario, Canada. Their primary focus is on its Greater Cobalt Project with over 10,000 hectares of prospective land including over 50 past producing mines, a mill and a cobalt refinery. The area is a historic cobalt and silver mining region.
The Company has commenced drilling with a $7 million exploration program for 2018. The company has already struck some nice high grade (Co 0.57%) results as you can read here.
Current market cap is CAD 151m.
Cruz Cobalt [CUZ] (OTCPK:BKTPF)
Cruz Capital operates as a cobalt project generator and developer. Cruz currently has six cobalt projects located in Canada, one in Idaho and one in Montana. Cruz's 4 separate Ontario cobalt prospects are all located in the vicinity of the city of Cobalt. Projects include:
War Eagle Cobalt prospect (British Columbia, Canada) - surface samples of 6.41% cobalt, 3.59% nickel and 7.25% copper (historic data)
Johnson Cobalt prospect (Ontario, Canada) - grab assays over 300m up to 10.5% cobalt, 69 g/t silver, 12% nickel and 0.4% copper (historic data)
Bucke Cobalt project (Ontario, Canada) - assays grading 13% cobalt and 240 g/t silver (historic Ontario data)
Idaho Star Cobalt prospect (Idaho, USA)
Coleman cobalt project (Ontario, Canada) - assays grading 13% cobalt
The Chicken Hawk cobalt prospect - Consists of 94 contiguous lode claims covering approximately 1,940 acres and is located in Deer Lodge county, Montana.
The Company continues to build up land holdings especially in the Ontario cobalt camp, and has started to assess their resources with plans to commence some drilling soon at their Idaho Star Cobalt Prospect.
Current market cap is CAD 16m.
Bankers Cobalt [TSXV:BANC] [GR:BC2] (NDENF)
Bankers Cobalt is a cobalt and copper exploration and development company focused on advancing its high quality portfolio of permitted concessions in the Democratic Republic of Congo [DRC]. Bankers aim to generate a reliable, certified supply of cobalt and copper for existing and new processors in the DRC having excess capacity.
Bankers hold rights to 14 separate mineral concessions strategically located in the southern DRC Copperbelt and having a total area in excess of 210 km². The Company recently acquired a further 70% earn in interest in six additional cobalt and copper concessions in the DRC.
Current market cap is CAD 15m. You can read my CEO Stephen Barley interview on Trend Investing here.
Cobalt27 Capital Corp. [TSXV:KBLT] [GR:27O][LN:OUPZ] (OTC:CBLLF)
Cobalt27 is a listed investment company that offers unique exposure to a portfolio of cobalt assets - Cobalt metal, cobalt royalties and direct cobalt properties. Cobalt27 owns 2,982.9 tonnes of cobalt.
For now Cobalt 27 is more a play on cobalt prices, with some potential upside if their royalty/streaming agreements pan out well.
Current market cap is CAD 650m. Investors can read my article "Cobalt 27 Is A Unique Opportunity To Invest In The Cobalt Boom With None Of The Risks Associated With Mining," and my CEO interview here.
Other US and Canadian cobalt juniors
Brixton Metals Corporation [TSXV:BBB](OTC:BXTMD), Canadian International Minerals [TSXV:CIN], Castle Silver Resources Inc. [TSXV:CSR] (OTC:TAKRF), Cobalt Power Group [TSXV:CPO] , Global Energy Metals [TSXV:GEMC] (OTC:GBLEF), King's Bay Res (OTC:KBGCF) [TSXV:KBG], Latin American Resources, LiCo Energy Metals [TSXV:LIC] (OTCQB:WCTXF), M2 Cobalt Corp. [TSXV: MC] (OTCQB: OTCPK:MCCBF), Pacific Rim Cobalt [BOLT:CSE], PolyMet Mining [TSXV:POM] (NYSEMKT:PLM), Quantum Cobalt Corp [CSE:QBOT] GR:23BA] (OTCPK:BRVVF), Sienna Resources [TSXV:SIE], (OTCPK:SNNAF) and US Cobalt [TSXV:USCO] (OTCQB:USCFF).
Global Cobalt projects compared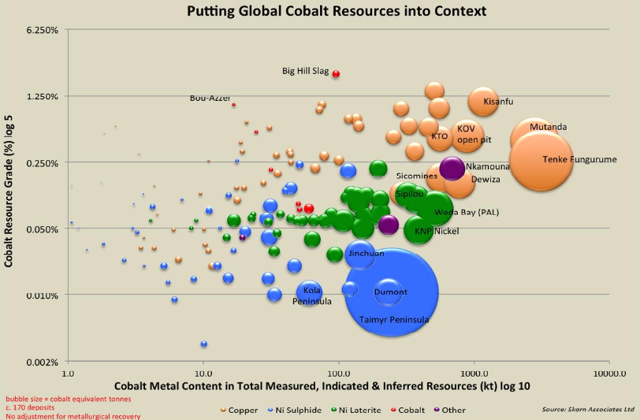 Source
US and Canadian Graphite listed miners
Mason Graphite [TSXV:LLG] [GR:M01] ( OTCQX:MGPHF)
Mason Graphite is a Canadian graphite mining and processing company focused on the development of the Lac Guéret project located in Northeastern Quebec, where the graphite grade is believed by management to be among the highest in the world.
The 2015 FS resulted in a post-tax NPV8% of CAD 352m, post tax IRR of 34%, a CapEx of CAD 169m, OPEX of CAD 376/t, with a 25-year mine life (using only 7% of the resource).
The Company is currently progressing their Lac Guéret project towards production, as well as advancing a work program on value-added graphite products such as spherical graphite production. The company also has an exclusive graphite supply agreement for NanoXplore Inc.[TSXV:GRA] (a global graphene market leader).
Current market cap is CAD 237m.
Northern Graphite [TSXV:NGC][GR:ONG] (OTCQX:NGPHF)
Northern Graphite Corporation is an Ottawa-based Canadian mine development company. Northern's principal asset is the Bissett Creek graphite project located 100km east of North Bay, Ontario Canada and close to major roads and infrastructure. The Company has completed an NI 43-101 Bankable Feasibility Study and received its major environmental permit.
Bissett Creek resources stand at 69.8 million tonnes of measured and indicated resources grading 1.74% graphitic carbon.
In recent news, the Company announced that their graphite has been successfully tested as an anode material and meets all specifications.
Current market cap is CAD 18m.
SRG Graphite [TSXV:SRG] [GR:18Y]
SRG Graphite Inc. is a Canadian-based resource company with the goal of creating shareholder value by becoming a leader in the production and delivery of low-cost, quick-to-market, quality graphite. SRG is focused on developing the Lola graphite deposit, which is located in the Republic of Guinea, West Africa. The Lola Graphite occurrence has a prospective surface outline of 3.22 km2 of continuous graphitic gneiss, one of the largest graphitic surface areas in the world. SRG owns 100% of the Lola Graphite Project.
The company quotes that the resource has a large potential size - "8.7 km - long graphite deposit with an average width of 370 m at surface", with "representative surface samples grading up to 35% carbon." By comparison Syrah Resources strike length at its massive Balama project is 3.5kms.
The Company is currently still drilling to define the resource and working on a PEA. You can view more details here.
Current market cap is CAD 92m.
Leading Edge Materials [TSXV:LEM] (OTCQB:LEMIF)
Leading Edge Materials Corp. (TSXV:LEM) (OTCQB:OTCQB:LEMIF) is a Canadian company focused on becoming a sustainable supplier of a range of critical materials necessary in the global transition to a low-carbon energy future. Leading Edge Materials has a unique project portfolio in Scandinavia centered on critical specialty materials - including graphite, lithium, cobalt and rare earths. Their flagship asset is the Woxna Graphite production facility in central Sweden. The Company also owns the Bergby lithium project, the Norra Karr REE project, and the Kontio cobalt project all located in Scandanavia.
Current market cap is CAD 71m.
Nouveau Monde Graphite [TSXV:NOU] (OTCQX:NMGRF)
Nouveau own the Matawinie graphite project, located in the municipality of Saint-Michel-des-Saints, approximately 150 km north of Montreal, Canada.
The company is currently working on their Feasibility Study. You can view the latest investor presentation here.
Current market cap is CAD 42m.
Next Source Materials [TSX:NEXT] [GR:1JW] (OTCQB:NSRCF)
NextSource Materials Inc. is a mine development company based in Toronto, Canada, that is developing its 100%-owned, Feasibility-Stage Molo Graphite Project in Madagascar. The company states: "The Molo Graphite Project is a Feasibility-Stage project and ranks as one of the largest-known and highest quality flake graphite deposits in the world and the only project with SuperFlake® graphite."
You can view the latest company presentation here. You can watch the latest company's Senior Vice President Brent Nykoliation video interview here.
Current market cap is CAD 51m.
Zenyatta Ventures [TSXV:ZEN] (OTCPK:ZENYF)
Zenyatta Ventures Ltd. ("Zenyatta") is a mineral development company based in Thunder Bay, Ontario. Zenyatta is currently developing the Albany Graphite Deposit ("Albany") – a rare, igneous related, hydrothermal graphite deposit with the potential to produce a natural, high-purity graphite that may compete in high-technology markets traditionally reserved for synthetic graphite.
Current market cap is CAD 34m.
Lomiko Metals [TSXV:LMR] (OTCQB:LMRMF)
Lomiko Metals is focused on the exploration and development of minerals for the new green economy such as lithium and graphite and also has a 100% interest in Lomiko Technologies Inc., an investor in technology and manufacturer of electronic products.
Current market cap is CAD 2m.
Westwater Resources (WWR)
Westwater Resources Inc. is an explorer and developer of mineral resources that are materials essential to clean energy production. Formerly known as Uranium Resources, Inc., Westwater is developing an advanced battery graphite business in Alabama, holds dominant mineral rights positions in the Western United States and the Republic of Turkey for both lithium and uranium deposits, as well as licensed production facilities for uranium in Texas.
Current market cap is USD 21m.
Ceylon Graphite [TSXV:CYL] [GR:CCY] (OTC:CYLYF)
Ceylon Graphite is currently exploring and developing graphite mines in historic resource jurisdictions in Sri Lanka. It holds a land package constituting 121 km² grids containing historic vein graphite deposits.
Current market cap is CAD 11m.
Other US and Canadian graphite juniors
Eagle Graphite [TSXV:EGA] [GR:NJGP] (OTC:APMFF), Focus Graphite [TSXV:FMS][GR:FKC] (OTCQB:FCSMF), Graphite One Resources Inc. [TSXV:GPH] [GR:2JC] (OTCQB:GPHOF), Great Lakes Graphite [TSXV:GLK] [GR:8GL] (OTC:GLKIF), DNI Metals [CSE:DNI] (OTCPK:DMNKF), Elcora Advanced Materials Corp. [TSXV:ERA](OTCQB:ECORF), Gratomic Inc. (TSXV:GRAT), Graphite Energy Corp. [CSE:GRE] [GR:GOA] (OTCPK:GRXXF).
Graphite miners compared by resource size and grade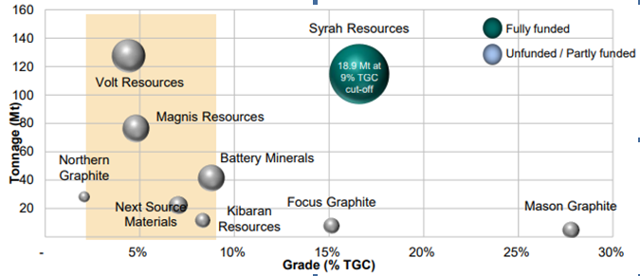 Source: Syrah Resources
US and Canadian Nickel listed miners
Sherritt International [TSX:S] (OTCPK:SHERF)
Sherritt is one of the world's largest producers of nickel from lateritic sources with operations in Canada, Cuba and Madagascar. Their JV mines are located in Moa, Cuba (50% Sherritt) and near Moramanga, Madagascar (12% Sherritt), and refineries are in Canada and Madagascar.
The nickel bear market forced Sherritt to sell down part of their Ambatovy mine share, and hence they now own just a 12% ownership interest in Ambatovy mine in Madagascar, and are the project operator. This has at least resulted in a net debt reduction of 1.3b.
In 2017 Sherritt produced 13,618 tonnes (12% basis) of finished nickel and 1,173 tonnes (12% basis) of finished cobalt.
In 2017 Sherritt produced 15,762 tonnes (50% basis) of finished nickel and 1,801 tonnes (50% basis) of finished cobalt from their 50% owned Moa Cuba mine.
Sherritt turned around their 2016 loss of $378.9m to post a net profit of $293.8m in 2017. Higher nickel and cobalt prices, lower debt, and return to profit are all good signs for Sherritt going forward.
Current market cap is CAD 460m.
RNC Minerals [TSX:RNX] (OTCQX:RNKLF) (formerly Royal Nickel Corporation) - Price = CAD 0.24
RNC Minerals (formerly Royal Nickel Corporation) "RNC" is a Canadian explorer-developer looking to develop their flagship 50% JV (with private equity firm Warterton) Dumont Nickel-Cobalt project in Quebec Canada. The company also has a 100% share in the Beta Hunt gold-nickel producing mine in Western Australia, 30% in the Reed copper-gold producing mine in Manitoba Canada, and a 46% shareholding in gold explorer Orford Mining (US and Canada exploration).
The company states, "RNC's Dumont project in Canada has the world's 2nd largest nickel reserves, and the world's 8th largest cobalt reserves." Reserves are 3.1 million tonnes of contained nickel at 0.27%, and 126,000 tonnes contained cobalt at 0.0107%.
The 2013 FS result for the Dumont nickel project resulted in:
Post tax NPV8% of CAD 1.33b (USD 1.137b), IRR of 15.9%.
Based on average life of mine production of 41ktpa (90mlbs) nickel, 2ktpa (4mlbs) cobalt, and 19kOzpa PGEs. Nickel Net C1 cost of US$ 4.79/lb, and a nickel selling price of USD 9.00/lb, cobalt selling price USD 14/lb, platinum USD 1,800/oz, palladium USD 700/oz, CAD:USD of 0.90.
Initial CapEx was estimated at CAD 1.268b, with expansion CapEx at CAD 997m.
Catalysts
2018- Off-take agreements, project financing.
2019 - Decision to begin construction to be announced.
Current market cap is CAD 79m. Analysts' consensus target is CAD 0.50.
Investors can view my CEO Mark Selby interview on Trend Investing here, or read my article "RNC Minerals Has A Very Large Low Grade Nickel-Cobalt Sulphide Project In Canada."
Garibaldi Resources [TSXV:GGI] (OTC:GGIFF)
Garibaldi is aggressively advancing its 200 sq. km land package in northwest B.C.'s famous Eskay Camp including the E&L Project at Nickel Mountain, the first magmatic nickel-copper-rich massive sulphide system discovered in this prolific district.
Recent drill results were very encouraging and included: "(EL-17-14) highlighted by a 16.75-meter massive sulphide interval grading 8.3% nickel and 4.2% copper, along with PGE, gold, silver and cobalt credits."
Current market cap is CAD 293m.
PolyMet Mining [TSX:POM] (PLM)
PolyMet is a mine development company exclusively focused on permitting, building and operating the NorthMet copper-nickel-precious metals project in Northeastern Minnesota.
You can view the project economics here. Of concern is the $152 million of debt (at 12-month US$ LIBOR plus 10 percent) owed to Glencore.
Current market cap is CAD 340m.
Wallbridge Mining Company [TSX:WM] (OTC:WLBMF)
Wallbridge has projects in both Ontario and Quebec, as well as an 11.5% stake in Carube Copper [TSXV:CUC].
Wallbridge is currently preparing to develop its 100%-owned high-grade Fenelon Gold Property in Quebec. The company states - "Wallbridge is also continuing partner-funded exploration on its large portfolio of nickel, copper, and PGM projects in Sudbury, Ontario, with a focus on its high-grade Parkin project.
Current market cap is CAD 18m.
Transition Metals [TSXV:XTM] (OTC:TNTMF)
Transition Metals describe themselves as a project generator with 5 district scale exploration plays in Canada, comprising interests in 25+ projects.
Main project interests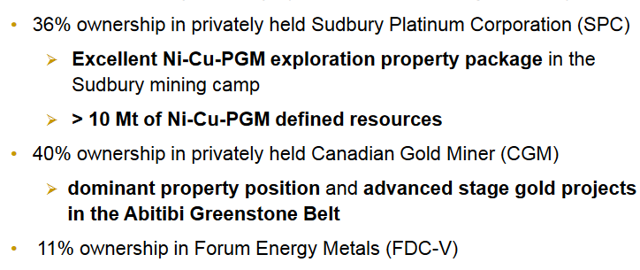 Source: Transition Metals March 2018 investor presentation.
Current market cap is CAD 6m. Certainly cheaply valued.
Other US and Canadian nickel juniors
Giga Metals [TSXV:GIGA] (OTC:HNCKF), Mustang Minerals [TSXV:MUM] (OTCPK:MSMGF), North American Nickel [TSXV:NAN] (OTCQB:WSCRF), Victory Nickel [TSXV:NI] (OTCPK:VNCKF).
For further reading investors can read my article "Top 5 Nickel Miners To Consider Before The Nickel Boom."
Final Notes
Some quality EV metal miners not included above that are accessible for most North American investors include:
Conclusion
There is indeed plenty of choice in the listed North American EV metal miners. I have attempted here to give a brief and concise overview of the main players. Certainly I would be happy to hear of any main players I may have missed.
Next I will select and write on more depth on each of my "Top 8 North American EV Metal Miners."
As usual all comments are welcome.
Trend Investing
Thanks for reading the article. If you want to go to the next level, sign up for Trend Investing, my Marketplace service. I share my best investing ideas and latest articles on the latest trends. You will also get access to exclusive CEO interviews and chat room access to me, and to other sophisticated investors. You can benefit from the hundreds of hours of work I've done to analyze the best opportunities in emerging industries, especially the electric vehicle and EV metals sector. You can learn more by reading "The Trend Investing Difference", "Recent Subscriber Feedback On Trend Investing", or sign up here.
My latest related Trend Investing articles are:
Disclosure: I am/we are long NYSE:ALB, NYSE:SQM, ASX:ORE, ASX:GXY, ASX:PLS, TSX:LAC, ASX:AJM, ASX:EMH, TSXV:ILC, ASX:AVZ, ASX:LPI, ASX:PLL, ASX:SYA., TSXV:AIS, TSXV:WML, ASX:CXO, GLENCORE (LSX:GLEN), KATANGA MINING [TSX:KAT], NORSILK NICKEL (LME:MNOD), HIGHLANDS PACIFIC [ASX:HIG], AUSTRALIA MINES [ASX:AUZ], FORTUNE MINERALS [TSX:FT], RNC MINERALS [TSX:RNX] , ARDEA RESOURCES [ASX:ARL], COBALT BLUE [ASX:COB], AEON METALS [ASX:AML], GME RESOURCES [ASX:GME], CASSINI RESOURCES (ASX:CZI) , HAVILLAH RESOURCES [ASX:HAV], CONICO LTD [ASX:CNJ], CRUZ COBALT CORP [TSXV:CUZ], BANKERS COBALT [TSXV:BANC], POSEIDON NICKEL [ASX:POS], ALLOY RESOURCES (ASX:AYR), CASTILLO COPPER (ASX:CCZ)., CELSIUS RESOURCES [ASX:CLA], SYRAH RESOURCES (ASX:SYR), KIBARAN RESOURCES (ASX:KNL), TRITON MINERALS (ASX:TON), SAMA RESOURCES [TSXV: SME]. I wrote this article myself, and it expresses my own opinions. I am not receiving compensation for it (other than from Seeking Alpha). I have no business relationship with any company whose stock is mentioned in this article.
Additional disclosure: The information in this article is general in nature and should not be relied upon as financial advice.
Editor's Note: This article covers one or more microcap stocks. Please be aware of the risks associated with these stocks.