Editor's note: Seeking Alpha is proud to welcome ESI Analytics Limited as a new contributor. It's easy to become a Seeking Alpha contributor and earn money for your best investment ideas. Active contributors also get free access to the SA PRO archive. Click here to find out more »
Introduction
Global equity markets saw a major bull run since the global financial crisis in 2009. Worldwide equity indices probably arrived at a very late stage of their respective bull cycle. Bearish voices are getting louder since we experienced market turbulence early 2018.
Some well-known Elliott wave technicians are forecasting again dramatic scenarios for the next years down the road. They see the market and global economy headed for a very big and long crash, which is similar to the great depression in the late 1920s. However, the evidence is very different from their forecast. Moreover, our conclusion is valid if we apply the same method, Elliott wave analysis, objectively.
Technical Evidence
If we look at the most important European indices, we get overwhelming evidence that a mega crash is not anywhere near down the road. 80% of the major European indices show triangle patterns, which most likely resolve to the upside. This conclusion comes from the Elliott wave principle, which suggests that triangles resolve in the direction of the paramount trend. The paramount trend went for decades to the upside.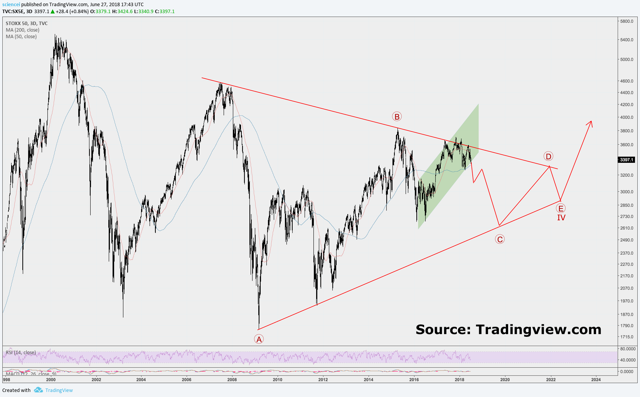 Source: Tradingview
The Eurostoxx 50, a gauge for Euro area blue chips, is in a sideways correction since it topped in the year 2000. We can see a clear choppy sideways movement since then. This is most likely a triangle. It probably needs another down-up-down sequence into completion.
The Spanish IBEX index shows the same characteristics. A complex sideways price movement occurred in Spanish blue chips since 2007. Another down-up-down sequence completes a big sideways pattern here as well. A 90% market capitalization wipeout, as we have seen during the great depression, is not even distantly fitting within a properly applied Elliott wave framework to European equity index charts.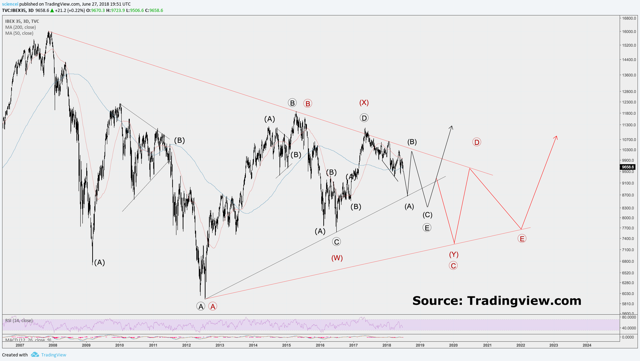 Source: Tradingview
The German DAX and UK FTSE 100 index give us further hints regarding the magnitude of a probable correction. Both indices most likely completed their respective triangles already. Both are in a secular bull market phase that started as the triangles ended.
The Dax index completed a contracting triangle of cycle degree. It started at the peak of the tech bubble in early 2001 and finished in 2011 with a breakout to the upside. We interpret the DAX Elliott wave setup as a 1-2-1-2 sequence formation. A cyclical correction is likely to kick in at some point during the year 2018. It should have nearly the same magnitude as the 2015 correction if our interpretation is correct.
A 20%-30% correction looks likely for the Dax. The alternative is a flat correction that takes the DAX into the 7k region. The negative case allows for a nearly 50% correction but requires a rather rare pattern after the resolution of the triangle. That's a lower odds case. Most importantly, it is still nowhere near of what happened during the great depression.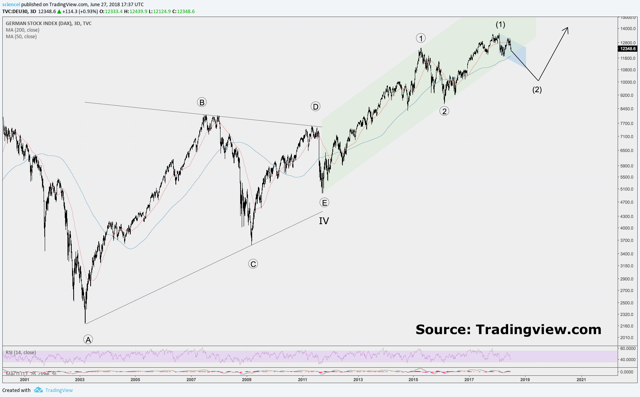 Source: Tradingview
The FTSE 100 traced out a triangle structure, which probably ended in 2011. It looks similar to many other indices in continental Europe. The light blue trend channel in the FTSE chart is the beginning of cycle wave v. This wave is most likely the start of a secular bull market and will carry the FTSE higher for a major part of the coming decade. The worst realistic but nevertheless lower odds scenario means that the FTSE traces out a diagonal or irregular flat correction. It could correct into the low 5k area. Again, nowhere near what was recorded during the great depression.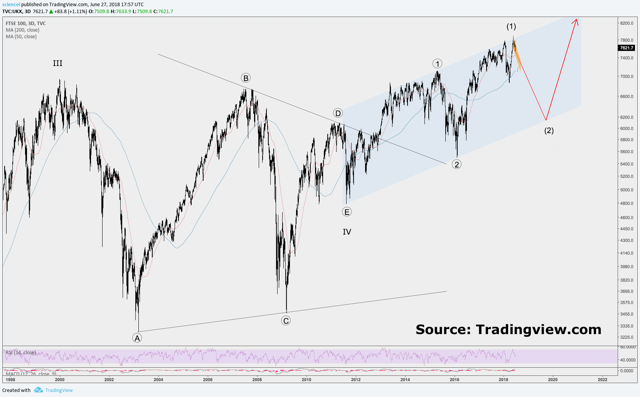 Source: Tradingview
Last but not least, French equities are showing a similar behavior to the markets already discussed here. However, they are a mixed bag regarding a resolution. The triangle may be either complete or not in France. Practically, it simply translates into uncertainty whether the next low is slightly above or slightly below 4k.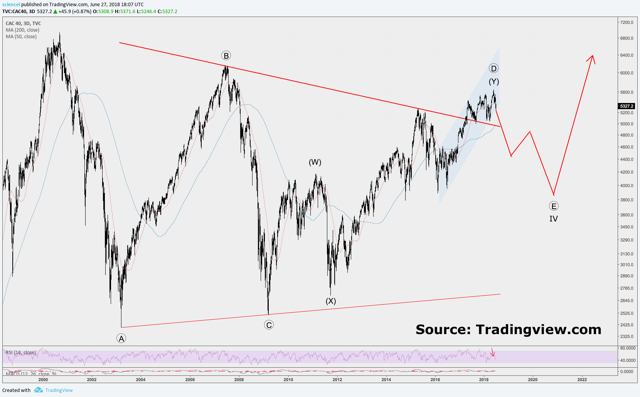 Source: Tradingview
All in all, our technical approach leads to the conclusion that a correction is highly likely. It will be probably the biggest and longest market drop that we've witnessed in a while. However, a depression is highly unlikely based on technical evidence.
Fundamental Evidence
Fundamental evidence supports our technical case. We have been witnessing how central banks around the globe managed crises by pouring liquidity into the market. Their measures resulted in the general opinion that these are effective. They prevented developed markets from sliding into a depression during the worldwide financial crisis in 2009. Apart from a few critical voices, central banks are highly regarded for their policy today. Their influence is bigger than ever before.
Their balance sheets expanded along with their influence and some central banks purchased even equities. Another crisis is most likely going to lead to the same liquidity expanding measures including direct equity purchases. Balance sheets have ample room to expand further. The Bank of Japan provides a good example of that. Moreover, liquidity expanding policy measures have resulted in too big to fail central bank balance sheets already. A turnaround is not likely going to be triggered during a recession. Further expansion is more likely instead.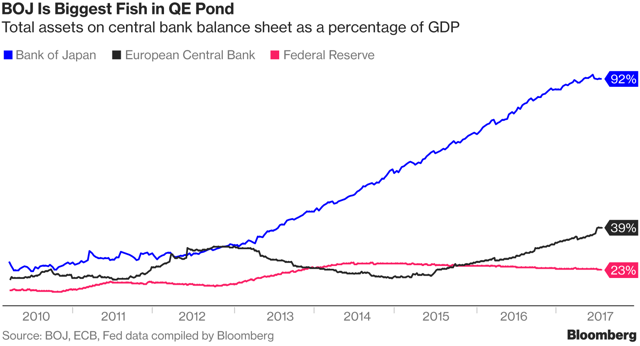 Source: Bloomberg
Liquidity expansion along direct equity purchases by central banks is a stabilization mechanism for equities. It is contrary to what happened during the great depression in the 1930s. That period saw contracting liquidity measures. A 90% equity wipeout is therefore fundamentally unlikely.
Conclusion
All in all, technical and fundamental evidence suggests that equities and the economy are not headed into a traumatic crash comparable to the great depression. Evidence from both angles favors a shallow correction period due to liquidity expansion measures. Nevertheless, some technical analysts forecast a very negative scenario for the next years down the road. Their motivation in doing so is either a simple misinterpretation of reality or commercial reasoning.
There is a good amount of system critics, perma-bears, and investors that can be nudged by an eloquent presentation of negative narratives. The website Zerohedge is a very good example for this argument. It remained highly successful despite its doom and gloom tendency during one of the biggest bull markets in history. Spectacular bearish stories are simply catching a big audience, which can be certainly monetized.
Disclosure: I am/we are long NTKIF. I wrote this article myself, and it expresses my own opinions. I am not receiving compensation for it (other than from Seeking Alpha). I have no business relationship with any company whose stock is mentioned in this article.
Editor's Note: This article discusses one or more securities that do not trade on a major U.S. exchange. Please be aware of the risks associated with these stocks.