A few years ago I became intrigued by a spate of articles and comments by authors and readers about high-yield investment strategy as an alternative to dividend growth (DGI) investing or other approaches to portfolio design - particularly for retirees and those approaching retirement. The thesis of the high-yield proponents was that although the value and dividends of high-yielding securities - largely mREITs, BDCs, MLPs and CEFs - were unlikely to increase over time, the additional cash paid out now could be reinvested to grow the portfolio over time while providing more income on a current basis than other approaches.
It looked good. If it worked, I wanted in. But the writings, while long on excitement and philosophical rumination, were short on testable data. I never saw an article which reported the complete performance of suggested investments over time. I couldn't find an easy way to see if the approach, well... actually worked.
Three years ago I designed a back study to assess the performance since 2010 of twenty high-yielding investments. Ten were proposed by SA contributor High Yield Investor, ten by frequent commenter WmHilger. The suggested investments were listed in separate postings by the two investors during 2014, in which they each argued that high-yield securities are appropriate for a retirement portfolio. I wrote up the results in July 2015 in "Can High-Yield Investment Portfolios Support Higher Income In Retirement?" My study was criticized by readers for having a sample size which was too small.
I also realized that I had built in a form of survivor bias by studying the performance over the period from 2010 to 2014 of a selection of investments chosen in 2014. Even with that bias, however, the high-yield portfolios were entering a "death spiral" 18 months later, where the designed withdrawals began to exceed the dividends, and the portfolio values, which had risen in the early years of the study, were falling into the red. I wrote that up here: "Model High-Yield Portfolios Holding BDCs, MREITs And CEFs Fail Multi-Year Performance Tests."
That, too, met with criticism. I was told that I had had picked the wrong time frame, the wrong high-yield investments and relied on too few sources of advice on their selection.
So, with the fourth anniversary of my initial study upon us I decided to design a new study, hopefully avoiding the flaws of the previous one. An article by High Yield Investor pointed me to another SA contributor advocating a high-yield strategy: Steven Bavaria, who has posted about his Savvy Senior Income Factory portfolio since 2014. High Yield Investor had also posted his own portfolio of 28 high-yield investments in 2014, the 50/50 Portfolio. Wm Hilger, although a frequent and articulate commenter on other's articles in which he discusses his MRHY (moderate risk, high yield) investing philosophy, has not written his own articles and I was unable to ascertain his holdings or recommendations beyond the ten I had noted in 2014.
Still, that gave me dozens of high-yield securities held or suggested by three thoughtful and savvy SA investors. After eliminating duplicates, companies which had disappeared due to mergers, etc, I had a list of 59 high-yield investments which had been recommended or purchased by one or more of the three high-yield advocates. Here's the list:
AGNC Investment Corp. (AGNC), Arlington Asset Investment Corp. (AI), Apollo Tactical Income Fund (AIF), Apollo Investment Corporation (AINV), Ares Capital Corporation (ARCC), Ares Multi Strategy Income Fund (ARDC) Apollo Commercial Real Estate Finance, Inc. (ARI), UBS ETRACS 2xLvg Lng WF Busn Dev Co ETN (BDCL), BlackRock Multi-Sector Income Trust (BIT), Calamos Global Dynamic Income Fund (CHW), Calumet Specialty Products Partners, L.P. (CLMT), Capstead Mortgage Corporation13.17 (CMO), CYS Investments, Inc. (CYS), Credit Suisse High Yield (DHY), Duff & Phelps Global Utilities Income Fund (DPG), Black Rock Debt Strategies Fund (DSU), Dynex Capital, Inc. (DX), Wells Fargo Advantage Income Oppty Fund (EAD), Ellington Financial LLC (EFC), Wells Fargo Advantage Global Dividend Fund (EOD), Eaton Vance Risk Mgd Diversified Equity Income (ETJ), Eaton Vance Tax Mgd Global Buy Write Fund (ETW), Eaton Vance Limited Duration (EVV), Eaton Vance Tax Mgd Global Diversified Income (EXG), First Trust Specialty Financial Oppty Fund (FGB), First Trust Strategic High Income Fund (FHY), Cohen & Steers Closed End Opportunity Fund (FOF), Golub Capital BDC, Inc. (GBDC), Western Asset High Income Fund (HIX), John Hancock Pref Income (HPI), Horizon Technology Finance Corporation (HRZN), Hercules Capital, Inc. (HTGC), ING Global Advantage Fund (IGA), Nuveen Preferred Income Oppty Fund (JPC), Nuveen Real Asset Income & Growth (JRI), KCAP Financial, Inc. (KCAP), Medley Capital Corp. (MCC), MFA Financial, Inc. (MFA), AG Mortgage Investment Trust, Inc. (MITT), UBS ETRACS Mthly Py 2xLvg Mortg REIT ETN (MORL), Allianz NFJ Dividend Interest & Premium Strategy (NFJ), Annaly Capital Management, Inc. (NLY), New Mountain Finance Corp. (NMFC), New York Mortgage Trust, Inc. (NYMT), Oaktree Specialty Lending Corp (OCSL), Oxford Lane Capital Corp. (OXLC), Pimco Dynamic Credit Income Fund (PCI), Pennant Park Investment Corp. (PNNT), Prospect Capital Corp. (PSEC), Resource Capital Corp. (RSO), Stellus Capital Investment Corporation (SCM), Seadrill Limited (SDRL), Solar Capital Ltd. (SLRC), Starwood Property Trust, Inc. (STWD), TCP Capital Corp. (TCPC), THL Credit Inc. (TCRD), Third Avenue Focused Credit Fund (TFCIX), Two Harbors Investment Corp. (TWO), and Western Asset Mortgage Capital Corporation (WMC).
The first thing I did was to create a portfolio containing each of the suggested assets, and compare its dividend payout and capital appreciation or depreciation from the earliest date in which the Savvy Senior Income Factory was fleshed out (May 1, 2014) to July 1, 2018. To simplify the analysis, I listed both the closing sale price of each security on May 1, 2014, and then the "adjusted" closing price - a figure derived by subtracting the value of all dividends paid from from the closing price that date to July 1, 2018.
By comparing the adjusted close to the close on July 1, 2018, you can see what the total return on the investment was over the 50 months. If the share price is unchanged - e.g., something which closed at $5 on 5/1/2014 closed at $5 on 7/1/2018 - the difference between the 5/1/2014 adjusted close and the 7/1/2018 close will be equal to the total value of dividends paid out between then and 7/1/2018. If the 7/1/2018 closing price is exactly the same as the 5/1/2014 adjusted close, that means the payment of dividends has been offset by a reduction in the share value.
I also tracked dividends to see which had increased or decreased, and by how much. The resulting chart: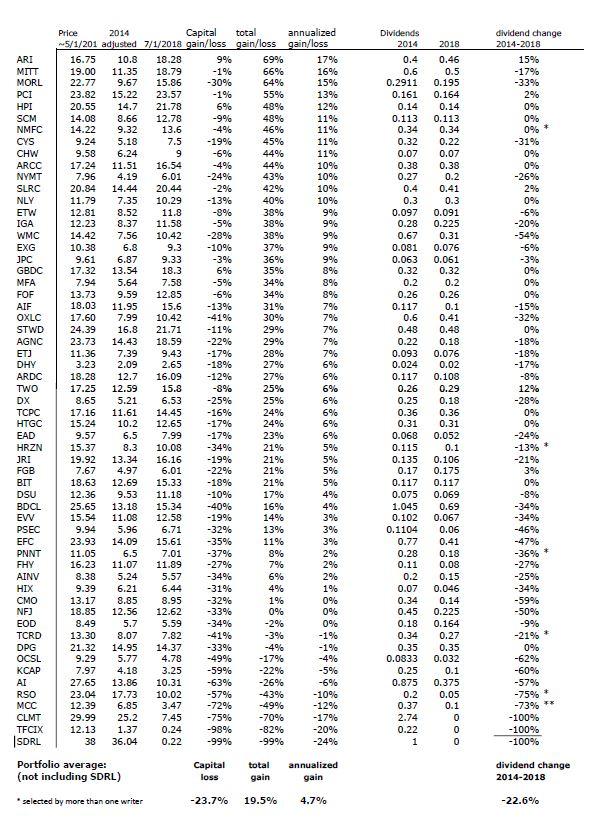 And that's where I got the results posted in the bullet points above. I would also note that having multiple sources recommend an investment of this type is not a solution: As the chart shows, the investments recommended by more than one of the sources I used were among the worst performers.
Now, I know that defenders of high-yield strategies will protest that a "static" investment portfolio is unrealistic. So I checked the changes the authors had made to the 50-50 and Savvy Senior portfolios since May 2014.
High Yield Investor is a self-described "buy and hold" investor, but of the 28 investments he listed in late 2014, one disappeared through merger and he apparently sold off nine others, leaving 17 selections from 2014 still standing in 2018 (others were added in the interim). The performance of the "keepers" from 2014 was better than the average of the full portfolio: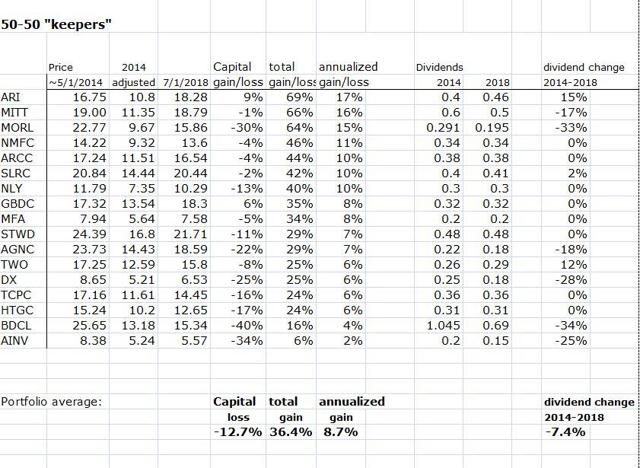 Of course, that's "survivor bias" in action. The 33% of the holdings disposed of during the study period performed worse on average, and there is a high probability that they were sold at a loss. The actual performance of the entire portfolio undoubtedly lagged the modest return shown here.
The Savvy Seniors Income Factory saw a lot more turnover. Only three stocks from May 2014 remained in the portfolio throughout the following 50 months, and a dizzying array came and went - and sometimes came and went again - during that time period. But Mr. Bavaria provided quarterly reports, so it was possible to narrow down the period in which a particular candidate was sold to a three month window. That allowed me to follow the 29 initial holdings listed in May 2014 and see approximately how long they were held and a range of how much they probably sold for (again, some disappeared through mergers, etc.).
I recorded the adjusted close of each of the initial 29 securities on May 1, 2014, and on the first day of each of the months preceding the reported sale and following the last time it was listed in the portfolio. I then calculated the gain or loss against the highest and lowest quoted closing price. So the chart below should be viewed as an approximation of the performance of that portion of the Savvy Senior portfolio during the period in question.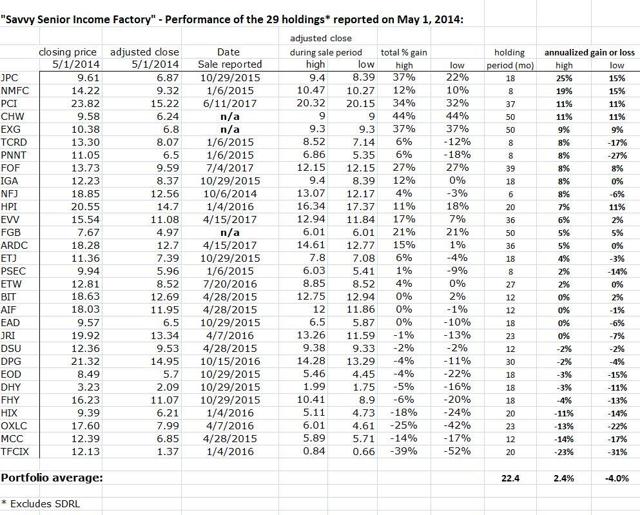 As you can see, I excluded SDRL from all averages I calculated. SDRL declined by a third during the period between the last time it was reported to be in the Savvy Senior Income Factory portfolio (July 2014) and when it was reported as having been sold (October 2014); indicating anywhere from a modest decline from its 5/1/2014 value to a 35% loss when sold. That's such a large disparity I felt that it would distort the results here and in the total portfolio, particularly since it declined by 99% between 2014 and 2018, most of which occurred after it was sold.
Also, I did not attempt to adjust for size of each holding as only the share of income was reported, not dollar value of holdings, and increases and decreases in the size of holdings were common. I would note, however, that two of the listed stocks that were among the largest holdings in the portfolio at points - OXLC and TFCIX - were among the worst performers during the period they were held in the portfolio.
Conclusions
Trading vs. Investing: I know that the devotees of the high-yield approach will find fault with this study. They will say that it covers the wrong time period and the wrong investments will have been selected. Surely buying and selling different choices at different times would improve the outcome.
Well, maybe. I feel that if you can outsmart the market consistently you will make a profit, whether you are trading high yield, growth, index funds, bonds, gold, commodities, currencies, real estate, etc. But I have been contacted privately in response to previous articles I've written by folks who are soon to be retired and just haven't saved enough money to support the lifestyle they prefer, and who see high-yield investing as a way to get around that problem. And for most people - particularly those investing for their retirement, present or future - an investment strategy that requires you to consistently and frequently know to sell stuff you own before others know not to buy it at anything other than a steep loss to you is risky and unwise. Indeed, the trading strategy I hear most often - "if the dividend is cut, I'll sell it and buy something else" - is simply a recipe for locking in a "buy high, sell low" portfolio. While occasional adjustments to your portfolio are wise, an approach which requires constant buying and selling isn't investing, it's trading. And unless you consider yourself knowledgeable and savvy enough to beat the market consistently, over and over again, chances are you'll lose that game.
But what about compounding? That's often listed as a benefit of high-yield investing. Except, to the extent that the money you receive in dividends is offset by a reduction in the value of your holding, it really just amount to having the company give your own money back to you. And no matter how often that happens, there's nothing to "compound." In order for real compounding to take place, the value of your investment corpus has to be preserved. And when 95% of the recommended companies saw a decline in equity value during the time period in question a lot of the dividends which were reinvested were simply YOMBERTY - "your own money being returned to you."
Bottom Line
I consider an investment philosophy focused on owning exclusively high-yield securities to be unsuitable for a retirement portfolio. That's not to say there's no place for some high-yield investments in a portfolio, simply that the sector as a whole offers a lot less than it appears to offer at first glance. People looking for a magic bullet to solve the "I failed to save enough for retirement" problem won't find it here.
Editor's Note: This article covers one or more microcap stocks. Please be aware of the risks associated with these stocks.