The July 4th holiday is expected to be a huge travel weekend, with 47M people expected to travel for the holidays - 2.1M by plane!
That's the most in 20 years but only really a 1-2% increase over last year yet gasoline (RB) is selling at retail for $2.87 per gallon vs. $2.28 last year, so up over 25% despite there being just as many barrels in storage this week (241.2M) as there were last year (241.0M). This is complete and utter nonsense, and we feel prices have been manipulated higher and will correct after the holidays.

In fact, speaking of manipulation, you can see from the EIA Report last week that 3,088,000 barrels of Refined Products (gasoline) were exported PER DAY last week - effectively stealing 21.6 MILLION barrels from Americans and creating an artificial shortage in this country to drive up prices.
It's too scary to short Gasoline Futures (RB), but we do like shorting Oil Futures (CL) as they test the $75 line (with tight stops above), and we're also using the UltraShort ETF (SCO) to short oil with Sept. $15 calls we bought for the Options Opportunity Portfolio for net $2.10 (we bought back short Sept. $18s we had sold as a spread) and now they are $1.65, so we're going to take the OPPORTUNITY to roll them down to the Sept. $13 calls at $2.75 to put us $2.30 in the money for $1.10 more money. If all goes well and oil moves back below $68.50, this Ultra-ETF should pop 20% to $18+ and we'll collect $5 back on our net $3.75 entries.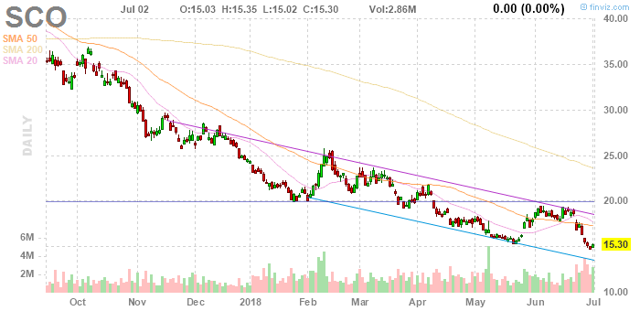 As a new, lower-risk trade with options, you can buy, for example, 20 of those calls for $5,500 and sell 20 of the Sept. $15 calls for $1.60 ($3,200) and then you are in for net $1,300 on the $4,000 spread that's actually in the money with oil at $75, so anything below $75 in September can make you $2,700 (207%) - not bad for 80 days work!
Keep in mind, we're using tight stops on our Oil (CL) shorts over $75, so a $200 loss on a 0.20 move against us is our maximum risk while a drop down to $68.50 would be a $7,500 win, so I very much like the risk/reward profile of shorting oil. Unfortunately, there's a lot of cross-talk between OPEC, Iran, Libya, Russia, et al and the prices have been fluctuating wildly, but the overall premise is that demand simply isn't there to support this kind of pricing.