Scientific rationale supports novel approach targeting of innate immune system
CD47, often called the "Don't Eat Me" protein, is an immune checkpoint that binds to the SIRPa receptor on macrophages, inhibiting phagocytosis. CD47 is overexpressed in several types of cancer as a method of immunoevasion, and overexpression of CD47 has been associated with poor tumor prognosis. The "Don't Eat Me" signal mediated by CD47 is balanced by endogenous "Eat Me" signals like calreticulin, which promote phagocytosis.
Whereas prior therapies targeting immune checkpoints (PD-1/L1, CTLA4, etc.) are involved in mediating the activity of cytotoxic t-cells in the adaptive immune system, therapies targeting the CD47-SIRPa modulate the nonspecific (innate) immune system. Macrophages are one component of the innate immune system and are involved in digesting cellular debris, foreign bodies, and cancer cells.
There are three hypotheses supporting the rationale for CD47 checkpoint inhibition in cancer treatment:
CD47 blockade opsonizes cancer cells, promoting phagocytosis by removing the "Don't Eat Me" signal.
Targeting CD47 increases antigen presentation by macrophages, enhancing t-cell activation and promoting response by the adaptive immune system.
Binding of CD47 directed antibodies to tumor cells mediates ADCC/CDC via the active Fc domain.
For more info on the scientific background for CD47 checkpoint blockade, I suggest checking out these reviews:
Large market opportunity breeds a highly competitive environment in CD47 therapy
CD47 therapies are targeting big applications in multiple indications, including hematological malignancies such as Non-Hodgkin's Lymphoma (NHL) and Acute Myelogenous Leukemia (AML), along with solid tumors like colorectal ovarian cancer. These indications represent hundreds of thousands of new patients annually, with a market opportunity well into the billions.
| | |
| --- | --- |
| Cancer Subtype: | Annual Cases (US): |
| Non-Hodgkin's Lymphoma | 74,680 |
| Ovarian Cancer | 20,000 |
| Colorectal Cancer | 135,620 |
| Acute Myelogenous Leukemia | 19,500 |
Source: Center for Disease Control, National Cancer Institute
Accordingly, there is a small armada of companies developing therapies targeting CD47. Thus far, five companies have therapies in the clinic, summarized below.
Therapies targeting CD47-SIRPa in clinical/preclinical development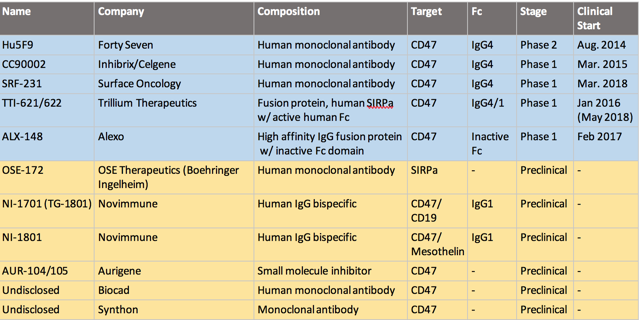 Source: Company websites, scientific presentations
Most therapies target CD47 and incorporate active Fc domains, allowing the effects of Fc-dependent functions such as CDC/ADCC. The IgG 4 domain is considered to have partial effector function, whereas IgG 1 exhibits full activity. Therapies in development include monoclonal antibodies, bispecific antibodies, antibody fusion proteins, and small molecules.
Clinical rationale and early results support ongoing trials in multiple indications
Forty Seven (NASDAQ:FTSV) has the most advanced clinical pipeline with multiple programs in Phase 1b/2 trials, followed closely by Trillium Therapeutics (NASDAQ:TRIL). Other companies advancing clinical trials include Celgene (NASDAQ:CELG), Surface Oncology (NASDAQ:SURF), and Alexo Therapeutics, with a number of data readouts expected by ASH 2018.
Ongoing clinical trials with agents targeting CD47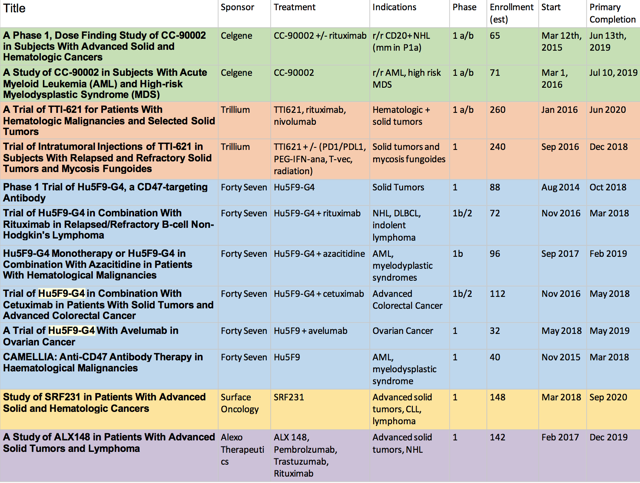 CD47 Monotherapy:
TRIL and FTSV have both reported early clinical results from their Phase 1 trials. TTI-621 showed strong evidence of activity in patients with T-cell lymphoma, with tumor reduction seen in 9/10 patients after 2 weeks.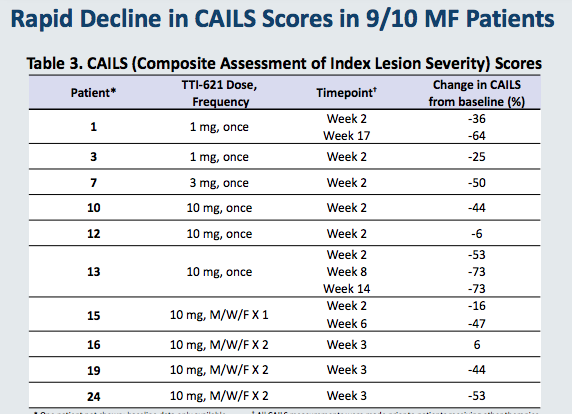 Source: Trillium Therapeutics ASH 2017 Poster
Additionally, FTSV has had a handful of responding patients in preliminary results from monotherapy trials in advanced solid tumors, including ovarian cancer. These are heavily pre-treated patients with multiple lines of prior therapy.
However, the majority of patients have not responded to monotherapy with 5F9 in solid tumors. Look to ongoing trials in combination with anti-tumor antibodies (such as cetuximab, trastuzumab) and anti-PD1 antibodies (prembrolizumab, nivolumab, avelumab) as a potential catalyst for CD47 treatment in solid tumors. Colorectal cancer, in particular, offers a tricky indication, with current standard of care in the relapsed/refractory setting seeing response rates under 2%. Historically, improved long-term survival has been shown in patients with high levels of macrophages and low CD47 expression in colorectal cancer with conventional treatments.
Non-Hodgkin's Lymphoma: CD47 therapy + Rituximab:
FTSV and TRIL have also reported on NHL data in combination with rituximab, an anti-CD20 antibody. FTSV achieved objective response rates of 70% and 35% in FL and DLBCL, respectively, with multiple complete responses. Notably, 90% of responding patients on this trial were refractory to rituximab. TRIL has seen similar response rates in a comparable patient setting, including several responses in NHL to monotherapy.
Response rates to treatment with Hu5F9 + rituximab in NHL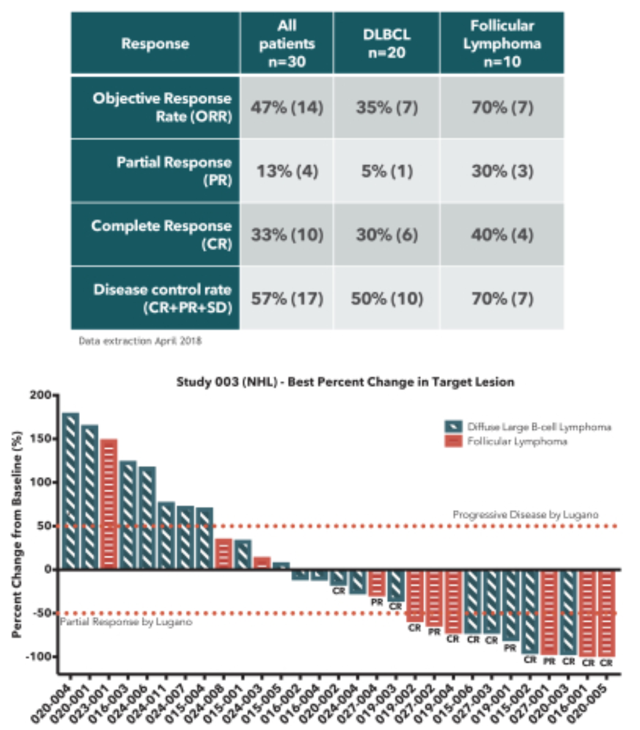 CD47-directed therapies are accompanied by manageable and reversible hematological toxicities:
Recall that CD47 is expressed in most healthy tissues to prevent phagocytosis by macrophages. This results in two potential problems:
Binding of CD47 to healthy tissues (called the "tissue antigen sink") requires that larger therapeutic doses be administered to achieve sufficient receptor occupancy on cancer cells. Pre-clinical work has shown that a receptor occupancy in the range of 40-60% is required to induce phagocytosis.
Inhibition of don't eat me signal introduces potential off-target toxicity. Generally, both a lack of CD47 ("don't eat me") and expression of calreticulin ("eat me") are required for phagocytosis. However, aging red blood cells increase calreticulin ("eat me") expression. Accordingly, CD47-directed therapies, which bind CD47 on healthy red blood cells may induce anemia.
There are several approaches to mitigate these effects. Forty Seven has been able to achieve adequate receptor occupancy by administering higher doses (30mg/kg) to fully saturate the tissue antigen sink. They address RBC toxicity by preconditioning patients with a 1 mg priming dose to eliminate aging red blood cells and promote reticulocytosis.
Hu5F9 achieves therapeutic receptor occupancy by saturating the RBC sink and minimizes off-target effects by administering a priming dose
Trillium incorporates a different approach. Their fusion protein has shown minimal binding activity against red blood cells, allowing them to achieve sufficient receptor adequacy at a lower therapeutic dose (0.3 mg/kg).
TTI-621 does not bind to CD47 on red blood cells (RBCs), enabling therapeutic efficacy at lower doses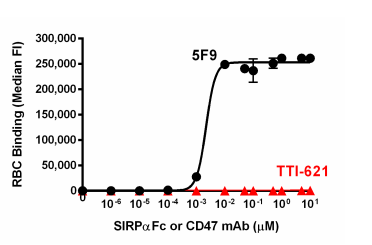 Source: Trillium Therapeutics at ASH18
Both approaches have resulted in adequate pharmacokinetic profiles and manageable toxicities. Predictably, administration of 5F9 has resulted in anemia in 10-20% of patients. This has proved reversible in most patient settings with over 190 patients dosed, although patients with compromised reticulocytes (such as in AML) have required transfusions. TTI-621 has seen lower rates of anemia, but increased thrombocytopenia (~20% all grades). Only a handful of cases with >gr 3 adverse events have been documented with either drug, to-date.
Fresh-off a slew of public offerings and licensing deals with big pharma, firms race towards late-stage clinical trials
Biobucks are flowing with a ~$100 mn IPO from FTSV last week, another ~120 mn from SURF in April, and a major licensing deal for Novimmune. Companies maintain strong backing from institutional investors, venture capital, and big pharma.
Financing history for companies targeting CD47...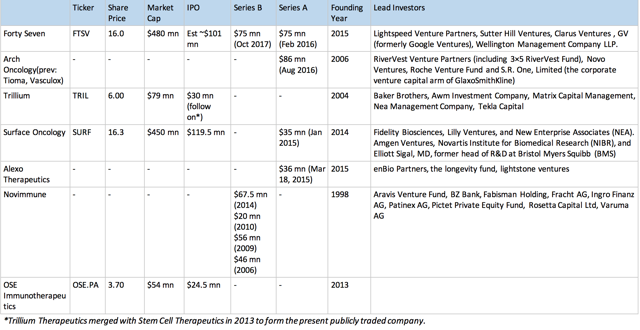 ... and a record of major licensing deals

Sources: company websites, Yahoo finance
Equity offerings behind them, FTSV, SURF, and TRIL maintain healthy balance sheets with adequate cash to fund development. OSE is likeliest to encounter financing issues in the near future, although with Boehringer Ingelheim funding development costs through their licensing agreement they may be able to extend their cash runway.
Financial information for publicly traded firms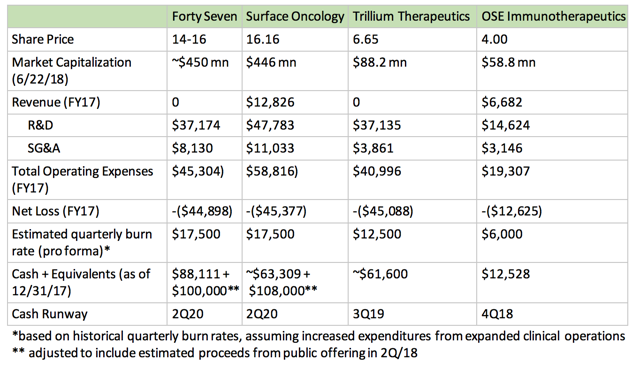 My take: Fc-independent activity will make-or-break the fate of CD47-directed therapies
The scientific rationale and early clinical results offered by this technology are intriguing. They are not outstanding, although outstanding results are not necessary, nor should they be expected from a checkpoint inhibitor. Keep in mind that, despite all the hype surrounding PD1 checkpoint inhibitors, the majority of patients still fail to respond to treatment in most indications. Durable responses in low percentages of patients, such as in colorectal cancer, will be key in a patient population that lacks treatment options. There are over 50,000 deaths a year due to colorectal cancer, and current treatments in advanced CRC are largely ineffective.
That being said, early results in solid tumors have been marked by low responses in monotherapy. The combination trials with PD1 and anti-tumor antibodies will be crucial for CD47 in solid tumors, particularly because these results will help differentiate whether or not responses are due to synergistic effects of Fc-independent function. The results of TTI-621 monotherapy in treating T-cell lymphoma are curious, especially given Trillium's aggressively low valuation (~$78 million).
The added benefit of moderate results is that they temper hype and expectations, conferring a reasonable price for the interested investor. Investor expectations for immunotherapy have cooled following the failure of Incyte's IDO inhibitor in April, along with Nektar's disappointing results presented at ASCO18 for their cytokine therapy NKTR-214, providing more reasonable pricing, for younger companies such as those targeting CD47.
The differentiation of CD47-directed therapies will ultimately depend on the effectiveness of the proposed Fc-independent mechanisms (i.e. tumor cell opsonization and improved activation of the adaptive immune system via antigen presentation).
Validation of these mechanisms will support improved immunomodulation of the tumor microenvironment. One of the strengths that Merck has built upon with Pembrolizumab is that as PD-1 antibodies have differentiated their role as the dominant checkpoint involved in mediating interactions between cancer cells and T-cells, they have been able to promote a scientific rationale for building countless combinations with other immunomodulatory agents across sizeable indications. Physicians would order their Big Mac in combo with Keytruda if they could.
For CD47-directed therapies to achieve the same level of penetration in tough indications they have a long way to come and need to demonstrate that they enable a robust immune response. Evidence of clinical benefit from Fc-independent function will provide a strong rationale for immunotherapy combinations that can greatly expand the commercial opportunity for CD47 therapies. Failing this, CD47 therapies are destined to become yet another anti-tumor antibody directed against a marginal target. The story these companies tell is strong, but far from complete.
Final Thoughts:
Overall, CD47-directed therapies offer a novel immunotherapeutic approach at an attractive price. Look for catalysts in the second half of 2018, particularly at ASH18, as we expect to see updated results for multiple ongoing trials, including multiple readouts for NHL in combo with rituximab, as well as early combination data from trials with azacitidine and cetuximab.
For the investors looking to eat up recent offerings of companies targeting CD47, I will be releasing a series of company profiles to dig deeper into the technology and competitive strategy of each. Additionally, I have created an index of the publicly traded firms in order to track the long-term performance of companies targeting CD47.
Disclosure: I/we have no positions in any stocks mentioned, and no plans to initiate any positions within the next 72 hours.
I wrote this article myself, and it expresses my own opinions. I am not receiving compensation for it (other than from Seeking Alpha). I have no business relationship with any company whose stock is mentioned in this article.
Editor's Note: This article covers one or more microcap stocks. Please be aware of the risks associated with these stocks.